The Top 5 NBA Small Forwards in the Game Today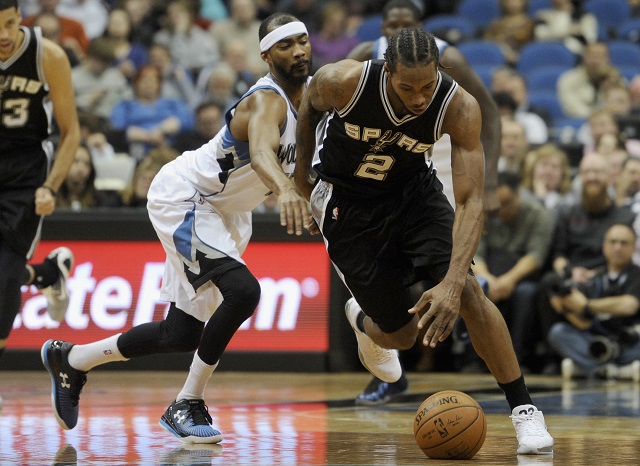 The modern day NBA small forward is like a Swiss Army knife out on the basketball court. Offensively, a skilled three man can knock down outside jump shots, drive to the basket, post up, or even make plays for others, as a point forward. They blur the line between the wing and the low post, particularly when a team is forced to play "small ball", and the small forward is played out of position at the four spot.
Defensively, elite small forwards are capable of guarding multiple positions, and may find themselves harassing point guards out on the perimeter, contesting outside shots, and even rotating back into the paint for weak-side blocks and rebounds. Each of the best five small forwards in the game today have mastered the art of the all-around game. It's very likely that, in the future, NBA historians will refer to the likes of Scottie Pippen, Larry Bird, and LeBron James as the prototypes of the modern day three position, but they're far from the only ones worth watching in the league today.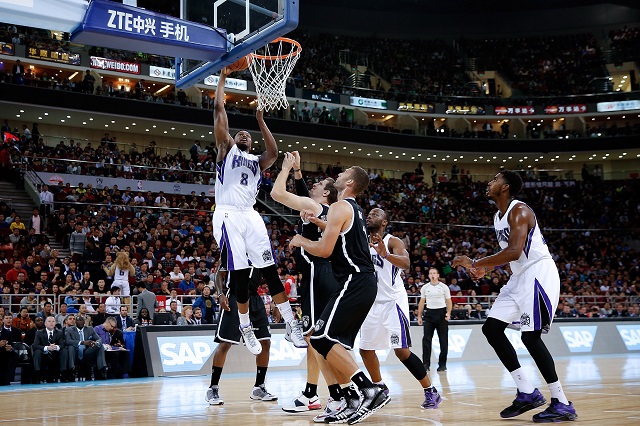 5. Rudy Gay
Nobody will ever question Rudy Gay's talent, as he is often the most impressive raw athlete on the court. At 6-foot-9, Gay is especially good in transition, where he can run the floor, and use both his incredible leaping ability and wingspan for smooth lay-ups and windmill dunks. In half court sets, Rudy Gay is capable of wheeling and dealing in the post, knocking down mid-range jump shots, and even stepping beyond the arc to shoot threes with respectable 34% accuracy. In all, Rudy Gay has averaged 18.3 points, 5.8 rebounds, and 2.2 assists per game, throughout his career.
At 28, Gay has already played for three separate franchises, in Memphis, Toronto, and Sacramento. Rudy Gay has often been dismissed as a "Black Hole," who hogs the ball to jack up ill-advised shots, rather than passing the ball out to the open man. For this, he often finds himself on the trading block, as an apparent disruptor of team chemistry. This year, however, Gay may finally be learning to balance his physical gifts alongside more knowledge for playing the game the right way. In his best season yet, Rudy Gay is now putting up per game averages of 21.1 points, 6.5 rebounds, and 4.0 assists, for a young Sacramento Kings ballclub.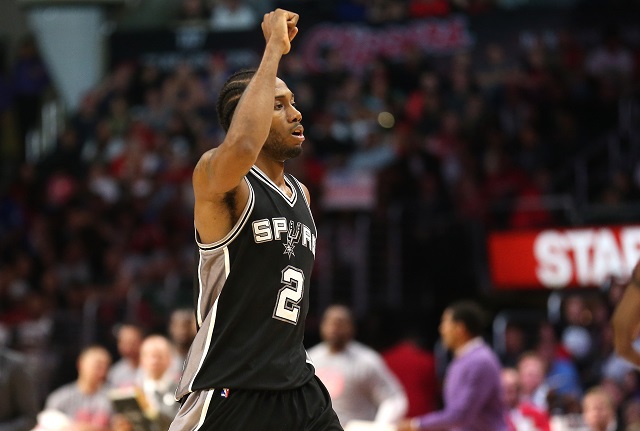 4. Kawhi Leonard
Kawhi Leonard's unquestioned status as the "LeBron Stopper" has vaulted him into this top-5 small forward list and conversation. Last year, Leonard took home MVP hardware, after stuffing the stat sheet to average roughly 18 points, 6 rebounds, 2 assists, 2 steals, and 1 block per game through the 2014 NBA Finals. He also knocked in 58% of his three-point attempts. In this series, however, it was Leonard's defensive play against LeBron James that was the primary catalyst behind the 4-1 San Antonio romp. Kawhi Leonard was like an attack dog that harassed James from end-to-end, kept him out of the paint, and forced costly turnovers. For his part, LeBron James was to ultimately return home to Cleveland, after his teammates failed to rise to the occasion against this Spurs Dynasty.
Respected and grizzled head coach Gregg Popovich has already lauded Kawhi Leonard as a "star," who will ultimately emerge as "the face of the Spurs." To do so, the mild mannered Leonard must continue to improve his shooting range, while also gaining confidence to be more assertive at the offensive end of the floor, for a Spurs franchise that lists veterans Tony Parker, Tim Duncan, and Manu Ginobili on the active roster. In a sign of things to come, Leonard recently rattled in 26 points against the Philadelphia 76ers, with Tim Duncan and Tony Parker sitting out the game.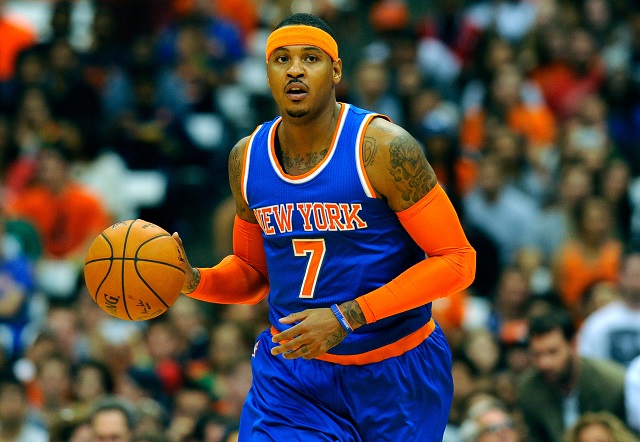 3. Carmelo Anthony
Since coming to New York, Carmelo Anthony has found the gift-and-the-curse that was Bernard King's career, as Melo has continually endured comparisons to the Knicks legend. As a prolific scorer, Anthony has mastered the mid-range game, where he is always a threat to knock down open jump shots, or even put the ball on the floor for easy lay-ups. In the post, Melo often schools the opposition, with a myriad of drop steps, up and under moves, and turnaround jumpers. For his career, Carmelo Anthony has averaged 25 points, 7 rebounds, and 3 assists per game. As young players, Carmelo Anthony and LeBron James were once even thought to be equals. In 2003, Melo led Syracuse to the NCAA Championship after putting in an epic 20-point, 10-rebound, 7-assist performance against Kansas, as a freshman.
Postseason success, however, has largely eluded Anthony at the professional level. He has only made it as far as the Western Conference Finals after 14 seasons in the NBA. Prior to this year, Anthony agreed to join forces with Phil Jackson in hopes of bringing winning basketball back to New York City. For his part, Carmelo Anthony is averaging 24 points per game through the early part of this year. Still, without a long march through the playoffs, his legacy may be dismissed as that of a one-dimensional volume scorer, who failed to make his teammates better. Certainly, Bernard King would be able to relate.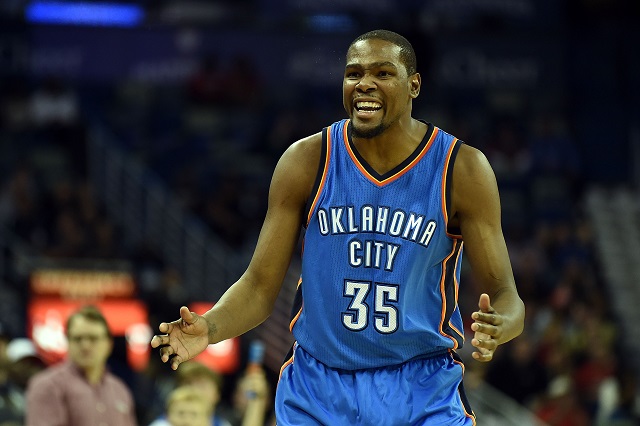 2. Kevin Durant
Kevin Durant is the most skilled offensive player in the game of basketball today. At 6-foot-10, Kevin Durant has redefined the small forward position, as his game combines unlimited shooting range alongside one of the better dribbling handles in the game. Already, the 25-year-old Kevin Durant has reigned as the NBA scoring champion, through four separate seasons. For his career, Durant is averaging 27 points per game, after knocking down three-point and free throw attempts at respective 38% and 89% clips. This season, a foot fracture has kept Durant sidelined and out of the early action, although he returned to make his much-anticipated 2014-2015 regular season debut on December 2 against the New Orleans Pelicans.
For his comeback performance, Kevin Durant put up 27 points, 3 rebounds, and 2 assists, in a 112-104 loss to the New Orleans squad. The Oklahoma City Thunder fell to 5-13, after both Durant and Russell Westbrook have missed significant playing time, due to injury. Much like Carmelo Anthony, Kevin Durant's legacy will ultimately be weighed against how successful he is in bringing home championships.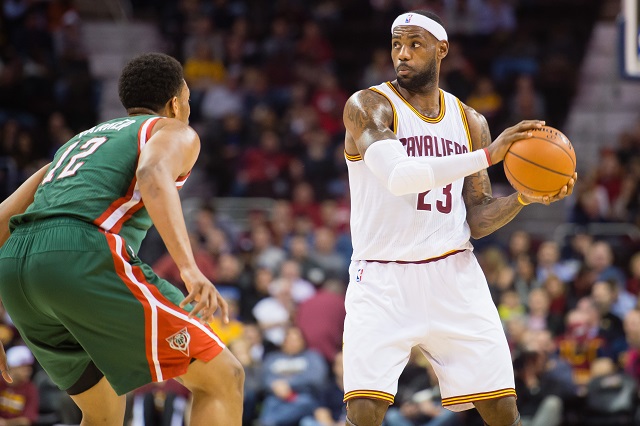 1. LeBron James
LeBron James has already been considered next to Larry Bird for the title of "greatest small forward of all time." Bird, the consummate winner, made five trips to the NBA Finals, winning three, and took home a pair of Finals MVP awards. To continue the comparison, LeBron James has already made five trips to the NBA Finals himself, winning two, and claiming two Finals MVP trophies. In addition, after taking his talents to South Beach, James teamed up with Dwyane Wade and Chris Bosh to advance to four straight NBA Finals from 2010 to 2014, a run that included back-to-back titles between 2012 and 2013. That came to an end when LeBron returned to Cleveland on July 11, 2014.
As a physical specimen, James is still unparalleled, combining the size and strength of a Karl Malone alongside the agility and court vision of both Michael Jordan and Magic Johnson. With maturity, LeBron James may continue to improve his shot mechanics and footwork in the post, conserving energy once he becomes a grizzled veteran. James is posting averages of 25 points, 6 rebounds, and 7 assists, this season, and going forward, he stands poised to add another chapter to his storybook career, by trying to finally bring a title home back to Cleveland.