NFL: The 5 Best Running Backs in the Game Right Now
What makes a great running back? It's hard to say, but the best bulldoze people at the point of attack, catch flare passes out in the flat, destroy linebackers in blitz pick-up, and, above all else, rack up yardage in chunks. Today's elite backs act as the ultimate threats to take the football to the house on any given possession. Arguably as important — a workhorse back can move the chains to eat up the clock in the fourth quarter and put away games.
These top five running backs make the cut with a combination of lifetime achievement and future projections.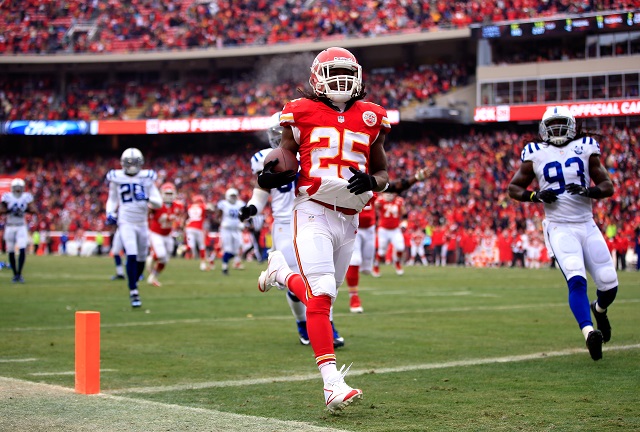 5. Jamaal Charles
Former track star Jamaal Charles has been nothing short of electric, since entering the NFL in 2008, as the 73rd overall pick in the draft. In a recent E:60 interview, Charles largely credited the inherent disrespect of his low draft position for fueling his unflinching drive toward success. If anything, Charles's most formidable challenge has been to stay healthy and stay on the field. He's has already racked up 6,356 yards and 35 touchdowns through his young career.
In 2010, Charles rushed for 1,467 yards, despite splitting carries with veteran Thomas Jones in the backfield. After missing time in 2011, due to injury, Charles was back at it in 2012, as the full-time starter. That year, Charles galloped for 1,509 yards, upon a scintillating 5.3 yard-per-carry average. In 2013, Charles emerged as one of the better dual threats in the NFL after hooking up with quarterback Alex Smith for 70 receptions, 693 yards, and 7 touchdowns in the passing game.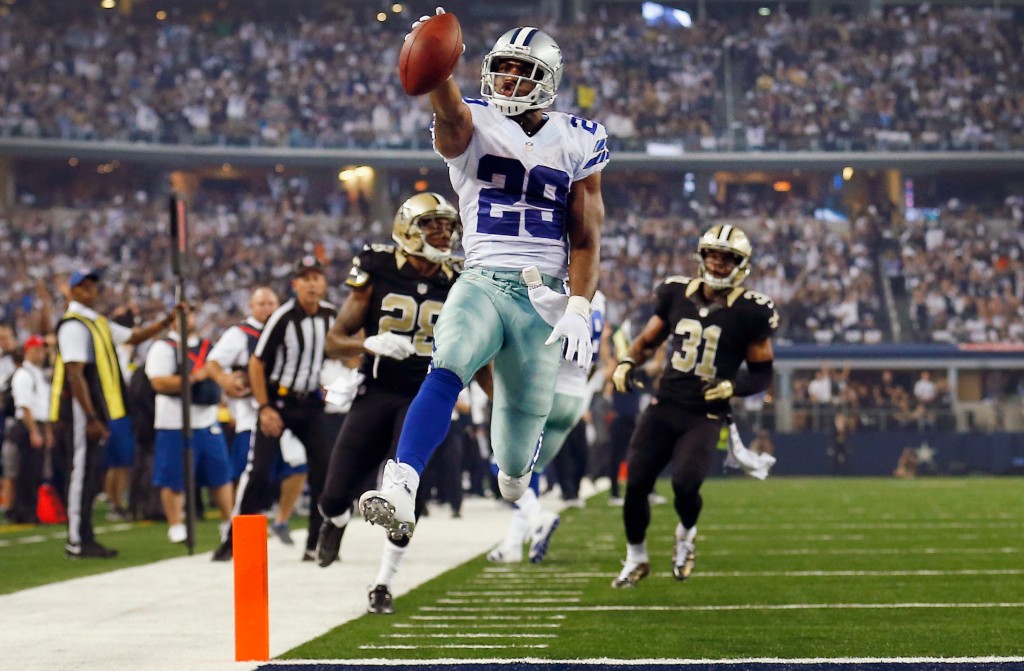 4. DeMarco Murray
DeMarco Murray has starred as one of the most notable and surprising stories of the 2014 NFL Season. For his part, Murray has emerged as the workhorse back for a talented Cowboys offense that also features Tony Romo, Jason Witten, and Dez Bryant. As somewhat of a throwback, Murray has romped for at least 100 yards through nine out of the first 10 regular season games, in an undeniably pass-happy league. By week 10, Murray led the league in both carries (244) and yards (1,233). For the sake of comparison, Arian Foster then came in second in this race for the rushing title, with 822 yards.
3. Arian Foster
To date, Arian Foster's career has served as the ultimate testimony to hard work. In high school, Foster was told that he wasn't good enough to play running back. In response, the young man put in time at linebacker until his name was finally called to answer the bell at featured back as a senior. At the University of Tennessee, Foster was unceremoniously benched as a senior, after putting in three solid years as the starting running back.
After Rocky Top, Foster was dismissed as somewhat of a head case and fumbler, who often emitted awkward pterodactyl noises. He actually fell out of the 2009 NFL Draft and was forced to sign as a free agent for the Houston Texans on the practice squad. Although originally relegated to the practice squad, Foster put in work to earn his way onto the cast of regulars and see game time action. In 2009, Arian Foster did show flashes of brilliance, as he rushed for 257 yards on 54 attempts, for a 4.8-yard average.
That offseason, Arian Foster hit the weights, ran track, and studied game film like a mad man. He was then ready to make the leap. In 2010, Arian Foster had his coming out party against the Indianapolis Colts. In a sign of things to come, he gashed the Colts for 231 yards and 3 touchdowns on 33 carries on opening day. For the year, Foster went on to rumble for 1,616 yards and 16 touchdowns on the ground alongside 604 yards and 2 touchdowns through the air. Ironically, the man nobody wanted closed out that season as the 2010-2011 NFL rushing champion. In 2014, Foster has been arguably better than ever, as he has posted career bests in yards per carry (5.1) and per game (102.8).
2. LeSean McCoy
LeSean McCoy definitely made waves heading into this 2014 season, after declaring himself the best running back in the NFL. At 5-foot-10 and 215 pounds, "Shady" is known for making great use of his blockers and making definitive cuts to power through holes at the line of scrimmage. McCoy has been especially dangerous in space, whether he touches the football on counters, toss sweeps, or out in the flat in the passing game. The versatile LeSean McCoy has emerged as the focal point for high-octane offense for both Andy Reid and Chip Kelly in Philadelphia.
A two-time Pro Bowler, McCoy put forth his best campaign as a featured back in 2013, when he rushed for 1,607 yards and 9 touchdowns on 314 carries (5.1 yards per carry average). For good measure, McCoy also snagged 52 receptions for 539 yards. This year, in 2014, Shady's numbers have declined somewhat, as his Eagles offensive line has been decimated by injuries. Still, LeSean McCoy is set for another 1,000-yard campaign, after racking up more than 600 yards on the ground through the mid-point of the season.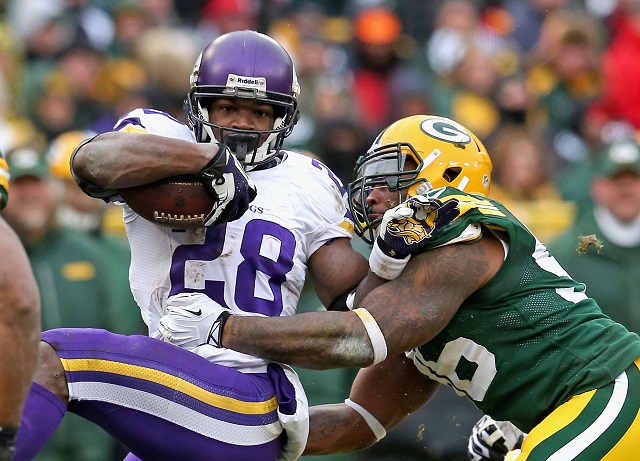 1. Adrian Peterson
Be advised that Adrian Peterson's full participation in this 2014 season remains in jeopardy, barring the resolution of a child abuse case in Texas and the ongoing appeal of his suspension through the NFL Player's Association. In any event, Peterson has still been considered to represent the best NFL running back in the game today. LeSean McCoy, beneath his own braggadocio, has even compared himself against Adrian Peterson as a benchmark.
Peterson, 29, has already racked up 10,190 rushing yards and 91 total touchdowns for his career. He's often compared to the great Jim Brown as an unreal combination of size, strength, and speed. When putting it all together, classic Adrian Peterson takes the inside hand-off and sheds arm tacklers at the line of scrimmage. From there, he moves on to the second level to juke stiff linebackers and bounce the football toward the sideline. Out on the edge, Peterson bowls over diminutive defensive backs, before shifting into his own top-gear and heading off to the races into the end zone.