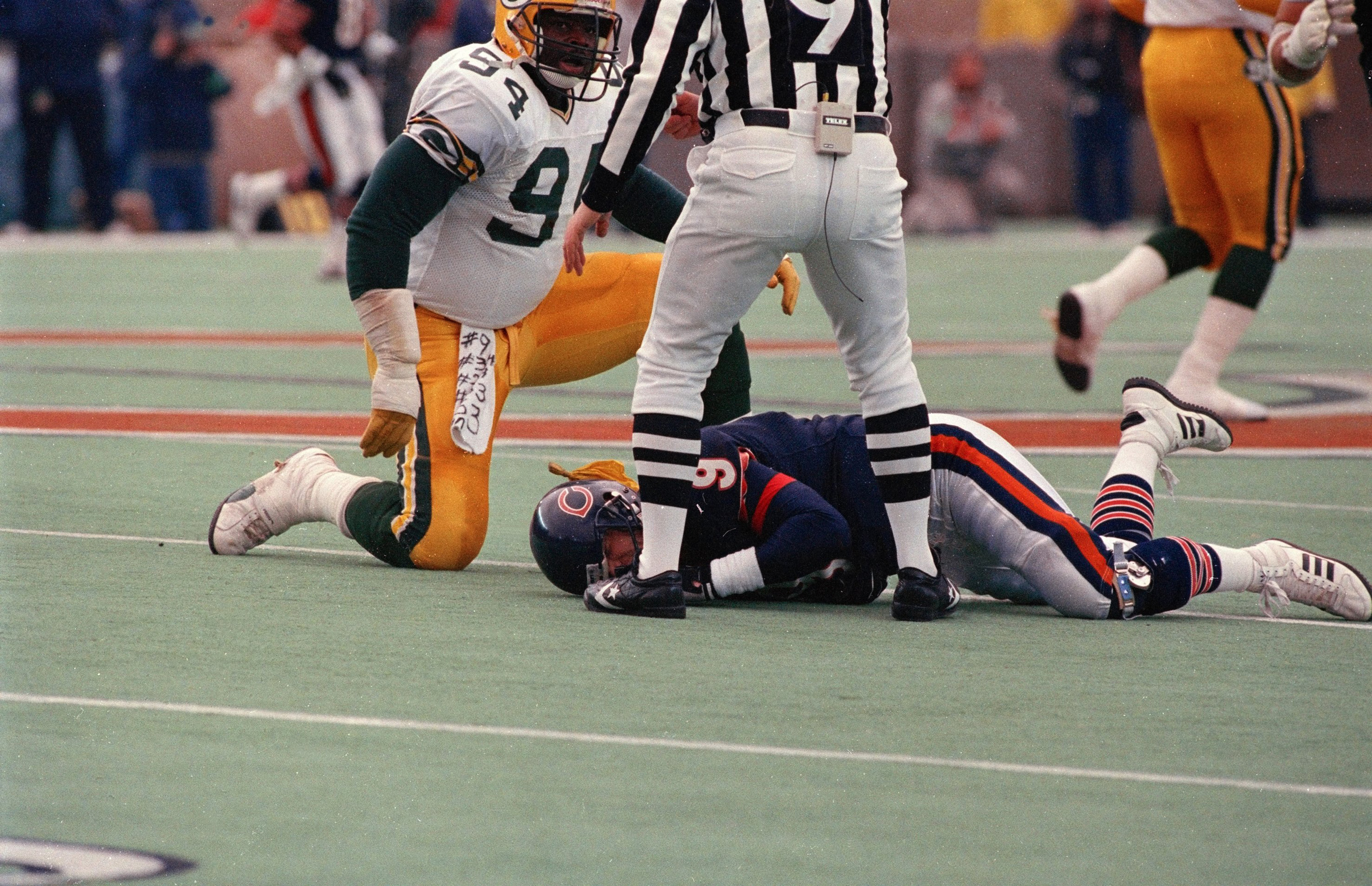 The Tragic Death of Charles Martin, the Man Known for Body-Slamming Jim McMahon
In 1986, Green Bay Packers defensive lineman Charles Martin body-slammed Chicago Bears quarterback Jim McMahon.
It was one of the ugliest and dirtiest plays in all of football. Green Bay Packers defensive lineman Charles Martin made a name for himself in the NFL in 1986 when he picked up Chicago Bears quarterback Jim McMahon and violently threw him to the turf. While that play defined Martin in the NFL world, he was much more than just the man who threw McMahon to the ground. Martin's NFL career didn't last much longer after the incident. Neither did his life. Martin died in 2005 at the age of 45 after suffering from kidney failure.
Charles Martin's football life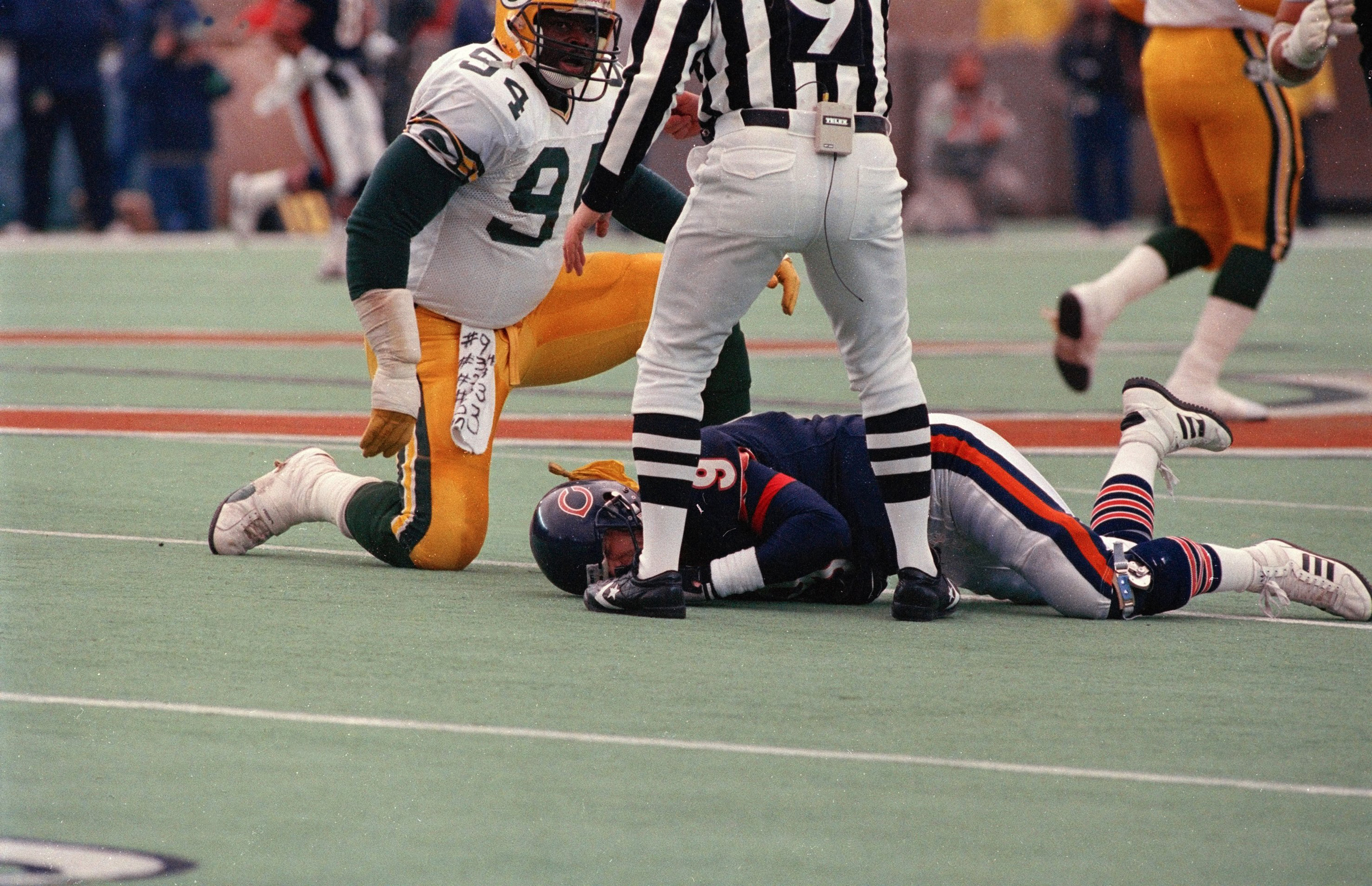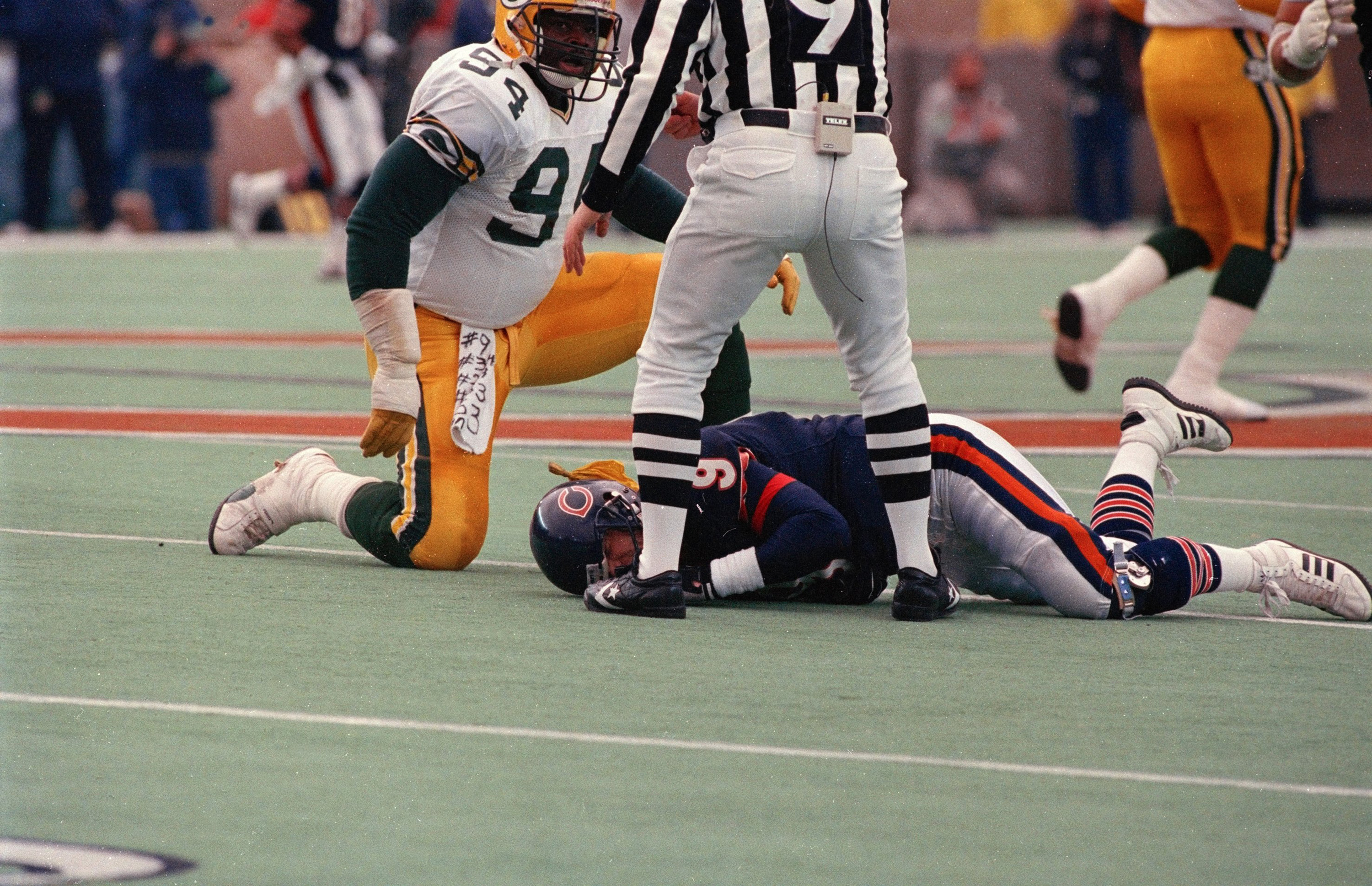 Charles Martin played his high school football at Cherokee High School in Canton, Georgia. He was nicknamed "Too Mean" by his coach Danny Cronic. According to The Chicago Tribune, Cronic would get upset with Martin for routinely playing after the whistle and piling up on players. "Charles!" Cronic screamed. "You are just too mean!" The nickname "Too Mean" stuck.
Martin played Division II college football and was an All-American. He played at Livingston University, now known as the University of West Alabama. He played one season with the Birmingham Stallions of the USFL and then had a tryout with the Edmonton Eskimos of the Canadian Football League.
The 6-foot-4, 280-pound Martin signed with the Green Bay Packers in 1984 and played defensive end and nose tackle. He played all 16 games in 1984 and 1985 and had three sacks in each year. He ended his NFL career with short stints with the Houston Oilers and the Atlanta Falcons.
Martin body-slams Jim McMahon
It was Nov. 23, 1986, and the playoff-bound Chicago Bears were hosting the lowly Green Bay Packers. Prior to the game, Green Bay Packers defensive lineman Charles Martin displayed a towel that had the uniform numbers of several Bears players, including Jim McMahon (9), Walter Payton (34), and Willie Gault (83). According to The Chicago Tribune, that towel represented Martin's 'hit list.'
During the second quarter of the game, McMahon threw a pass that was intercepted by Green Bay's Mark May. Well after the play was over, Martin lifted McMahon, who had his back to him, and slammed him to the ground. "It was at least 20 seconds after the interception," said Jerry Markbreit, a retired NFL official who worked the game, according to The Chicago Tribune. "I don't think he had an awareness of how late it was, or that the play was over. McMahon was walking to the sideline, had relaxed, and he picked him up and smashed him to the ground."
Markbreit ejected Martin and Martin was suspended two games and fined $15,000 for the incident. "After the play, I took a hold of Martin's arm and said, 'Ninety-four, you're out of game. I'm ejecting you,'" Markbreit told ESPN. "And he pulled away and said, 'I'm not going anywhere with you.' I looked at him and, tongue-in-cheek, I said, 'If you don't come with me, I'm going to let the Bears kill you.' He said, 'Let's go.'"
Martin dies at age 45
The Green Bay Packers cut Charles Martin in 1987 after he was implicated in a bar fight. He played his last game in the NFL with the Atlanta Falcons in 1988. In 2005, Martin died at the age of 45 from kidney failure after his spleen had ruptured. While many people remember Martin as the man who body-slammed Jim McMahon, those close to him remember him much differently.
Martin's cousin, Rev. Daniel E. Varner, remembered him as a man who made something of his life. "This is a man who came from nothing, who had quit on life when he was young but fought back, and look how far he came," Varner said to The Chicago Tribune in 2005. "There is greatness in that. There was greatness in Charles."
"I can tell you Charles was kind of surprised at the reaction of everybody to that hit," said Dacia Hurter, a close friend of Martin's. "He brought that white towel over with him, but it wasn't like he was bragging or planned on hurting anybody. You had to know Charles. He was gentle, childlike. He would not have known what he did." Martin left behind a son, Charles, who was 19 at the time of his father's death.