The Tragic Death of High School Basketball Star Ben Wilson
During the early 1980s, the city of Chicago featured one of the best high school basketball players in the country. His name was Ben Wilson, and he attended Simeon High School in Chicago.
Wilson was regarded as the top high school player in the country by many coaches and scouts. He was set to have a successful NBA career, but that never happened because he was killed while he was in high school.
Ben Wilson was a once in a lifetime type of talent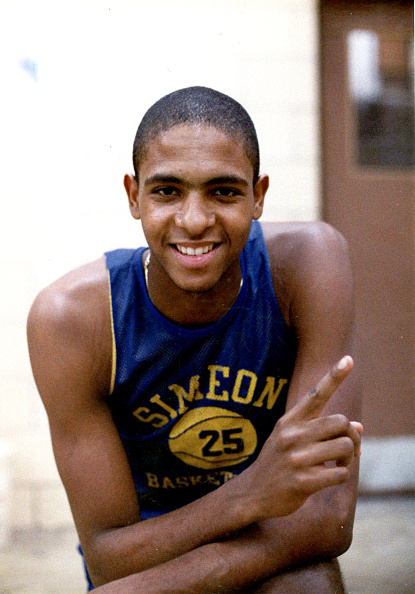 Simeon High School is known for producing high-level athletes in basketball. NBA players Derrick Rose and Jabari Parker are just a few who came out of high school. Simeon was a national powerhouse for many years on the high school level and continues to be one of the best schools in the state of Illinois.
Before Rose and Parker, there was Ben Wilson. Wilson began his freshman year at Simeon in 1981. During the 1982-83 season, Wilson was the only sophomore on the varsity basketball team. As a junior, Wilson was a starter on a lineup filled with seniors. Wilson helped lead his team to a victory in the Illinois AA state championship game for their first state title in school history. ESPN HS had Wilson as the best junior in the country.
That summer, Wilson attended the invitation-only Athletes for Better Education camp in Princeton, New Jersey. Wilson had a lot of success during the camp, and after the camp, he was ranked the No. 1 high school player in the country. He would become the first player from Chicago to be ranked as the top player in high school. At 6-foot-8, Wilson's game was very mature. He could shoot and pass at a high school, and on the court, there was no question that he was the best player out there.
Ben Wilson's tragic high school death
On November 20, 1984, during Wilson's senior year, he decided to skip out on having lunch with his teammates and talk to his girlfriend. Wilson and his girlfriend had already had a son together, and there were some issues between the two about letting Wilson see his son.
Wilson and his girlfriend decided to leave the high school campus and go to a place down the street. After a brief argument with his girlfriend, Wilson accidentally bumped into another person, and the two got into a scuffle. Not long after, the young man that Wilson bumped into pulled out a gun and fired two shots striking Wilson in the abdomen and groin. Students quickly found out about the shooting and surrounded Wilson as they saw him being rushed to the hospital. Wilson did not survive from the gunshot wounds.
Ben Wilson's death impacted the entire country
Wilson had a bright future ahead of him, but his life was taken way too soon. News of Wilson's death quickly reached national news. Many people mourned over his death, and it came as a shock to a lot of people.
Wilson was killed the day before his senior season was supposed to start. One of Wilson's high school friends and former NBA player Nick Anderson described Wilson as a player who could do it all. "Benji was Magic Johnson, but with a jump shot. He had all the moves. We played one-on-one a lot. Benji usually won. I see him sometimes in my mind's eye, playing in the NBA, which he could have done after only two years in college," Anderson said in an interview with Scoop Jackson. Wilson meant many things to many people, and he would have gone on to do amazing things.