The Tragic Death of Magic Johnson's Best Friend Inspired Him for Years
Magic Johnson's remarkable life was thrown into question after he was diagnosed with HIV. The virus was a lot scarier at the time. Everyone expected his life to suffer after his diagnosis. Surprisingly, Johnson has seen great success personally and professionally, in part by reflecting on the words of a childhood friend, Reggie Chastine, who died while they were in high school.
Magic Johnson's retirement shocked basketball fans
From the moment he entered the NBA, Magic Johnson's life was as close to perfection as anyone could hope for. He was champion and a Finals MVP as a rookie and went on to win four more titles in the '80s. His style, smile, and general greatness invented the LA Lakers brand as we know it.
But everything about his life, and his perception in the media, changed on November 7, 1991. This is when Johnson announced during a press conference that he tested positive for HIV and would retire immediately at the age of 32. 
It's hard to overstate how stunning this admission was to people at the time. HIV/AIDS was the mysterious virus instilling fear across America at the time. Most assumed having it equated to a death sentence. People saw HIV as a disease only caught and spread by gay people. Homosexuality was seen as gross at best and immoral at worst by most of the country.
It took years for the federal government to treat the issue with any sort of seriousness, reports Vox, literally joking about the plague as thousands of people suffered and died without help. Johnson isn't gay, but that didn't shield him from accusations about his life and character, allegedly even from his now-former friend Isiah Thomas. Most people assumed Johnson's life would end, but he refused to give up.
Johnson's childhood friend inspired him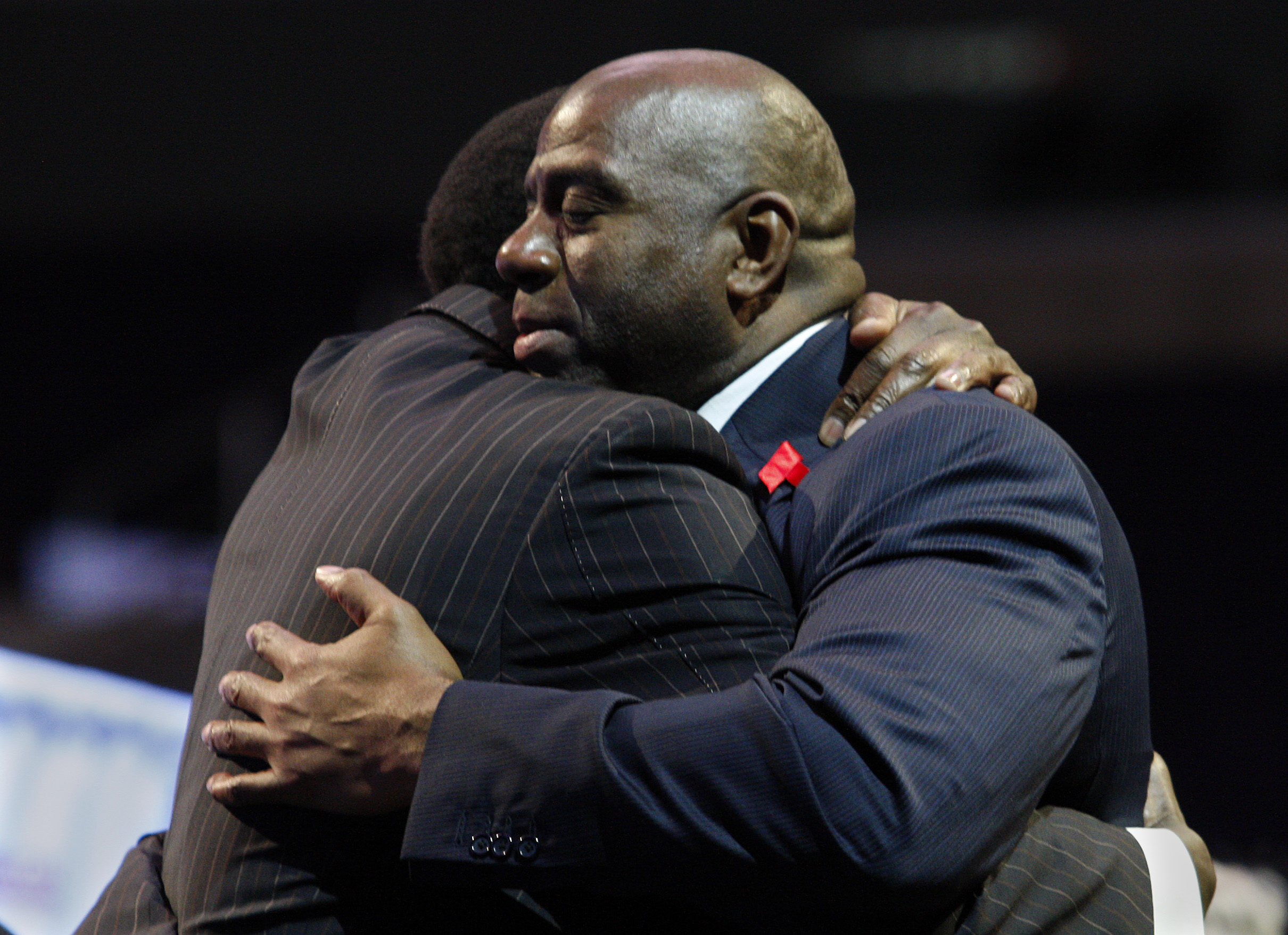 Johnson's attitude remained remarkably similar even after his entire world upended. He still had enough support to make a memorable appearance in the 1992 All-Star Game and also played a part on the Dream Team. 
He explained how he could maintain his trademark charisma during this time in a Sports Illustrated article in 1996. "It's like a big game," he said. "A big series. That's how I approach it. I've always loved a challenge. My whole life has been a challenge, and this is just another one. I love to shock people. To beat the odds. They said I was too tall to play guard. They said I couldn't shoot. Each time I said, 'O.K., I'm just gonna show you.' And this is just another one of those things." 
Some traumatic life experiences informed his passion for life. One of his oldest friends, Reggie Chastine, a "little guy with a big afro," convinced a young Magic that he should continue to pursue basketball. ("I doubted myself back then," he said. "He was who I should have been.")
Chastine died in a car accident when Johnson was 16. They rode around in the car all the time, but Magic decided just chose not to that night for no apparent reason. When he heard the news, he ran outside and cried for hours. Magic would see his friend in his dreams regularly after he learned he had HIV. It was always the same dream. 
"In the dream that kept returning after Earvin's infection was discovered, Earvin and Reggie would be playing one-on-one at sunrise in St. Joe Park, just as they used to, and Reggie would see the look in Earvin's eyes, the question: Am I going to have to join you, Reggie? Am I going to have to come  . . .  over there? Reggie would stop and stick the ball under his arm. "Man, what's wrong with you, Earv?" he would howl. "Don't take that crap! You can't quit! … You beat all the odds! You'll beat this too!" And Earvin would wake up, heart pumping too hard for sleep, and he would leave his bed and go to the big television screen."
Johnson came back for one final season 1996, going out on his own terms. 
Magic Johnson accomplished a lot after leaving the court
Johnson has remained in the public eye ever since. Before returning to the NBA as a player, he had a short stint as the Lakers' head coach. He held the job for only 16 games before resigning after frustrations due to the lack of a winning mentality in the players. Johnson realized he wasn't willing to risk tarnishing his legacy for a job he didn't dream of having.
Johnson repeated this move when he suddenly quit as the Lakers President of Basketball Operations without telling anyone and citing his desire to get back on Twitter as one of the reasons for quitting. But these small details in a remarkable life seemed set for an early end when Magic received his HIV diagnosis.
He's spent most of the last two decades becoming one of the best athletes-turned-businessmen in the world. It's easy to think of this as a story of an individual overcoming difficult circumstances, and while there's some truth to that, he couldn't have made it without the words and support of people like Reggie Chastine, even after his passing.