The Tragic Ending to Chris Bosh's Career
Chris Bosh came into the NBA with a lot of hype, and for good reason. He ultimately lived up to that hype, being an 11-time NBA All-Star. However, Bosh's career probably did not end the way he wanted it to. In fact, he still probably had several good years left in the tank at the time he last took the court in the NBA with the Miami Heat.
Chris Bosh was a star for the Raptors and Heat
The 2003 NBA draft class was stacked, and Chris Bosh was one of the top picks. The Toronto Raptors ultimately selected him with the fourth overall pick, and he became a star for them. 
Bosh averaged 11.5 points per game and 7.4 rebounds in his rookie season. Over the next few seasons, though, he became one of the best big men in the league. After averaging 16.8 points per game and 8.9 rebounds in his second season, Bosh earned the first of 11 straight All-Star selections in 2005-06 when he averaged 22.5 points per game and 9.2 rebounds. 
From 2005-06 through 2009-10, Bosh averaged more than 22 points per game each season and more than 8.5 rebounds. His best season statistically was in 2009-10 when he averaged 24 points per game and 10.8 rebounds, both career-highs.
Bosh, Dwyane Wade, and LeBron James then formed the big three on the Miami Heat in 2010-11. They ultimately had a ton of success together. The three led the Heat to four straight NBA Finals appearances, and the team won back-to-back championships in 2011-12 and 2012-13. In those four seasons, Bosh averaged 17.3 points per game and 7.4 rebounds.
James then went back to the Cleveland Cavaliers in the summer of 2014. Bosh played in parts of the 2014-15 and 2015-16 seasons with the Heat. He has not played since Feb. 9, 2016, though.
Blood clots ended Bosh's career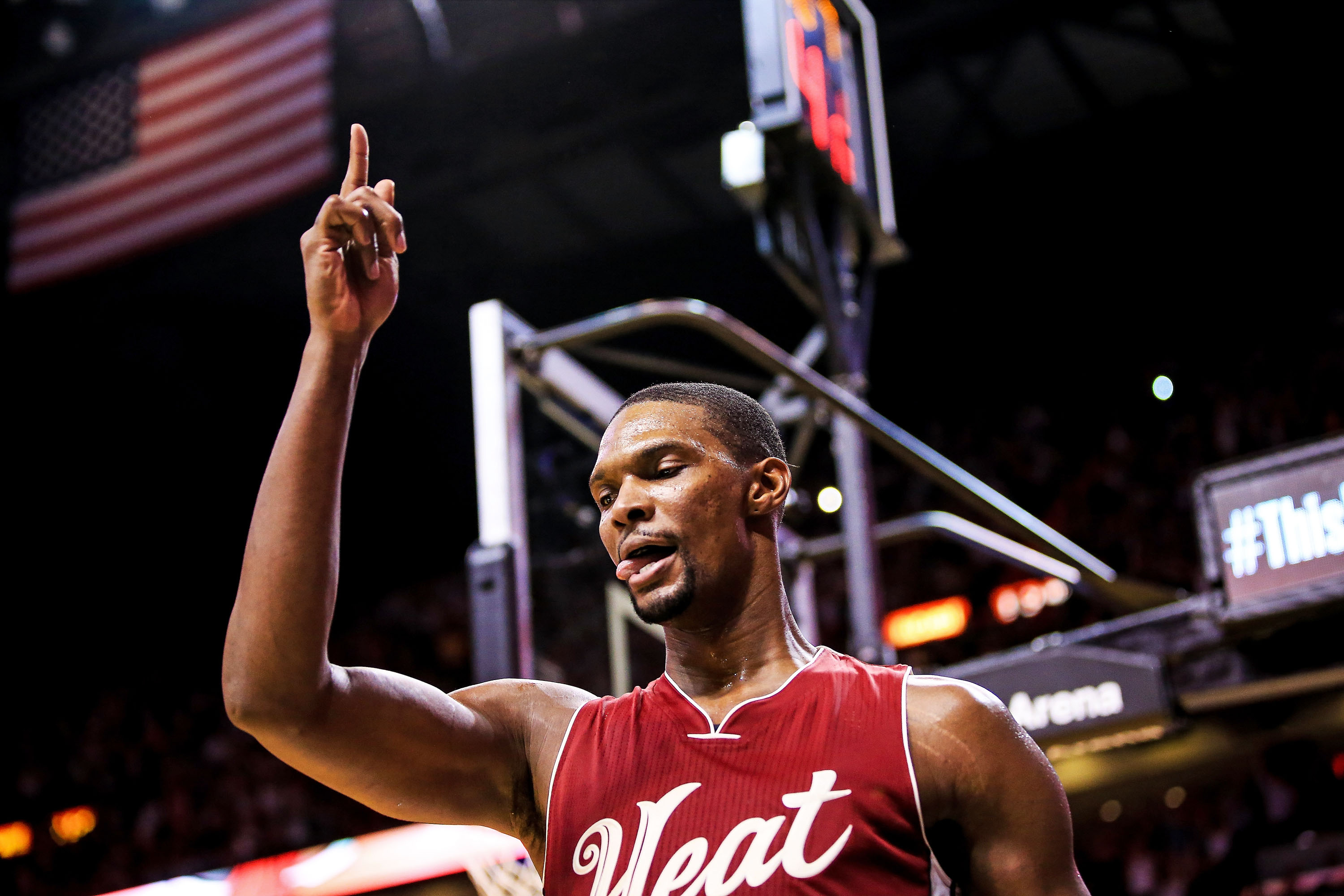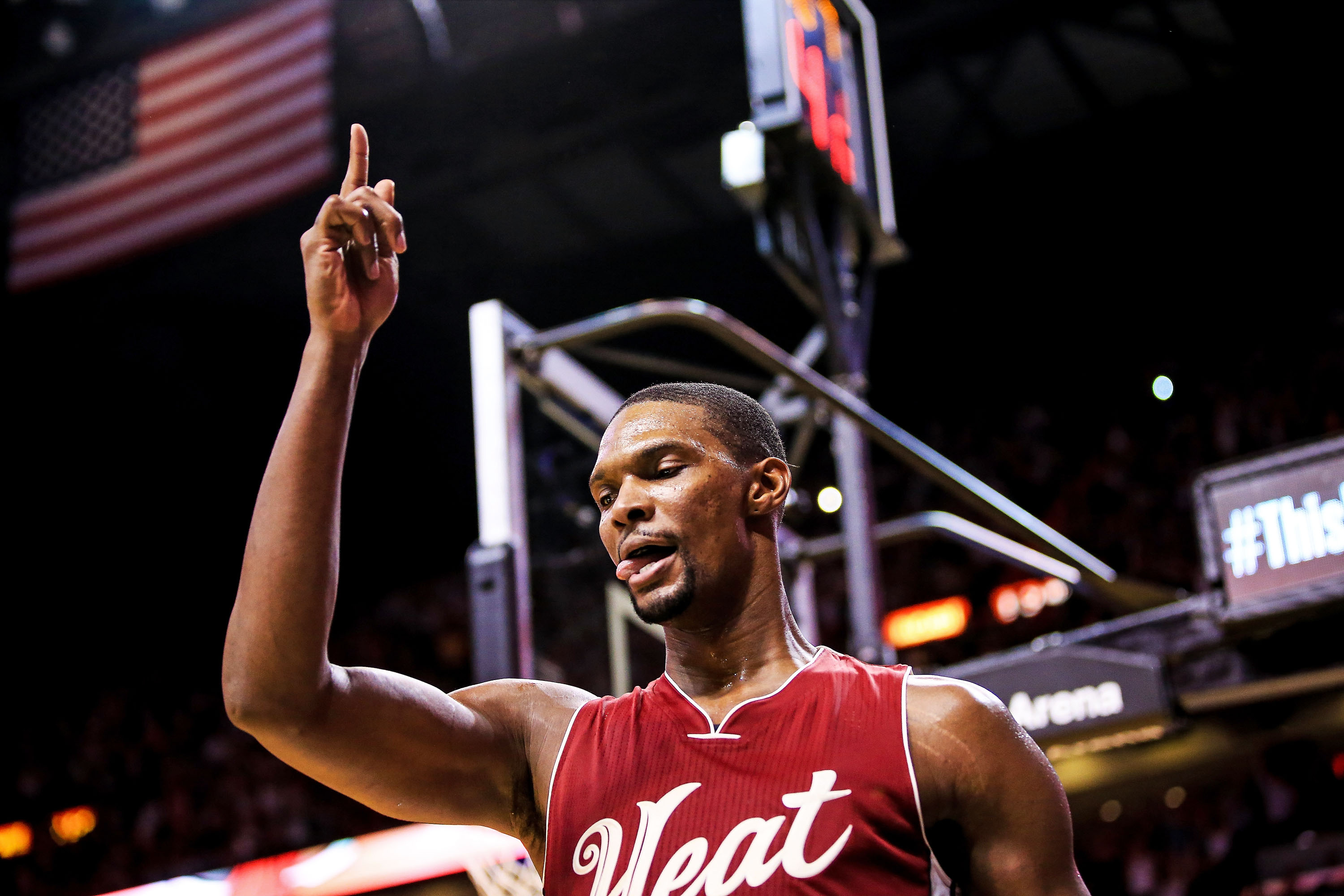 In the summer of 2014, Bosh signed a five year, $118 million contract with the Heat, according to the Miami Herald. However, Bosh only played in 44 games in 2014-15. He averaged 21.1 points per game and seven rebounds in those games, but he was diagnosed with his first blood clot in February 2015, and then missed the rest of the season.
Then in 2015-16, Bosh returned to the court. He averaged 19.1 points per game and 7.4 rebounds in 2015-16, but he only played in 53 games because of another blood clot diagnosis, according to the Miami Herald. 
After that, before the start of training camp in 2016-17, Bosh failed a physical. Team president Pat Riley then informed reporters that the team was no longer working toward Bosh's return. This was because of the risks of playing while battling blood clots. The Heat waived Bosh in July 2017, according to USA Today. The two sides agreed to part ways in May 2017, but waiving him in July was a formality.
Bosh, however, continued to try to work toward a return. However, in October 2017, Bosh started changing his mind. It was when he watched Gordon Hayward's season-ending injury in his debut with the Boston Celtics.
"I was watching that game and I said, 'Man, that can happen to me,'" Bosh said, according to the Miami Herald. "Then kind of after that, it was kind of a slow burn."
The decision to officially call it quites then gradually happened.
"Slowly but surely, the workouts I was having lost fire. I didn't have the same motivation. I started dabbling in other things and getting better at other things, and those things became more of my focus," Bosh said, according to the Miami Herald. "Taking care of my children, it became even harder to work out. I can't get the time because the kids are here."
The Heat retired his jersey
In March 2019, Bosh's career seemed to officially come to a close. The Heat retired his No. 1 jersey.
"For everything to happen so fast, it just shows you how things can change," Bosh said, according to the South Florida Sun Sentinel. "I'm humbled, I'm grateful for the experience that I've had here and in the league as a whole, and I have a different mindset now. Although we all do something and we get to experience things, you've got to cherish it because you never know when it's going to stop."
Bosh's No. 1 joined No. 10, 32, and 33 in the Heat's rafters, according to CBS Sports.
Chris Bosh had a great NBA career. However, we are all left wondering how good he still could have been in the years following LeBron James' departure from the Miami Heat.
Stats courtesy of Basketball Reference