What Is the Meaning of 'the Twisties'? Learn More About Why Simone Biles Withdrew From the Tokyo Olympics
It is hard to deny that in the world of gymnastics, Simone Biles is the GOAT And going into her second Olympics, Biles seemed poised to add several more gold medals to her collection. But after her first rotation during the team finals at the Tokyo Olympics, Biles shocked everyone when she withdrew from the team competition, and then later from the all-around, as well as the vault, floor, and bars, event finals. The GOAT gymnast withdrew from the biggest competition in the world due to something called "the twisties" — but what is its meaning, exactly? Keep reading to learn more.
Why did Simone Biles withdraw from the team competition?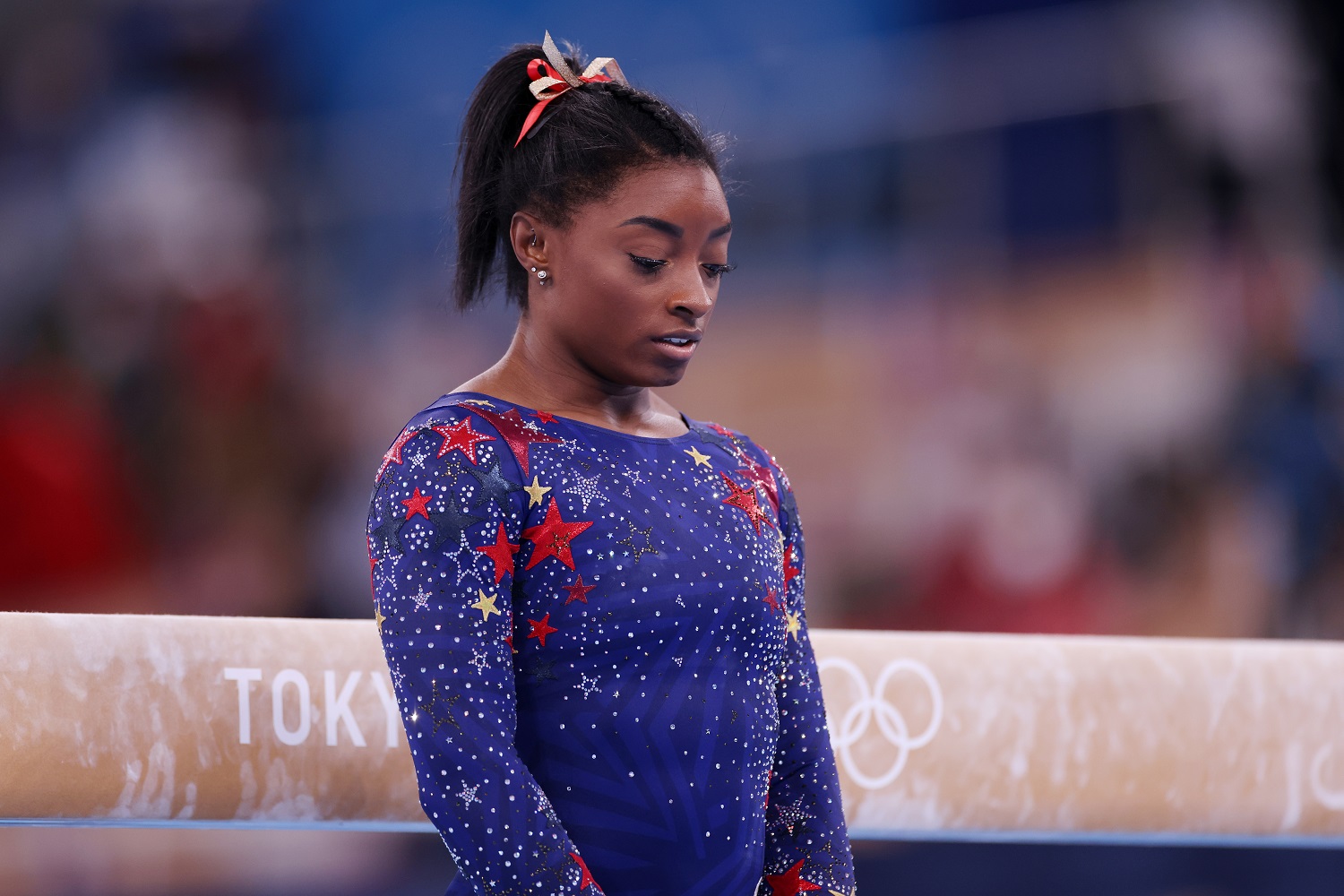 The U.S. team started finals on vault, and Biles planned to perform an Amanar — a roundoff back handspring onto the vault table followed by a layout with 2.5 twists. However, when she actually vaulted, she was only able to do 1.5 twists and took a big step forward after a hard landing. But why did this prompt Biles to withdraw? Even GOATs aren't always perfect. Initially, she said she was dealing with some mental health issues and wasn't confident in her performance and didn't want to bring the rest of the team down. Later on, however, Biles explained a bit further.
What is the meaning of 'the twisties'?
Later, after the U.S. team won silver, Biles told reporters that she had a case of "the twisties," meaning she did not have any idea where she was in the air during her vault. If you aren't a gymnast, you probably have never heard of the twisties. However, you probably have heard about a similar phenomenon in other sports called the yips. A pitcher who suddenly can't throw to first base might have the yips, a sudden and unexplained loss of basic skills. Having the yips in baseball is bad, but having the twisties in gymnastics can actually be dangerous.
The twisties are specific to aerial skills in gymnastics that involve, you guessed it, twisting. The gymnast loses the ability to control their body while performing the skill, and ends up disoriented and unsure where they are in relation to the ground. Carly Patterson, the 2004 Olympic all-around champ, knew exactly what Biles was talking about and told People, "It is very, very scary … [you] have no clue when you're going to hit the ground or how you're going to hit the ground." And, just like with the yips, it perseverates in your head and can end up destroying your confidence, leaving you unable to perform.
Fans and fellow athletes have been overwhelmingly supportive of Biles
While Biles has received some criticism for her decision, fans, as well as fellow athletes, have been incredibly supportive. In addition to Patterson, other gymnasts — including six-time All-American Katelyn Ohashi and Russia's Angelina Melnikova, who won the bronze medal in the all-around competition — have voiced their support. But gymnasts are not the only athletes showing their support for Biles. Dak Prescott, quarterback for the Dallas Cowboys, who has been open about discussing his own mental health, said, "I understand where she's coming from, and I don't think it's up to me or anybody else to judge that."
Fellow athletes aren't the only ones showing their support for Biles. Former First Lady Michelle Obama, Senator Mitt Romney, and pop star Justin Bieber are just a few of the celebrities who have sent messages to Biles saying how proud they are and how much they admire her. And her legion of fans have flooded her social media with love and support. 
Biles, along with other gymnasts, perform gravity-defying skills. Like Sir Isaac Newton before them, gymnasts know what goes up must come down, but what allows them to perform these amazing skills is the knowledge that they are able to control how they return to the ground. The twisties take away that ability to control their return to the ground. If you can't control how you hit the ground, you're just an apple falling from a tree — and for a gymnast, there isn't much that is more terrifying than that.