The UFC Fights Everyone is Waiting to Watch in February
Fight fans hoping to save a little cash will be happy to know that the UFC will hold three events in the month of February — and not a single one will be a pay-per-view card. There was a PPV scheduled for February, but that fight card, UFC 196, was moved to FOX Sports 1 and renamed UFC Fight Night 82. UFC 196 was set to feature a heavyweight title fight between champion Fabricio Werdum and former champion Cain Velasquez, but an injury to Velasquez forced the change. Stipe Miocic was slotted to fight Werdum for the title, but Werdum also withdrew due to injury. That's when the UFC moved the event.
It was a strange chain of events, but the change was a much better alternative to completely scrapping it from the schedule. The card will take place on February 6 at the MGM Grand Garden Arena in Las Vegas, with the main event featuring a welterweight bout between former champion Johny Hendricks and Stephen Thompson. On February 21, the promotion heads east for UFC Fight Night 82, a fight card that will take place at the Consol Energy Center in Pittsburgh. The UFC has yet to release broadcast information about this event, which Donald Cerrone and Tim Means will headline in a welterweight contest.
The final event of the month takes place on February 27 at The O2 Arena in London and will be broadcast on UFC Fight Pass. The card's main event will feature the return of former UFC middleweight champion Anderson Silva in a matchup with Michael Bisping. Each of the main events' fights are among the UFC contests that diehard fans need to catch in February. Read on to discover more about these and the other compelling fights that the promotion will present this month.
1. UFC Fight Night 82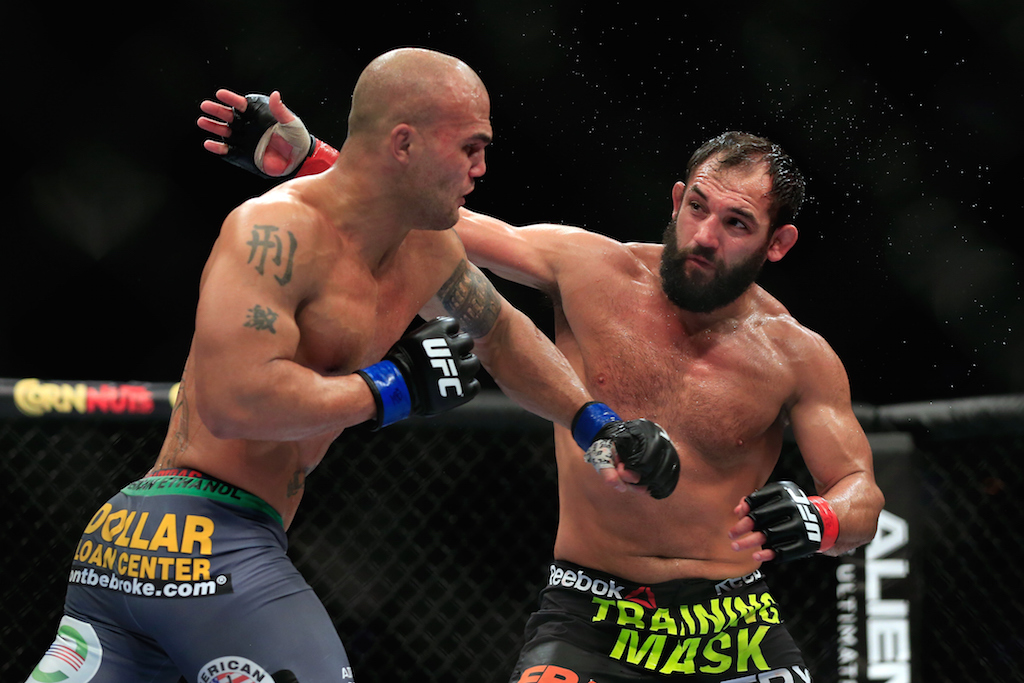 Johny Hendricks versus Stephen Thompson
You have two top-10 welterweights in this one; both who up until late January were training for a three-round fight. With the loss of the heavyweight main event, the UFC elevated this bout to main-event status and two extra rounds were tacked on, so now we have a five-round main event. You will want to watch the weigh-in for this one just as much as you'll want to watch the fight.
Johny Hendricks had to withdraw from his last fight, an October matchup with Tyron Woodley, because of a weight cut gone wrong, which landed him in the emergency room. Reports show that Hendricks is on track for an easy weight cut, but he does have a history of struggling to make the 170-pound limit. If he does make weight — in a healthy manner — he will look to make a statement in this fight.
Hendricks' goal will be to return to a welterweight title fight since, in his mind, he's still the champion after losing the belt to Robbie Lawler by split decision at UFC 181 in December 2014. Hendricks is a powerful striker with an NCAA champion wrestling pedigree. His opponent, Stephen Thompson, is one of the flashiest strikers in the UFC. This should prove to be an exciting fight with both competitors hoping to prove that they belong among the elite in the welterweight division.
Roy Nelson versus Jared Rosholt
These two heavyweights may hang around the bottom of the top 15, but this is no reason to write off this fight. Roy Nelson is a veteran fighter who has heavy hands and an iron chin. Despite his size and physique, he holds a black belt in Brazilian jiu-jitsu. However, at age 39, he may be nearing the end of his career.
Jared Rosholt, at age 29, is one of the younger ranked heavyweights; he's also a former All-American wrestler and relies heavily on those skills inside the Octagon. His smothering style may not make for the most exciting fight in the heavyweight division, but we think he wins, entering this bout with a 6-1 record in the UFC.
Joseph Benavidez versus Zach Makovsky
Another pair of top-10 fighters will face off in this one — this time in the flyweight division. A lot of people dismiss the lower weight divisions, but if you like fast-paced fights that keep a frenetic pace from start to finish, this fight is for you. Joseph Benavidez's only UFC losses have been to flyweight champ Demetrious Johnson, and he is currently on a four-fight winning streak as he tries to position himself for a third title fight. Zach Makovsky is a talented fighter with a lot to gain here. He's 3-2 in the UFC, and a win will put him on the short list of fighters who the UFC will consider for a title fight against Johnson.
Mickey Gall versus Mike Jackson
These two have a combined record of 1-0 as professionals, and Mickey Gall has the single win. So, why are they in the UFC, let alone in a must-watch fight? Well, because of CM Punk. Gall called Punk out after his first professional win, and UFC President Dana White was in attendance that night. Impressed by the young fighter's chutzpah, White decided to give Gall a chance in the UFC. If he manages to defeat Mike Jackson, he will fight Punk in Punk's UFC debut. If Jackson wins this fight, it is unclear what the UFC will do with him in his next fight.
2. UFC Fight Night 83
Donald Cerrone versus Tim Means
Donald Cerrone may have lost his last fight — a lightweight title fight against champion Rafael dos Anjos — but if you thought he would sit around and mope about that, you don't know much about Cerrone. Instead, he's moving up to welterweight to fight Tim Means. In this fight, we have two guys who like to go out there and go after a finish. Cerrone has ended 20 of his 28 victories early while Means has stopped 21 of his 25 wins before the final horn. It's hard to say how this one will go since Cerrone has never fought at 170, but one thing you can count on is that it will be a fun fight to watch.
Cody Garbrandt versus John Lineker
Since joining the UFC in early 2015, Cody Garbrandt has steadily worked his way up the bantamweight rankings. He hasn't cracked the top 15 yet, but when he faces John Lineker at UFC Fight Night 83, he could do so with a victory. Garbrandt is 7-0 as a pro and 2-0 in the UFC; he has six knockouts to his name. Lineker had been fighting as a flyweight until his last fight, a first-round submission win at UFC 191. He is 7-2 in the UFC and is ranked in the top 15 as a bantamweight. With 33 pro fights, Lineker is the more experienced competitor here, and he will be the biggest test of Garbrandt's career. Expect an aggressive fight here.
Dennis Bermudez versus Tatsuya Kawajiri
This is a very important fight in the featherweight division between top-15 fighters. These two are currently headed in opposite directions right now. Dennis Bermudez lost his last two fights while Tatsuya Kawajiri won his last two. However, Bermudez lost to fighters of a higher caliber than the fighters who Kawijiri defeated. Bermudez needs a win here to stay in the top 10 in the division while Kawajiri could launch himself into the top 10 if he pulls out the win.
3. UFC Fight Night 84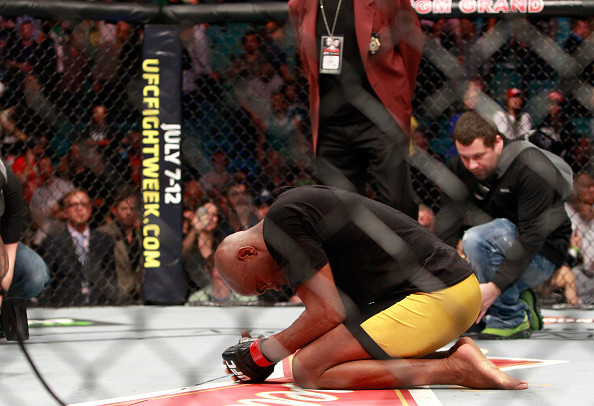 Anderson Silva versus Michael Bisping
This is a fight that Michael Bisping has clamored to get for a long time. Sure, he would have preferred it to be when Silva was middleweight champion, but he was never able to put himself into a spot to earn that title fight. Perhaps this fight — taking place in Bisping's home country of England — will be a small consolation prize. It will be Silva's first fight since he served a one-year suspension for failing a drug test after UFC 183. The former champ needs a win to put the last two-and-a-half years behind him.
Silva lost his middleweight title to Chris Weidman by knockout in July 2013, broke his leg in the rematch loss in December 2013, and had his win against Nick Diaz overturned to a no-contest in January 2015 after the failed drug test. This may look like an old-timers fight on paper, but it is not. Bisping is ranked in the top 10 in the middleweight division, and Silva has not mentioned retirement. Whoever wins here will receive heavy consideration for a title eliminator or title fight, based on name recognition and drawing power.
Gegard Mousasi versus Thales Leites
Speaking of the middleweight division, the co-main event of this card is another important fight in the division, as these top-10 fighters get after it. Gegard Mousasi is coming off a surprise knockout loss to Uriah Hall in September while Leites enters this fight after a split-decision loss to Bisping. Both of these fighters are skilled on the ground, with 26 submission wins between them, but Mousasi is a more well-rounded fighter, and he is also dangerous with his striking. Both of these guys turned pro in 2003 and are in the thick of things in the middleweight division; a loss here would be a pretty significant setback.
Statistics and rankings courtesy of UFC.com.