The UFC Refuses to Acknowledge Its Sketchy Connection to Russian Through Khabib Nurmagomedov
Khabib Nurmagomedov is one of the best fighters in the world, but a lot of controversies surround him. For example, his manager allegedly has a sketchy past. On top of that, he's affiliated with the head of Chechnya, Ramzan Kadyrov. Let's look at Nurmagomedov's sketchy connection with Kadyrov and who this man is. 
Khabib Nurmagomedov's UFC career and life in Russia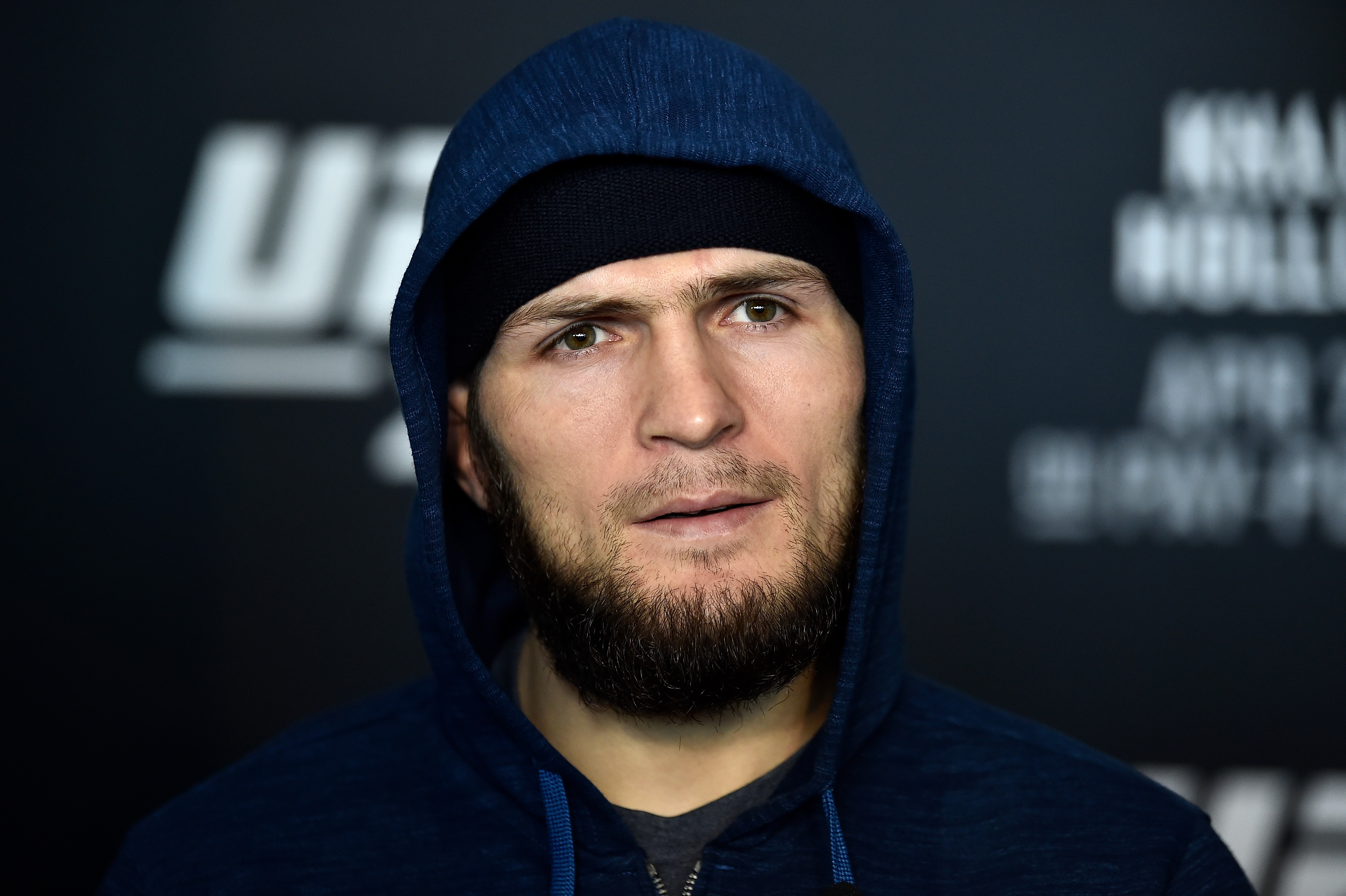 RELATED: There's 1 UFC Fight Dana White Is Afraid To Book
Nurmagomedov was born in Dagestan, an autonomous republic in Russia. He grew up during the turbulent times following the collapse of the Soviet Union. Other than being a devout Muslim, there was nothing much for him to do as a child other than to train and fight. It didn't take the talented athlete long before he joined the UFC.
Nurmagomedov was a dominant force in the octagon. After recovering from an injury, he made a run for the lightweight title. At UFC 223, he beat Al Iaquinta to win the lightweight belt. In his next fight, he dominated Conor McGregor in his first title defense. This fight was a massive hit for the UFC. And Nurmagomedov became one of its biggest stars.
But at the same time, it has also linked him to some sketchy people. Al Araby reported that one of those sketchy people include Kadyrov, the leader of Chechnya, which is another autonomous republic in Russia.
A look at Ramzan Kadyrov
RELATED: Khabib Nurmagomedov's Net Worth Is Only Getting Stronger Thanks to His UFC Dominance
Chechnya is predominantly Muslim, just like Dagestan. However, after the Soviet Union collapsed, Chechnya tried to gain independence from Russia. This resulted in two bloody and brutal wars, and Russia needed someone to keep the peace in Chechnya. That someone was Kadyrov, the leader of a militia. He became the leader of Chechnya in 2007, and he's a controversial figure.
The Guardian reported that there are "Chechen death squads" assassinating people in Europe. The Guardian also reported that in Chechnya, people are being arrested for a variety of reasons, and some are human rights violations. According to The Guardian, in Chechnya, having the wrong beard, being suspected of being gay, or being a critic of the government can lead to one's arrest. 
On top of that, in an earlier report, The Guardian said that Kadyrov televised MMA fights between children. His three sons, who were eight, nine, and 10 years old at the time, were all participating in that MMA tournament. Actual MMA fighters like Fedor Emelianenko even criticized this, but this incident is a sign of how much Kadyrov loves MMA.
Kadyrov's MMA interests
Kadyrov loves MMA so much that he set up his own organization, WFCA. Since then, it's merged with the ACA, or the Absolute Championship Akhmat. The ACA is very popular in Russia. Many UFC fighters from Russia proved their worth by fighting there. Not only that, but Kadyrov has also invited many of the UFC's biggest stars to his events, as well as to his house.
Nurmagomedov has interacted with Kadyrov in the past, but he's not alone. According to Bloody Elbow, many famous UFC stars as well as boxing stars have made visits to Kadyrov. For example, Bloody Elbow wrote that former champs Chris Weidman, Frank Mir, and Mike Tyson have all visited Kadyrov in the past among others. Typically, Kadyrov gave gifts to these fighters, and other times, they simply show up to a few of his MMA events.
So far, the UFC has just kind of ignored these interactions and links to Kadyrov, and so has Nurmagomedov. Nurmagomedov typically prefers to focus on fighting rather than politics, and that's generally what the UFC does too.