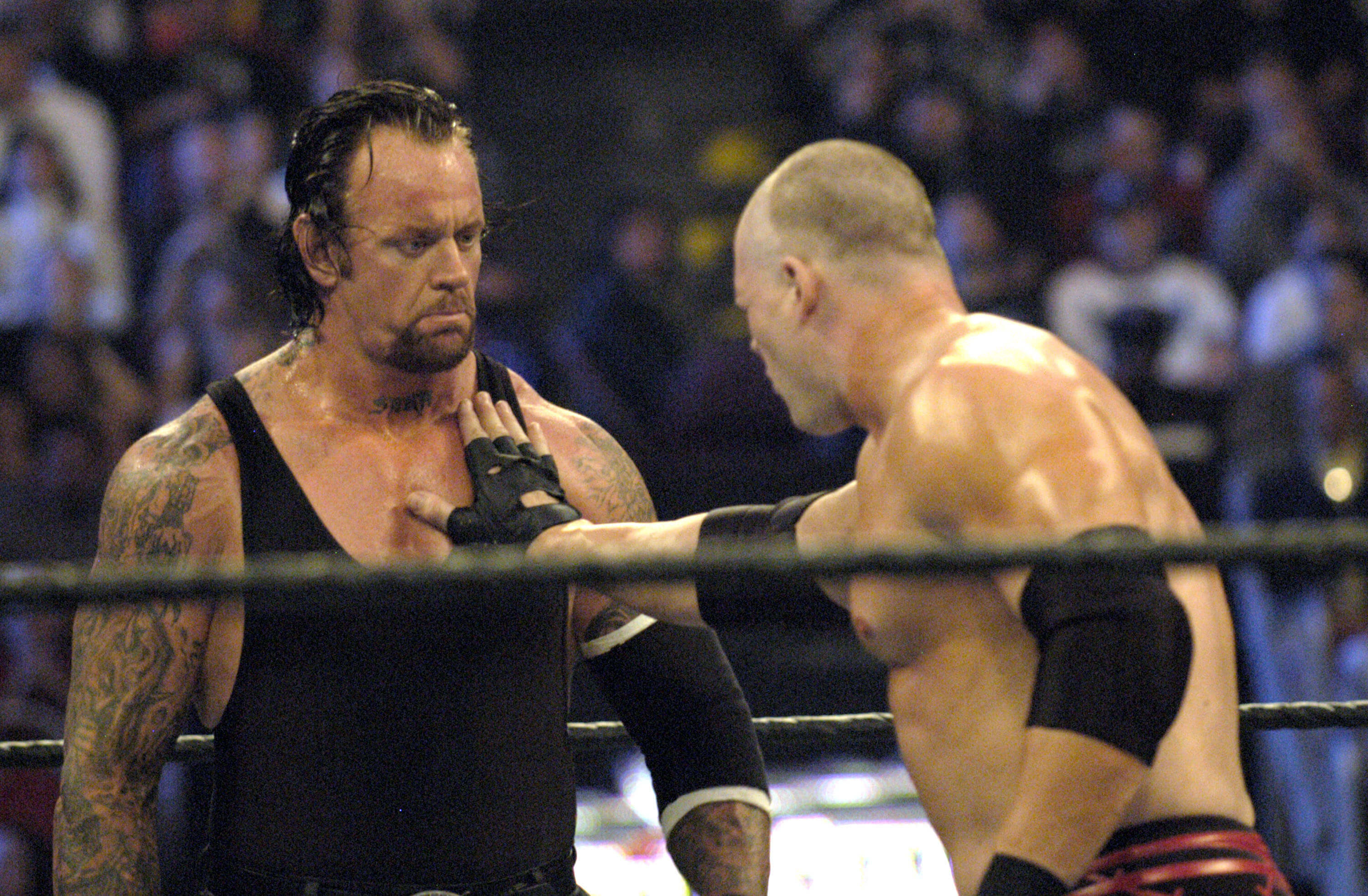 The Undertaker Tells Mike Tyson How a Simple Basketball Drill Put His Wrestling Career In Motion
The Undertaker explained to Mike Tyson how one basketball drill removed all stress and allowed him to focus on wrestling.
Mark Calaway, known by wrestling fans as The Undertaker, had a lot on his plate in college. He was a basketball star generating interest to play professionally overseas. He also wanted to wrestle, and of course, there was studying. Speaking to Mike Tyson this week, Calaway explained how a simple basketball drill made his decision much easier and brought The Undertaker to life.
The Undertaker was stressed about choosing between basketball and wrestling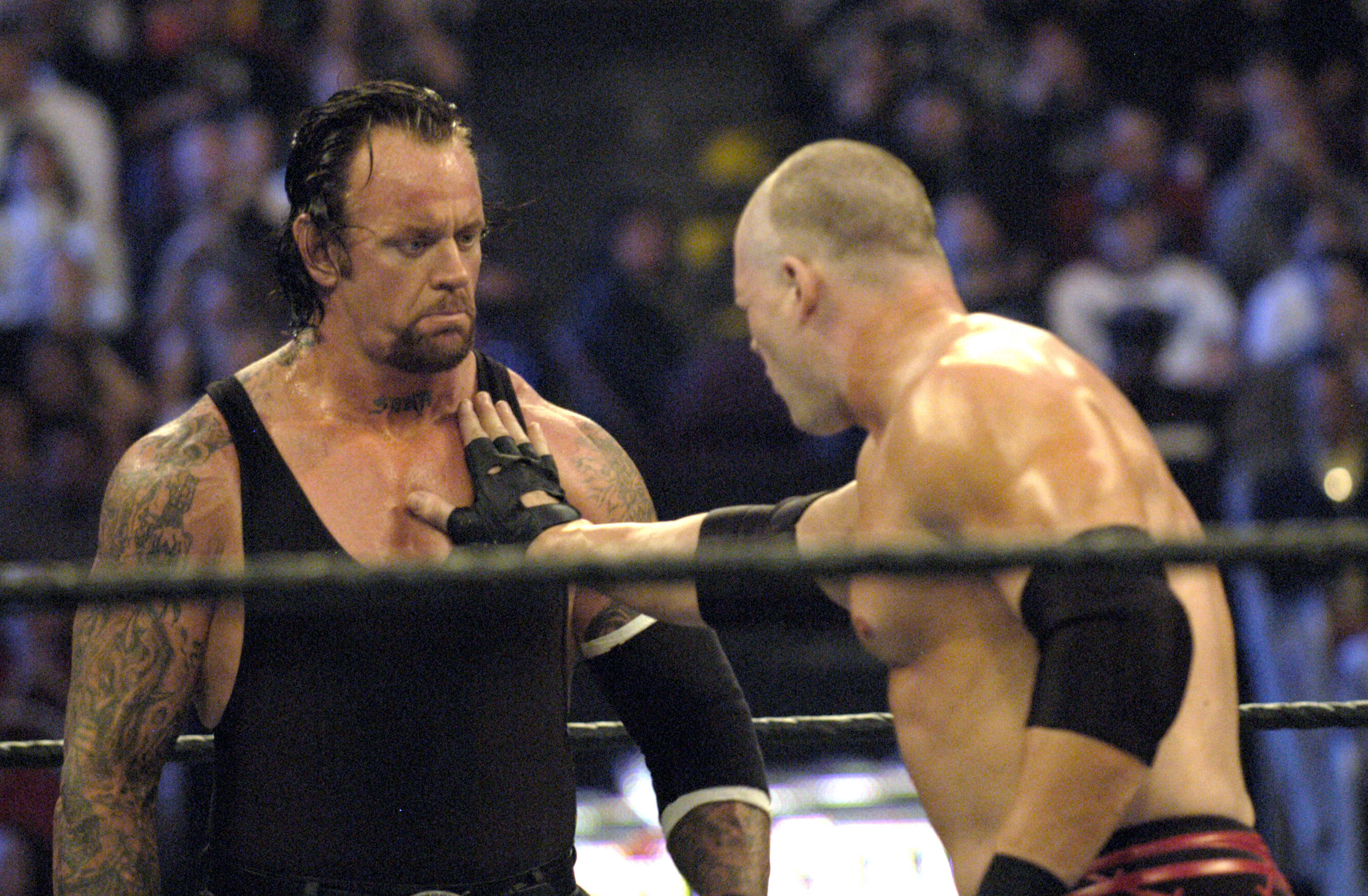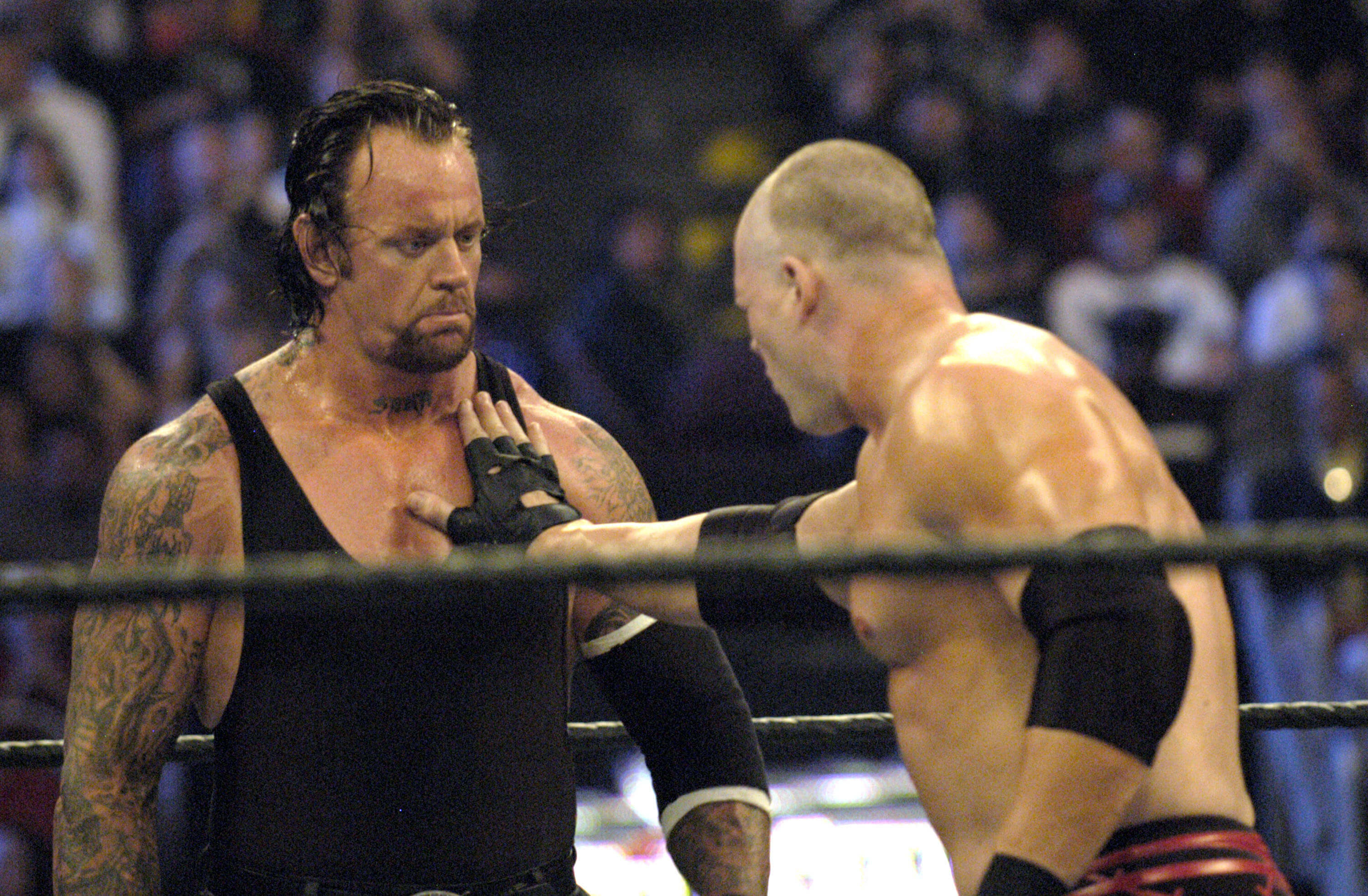 Calaway was a recent guest on Tyson's Hotboxin' With Mike Tyson podcast, and the two heavyweights exchanged stories about their professional careers. Calaway spoke about the juggling he had to do during his college life after earning a scholarship to play basketball. He loved wrestling but told the former heavyweight boxing champ he got away from that sport when he was playing football and basketball while growing up.
While he was in college at Texas Wesleyan University, he turned heads on the basketball court. He felt basketball might be the career path he'd choose, although he still had a passion for wrestling.
"Between my junior and senior year, my coach was getting all kinds of inquiries from all these European teams," Calaway told Tyson.
Calaway was told to bulk up. Even though he was already training, his emphasis now was to get big.
"At 6-foot-8, 6-foot-9, 230 (pounds), that's a big basketball player," he said. "In the world of professional wrestling, I looked like a giant walking stick.
"All I did was train and eat, to the point where I didn't want to eat anymore, but I did. I ended up showing up for my senior year at school, now I'm 280 pounds. My coach looked at me the first day I got to school — he was old school. He thought all my skills were going to be diminished, so Day 1, he bans me from the gym. We butted heads, and it got off to a really bad start.
"I'm training to wrestle, playing basketball. I'm trying to do all this and go to school. It's in me already. It's like, this is what I'm going to do. I had made a commitment to my teammates that I was going to try and make it through the year, but I was struggling."
Calaway said one drill at basketball practice made him turn to wrestling for good
Calaway admitted he was stressing out about his future plans. He was being pulled in several different directions. Does he focus on basketball in hopes of making it professionally overseas? Does he follow his passion for wrestling? The answer came during a basketball drill.
"It happened one day at practice," Calaway told Tyson. "We were doing a drill. Coach throws the ball up, tip drill, then you hustle. Everybody was terrified of me. These guys are all 6-9, 6-10, but they all weigh a buck 80. There was this kid — he was a freshman — about 6-9, buck 85. I don't know what he was thinking.
"Coach throws the ball up. Instead of jumping, he cut into me. He took my knees out. He was so light in the ass, so it knocked him down, and then I fell down. I wasn't even thinking, and I got up. The switch flipped on, and I stepped on him. He could've took my wheels out. Coach throws me out of practice. Although the guy undercut me, the coach throws me out of practice.
"I might've been a bit aggressive, but he's like, 'Calaway, you're out.' It was at that moment, bang, I'm done. This is over. This part of my life is over. That incident took school and basketball off my plate."
Calaway admitted he didn't have any "ins" in the world of wrestling and had to start from scratch, but now he had one goal to focus on. He clearly made the right decision, as he went on to become one of the greatest wrestlers of all time and enjoyed a Hall of Fame career.