The Unusual Way Dan Orlovsky Became an NFL Broadcaster
Dan Orlovsky is a constant presence on ESPN's morning programming. Whether as a daily player on Get Up! or sparring with Stephen A. Smith on First Take, he's quickly becoming one of the most well-liked faces on the network.
It's a turnaround in his reputation that no one is probably more thankful for than Orlovsky himself. The former Detroit Lions quarterback used to be famous for a very different reason. He was responsible for one of the worst NFL plays of all time, on the notorious 0-16 2008 Detroit Lions.
Orlovsky never let that traumatizing moment get under his skin. His main focus was on improving his awareness as a player. In the process, he stumbled across a knack for analysis, that sent him on a winding path to becoming one of the most in-demand NFL broadcasters.
Why Dan Orlovsky found himself without a job in 2017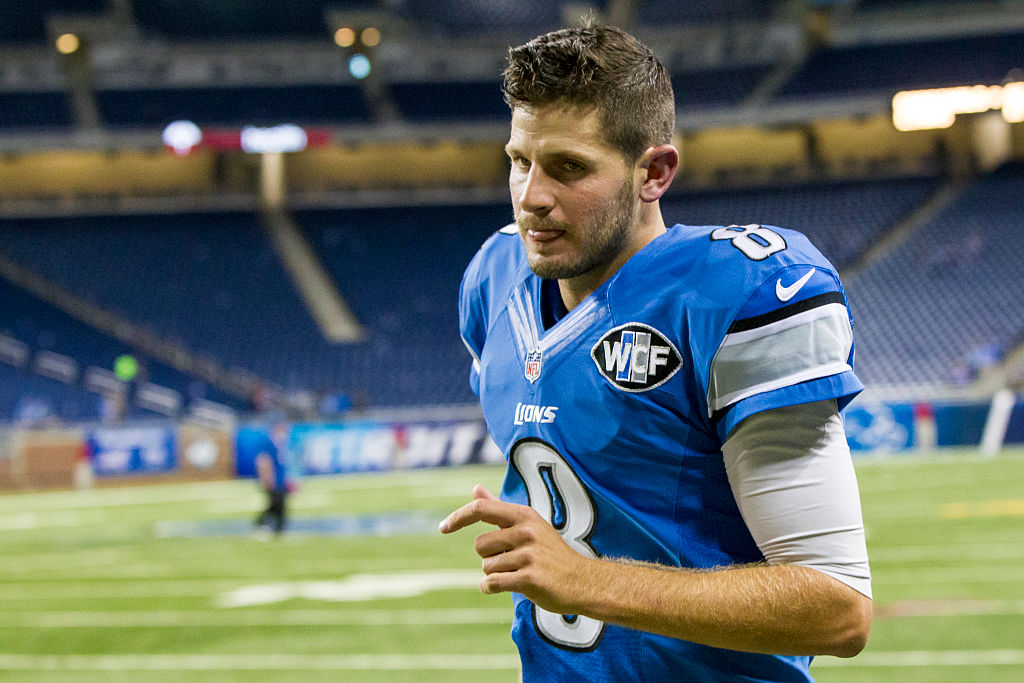 That horrifically embarrassing safety made Orlovsky the instant mascot of one of the worst football seasons in the history of the NFL. It drove him to pick apart his mental game with a fine-toothed comb.
Orlovsky even joined the Lions for a second stint as backup QB, from 2014-2016, with the express goal of making up for the incident.
He put up a respectable 66.8 passer rating filling in for Matthew Stafford in 2015. The Rams signed him in 2017, let him go September of that year, and Stafford found himself rudderless.
After twelve years in the NFL, and a lifetime preparing for it, football was all he knew. So he stuck to it, as a fan.
How Orlovsky's social media hobby turned into a broadcasting career
Orlovsky got dropped by the Rams right at the start of the 2017 season, so he transitioned directly from working in football to watching at home.
He made a habit of analyzing plays for his wife to make the intricate details of the game more accessible to her as a non-player. She encouraged him to record some of the most compelling insights on his phone and upload them to his social media accounts.
It's common in nearly every sport that coaching positions are filled by players who weren't the best on the field; the players who had to figure out how to overcome their deficiencies compared to the star players they'd regularly face. Orlovsky's posts revealed him to be one of these types of ex-players.
The NFL Network quickly got him on-air as a guest panelist on Good Morning Football. ESPN poached him soon after, quickly ramping up his appearances on the strength of his assertive style and accessible analysis.
And this might be only the beginning of the one-time Lions punchline's rapid career ascent.
Orlovsky's smalls screen analytics might have him back in the NFL — if he wants it
Orlovsky mostly appears on panel shows for ESPN. He specifically signed with the network because his contract also allows him to fill in as an announcer on their college football broadcasts.
Don't be surprised to hear him call bigger games since ESPN ended up using him almost every weekend of the NCAA season.
Yet even bigger offers are on deck for the former backup QB.
The Green Bay Packers, impressed by his offensive analysis, in particular, offered him a job on their coaching staff in 2018. Reportedly, multiple teams piled on even more offensive coaching offers in 2019.
Orlovsky turned every offer down, so far. But he won't rule out leaving broadcasting for the NFL. He told ESPN it would take "a perfect mix of circumstances to get him to even consider leaving."