The Washington Football Team Is Finally Honoring Sean Taylor the Way It Should Have a Long Time Ago
Sean Taylor was one of the greatest defenders to ever play the game of football. His abilities were other-worldly and his highlights epitomized NFL football in the mid-2000s.
Taylor was a two-time Pro Bowler despite playing in only four seasons for Washington. Drafted No. 5 overall in the 2004 NFL Draft, he quickly became one of the top players in the league, notching four interceptions his rookie season (in 13 starts) and becoming easily one of the hardest-hitting defenders in the NFL.
Tragedy struck on Nov. 27, 2007, when Taylor was shot and killed during a robbery at his home in Florida. Taylor died at only 24 years old.
Washington inducted him into its Ring of Fame a year following his death. Now, coming up on 14 years since his death, Washington has announced that Taylor's number will be officially retired.
Sean Taylor was on his way to a Hall of Fame career
Taylor was drafted during an exciting time for Washington football. Legendary coach Joe Gibbs was back with the team and their combined first season saw the franchise make the playoffs for the first time since 1999. Taylor was a highlight machine for his team, but he was also incredibly productive in terms of pure football stats.
Including the four interceptions from his rookie season, Taylor snagged eight more before his untimely death. In fact, a case could be made that Taylor was well on his way to a legendary NFL career before he was killed. He had eight forced fumbles and 305 tackles in four seasons. Most impressively, 243 of those 305 tackles were solo.
Taylor's death came before Week 13 of the 2007 season. To that point, he had already secured five interceptions, a forced fumble, and 41 tackles.
Few other players represented Washington football like Taylor did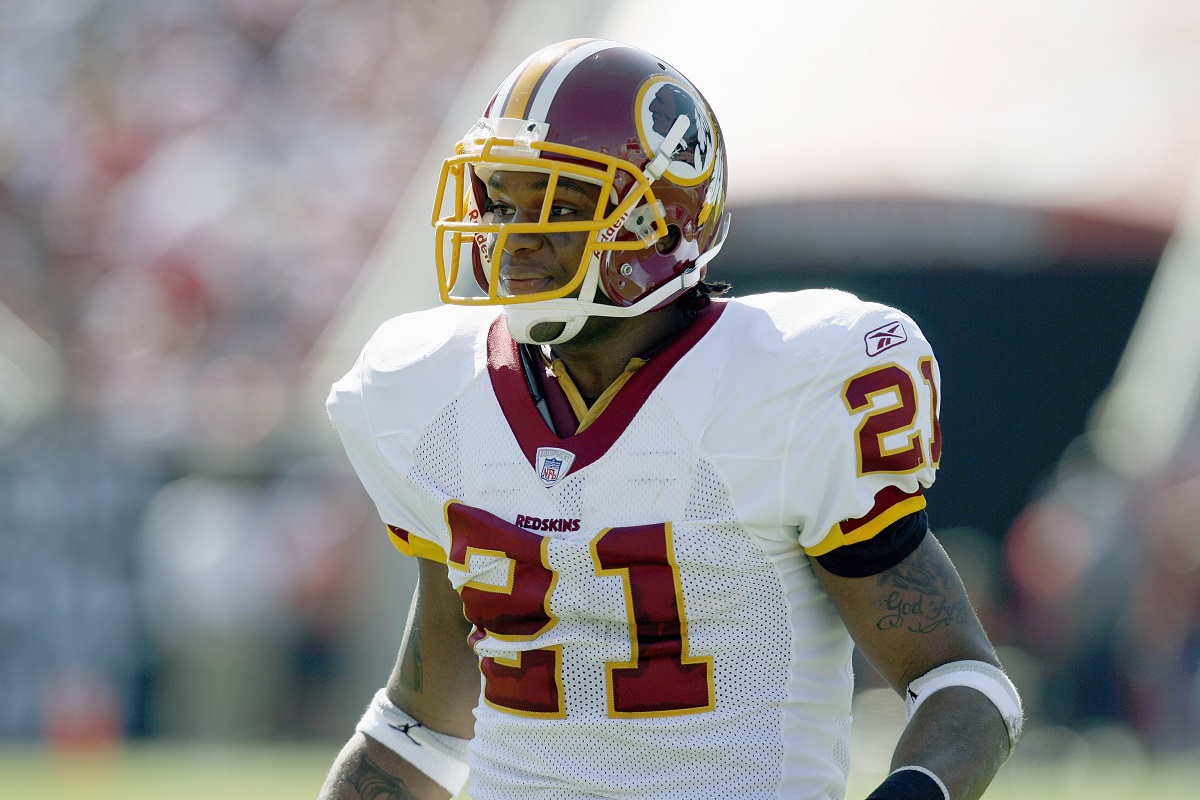 To say that Taylor deserves his number retired in Washington is a major understatement. His statistics speak for themselves. He had a better career in four years than most safeties have over the course of a 12-year NFL career.
His highlights also speak for themselves. Few people were able to hit with the tenacity of Taylor, and he no doubt had a nose for the football.
It's arguable that Taylor's biggest contribution for Washington was in the star power he brought to the franchise, though.
While dominant in the 1980s in Gibbs' first run, Washington has not been known for stellar football in recent NFL memory. The franchise has also been surrounded by much controversy. Changing its name to the Washington Football Team may be the best highlight the franchise has had since Taylor, and that obviously happened off the field.
The franchise has had its share of notable players since Taylor's death, but no one has ever come close to his star power.
Post-Eagles Donovan McNabb didn't really move the needle all that much, and Robert Griffin III was a big name but injuries quickly derailed his career. Kirk Cousins has never been much of a star, though he is a solid quarterback, and Dwayne Haskins was a big name in college but completely busted in the NFL.
Nobody has represented Washington quite like Taylor.
The timing of this announcement is being criticized in NFL circles
Frankly, Taylor's number should have been retired years ago by Washington. That's not the reason some are up in arms about the release of this news, though.
Las Vegas Raiders' coach Jon Gruden recently resigned in the midst of an email scandal that saw him use racial, homophobic, and misogynistic terms over a period of multiple years while working for Monday Night Football. His emails were unearthed during a workplace misconduct investigation by the NFL into the Washington organization. Gruden's emails came up because some were sent to former Washington team president Bruce Allen.
The criticism toward Washington is that the organization is using the Taylor jersey retirement to distract from the scandal. The team denies that criticism, though, according to NFL.com.
"We have been planning this weekend's tribute to Sean Taylor since before the start of the season in partnership with Sean Taylor's family and as part of our Alumni weekend activities," the team said. "We are looking forward to the opportunity to rededicate Sean Taylor Road with Sean Taylor's friends, family and team alumni and are excited to officially retire his jersey during the game with our fans and alumni present as part of our Alumni Homecoming Weekend activities. We apologize to fans who would have liked more notice and will continue to share with fans ways we will be celebrating Sean Taylor's legacy over the next month."
Whether this was meant to be a distraction or not, this was a move that should have been made years ago by Washington.
Taylor was and is a legend. His legend will now only grow with his number hanging in the rafters.
Stats courtesy of Pro Football Reference
RELATED: Washington's Terry McLaurin Has Caught Passes From a Different Starting QB Every 3 Games of His Career: 'It's Human Nature to Get Frustrated'