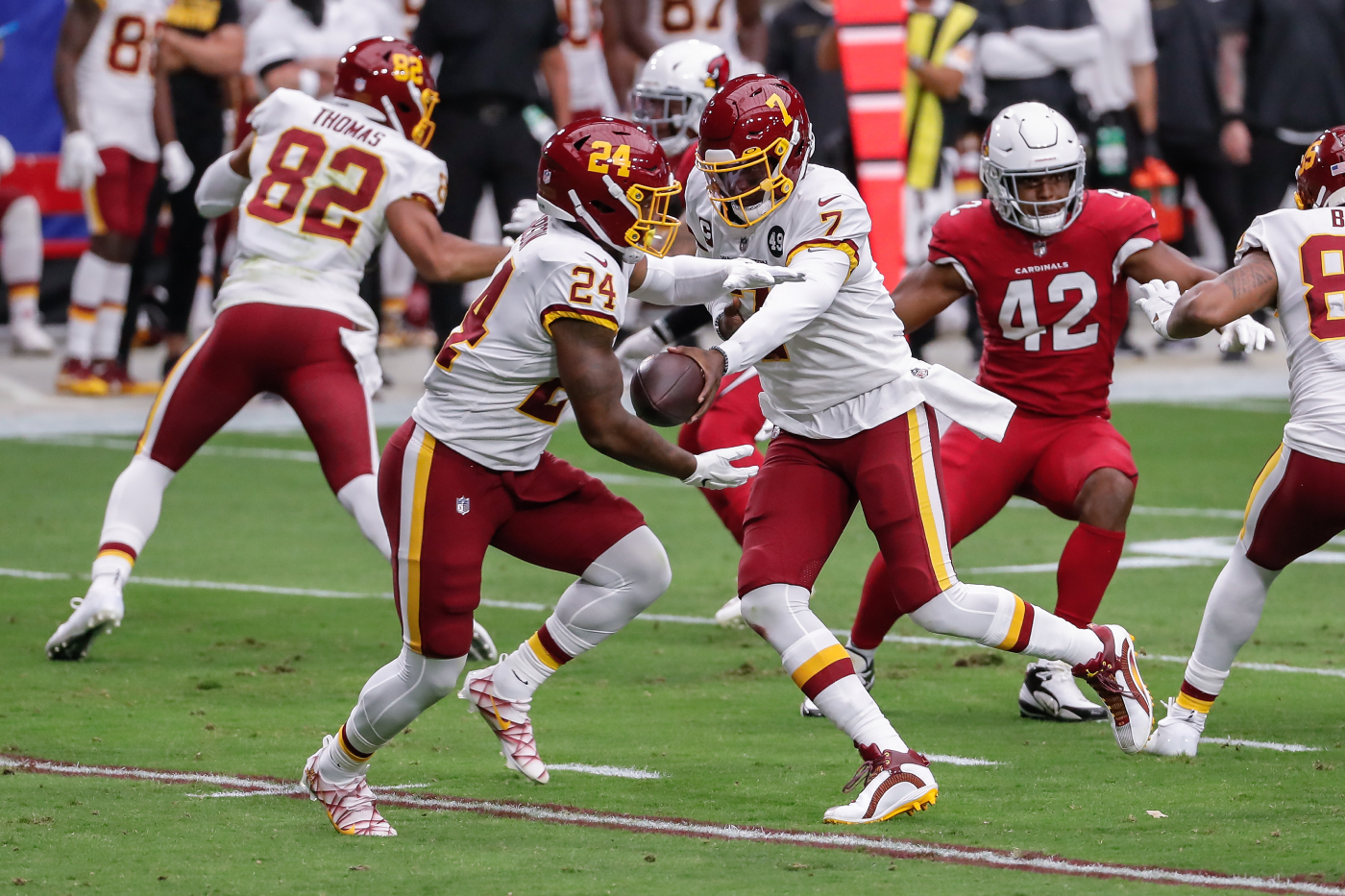 The Washington Football Team Has Revealed That It Is Ridiculously Giving up on Its $14.4 Million Guy
The Washington Football Team is not a good team, but it is giving up on its former first-round pick, quarterback Dwayne Haskins.
The Washington Football Team does not have a good record at all this year. However, Washington is in the worst division in the NFL, and potentially the worst division in NFL history, in the NFC East. That means, despite having a 2-5 record, Washington is only a half-game back from first place in its division and an NFC playoff spot. As the team continues on through its 2020 season, though, it has revealed that it has completely given up on one of its top young players, quarterback Dwayne Haskins.
Dwayne Haskins has had a slow start in his career for the Washington Football Team
Washington drafted Dwayne Haskins with the 15th overall pick in the 2019 NFL draft. He then only appeared in nine games and only started in seven in his first NFL season in 2019, and he struggled. He threw for 1,365 yards, seven touchdowns, and seven interceptions.
However, in his final four starts of the year, he threw for 711 yards, five touchdowns, and only one interception. Washington was competitive in each of those games, too, as the team went 1-3 but only lost by one possession in two of those losses, and just 10 points in the other.
Washington then hired a new coach in Ron Rivera for the 2020 NFL season after it parted ways with Jay Gruden following an 0-5 start in 2019. From the get-go, though, it appeared that Rivera did not have a ton of confidence in Haskins.
Then, in Haskins' first four starts in the 2020 season, he ultimately threw for 939 yards, four touchdowns, and three interceptions. His three interceptions all came in one game, though. So, not including that game, Haskins threw for 715 yards, two touchdowns, and no interceptions.
The team, however, ultimately benched Haskins, and he has not played since Week 4.
The Washington Football Team could trade Dwayne Haskins
Since the moment Washington benched him, there have been rumors about the team looking to trade Haskins. NFL Network's Ian Rapoport has since confirmed those rumors, as he recently reported that Washington is open to dealing him for the right price.
"When Washington benched QB Dwayne Haskins, it started the clock on his potential departure from the organization," Rapoport wrote on NFL.com. "If a team is looking for a high-ceiling QB to develop, Washington would part with him for the right price. As of now, that market has been relatively quiet."
So, it appears that the Washington Football Team has given up on Haskins, who it committed $14.4 million to, per Spotrac. Is this the right call?
Washington's choice to give up on him is ridiculous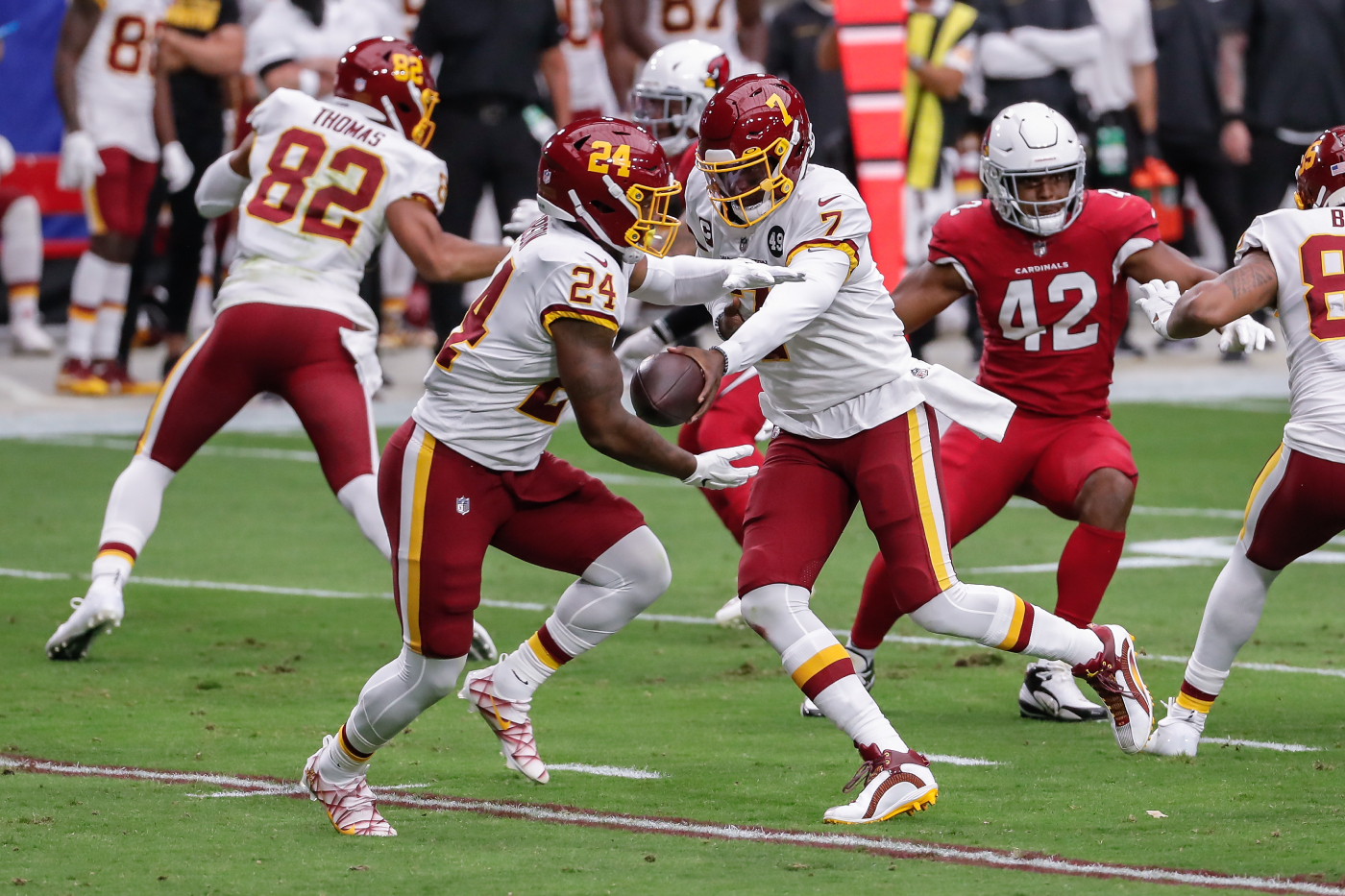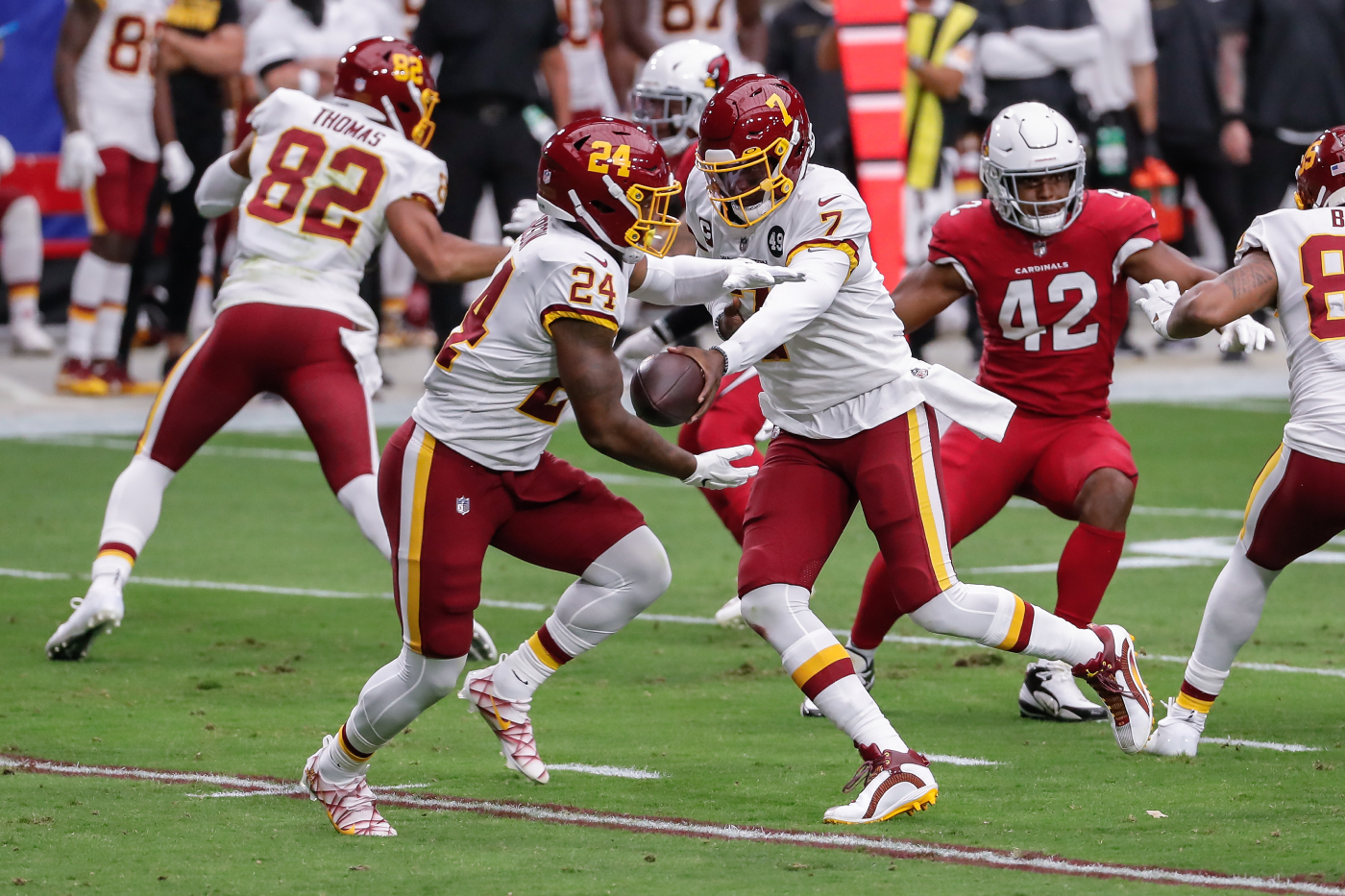 Washington's decision to give up on Haskins is a ridiculous one. It appears that Kyle Allen is their guy, but is he really that much better than Haskins? Allen first got a substantial amount of playing time in 2019 with the Carolina Panthers, as he started in 12 games. He ultimately threw 17 touchdowns and 16 interceptions. 
Allen didn't prove himself a ton while in college, either. He threw for four touchdowns and four interceptions in four games in 2017 for Houston. Prior to that, he threw for 2,210 passing yards, 17 touchdowns, and seven interceptions in 10 games for Texas A&M in 2015.
Haskins, on the other hand, proved that he had a ton of potential while in college at Ohio State. He threw for a ridiculous 4,831 yards, 50 touchdowns, and eight interceptions in 2018 for the Buckeyes. His play helped him finish third in the Heisman Trophy voting, too.
Haskins clearly has a ton of potential. Many great NFL quarterbacks have had slow starts to their careers, too. Peyton Manning threw 28 interceptions in his rookie season, while John Elway threw for seven touchdowns and 14 interceptions in his rookie year, and Troy Aikman threw for nine touchdowns and 18 interceptions in his rookie campaign. Haskins has also, essentially, had three different head coaches so far in his career, so anyone would struggle in that situation.
Washington is not a good football team and really has no chance at a postseason run. Why can't it have patience with Haskins, given that he has unreal potential? It's hard to tell what the reasoning is, but it is ridiculous that the team has given up on him already.
Dwayne Haskins' days in Washington appear to be numbered. Hopefully, another team gives him the real chance that he deserves.
Stats courtesy of Sports Reference and Pro Football Reference