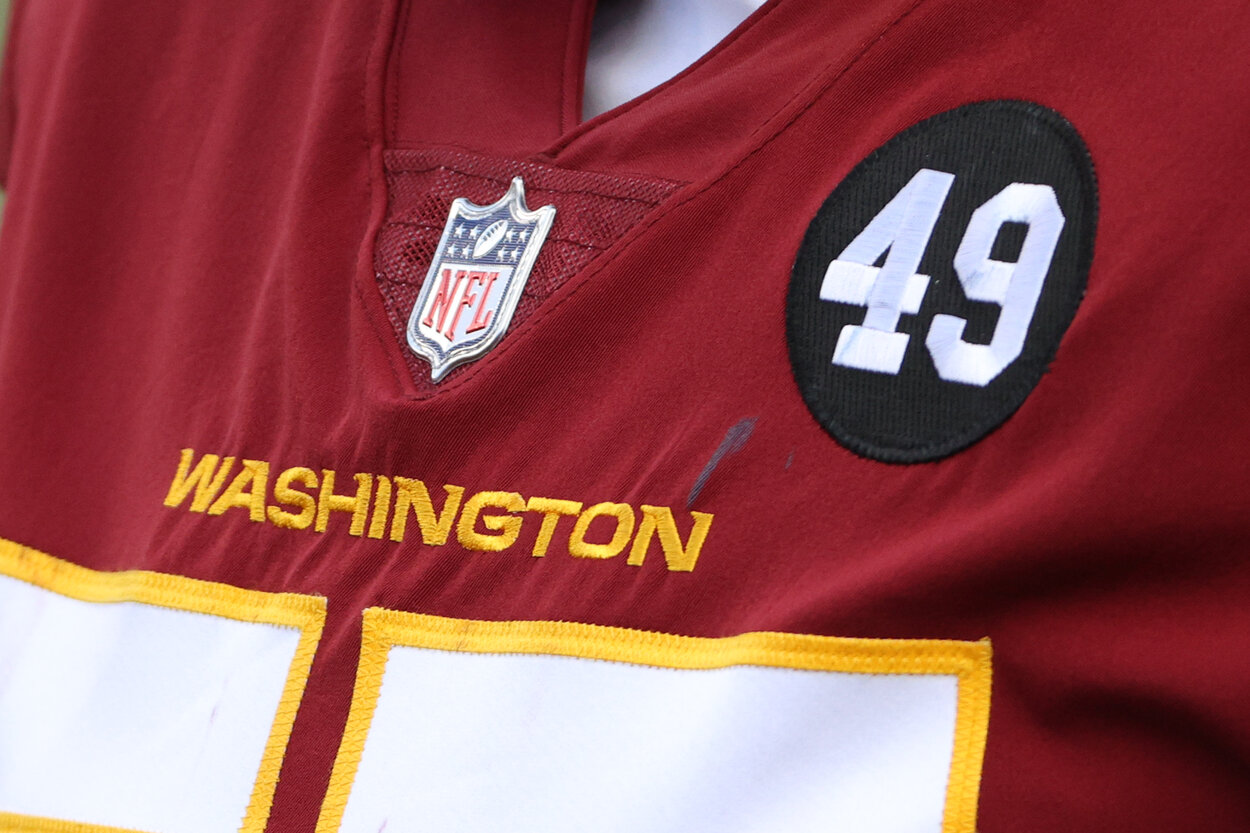 The Washington Football Team Just Made a Historic and Inspiring Hire
Female coaches are here to stay in the NFL, and the Washington Football Team just made history by making Jennifer King a full-time assistant position coach.
Washington Football Team assistant coach Jennifer King, along with many other women in sports, is here to stay.
King joined the ranks of San Francisco 49ers offensive assistant Katie Sowers and Tampa Bay Buccaneers assistant defensive line coach Lori Locust who spent the 2020 NFL season on coaching staffs.
The Washington Football Team just gave King an important promotion, one that will keep her with Ron Rivera for the 2021 season and make NFL history in the process.
Jennifer King spent the 2020 season in Washington
Jennifer King was far from a stranger to football when she began attending NFL coaching clinics in 2015.
King played quarterback and wide receiver for the Carolina Phoenix women's tackle football team from 2006-17, earning All-American honors seven times. Most recently, King played receiver and safety for the D.C. Divas women's tackle football team in 2019.
After interning for the Carolina Panthers from 2018-19, King joined Washington as a full-year coaching intern in 2020. Washington head coach Ron Rivera previously worked with King in Carolina.
King devoted most of her time to running backs coach Randy Jordan and his unit.
King and the Washington Football Team just made history
Jennifer King and the Washington Football Team just made history.
Washington officially announced that King would return in 2021 as the assistant running backs coach. King is the first Black female assistant position coach in NFL history.
Tampa Bay Buccaneers assistant defensive line coach Lori Locust, who is white, became the first woman to hold a full-time assistant position job in 2019.
The Washington Football Team's official website posted a statement from head coach Ron Rivera about King's promotion. Rivera called King "well-deserving" of her new opportunity.
"She demonstrated all of the qualities that are needed to work full-time on my staff. She is a hard worker, a great communicator and a quality person. Coach King is always eager to learn and has shown tremendous growth since starting here last season. I know she will continue to be an asset to Coach Turner, Coach Jordan and the running back group, and she earned this opportunity with her hard work. The sky is truly the limit for her."
Washington also tweeted out a video statement from tennis legend Billie Jean King, who congratulated King (no relation) on the promotion.
"In a new history-making job, you will inspire generations of children," King said, "because if you can see it, you can be it. As our new Vice President, Kamala Harris, says, 'She will be the first in her new role, but she won't be the last,' and the same holds true for you."
Jennifer King will work with a talented RB unit in 2021
If all goes to plan, Jennifer King won't be working with a bare-bones running back unit next season.
Antonio Gibson ran for 795 yards and 11 touchdowns on 4.7 yards per carry as a rookie in 2020. Gibson also turned 36 catches into 247 yards.
The Washington Football Team also returns J.D. McKissic, a former undrafted running back who had a career-best campaign in 2020. Although McKissic ran for 365 yards and a touchdown on 85 carries, his best work came in the passing game. McKissic hauled in 80 catches for 589 yards and two touchdowns.
It is not known if former Stanford star Bryce Love, a second-round pick of Washington in 2019, will play next season. Love has battled injuries the last two years and hasn't played in a game yet.
Like Sportscasting on Facebook. Follow us on Twitter @sportscasting19.