The Washington Football Team Need to Tread Cautiously With a Quietly Injured Piece of Their Developing Offense
Through six games this season, the Washington Football Team is largely disappointing. The NFC East champions in 2020, the Football Team have limped out to a 2-4 start this season, swiftly falling multiple games behind the 5-1 Dallas Cowboys.
A lot of the Football Team's problems can be attributed to a seemingly regressing defense. Ron Rivera's unit ranked third-best in the NFL last year in expected points contributed by the defense. This season, they rank third-worst.
That's a considerable drop-off for a team that's invested a significant amount of assets into the defensive line and secondary (drafting Chase Young, Jonathan Allen, Daron Payne, and signing Kendall Fuller, William Jackson III).
The Football Team's offense is in no man's land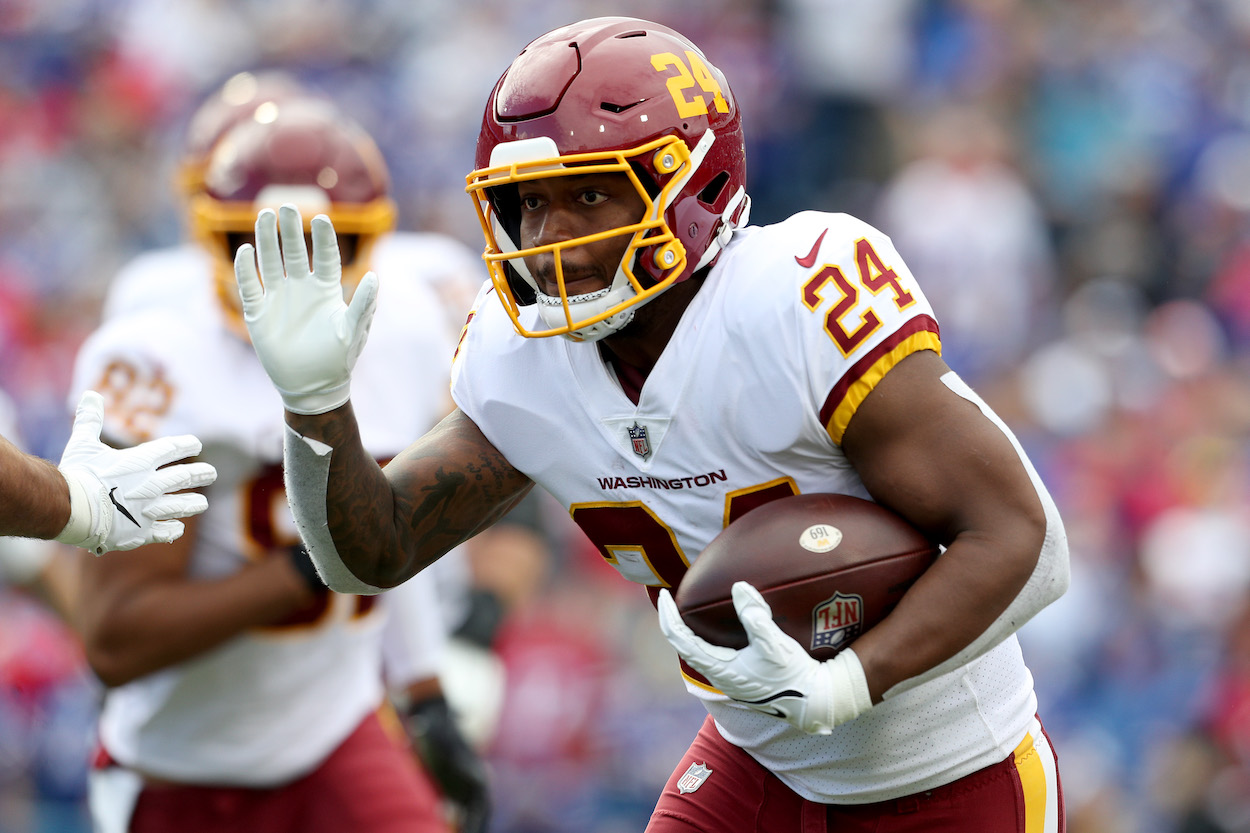 While the defense (or lack thereof) is a far more concerning issue in Washington, it's worth highlighting that the offense isn't performing well either. The Football Team ranks 22nd in the NFL in average points contributed by the offense and 21st in yards per play. They're struggling to move the ball consistently.
Unlike the defense, the Football Team's offense actually has a pretty good excuse as to why they're struggling to produce winning results at the moment. They lost their starting quarterback, Ryan Fitzpatrick, a handful of snaps into the season. Former undrafted free agent Taylor Heinicke has been the man under center since late, and his QBR (quarterback rating) is in the 40s. That's not good.
The Football Team are going to struggle to move the ball with Heinicke under center regardless. However, it's also worth pointing out that one of their core offensive pieces is struggling to replicate his 2020 numbers. Second-year running back Antonio Gibson's productivity is dropping across the board, and it can largely be attributed to a concerning injury he's playing through.
RB Antonio Gibson is playing injured
One of the rookie sensations from 2020, third-round pick Antonio Gibson exploded onto the scene for Washington as a potential franchise back for the future. He racked up 1,042 scrimmage yards and averaged 5.1 yards per touch, playing a huge role down the stretch for the Football Team as they clinched the division.
However, 2021 is not proving to be as kind to Gibson. His yards per carry dropped from 4.7 to 4.0, his yards per touch from 5.1 to 4.7, and he's already tripled his fumble total from last year.
According to a recent report from ESPN's Adam Schefter, Gibson has been playing through a hairline fracture in his shin that he suffered early on in the year. This explains why the once-ascending RB is already experiencing a dip in productivity.
Washington Football Team running back Antonio Gibson spent the early part of this season playing with a hairline fracture in his shin, league sources told ESPN.

Gibson underwent an MRI on his injured shin Monday but is expected to play Sunday against the Green Bay Packers.

He struggled through the injury, which negatively affected his performance. But the second-year running back has shown improvement and is feeling better lately, providing encouragement for Washington.

Adam Schefter, ESPN
The Football Team need to tread cautiously
You never want to punt on a season seven weeks into the year. However, the Football Team need to tread cautiously moving forward.
With Fitzpatrick struggling through his rehab and the Cowboys running away with the division, 2021 doesn't feel like a year the Football Team can expect to compete. Forcing a rising star in Gibson to play through injury just to finish with a losing record feels incredibly foolish, especially considering how young he is still.
Gibson doesn't even turn 24 years old until next June. He should be able to give the Football Team at least two more seasons of elite production. That is, assuming this shin fracture doesn't worsen over the course of the year.
Flat-out benching Gibson is out of the question. However, the Football Team should explore reducing his workload over the second half of the season. Extra carries for an injured RB during a potentially meaningless season benefits no one.
All stats courtesy of Pro Football Reference.
RELATED: A Surprising Fan Favorite Keeps Popping up in Eagles Trade Rumors