The 19 Wealthiest NFL Players of All Time
Across the board, NFL players get the short end of the stick when it comes to being paid for their unreal athletic ability and performances. Their contracts are largely unguaranteed, their career windows are short — probably because playing in a football game, even at levels below the National Football League, is comparable to a car accident — and their endorsement opportunities are generally slim. In fact, aside from the handful of guys who reporters corral after the game, most NFL players can take off their pads, helmet, and jersey and slip out into the night without anyone noticing.
But some of them are able to bankroll their fame and (relative) fortune into more fortune, and sometimes even more fame. Here are 19 of the wealthiest NFL players, both past and present — the guys who have been able to combine their athletic acumen with money smarts and turn it into continued financial success.
19. (tie) Joe Flacco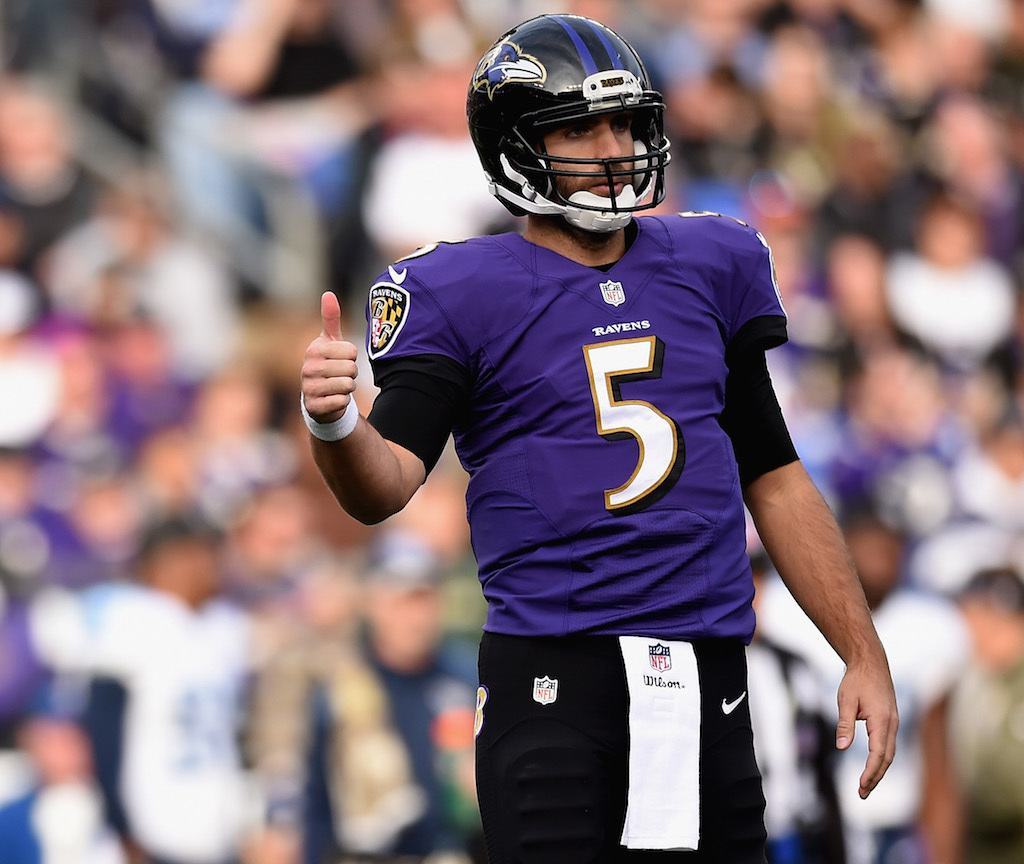 Net worth: $55 million
Is Joe Flacco an elite quarterback? That question is still up for debate. Is he worth a lot of money? That question, on the other hand, is not. Over the course of his career, the Super Bowl winner has pulled in almost $115 million in total cash earnings and is reportedly worth $55 million. Yeah, if we were him, we'd be giving the thumbs up, too.
Next: The greatest wide receiver of all time.
18. (tie) Jerry Rice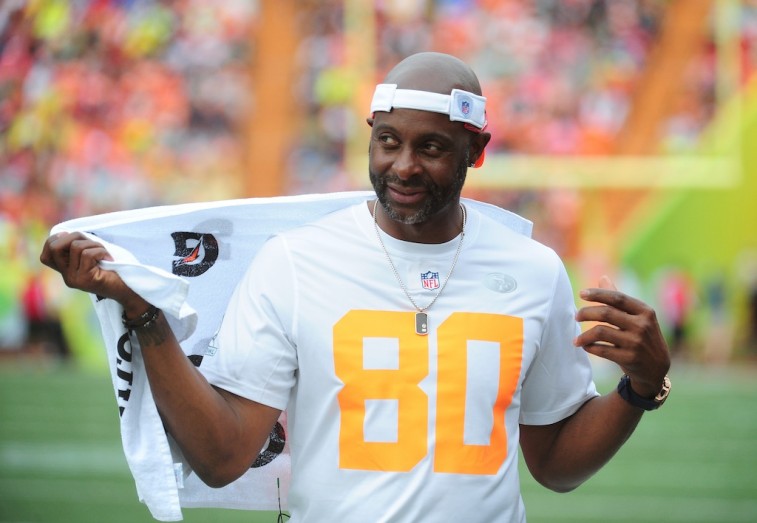 Net worth: $55 million
When you're arguably the greatest player in the history of the NFL, you can expect to be worth a boatload of money. That's just the way it is. Jerry Rice's coin comes from a few different sources, but we choose to look at him as the guy who stands as the league's all-time leader in receiving yards (22,895), receptions (1,549), and receiving touchdowns (197).
Next: Life after the gridiron boosted this legend's value.
17. (tie) Fran Tarkenton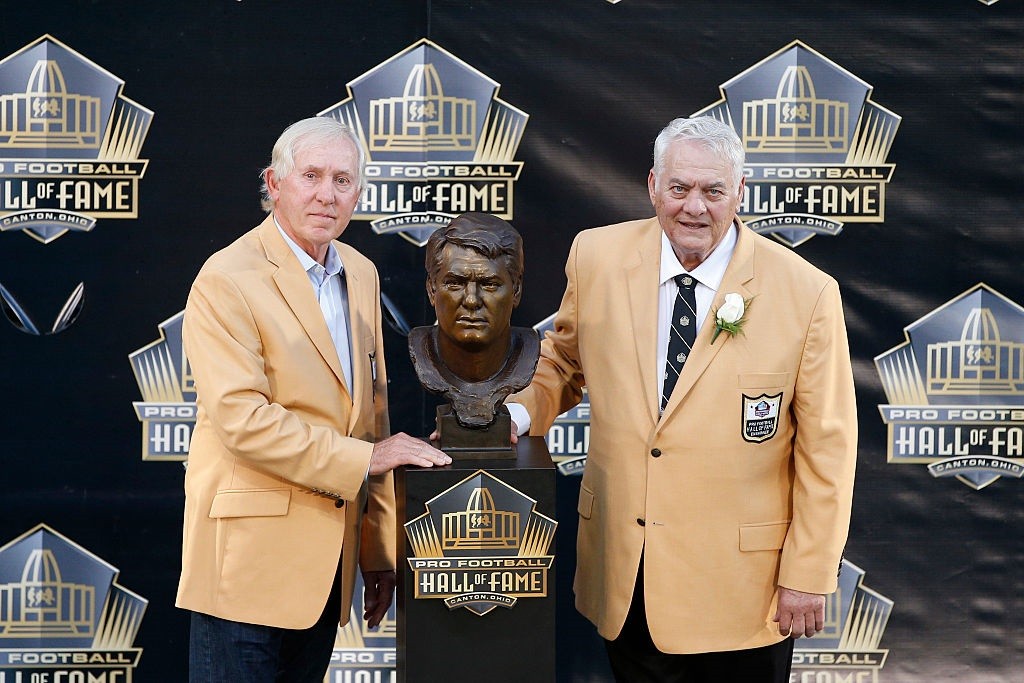 Net worth: $60 million
Considered by many to be the original "scrambling quarterback," Fran Tarkenton was all about doing what he had to do to make the team better. In 18 seasons, The Scrambler made nine Pro Bowls, earned one All-Pro honor, was named the MVP in 1975, and was inducted into the Hall of Fame in 1986. Thanks to his success as a TV personality and software executive, Tarkenton is worth an impressive $60 million.
Next: This next one may surprise you.
16. (tie) Carson Palmer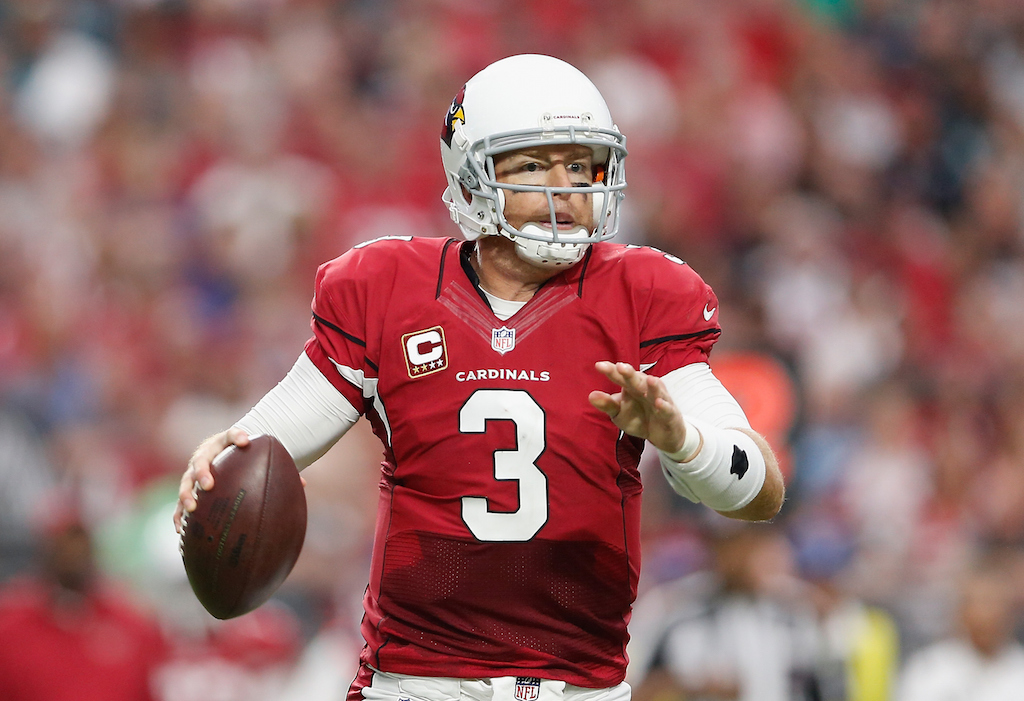 Net worth: $60 million
If you're surprised to see former Arizona Cardinals quarterback Carson Palmer so high on the list, you're not alone. We know he was a quality passer, but we had no idea that his net worth was $60 million. Then again, if you take into consideration that he pulled in $156,648,722 in career earnings, maybe it's not so crazy after all.
Next: No surprise this former player carries a ton of value …
15. Michael Strahan
 Net worth: $65 million
We don't care that former New York Giants defensive end Michael Strahan is over 45 years old; we honestly believe he could put on the pads and suit up today. The man is in that good of shape. Of course, when you think about his success off the field, you can't help but ask yourself one simple question: Why would he even want to?
Strahan crushes it on Fox NFL Sunday and Good Morning America, and he's always showing up as a presenter of sorts. We've seen the smile of a man worth $65 million — and it comes with a gap in the teeth.
Next: Life after football could pay off for this former QB.
14. (tie) Tony Romo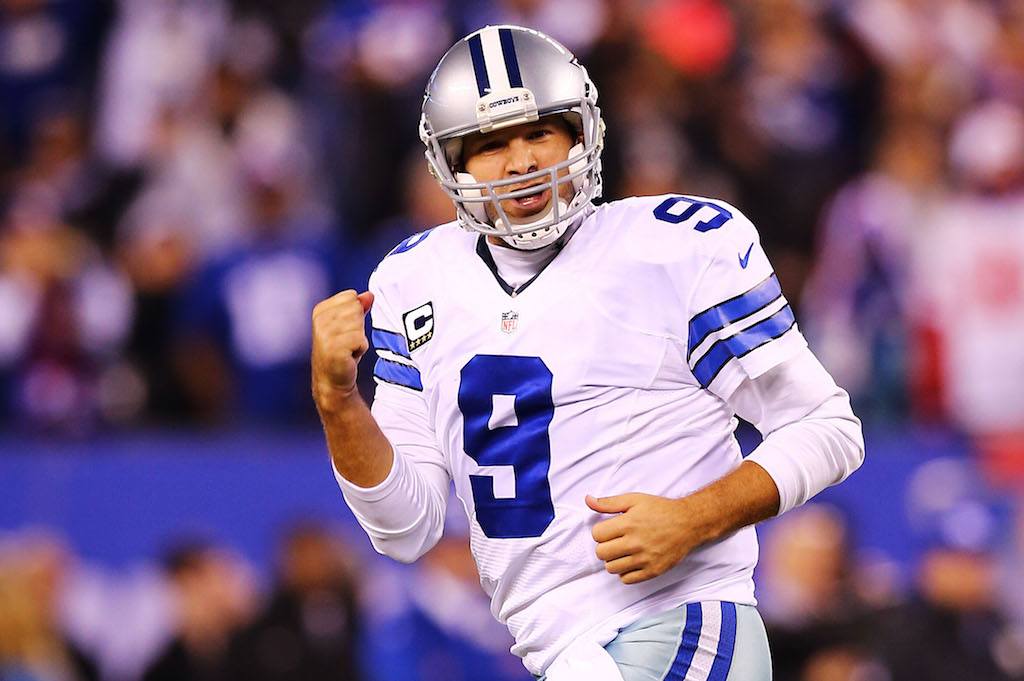 Net worth: $70 million
Tony Romo may no longer be the starting quarterback of the Dallas Cowboys, but the four-time Pro Bowler certainly didn't walk away from the game empty-handed. Over the course of his career, the 38-year-old gunslinger took home $127,422,458 in total cash earnings and now finds himself worth a cool $70 million. If Romo succeeds in his new position as an NFL broadcast analyst for CBS, he'll surely have ample opportunities to pad his bank account even further.
Next: Now, for a QB who's still playing.
13. (tie) Ben Roethlisberger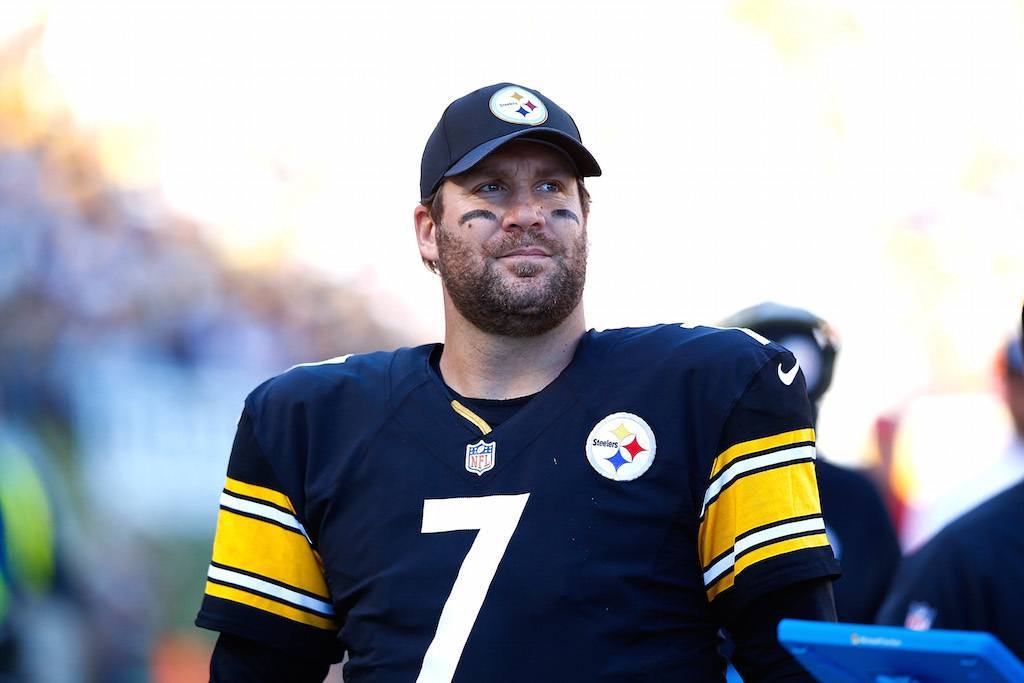 Net worth: $70 million
As another one of the NFL's top quarterbacks, Ben Roethlisberger has put together quite a career for himself, winning two Super Bowls and earning four trips to the Pro Bowl. For his fine work with the Pittsburgh Steelers, he has been paid quite handsomely, pulling in $158,286,864 in career earnings and compiling a net worth of $70 million. Just another reason why they call him  "Big Ben."
Next: You don't always need success …
12. (tie) Sam Bradford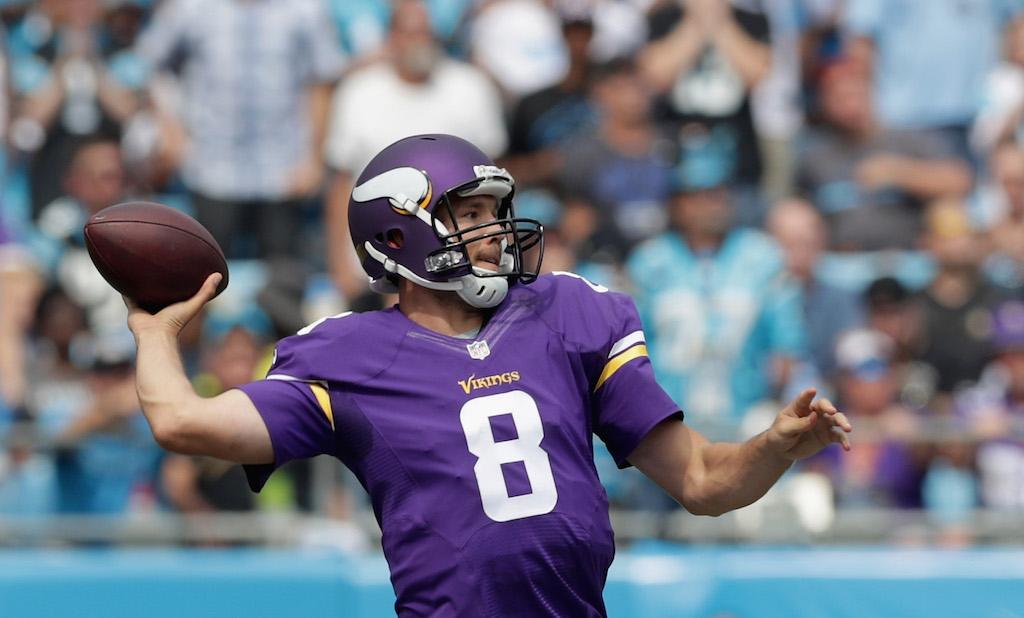 Net worth: $70 million
Sam Bradford is proof that you don't need to be successful on the field to make a boatload of money off it. The 30-year-old quarterback, who's best known for his extensive injury history, has never led his team to the playoffs, yet has managed to earn nearly $100 million over the course of his career. If you think this sounds unfair, trust us, you're not alone.
Next: Of course 'Joe Cool' made the list.
11. Joe Montana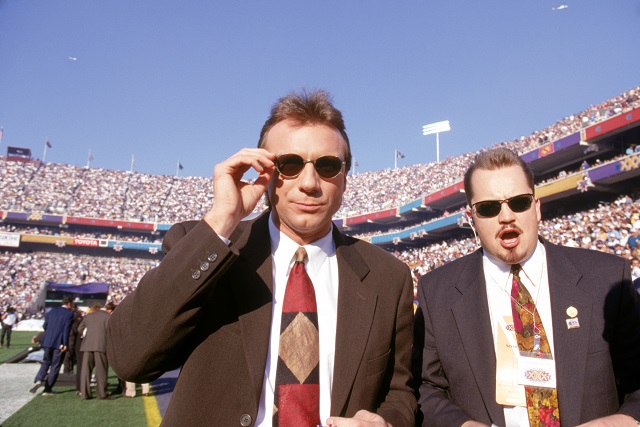 Net worth: $80 million
As the coolest man in the Bay Area, Joe Montana was always at his best when the lights were the brightest. Four trips to the Super Bowl, four world championships, and a quarterbacking legacy that's nearly impossible to rival. And yet, despite being worth $80 million dollars, Montana still insists on getting his pizza for free. Classic stuff, Joe.
Next: Endorsements helped boost this Super Bowl winner's wealth.
10. (tie) Eli Manning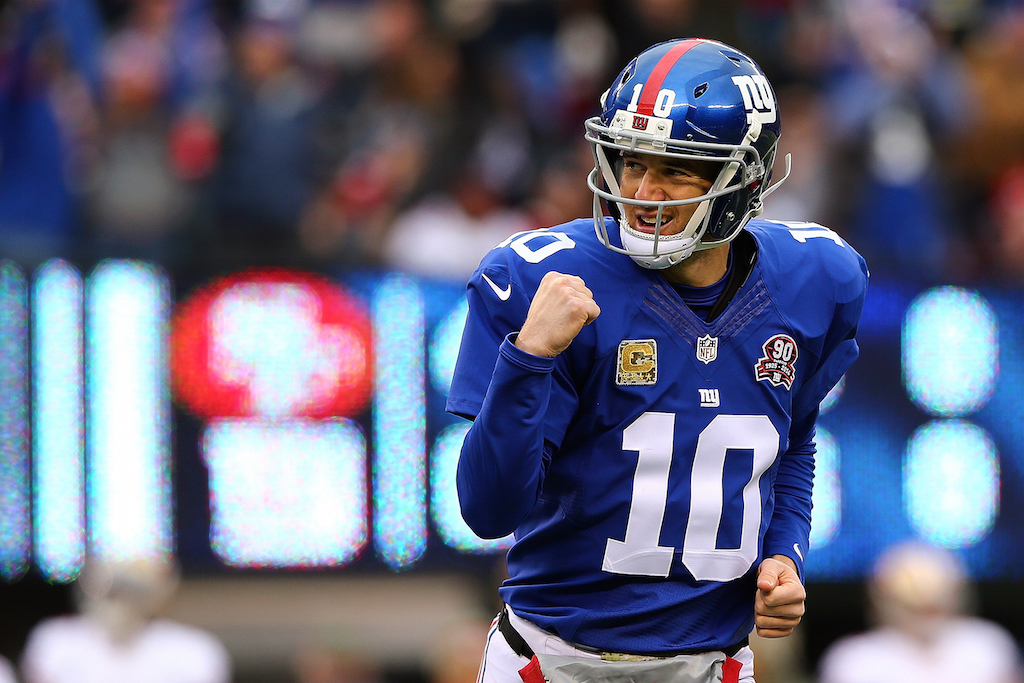 Net worth: $100 million
You can make fun of Eli Manning's face all you want, it doesn't matter, it still helps pay the bills. As a two-time Super Bowl champion and starting quarterback of the New York Giants, Peyton's little brother has made quite a name for himself on the field — with $205,780,004 in total earnings — and off, with endorsement deals (worth a total of $8-10 million a year) with brands like Toyota, DirecTV, Kraft, Reebok, Citizen, and Samsung. Who's laughing now?
Next: Age don't mean a thing.
9. (tie) Drew Brees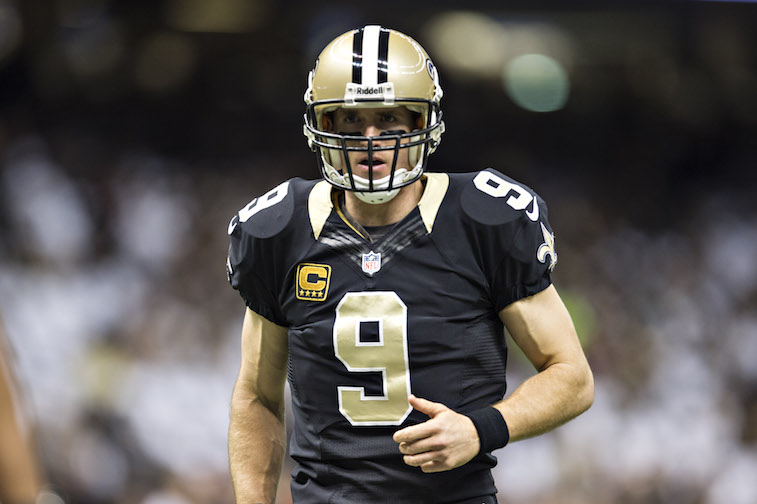 Net worth: $100 million
Despite being 39 years old, Drew Brees continues to sling the football like a guy half his age. And while the future Hall of Famer, and current New Orleans Saints quarterback, has made quite the living using that right arm of his, we know he'll continue to bring in the big bucks when his playing days are over — the proof is in the commercials; so long as he doesn't sing, that is.
Next: It's easy to be this wealthy when you never retire.
8. (tie) Brett Favre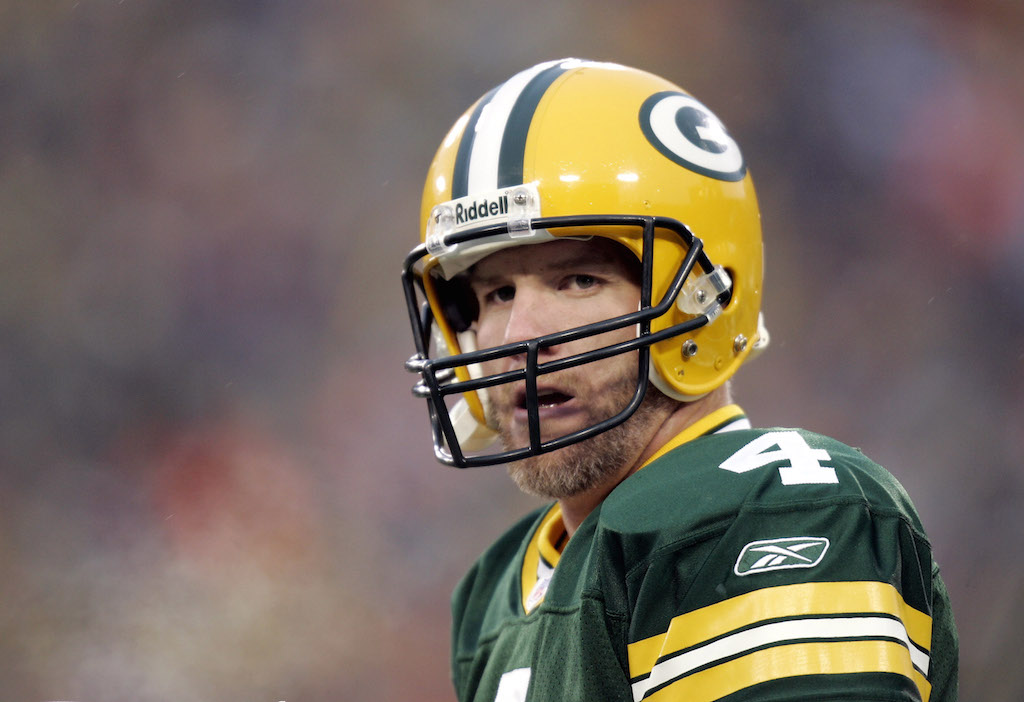 Net worth: $100 Millon
"Hi, I'm Brett Favre, former NFL Quarterback. You've probably seen me in advertisements endorsing Wrangler Jeans, Nike everything, and Sears, to name most of the things I endorse. Perhaps you may have seen me with the Green Bay Packers, or perhaps you saw my numerous flirtations with retirement before finally signing off from the game in 2011."
Favre, the first player in the NFL to sign a $100 million dollar contract, was the only player to win the NFL regular season MVP award three times in a row. At the time of his retirement, he held league records for passing touchdowns, passing yards, attempts, interceptions, and all time wins. (However, Peyton Manning has since passed him in passing touchdowns and passing yards, and tied him in all time wins.)
Following his 16 seasons in Green Bay, Favre ultimately went on to play for the New York Jets and the Minnesota Vikings, and almost the St. Louis Rams, according to both parties, in 2013. At least Favre seems at ease with his retirement now, and can even joke about it when his still-sponsor Nike needs to film a new commercial.
Next: This former QB would rank higher if he hadn't been scammed.
7. John Elway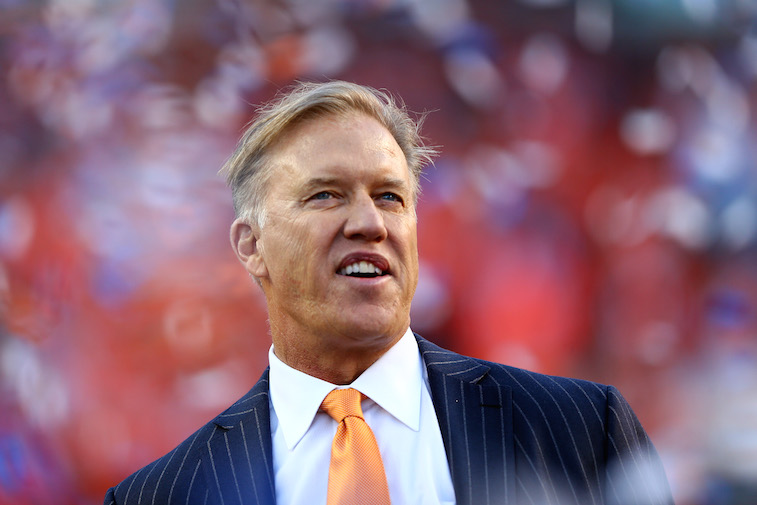 Net worth: $145 million
John Elway — former quarterback (there's a trend here) for the Denver Broncos and current General Manager for the same franchise — has diversified himself well beyond his Hall of Fame career as a football player. Elway, who led his teams to five Super Bowls appearances and two Super Bowl titles over the course of his 15 years as the Broncos' starting quarterback, has diversified his business well beyond the sport that has opened so many doors for him.
Currently, Elway is the owner of a quartet of restaurants and a handful of car dealerships (he actually sold his original group of auto dealerships in 1997 for $82.5 million). Elway also owned an Arena Football League team, the Colorado Crush, back when arena football was still a thing (the team folded in 2008).
One could easily make a case for Elway being both the best quarterback to ever play the game and the best executive in the history of the game. And he would likely rank even higher on this list had he not fallen victim to a Ponzi scheme a few years back.
Next: Surprised this neft player isn't ranked higher?
6. Tom Brady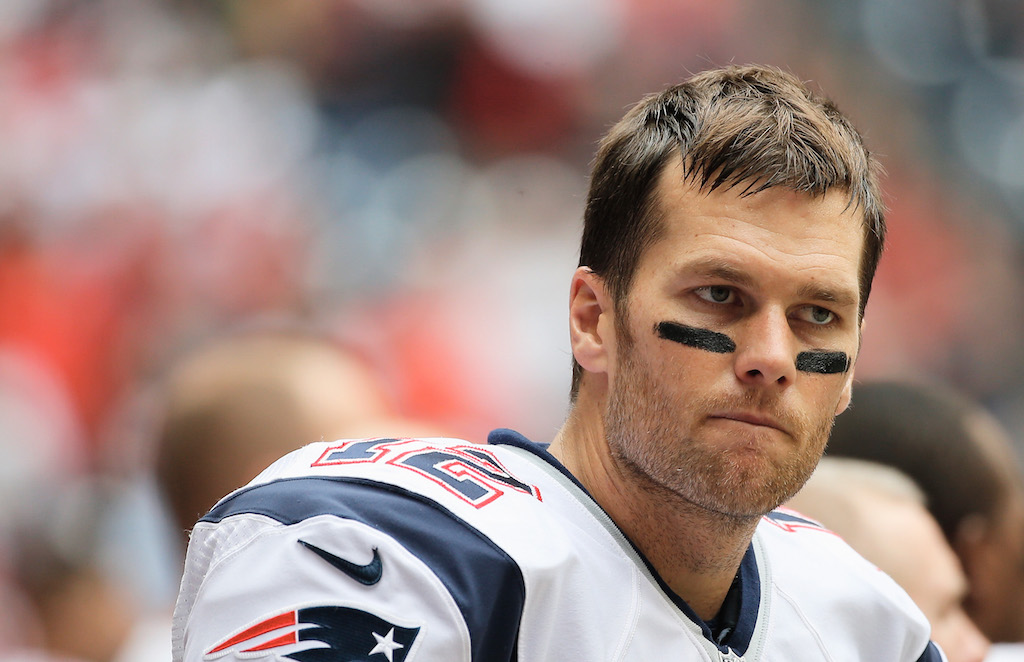 Net worth: $180 million
There used to be a massive poster of New England Patriots quarterback Tom Brady modeling UGG boots on Brookline Ave. near Kenmore Square, overlooking Fenway Park and I-90. It was probably 200 feet tall and featured Brady standing contrapposto inside a pair of rather unattractive boots. And Brady probably got paid very well for that ad campaign, one of his many dalliances with sponsorships and extracurricular fiscal opportunities that make up his career.
The quarterback, who has won five Super Bowls with the Patriots, also has endorsement arrangements with Under Armour and has previously been engaged with SmartWater, Visa, and Movado. His performance on the gridiron has led him to a pretty lucrative income from the NFL, too — so much even he now makes more money than his wife, supermodel extraordinaire Gisele Bundchen.
Next: A Bay Area legend.
5. (tie) Steve Young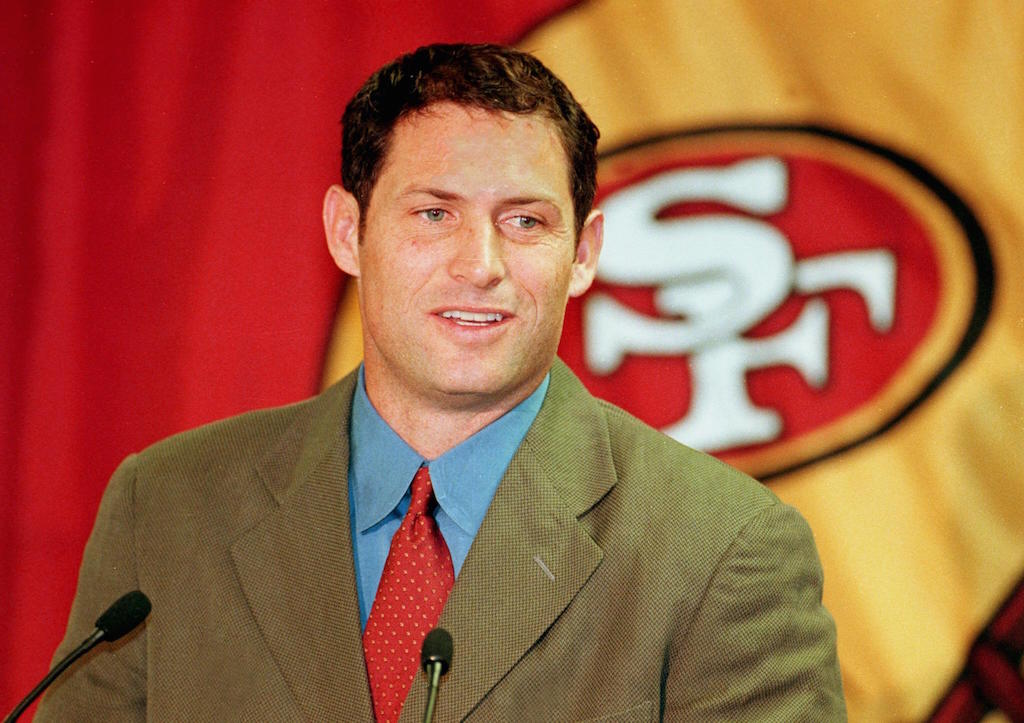 Net worth: $200 million
We knew Steve Young was an all-time great quarterback, but we had no idea he was worth so much coin. The man who went from being Montana's backup to a Hall of Fame QB with seven Pro Bowl appearances, two MVP awards, three All-Pro selections, and three Super Bowl rings, used his investing chops to become a serious player in the world of private equity. Should you ever feel the need to lash out — in jealousy — at Young over his success, you can catch him on ESPN, where he also makes bank as an NFL analyst.
Next: His wealth could buy him chicken parm sandwiches for the rest of his life.
4. (tie) Peyton Manning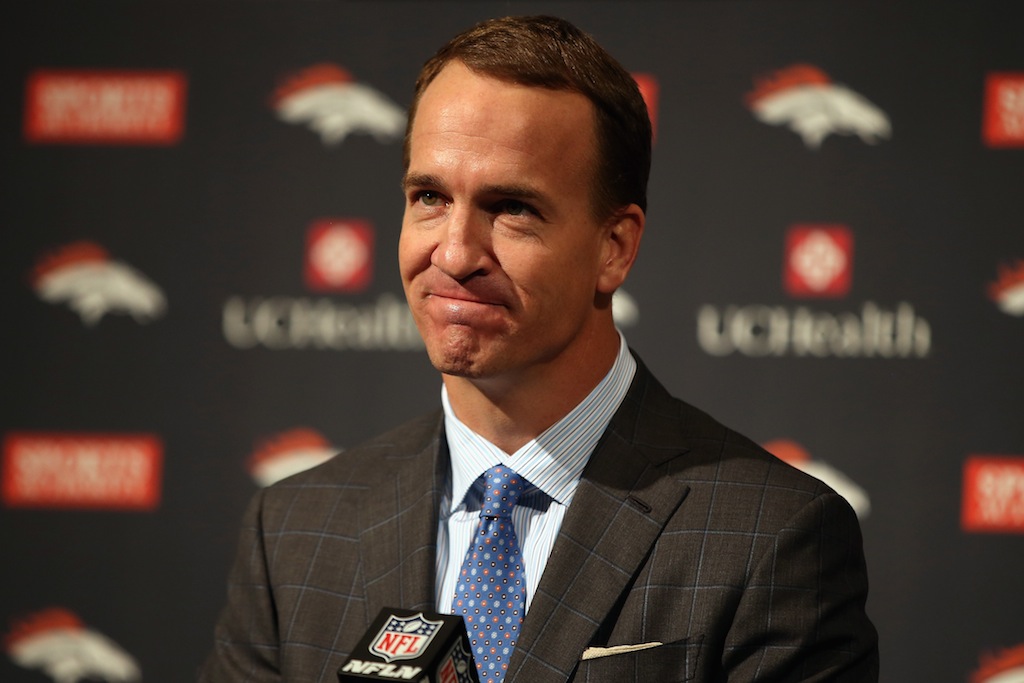 Net worth: $200 million
Peyton Manning, apparently, loves being in advertisements. He'll sell you Papa John's. He'll sell you Buicks. Heck, he'll sell you Gatorade and DirectTV.
After making over $90 million with the Indianapolis Colts, Manning took a year off to rehab himself from a serious neck surgery. Then, the club waived him. So, he promptly signed a five-year deal for an additional $96M with the Denver Broncos. In total, Manning earned $248,732,000 in cash earnings (excluding all endorsement earnings) as an NFL player before agent fees and taxes. Which is pretty major, considering Manning is regarded as one of the best endorsers in NFL history.
Next: A football great — and video game giant.
3. (tie) John Madden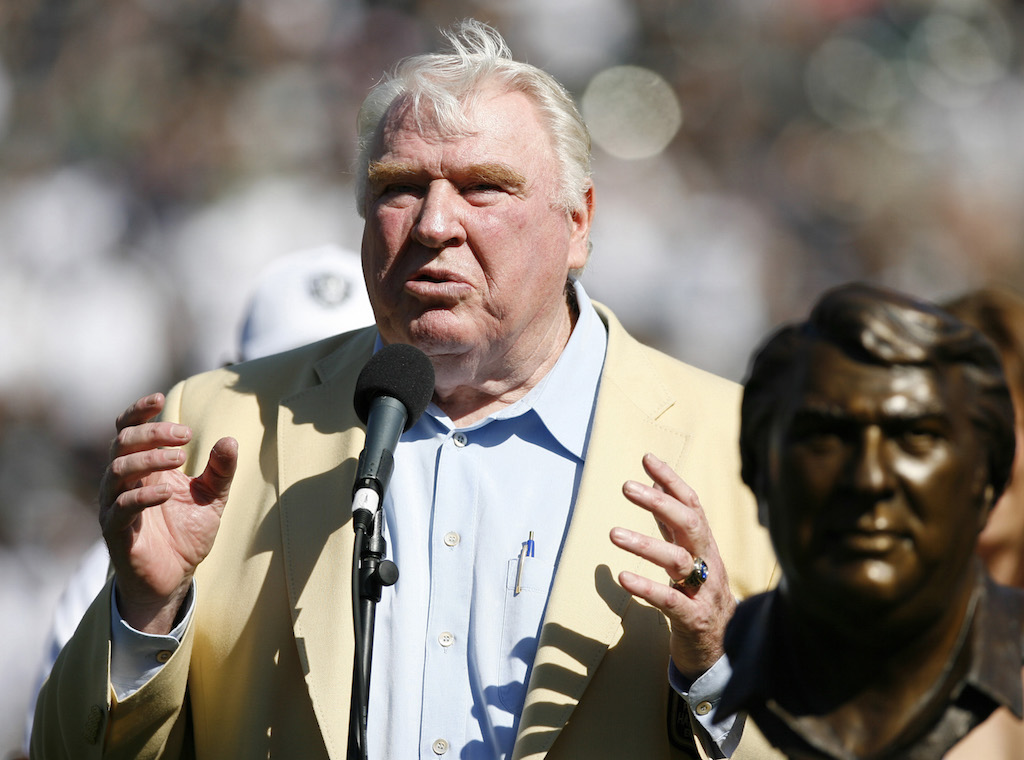 Net worth: $200 million
Did you know John Madden was an NFL coach? It's true! Did you know John Madden was an NFL commentator? Also true! Did you know that somewhere there are vast swaths of football fans who don't think of either of those things when you say the word "Madden"? To legions of fans that were too young to see Madden do, well, anything in the world of real football, his surname evokes hours upon hours of digital football.
Madden signed on to endorse Electronic Arts' NFL video game all the way back in 1988. It was John Madden Football. The series became Madden NFL in 1994. Feel old yet? Back then, there was no way the sportscaster could've foreseen the behemoth that the franchise would become.
Next: Working off-seasons put this former QB on top.
2. Roger Staubach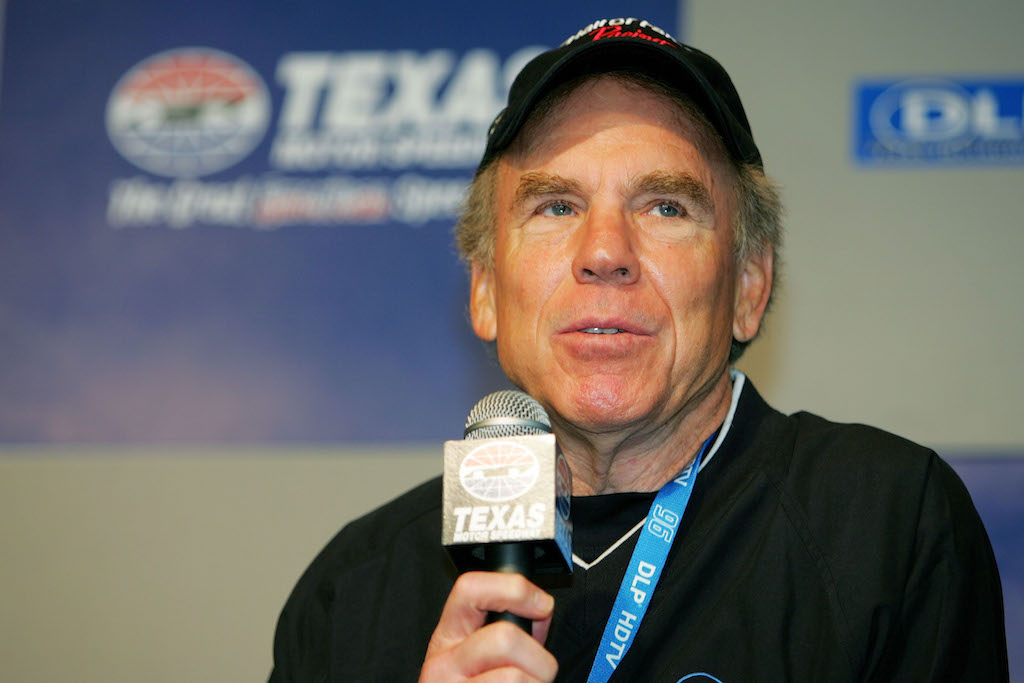 Net worth: $600 million
What is a Roger Staubach, and why is it worth so much money? A Roger Staubach is a former NFL quarterback who lead the Cowboys to a pair of Super Bowl victories, won an MVP, and was a six-time Pro Bowler.
Staubach worked as a real estate broker during off-seasons, because "I was 27 and we had three children," the mogul told Forbes. "If I got hurt, I knew I had a family to provide for, and it was not crazy money in the NFL then." Shortly after his 1979 retirement, Staubach began expanding his real estate company. It grew so large and so successful Staubach was able to sell the company to Jones Lang Lasalle in 2008 for $640 million dollars.
According to Forbes, Staubach had only owned 12% of the company when he sold it, having given out equity to his employees as the company grew. So, in addition to being the richest NFL athlete ever, he's also a pretty nice dude.
Next: Last but not least …
1. Jerry Richardson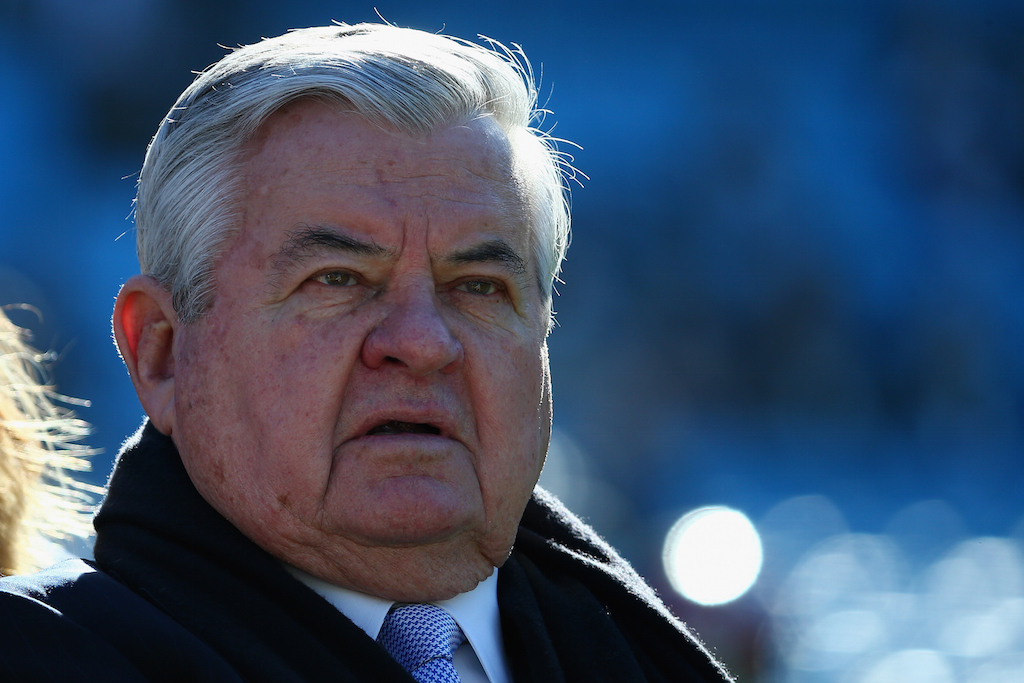 Net worth: $2 billion
That's right, billion with a "B." Jerry Richardson, the owner of the Carolina Panthers, was a Carolina native who played for the Colts (the Baltimore Colts, mind you) in the early days of the NFL, hooking up with no other than legendary quarterback Johnny Unitas for a touchdown in the 1959 NFL championship game.
As you may have guessed by his place on the list and the time in which he played, endorsements didn't help Richardson earn his money; he got rich in the fast food industry, franchising his first Hardee's in 1961 and expanding from there.
While Richardson has a mixed reputation among NFL fans — he allegedly called out Peyton Manning and Drew Brees during the NFL lockout, for example — he's made at least one Panthers fan's day when he responded to a 12-year-old's inquiry to fandom with a handwritten letter and some signed memorabilia.
Statistics courtesy of Pro-Football-Reference and Spotrac.
Net Worth information collected from Celebrity Net Worth.
Writer Chelena Goldman contributed to this piece.