The Worst Backup Quarterback Tom Brady Has Ever Had
The backup quarterback is one of the most undervalued positions on a football team. Sure, a backup QB may not log a lot of time in the field, or win a lot of glory. In some cases, they may even go an entire season without playing. Yet in the event of an injury to the starting QB, a decent backup suddenly becomes the difference between a lost year and continued relevance.
Even a quarterback as talented as Tom Brady benefits from a reliable second-option on the bench. Of course, not all of Brady's backups over the years have been high-caliber players. Here we briefly review some of Brady's best backups, before zooming in on the other end of the spectrum and making our pick for the worst backup the Tampa Bay Buccaneers superstar has ever had.
The best of Tom Brady's backups
Arguably Brady's best backup ever was the player he superseded as the New England Patriots' starting quarterback: Drew Bledsoe. After eight years of captaining the team, Bledsoe hit the bench behind Brady in the 2001 season. Though he played in only two games that season, Bledsoe still had plenty left in the tank, as he proved over the next few seasons as a starter for the Buffalo Bills.
Brady's longest-tenured backup was Brian Hoyer, who spent four plus years in the role. Though he never got called on to contribute in a huge way, Hoyer was always a solid option. The same holds true for Jimmy Garoppolo, who spent three seasons backing up Brady.
Finally, there is Matt Cassell, who spent four seasons behind Brady, and who quarterbacked almost all of the Patriots' games in 2008, when Brady was out with injuries.
Tom Brady's less solid backups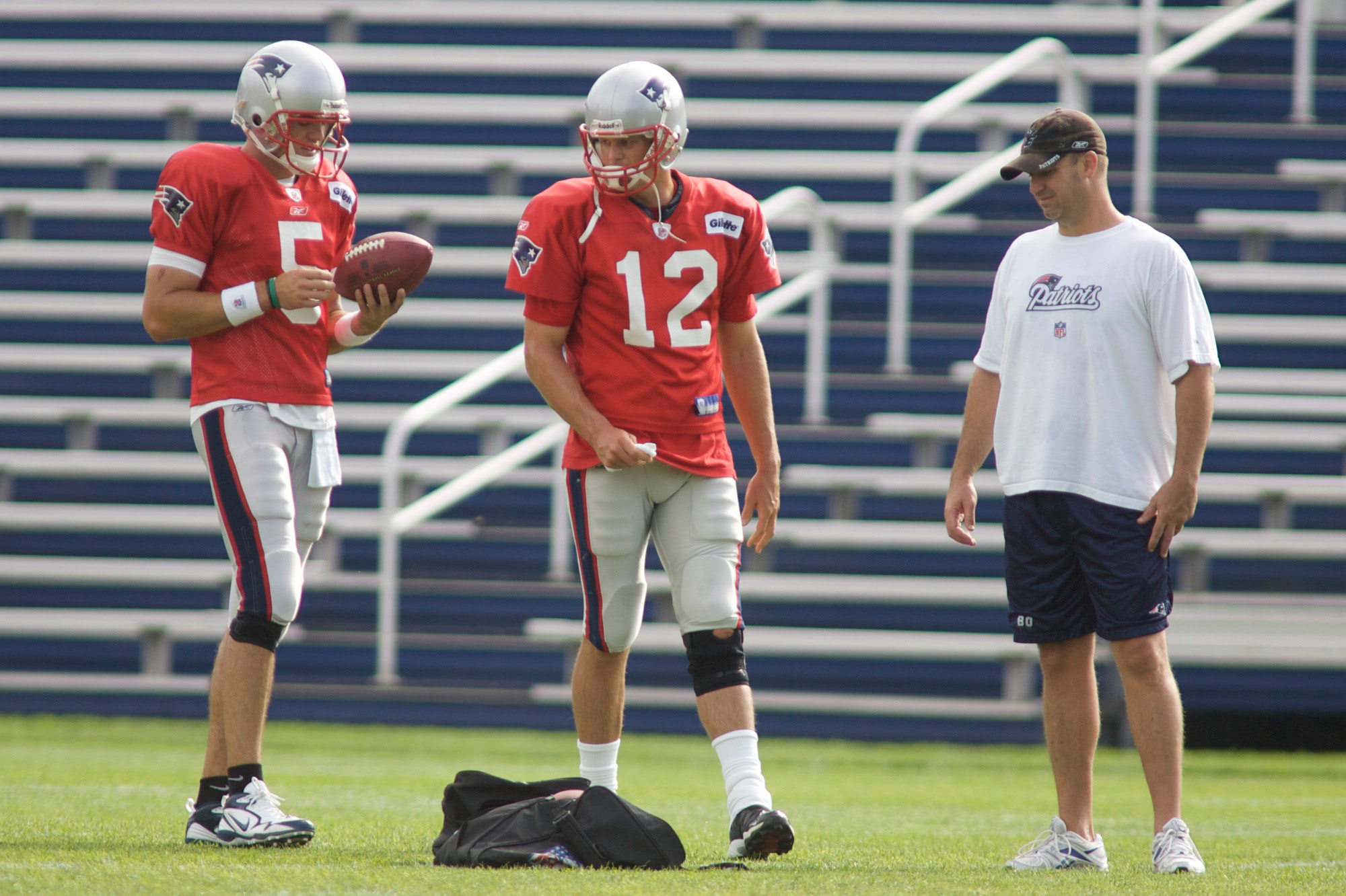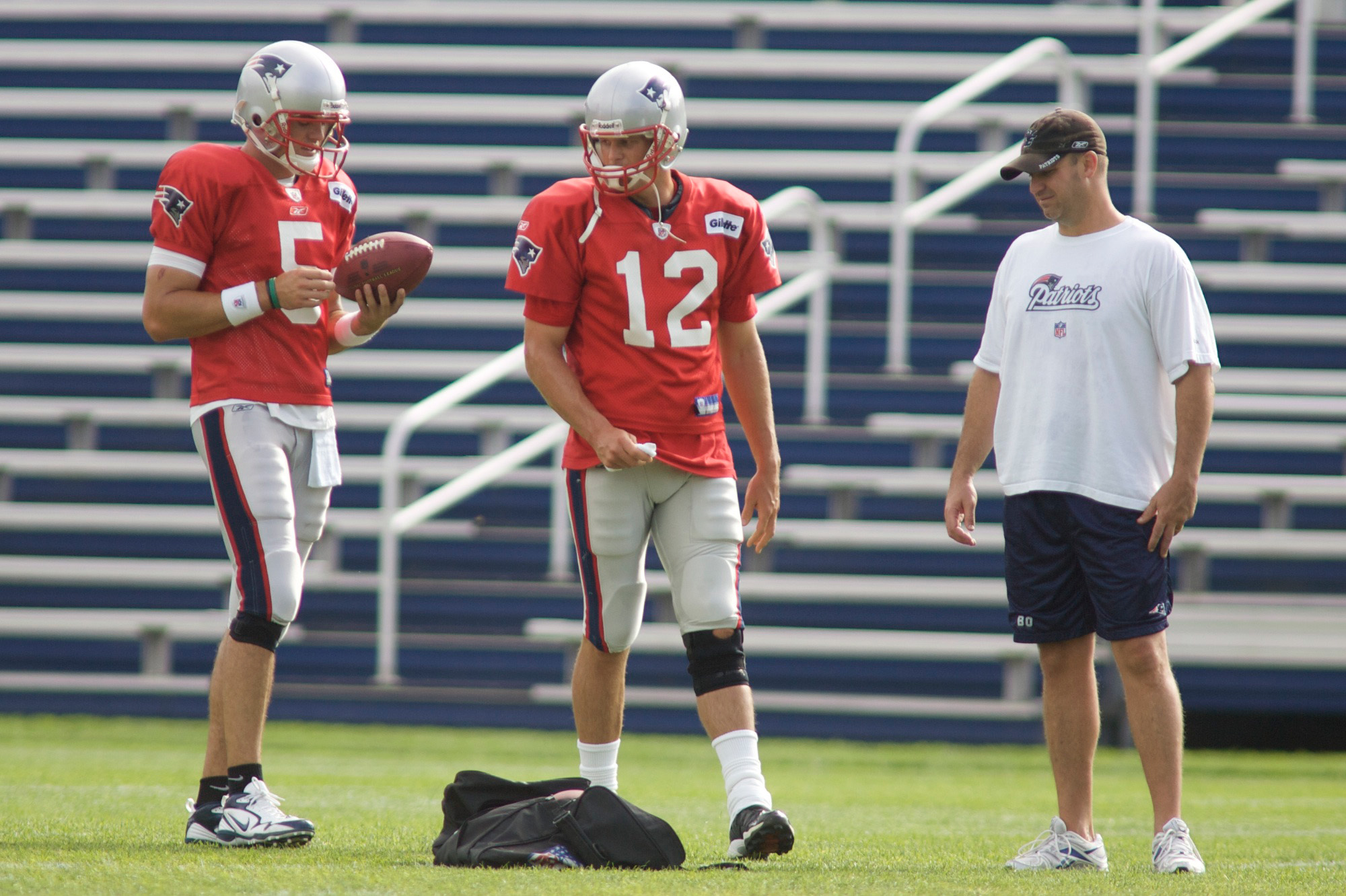 Now that we've detailed some of Brady's best backups, it's time to check out the less inspiring options. These tend to fall into two categories. The first included older veterans who could still bring leadership to the table, if nothing else. For instance, Doug Flutie spent the final year of his career backing up Brady in 2005. He was 43 years old at the time.
Brady had another 43-year-old backup the following year in Vinny Testaverde. Neither Flutie nor Testaverde saw much playing time, although they were both competent in limited minutes. The other category of weak backups includes less talented guys who never got much playing time before eventually dropping out of the league altogether.
To be fair, most of these players weren't bad in the traditional sense: they didn't blow big games, or consistently put up bad numbers. They just didn't see much action — and probably for the best.
Rohan Davey is the perfect example. In three years as Brady's backup, he played in only seven games, throwing eight completions for 88 yards, with a 42.1% completion rate.
Ryan Mallett also fell into that category, although he managed to hang around the league for half a decade after his one-year stint with the Patriots in 2012.
The worst backup quarterback Brady has ever had
In terms of overall impact and longevity in the league, there are two clear candidates for Tom Brady's worst backup. In the runner-up position is Kevin O'Connell. O'Connell spent a single season backing up Brady in 2008.
That was also the only season that he spent playing in the NFL at all. To be fair, he performed adequately in limited minutes, throwing four complete passes in two games of action.
O'Connell's 66.6% completion rate was enough to keep him out of the "worst ever" position, which instead goes to Matt Gutierrez. Gutierrez backed up Brady in 2007. He attempted — and made — just one pass.
Worse still, in five rushing attempts, Gutierrez lost 13 yards. Although he popped up in one game for the Kansas City Chiefs in 2009, Gutierrez's stint with the Patriots constituted the bulk of his brief NFL career.
All stats courtesy of Pro Football Reference