The Worst Super Bowl Ever Shocked Everyone
The Super Bowl may be the biggest event in U.S. sports, but the results don't always match the hype. Super Bowl V was a slow-motion bore between the Colts and Cowboys. Super Bowl XXVII was just one of four Bills meltdowns in a row. And Super Bowl XXXV involved the Ravens rolling through the Giants, who were forced into a mind-numbing 11 punts.
Yet one game may loom above them all as the worst Super Bowl ever — the game where Russell Wilson's Seahawks dismantled Peyton Manning's Broncos so thoroughly that fans fled their expensive seats well before the game was over.
Super Bowl XLVIII: terrible even before the first snap
The big day went dismal from the start. The NFL decided to go for a cold-weather Super Bowl for the first time in years, and New York City was the lucky host. Logistically, it was a mess. Public transit and street traffic alike got absurdly clogged.
Fans were stuck with a two-hour one-way trip from midtown to the game itself. Getting to the game was a mess. Getting around the city to simply catch it at a sports bar or enjoy one of many midtown pre- and post-game parties? Still miserable.
Unfortunately for fans with tickets, waiting around in traffic ended up being about as amusing as sitting through the game itself.
How a clash between two No. 1 seeds went bust
Two No. 1 seeds. Two great quarterbacks, including a future shoo-in for the Hall of Fame in Peyton Manning. One game to win it all.
Yet this clash of titans immediately veered toward embarrassment. The first play from scrimmage resulted in an immediate score. The fastest in Super Bowl history. The Seahawks pulled this feat off… on defense. 2-0 Seahawks.
The moment would be a historic highlight in a normal football game. But this wasn't normal. The Seahawks racked up points, scoring the old-fashioned way. The Broncos had nothing. Manning's nerve problems likely contributed to his complete ineffectiveness in the frigid NYC weather.
Fan reactions to the worst Super Bowl ever
The score was 36-0 Seahawks through the third quarter. At this point, fans started leaving their seats en masse. Unfortunately, there was nowhere to go. The scheduled trains wouldn't arrive until the game's end, which most fans knew.
They decided it was worth more to wait on the platform for the first wave of seats than to watch the rest of this one-sided game. Misaligned expectations weighed heavily on this reaction.
Manning spent his 2014 blowing up the NFL record books on an almost weekly basis. In this game, he completed 34 of 49 passes, totaling 280 yards, with one touchdown and two interceptions. Their drives simply went nowhere, repeatedly, with a single exception.
That time a Super Bowl touchdown felt meaningless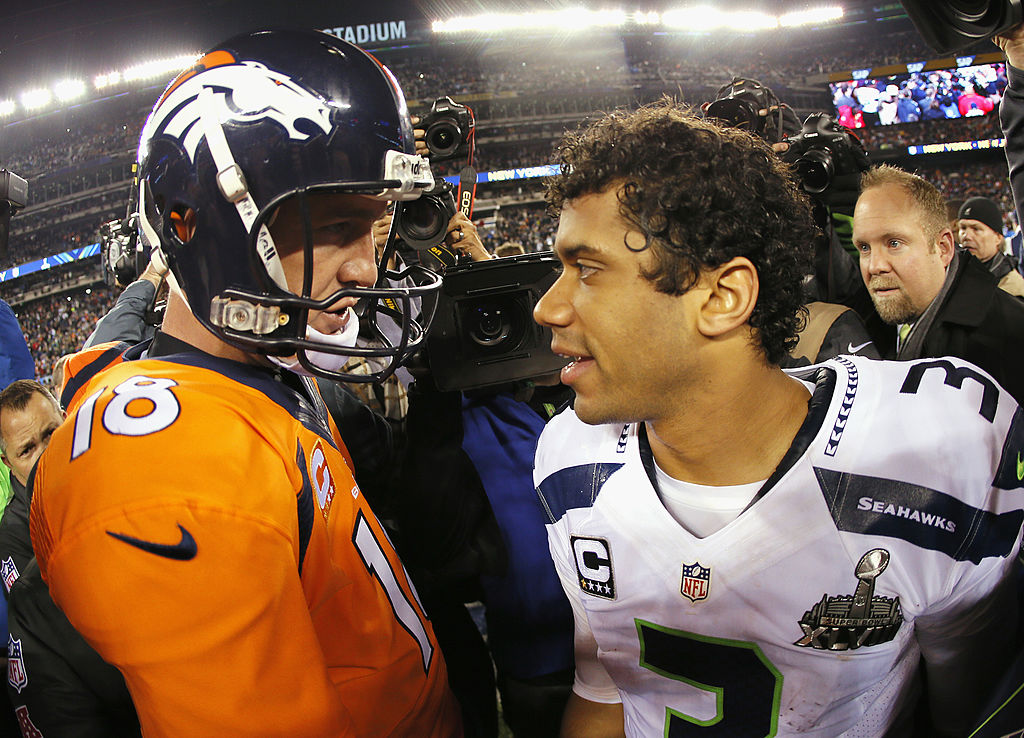 A 14-yard touchdown pass from Manning to Demaryius Thomas did not have the feeling of a momentum-changing moment. Many seats were already empty. Broncos fans at home were stunned. A loss is one thing. But an embarrassment like this, capping off an incredible season? Unbelievable.
Seahawks fans attempted to dance on Denver's grave on social media. It lacked the teeth of a good rivalry, considering how boring the game was. Seattle seemed nearly as shocked by the display as Broncos fans were.
Of the many rough Super Bowls, this one has to top the list. No one was particularly happy; fans in NYC had a cold, miserable day; Peyton Manning blundered what should've been a legitimate shot at another ring. Russell Wilson and his fellow Seahawks may be the only ones to truly benefit from this terrible Super Bowl experience.
Follow more updates from Sportscasting on our Facebook page.