The Yankees Could be the Reason Luis Severino Might not Pitch in 2019
Luis Severino has become the ace of the Yankees' starting rotation over the last two seasons, but he has yet to pitch in a game this season. In March, rotator cuff inflammation in his right shoulder put him on the shelf, and he missed all of April. He was later diagnosed with a Grade 2 lat strain that was expected to keep him out of action an additional six weeks. But his return to game action has been delayed, and the Yankees may be to blame for Severino's recovery taking longer than they initially thought it would.

Setbacks to cause Luis Severino to miss the season?
Before the Yankees played the Red Sox in their two-game series in June, Yankees management revealed that Severino wouldn't throw off a mound that week, as he was scheduled to. Manager Aaron Boone said at the time an MRI showed Severino's lat to be "90 percent healed," but that the two-time all-star "won't get back on the mound until that's 100 percent."

General manager Brian Cashman was asked during Yankees' batting practice in London if the latest setback would lead to Severino sitting out the entire season. He answered no to that query but admitted that "it just makes [him] wonder when we're going to get the lat right." Cashman went on to say that he plans on getting Severino back but didn't know when it would happen. Severino signed a four-year, $40 million extension with the Yankees during spring training.

Yankees make missteps in his rehab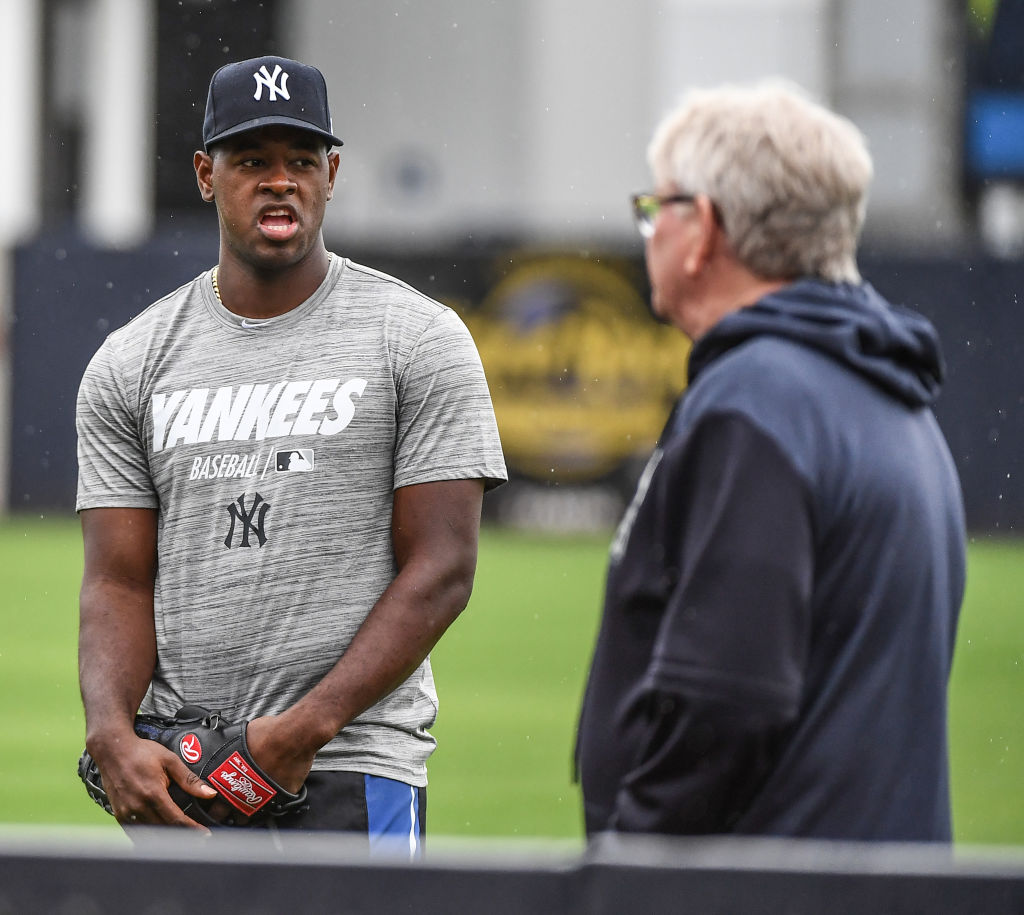 Cashman has admitted that the Yankees made mistakes, possibly trying to get Luis Severino back in games sooner than he was actually ready to return. One mistake the Yankees made was in not getting another MRI before having Severino resume throwing in June.

"Clearly, in hindsight, he should have never started his throwing program," according to Cashman.

Cashman expressed regret in not getting another MRI done, which didn't happen because Severino passed the needed physical tests, and he appeared to be back to full strength. Cashman explained that Severino doesn't like having MRIs and would have "pushed back" if the team asked him to take another one, but "if we turned the clock back, we would've done an MRI."

The effect of Severino's injury on the Yankees
Not having Severino on the major league roster leaves a gaping hole at the top of the Yankees' rotation. As there is still no timetable for his return — and it is possible he won't be able to pitch at all in 2019 — the Yankees are likely going to have to hit the trade market to get a reliable starter to slot alongside the likes of Masahiro Tanaka and CC Sabathia in the postseason, but the Yankees have a big enough lead in the American League East that they shouldn't have to worry about not making the playoffs.

Some pitchers the Yankees have been linked to include Robbie Ray, Marcus Stroman, and Madison Bumgarner. Trading for a starter means the team will have to go into their farm system to trade away prospects.

A multitude of Yankees injuries
Severino is just one of 20 Yankees who have spent time on the injured list this season, but he has been the only major injury among the pitching staff. Most of the team's significant injuries have affected their hitters, with sluggers Aaron Judge, Giancarlo Stanton, and Aaron Hicks some of the biggest names on offense who have spent time on the shelf this season. Stanton has had a couple of IL stints and is currently out with a strained PCL in his right knee that is expected to keep him off the field for at least several more weeks.