The Yankees Need to Accept Aaron Judge Doesn't Deserve a $200 Million Contract
The New York Yankees' chances of winning a World Series title ride on Aaron Judge's shoulders. The 6-foot-7 slugger and two-time All-Star is not only among baseball's most valuable players, but he's the face of the greatest franchise in sports history.
Unfortunately for Judge and the Yankees, the star outfielder has had trouble staying healthy.
When Aaron Judge hits free agency in the coming years, his injury issues should scare the Yankees away from making a horrible decision.
Aaron Judge is a perennial MVP candidate
Major League Baseball players don't think highly of Commissioner Rob Manfred. Even Manfred's strongest opposers would agree with his 2017 comments that Aaron Judge could be the next face of baseball.
When Aaron Judge is healthy, there aren't many better players in the sport outside of Mike Trout's tier. Judge hit .273 with 110 home runs, 246 RBIs, and 66 doubles in his first four MLB seasons.
Judge is a phenomenal defender who earned the Wilson Defensive Player of the Year Award last year. Surprisingly, Judge won that title and didn't win a Gold Glove in right field.
Aaron Judge finished second in the AL MVP Award voting in 2017. If Judge stays on the field, he is always a threat to win the title.
Judge's happy-go-lucky attitude and constant smiling made him an instant fan favorite. He is the Yankees' most popular home-grown player since Derek Jeter retired in 2014.
Judge's injury history is a serious problem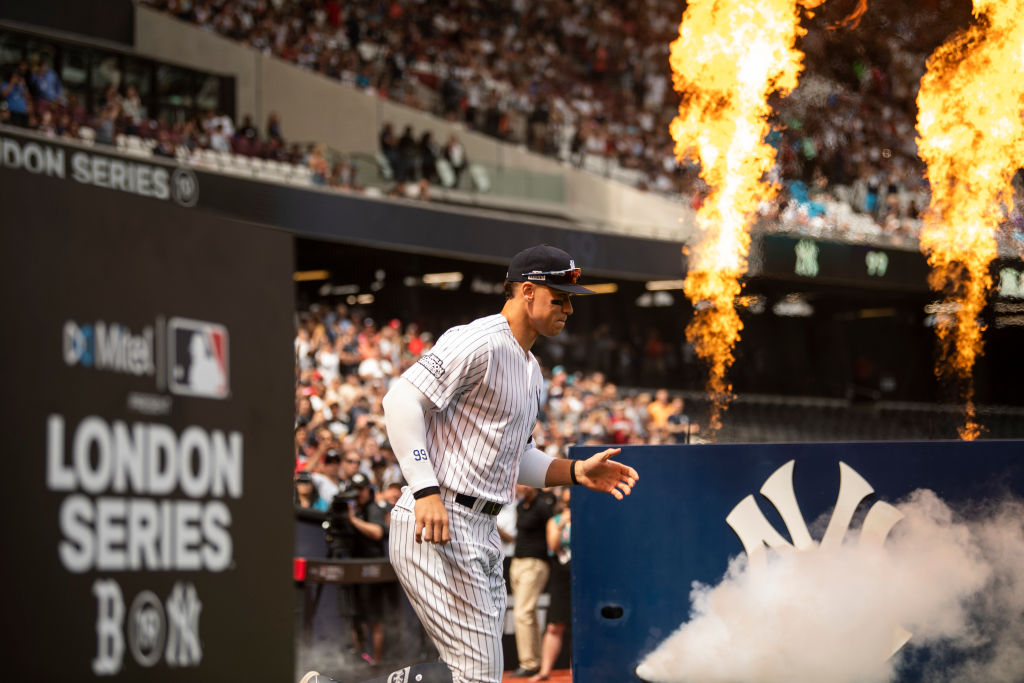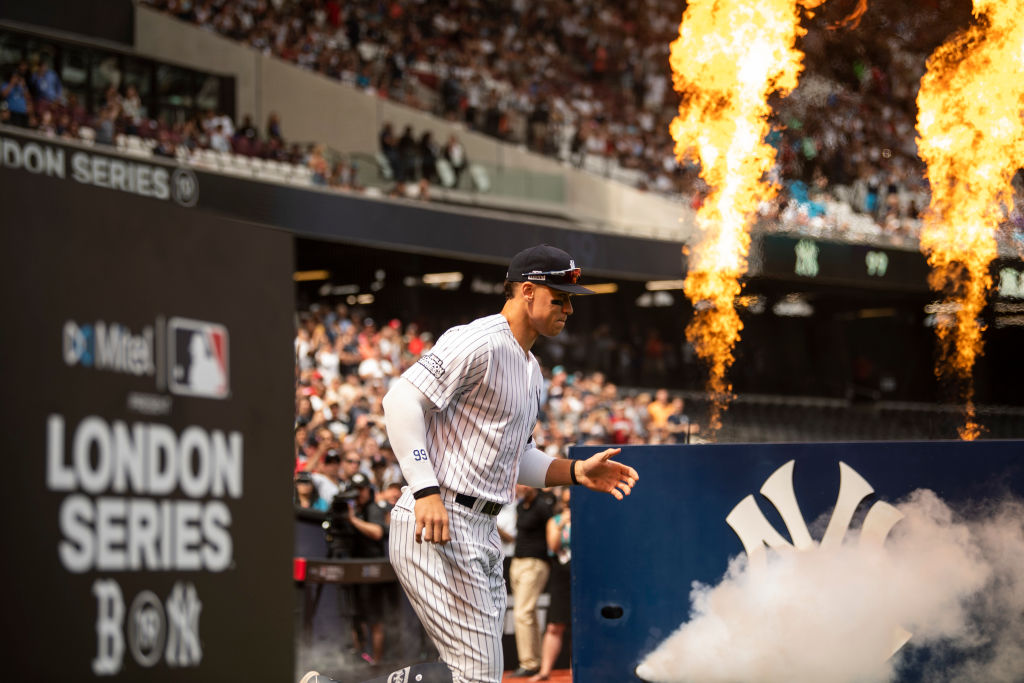 One can't discuss Aaron Judge without mentioning his various ailments. Judge missed the final month of his unofficial rookie season in 2016 with a right oblique strain.
Although Aaron Judge hit 52 home runs in 155 games during the 2017 season, he battled a shoulder injury in the season's second half. Judge hit just .228 with 99 strikeouts in the second half that year.
Judge underwent shoulder surgery after the season and returned in time for 2018's Opening Day.
Aaron Judge earned All-Star honors in 2018 and was on pace for another 40-home run season before he fractured his wrist. The Yankees initially projected Judge to miss three weeks, but he sat out close to two months.
Judge suffered another oblique strain in April 2019. He missed two months with the injury but stayed healthy after he returned in June.
Aaron Judge is still dealing with a stress fracture in his rib. The Yankees believe Judge suffered the injury late-last season and he arrived at spring training with the ailment.
If not for the coronavirus pandemic, Judge almost certainly would have missed Opening Day. Major League Baseball has not announced a tentative date for the season's return.
Aaron Judge doesn't deserve a long-term contract
The New York Yankees will eventually find themselves in a tough situation. Aaron Judge is the face of the franchise and one of baseball's most marketable players.
That alone should make Judge worth a large contract befitting his massive frame. But the risks of signing Judge to an extreme deal are far more significant than the positives.
Aaron Judge could earn upwards of $200 million when his time comes. The Yankees don't want to make the decision they'll regret.
Even without the injuries, the Yankees shouldn't consider a long-term contract for Judge. He strikes out way too often and, while an excellent defender, is reckless in the field.
But the injuries are who Judge is. And although some blame falls on the training staff, the reality is Aaron Judge is a walking glass door.
The Yankees know first-hand how problematic it is to have a player on a mega-contract and he's always hurt. They needn't look further than Judge's home run partner, Giancarlo Stanton.
The Yankees must decide if they want to pay the face of the franchise, or pay to win a World Series title. At this point, it's clear the Yankees and Aaron Judge won't have both.