There's 1 Coach Who Thinks Kris Dunn Should Make All-Defensive 1st Team This Season
The Chicago Bulls' season was filled with frustration, but some players did well amidst the chaos. Kris Dunn hasn't lived up to his draft status, but he still has the ability to influence the game, particularly on the defensive end. An anonymous coaches' poll showed he has the respect of the NBA elite. But looking at the history of All-Defensive teams, this might not be enough.
The Bulls let their fans down yet again
The Last Dance was a great piece of entertainment for both sports fans desperate for anything to enjoy during this truly hellish year, but it was especially necessary for Chicago Bulls fans, who could use a reminder that their favorite team used to be the envy of the entire league — even if there was constant in-fighting behind the scenes.
 The Bulls, for the second year in a row, failed to win 30 games in a season. Sure, the coronavirus ended the season early, but they were 22-43 when the season stopped. Chicago was long confirmed as one of the worst teams in the NBA. 
It wasn't supposed to be this way. When the Bulls made the decision to trade Jimmy Butler in 2017, the franchise sold the decision as them committing to a longterm future centered around young players that would thrive without Butler's aggressive personality. Two and a half years on, and there's no evidence of the future becoming the present anytime soon. 
Jim Boylan's "high school coach from the '50s" routine hasn't brought out the best of his players. The mediocre reign of "GarPax" shredded the sanity of the fanbase before finally being replaced a few months ago. This is not a roster without any sort of talent. Zach LaVine has never shown any interest in defense, but he's an excellent, all-around scorer. Lauri Markkanen and Wendell Carter have shown flashes of potential, but have spent large parts of the season injured. Coby White has cool hair. 
But that mismanagement from the front office and the coaching staff makes it impossible for the team to make any real progress. Fans will hope that the duo of Arturas Karnisovas and Marc Eversley as the new President of Basketball Operations and GM will bring better results. 
Kris Dunn's defense was a bright spot
Chicago had a surprisingly average defensive rating (14th in the league) and one person who deserves a lot of credit for that rating is Kris Dunn. Dunn's glaring faults on offense contributed greatly to his inability to live up to his draft status as the 7th pick in the 2016 draft. (Although he's far from the only player to not fulfill his potential as a member of the Minnesota Timberwolves.)
Dunn has never averaged more than 13 points a game and is a career 30% three-point shooter. But his tenacity on defense has earned him appreciation from fans and coaches in the league. 
The Athletic polled 23 head and assistant coaches to learn who they'd put on the NBA's All-Defense teams and who they'd pick as the top three candidates for the Defensive Player of the Year award. Dunn was not named to either team — in fact, he only got two votes to be on either team. Ben Simmons and Marcus Smart, Patrick Beverley, and Eric Bledsoe earned spots. As great as they are, Dunn deserves more consideration.
Dunn should be on the All-Defensive team, but he likely won't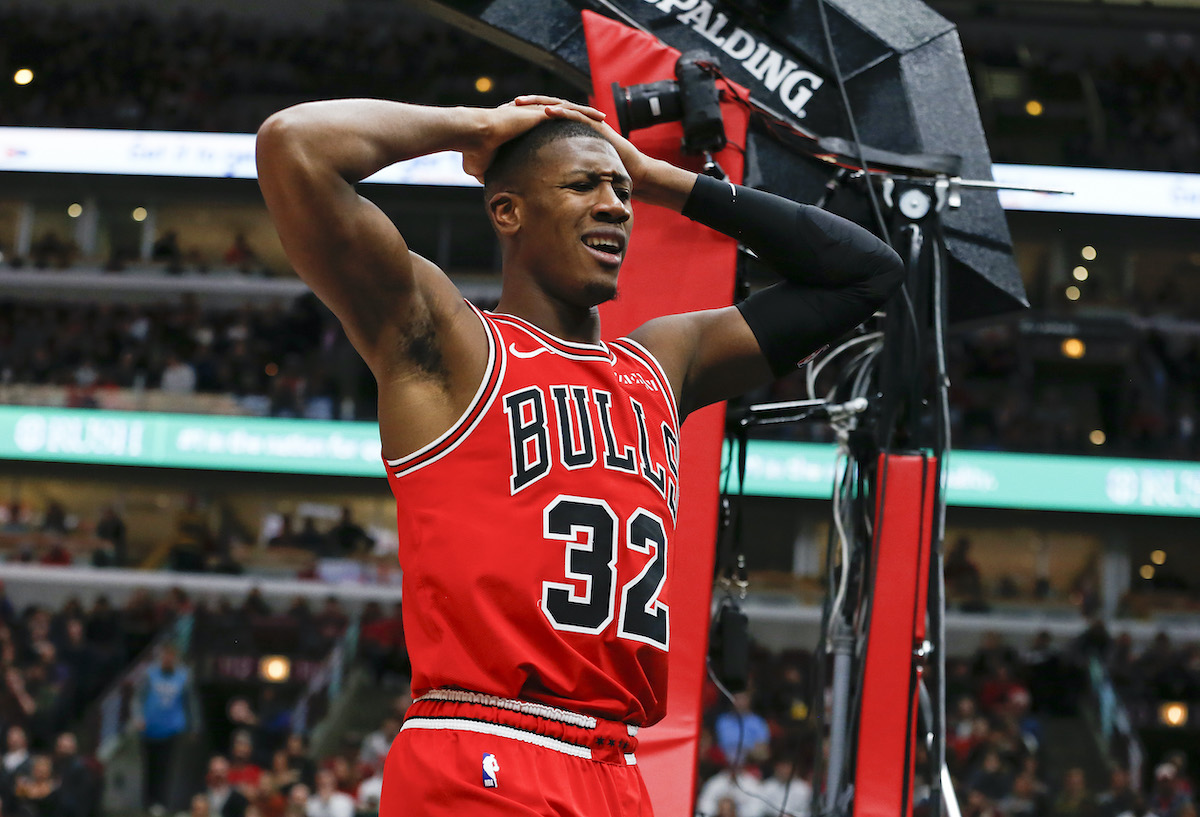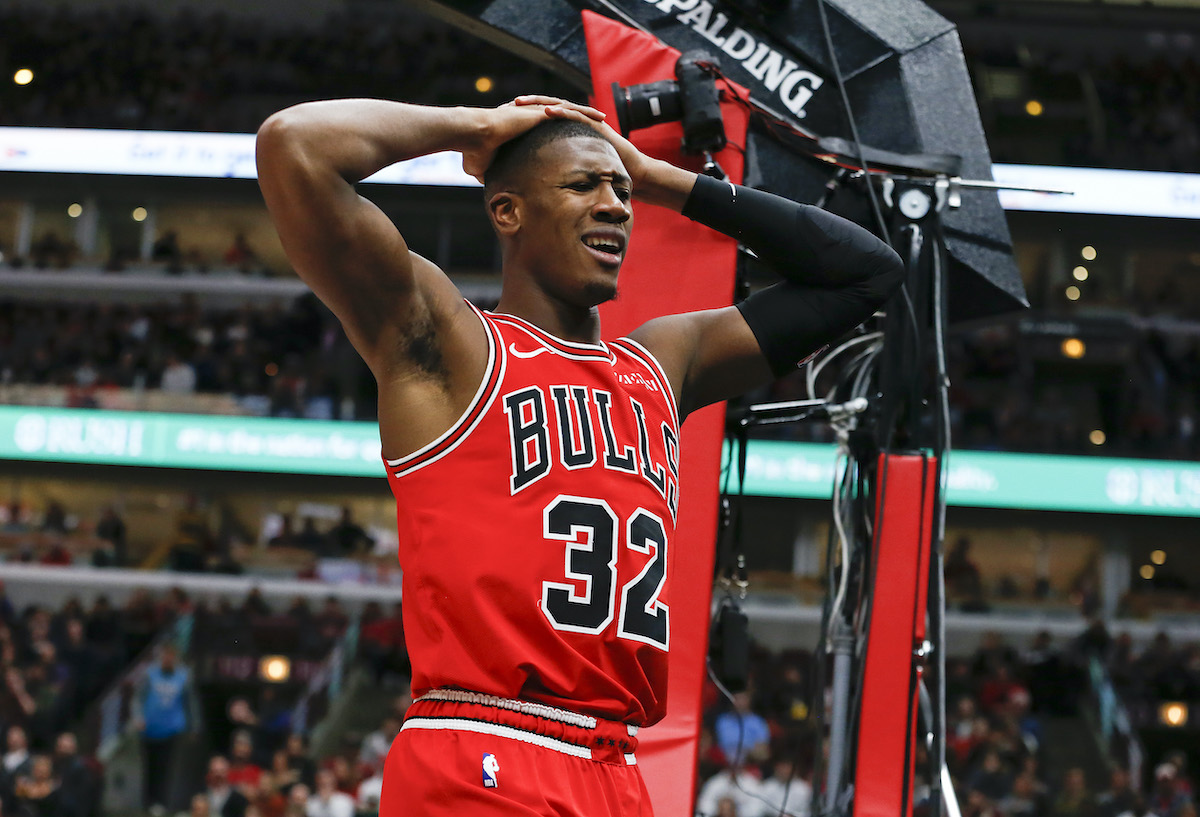 As great as Dunn is at playing guarding other players, circumstances are playing against in terms of actually getting rewarded for his performances. Like every other award process, fame and popularity play a big part on who gets the acclaim and who doesn't. It's media members, not the coaches, who vote for the All-Defensive teams.
Media voters are often criticized — and fairly so — for relying on counting stats such as blocked shots and steals to determine who the best defenders are. These numbers don't say much about a player's defensive ability. Going for the highlight can easily damage a team's defensive scheme.
Defending is often about more subtle moments and not big plays. A lot of fans and analysts don't realize that. Serge Ibaka has been named to the All-Defensive first team three times. He's a much better defender now, but isn't talked about nearly as much as a great defender. 
.The increased use of advanced analytics is helping in this regard, but the status quo still is what it is. Whether Simmons, Smart, Beverley, and Bledsoe are demonstrably better at defense than Dunn is beside the point. Those four players have more eyes on them during the season. They can impress viewers more than someone who only plays 25 minutes for a lottery team.