There's Only 1 Way to Game Plan for Aaron Donald According to an NFL Coach
Aaron Donald is the best defensive tackle. Anyone who disagrees can look at his first seven years in the NFL with the LA Rams as proof. Since entering the league in 2014, Donald has proven that offenses can't avoid him. The 29-year-old is so good that many coaches don't have a game plan for him. In fact, a Buffalo Bills coordinator came up with an entertaining way to stop the five-time All-Pro tackle. 
Aaron Donald's NFL career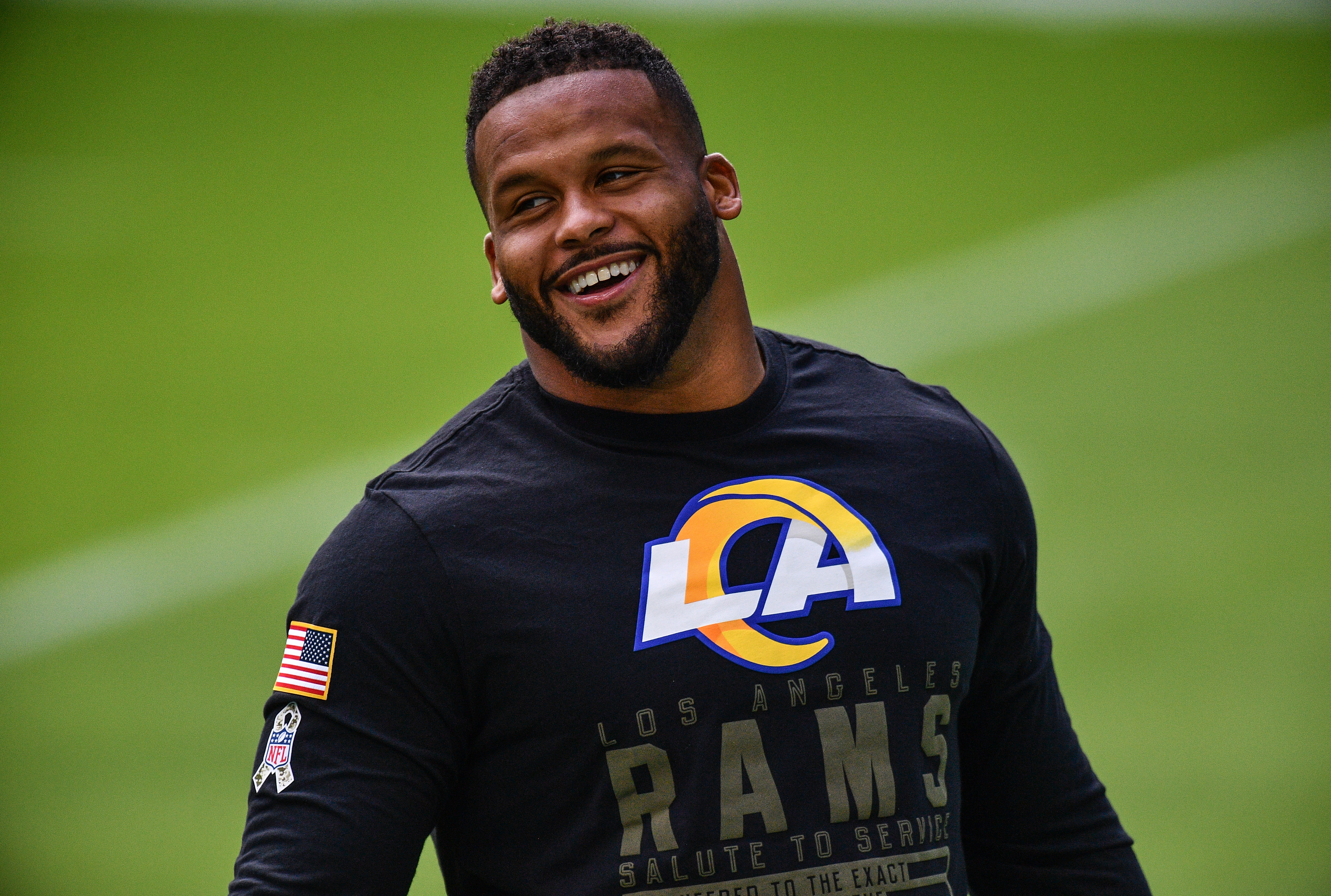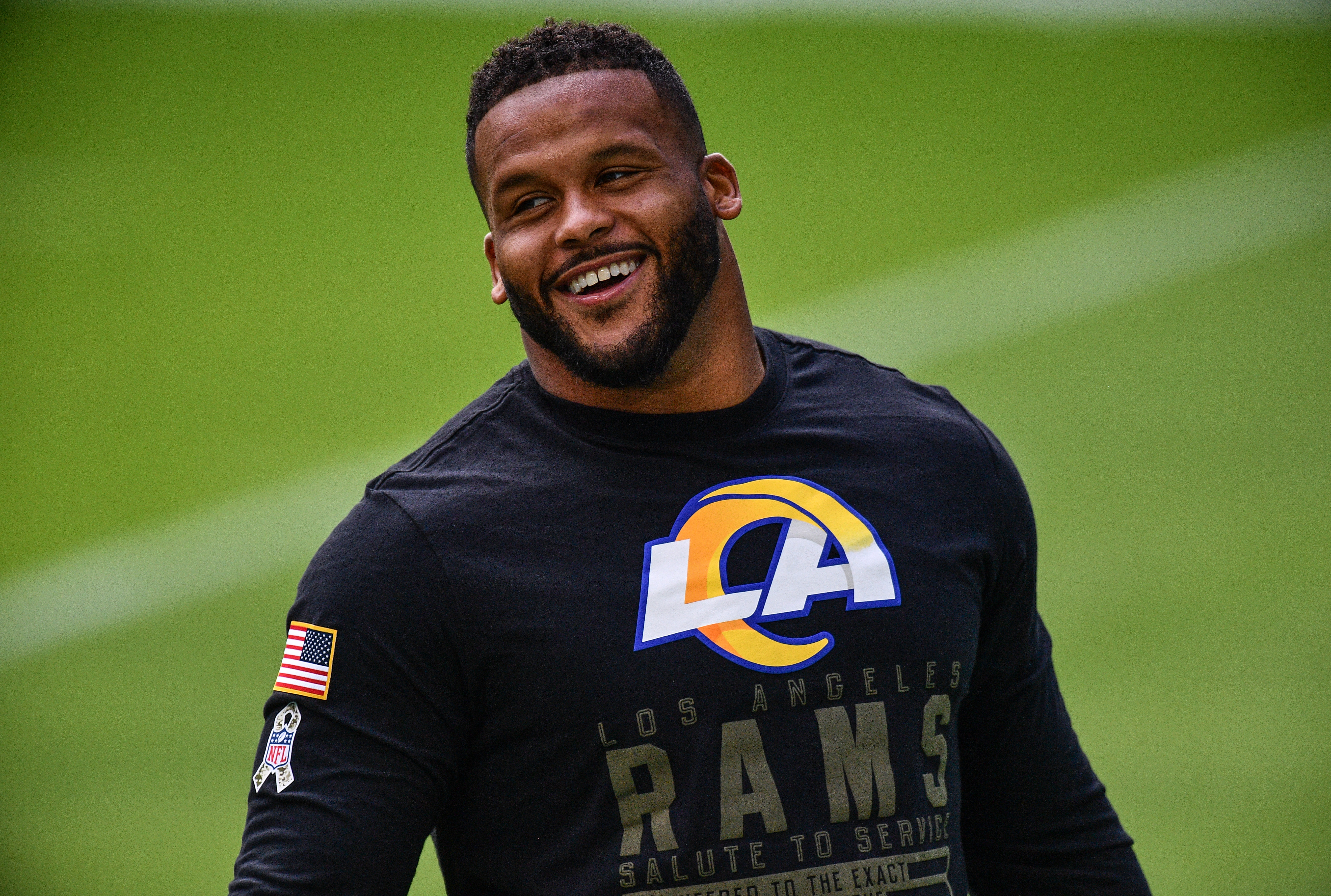 Donald entered the NFL in 2014 and immediately let them know that he was there to stay. The 13th-overall pick by the then-St. Louis Rams, Donald played at Pittsburgh's legendary football program and wasted no time showing why he was one of the best draft prospects in the NFL. In his first year alone, Donald got nine sacks and 48 combined tackles en-route to his first Pro Bowl experience. 
Already good, however, Donald proved that he was also a superstar the following year. His sacks went up by two, and his tackles went up to 69. The tackles are, to this day, the highest of his career. At the end of the season, the Rams had an All-Pro player who was already panicking offenses every time he stepped foot on the field. 
Donald is a consistent superstar presence who is unafraid to adjust his game to prove he's more than a one-trick pony. He can chase down ball-carriers, break apart a play before the snap, and rush the pass with such intensity that he stops it just by being on the field. He's so good, in fact, that teams often joke about just how unstoppable he is. To date, he has 81 sacks, 338 combined tackles, and 235 solo tackles at just 29 years of age. 
At this point, according to one NFL coach, the only way to stop him is to hope he doesn't show up. 
Missing the bus
Buffalo Bills' offensive coordinator Brian Daboll was asked about his strategy against Donald. He did not mince words when explaining exactly how. Daboll told BillsWire:
"Maybe he can miss the bus. Just started to watch his first two games. Look, he's as premier of a lineman that I've seen. He's a disruptive force. He's got power, he's got strength, he's got speed, he's got quickness, he's got leverage, he's got motor, he plays intelligently. There's plays on tape that we watch and you go, 'Oh boy.' He's hard to get to, he can play multiple spots, and they have a lot of other good players, too."
It's true. Whether he was playing tackle or defensive end, Donald plays with the same amount of finesse, brutality, and infectious effort that not only makes him better but the team better by proxy. Donald's own defensive coordinator, Brian Staley, echoed this point. As ESPN reports, he broke down exactly why his superstar is so effective at tackle.
"He does so much to help us win in the run game, in the pass game, the way we can move him around," Staley said. "He's not a guy that just lines up in one spot, he can line up all over the formation. The thing about a guy like him that I think is unique is he has all the individual products, but then you have to factor in the production that he creates for other players, too."
Just how good is Aaron Donald?
It's hard to say just how good Donald is. Statistically, he is already great, as The Ringer details. But even when he isn't putting up superstar numbers, his impact on defense is hard to ignore. Donald isn't just a defensive beast. He's the heart and soul of the LA Rams. His high-energy way of defending the field makes it obvious if someone isn't showing up. And the team is better for this. 
Who knows how long Donald can keep it up. Regardless of what happens, the best bet may still be to hope that the bus bypasses him, so one's offense has a chance to score the ball.