These 21 Colleges Have the Best Student Fan Bases
Any devoted college sports fan will tell you their alma mater has the best fan base out there. For that reason alone, the following list may be debatable to some parties. That being said, some college sports simply have student fan bases that clearly go above and beyond when it comes to supporting their teams — whether it's football, hoops, or a mix of sports. Here, we list the colleges with the best student fan bases.
Alabama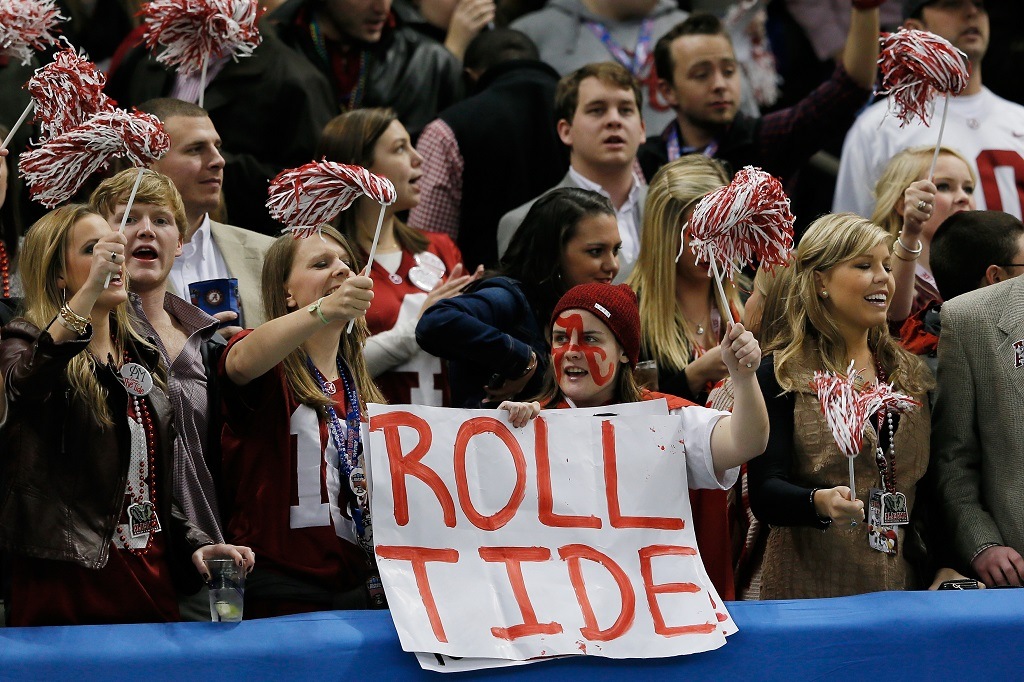 Sure, having a cool battle cry doesn't hurt. (And having an ESPN commercial based around said catchphrase is even better.) But that's only part of the Alabama Crimson Tide fan experience. The student fan base shows up early before football games to cheer and pump up the football team as they do the "Walk of Champions" on their way to the stadium of games on Saturday. While Alabama doesn't have the only football team that takes a stroll to the stadium on game days, the crowd size in Tuscaloosa rivals many.
Next: Orange and Regalia …
Clemson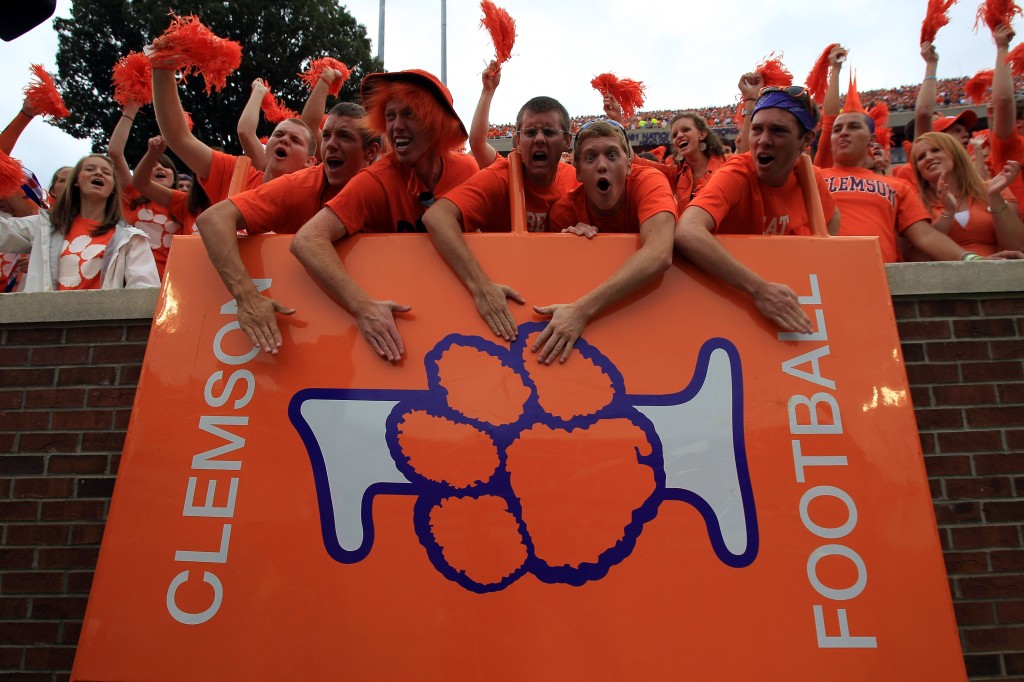 One surefire sign a fan base is superior is when it is devoted despite a team's struggles. And you have to hand it to Clemson's fans, who dealt with the made-up word "Clemsoning" becoming a universal term for blown saves and painful losses. But Tigers fans stuck it out, making it even sweeter to see their team compete… Oh, and carry out the tradition of running down the hill before every home game.
Next: There are cans of blue paint named after this college sports dynasty …
Duke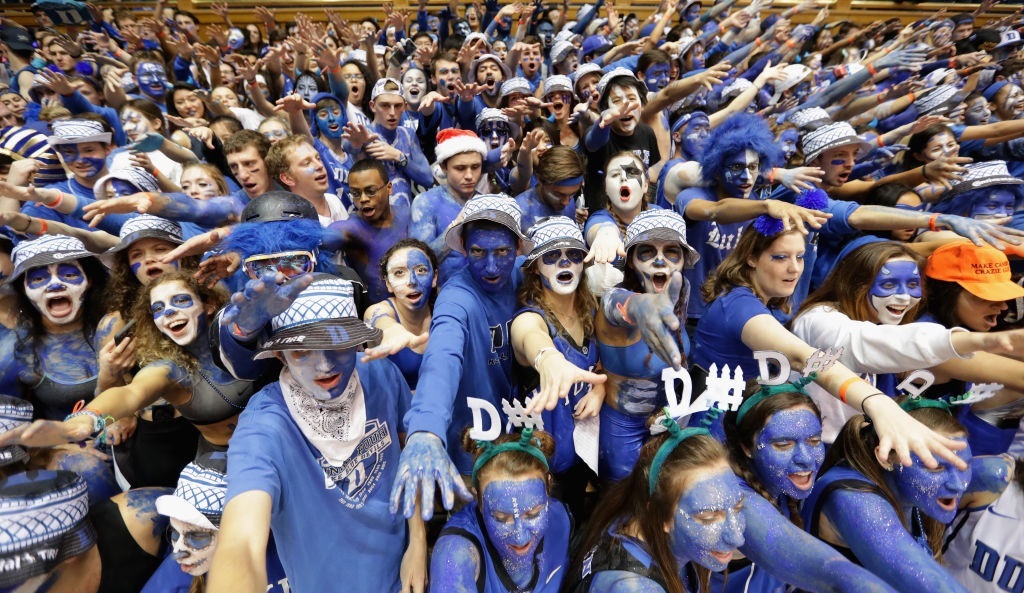 Having a hoops dynasty to root for has warped the Duke's student fan experience at Cameron Indoor. The Blue Devils' devoted student fan base, known as the Cameron Crazies, may only pack into a 1,200 seat section. But said student section is right on the court, and these fans study up on the opposition so they can heckle better than just about anyone on the college basketball scene.
Next: Garnet and Gold …
Florida State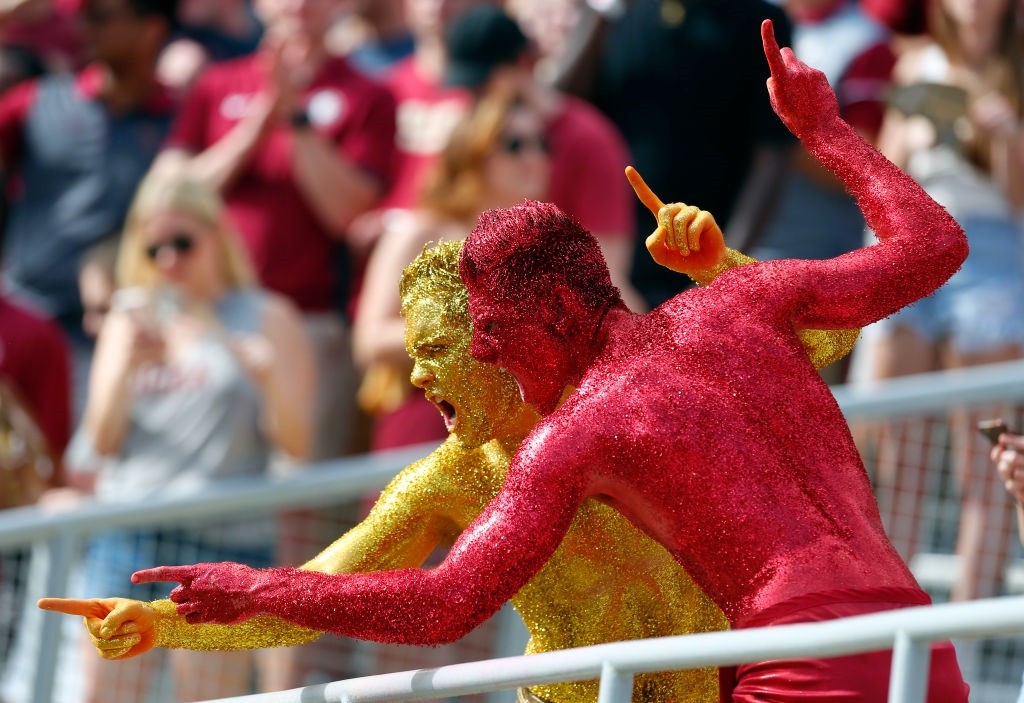 The state of Florida may not be best known for its sports teams, but you would never know that from the looks of the Florida State Seminoles' fan base. From painting themselves from head to toe in the 'Noles' signature colors to belting out the war chant, Florida State fans show up on game day prepared for action. Visitors even get swept up doing the tomahawk chop themselves.
Next: Red and Black …
Georgia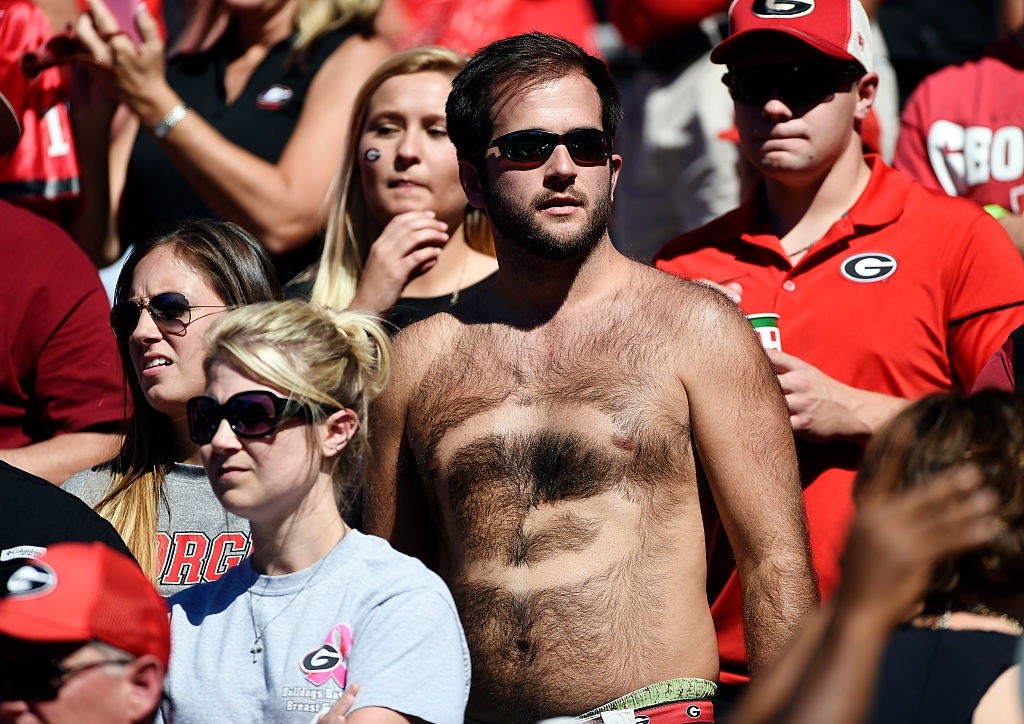 Here's the skinny on Bulldogs fans: They take a ton of pride in their Saturday football traditions. The sea of red-clad students goes from tailgating on campus to packing legendary Sanford Stadium and singing their rendition of "Glory, Glory" every game day. It's no wonder Georgia regularly makes the top 10 for home stadium attendance year after year.
Next: Purple and Gold …
LSU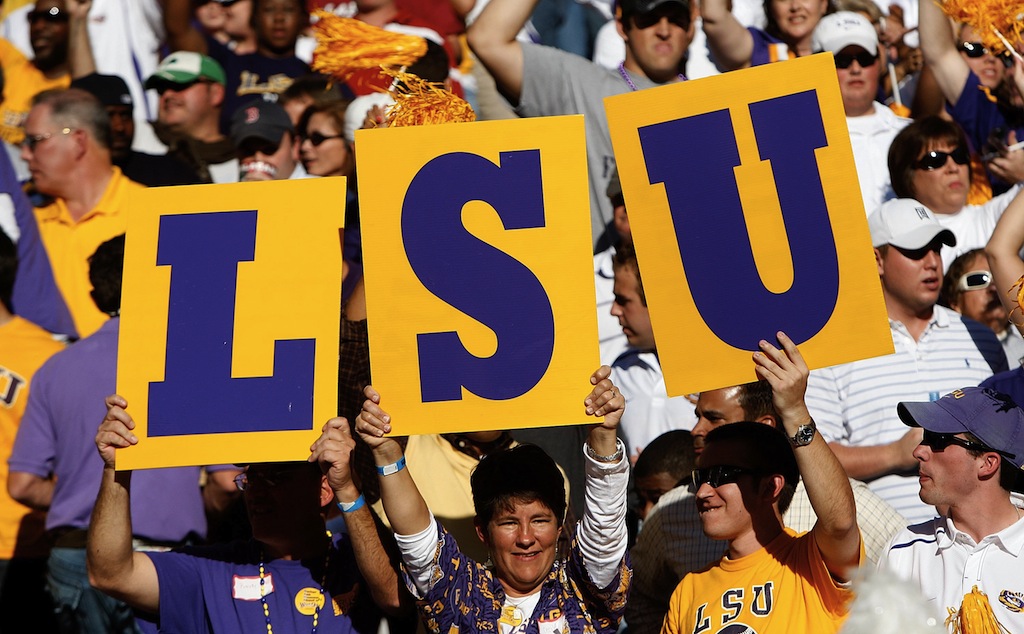 You can't talk about the SEC without talking about Louisiana State. And not just about their dominant football team, but also their devoted fans. On top of keeping the noise level at Tiger Stadium unspeakably high, the LSU fan contingent is known for having one of the best tailgates in the entire country.
Next: Blue and Maize …
Michigan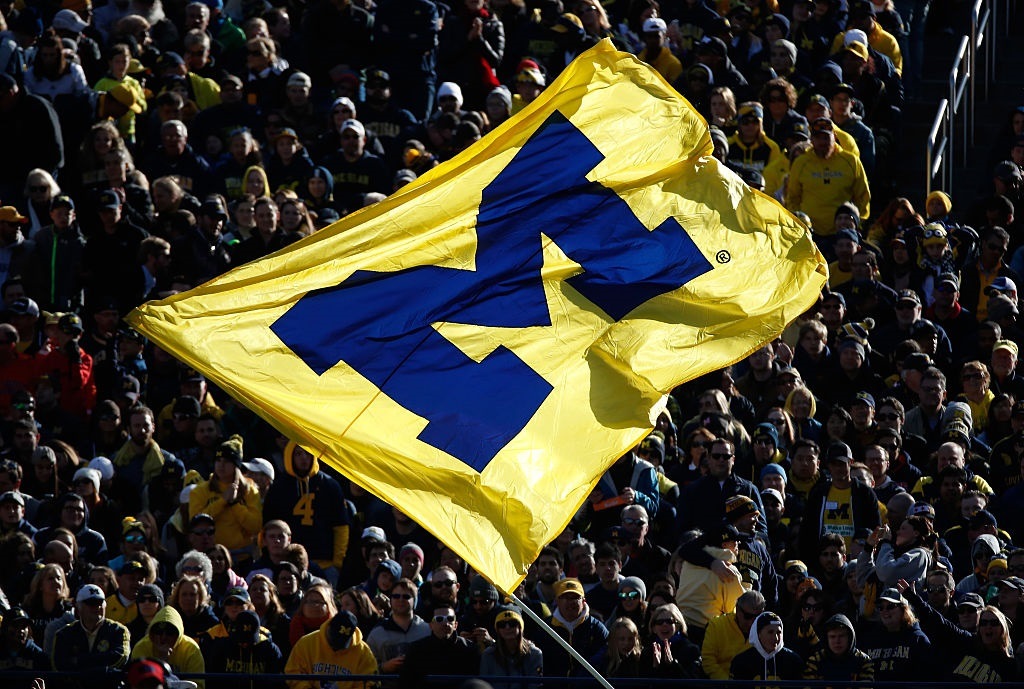 There's more to Wolverines fans than just dressing up like coach Jim Harbaugh. Michigan Stadium, aka "The Big House" is considered one of the most intimidating stadiums to play in because of the fan atmosphere. And it gets extra insane when Big 10 rivals like Ohio State pay a visit.
Next: Green and White …
Michigan State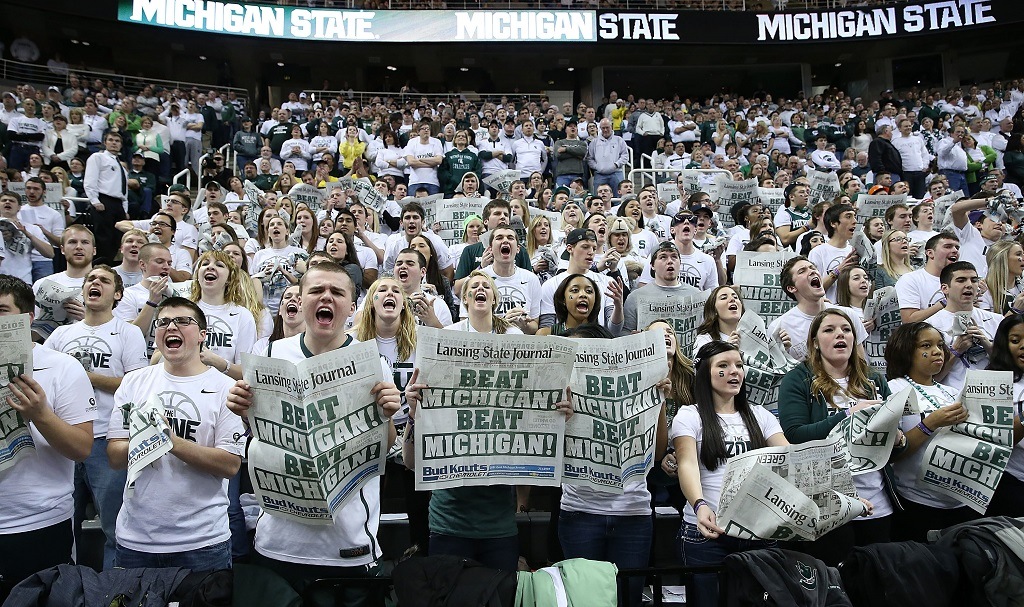 The Spartans student section at Breslin Student Events Center is not to be messed with. The Izzone — aptly named after coach Tom Izzo — takes their hoops tilts very seriously. The student fan base stretches down to court level, bringing their intense vibe right into the opposing teams' faces.
Next: Scarlet and Cream …
Nebraska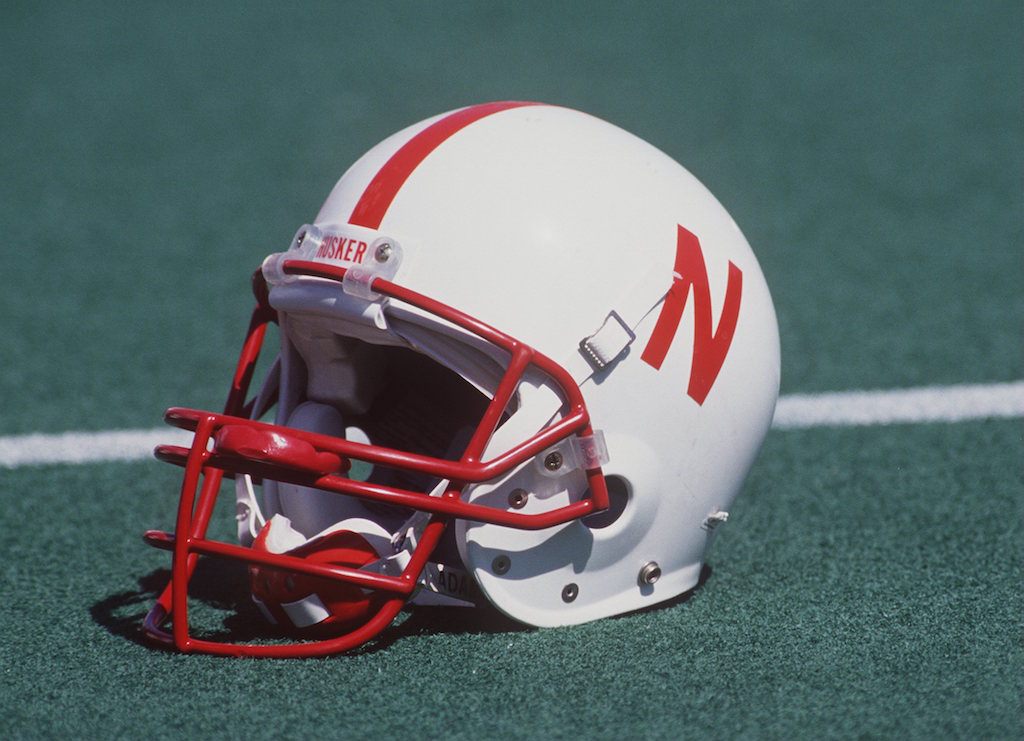 Cornhuskers fans don't just show up to cheer their team on — they bring an atmosphere and pack Memorial Stadium to the gills. And when we say pack, we mean it: Nebraska holds an NCAA record for consecutive sold-out games at 361 consecutive tilts. It's a pretty amazing feat, especially when considering the full stadium holds more people than all but two cities in Nebraska.
Next: Navy Blue and Gold …
Notre Dame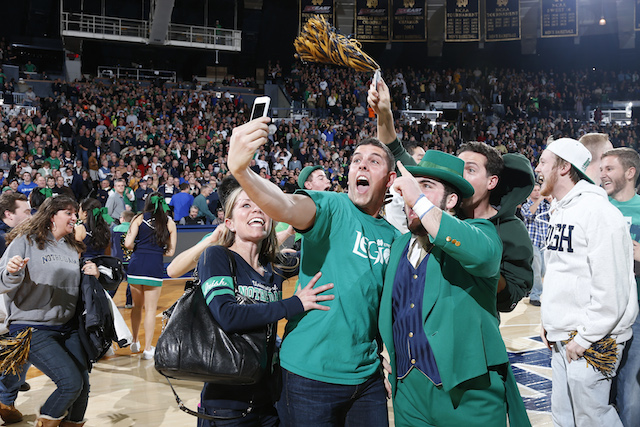 Any list about college sports fandom that doesn't include Notre Dame probably isn't doing it right. As part of Fighting Irish game-day tradition, fans in Notre Dame's student section stand for the entire game and do not leave their spots until the team is off the field — regardless of the result. And Fighting Irish fans don't just show up for their teams on game day — they go the extra mile to troll their rivals off the field of play as well
Next: Scarlet and Grey …
Ohio State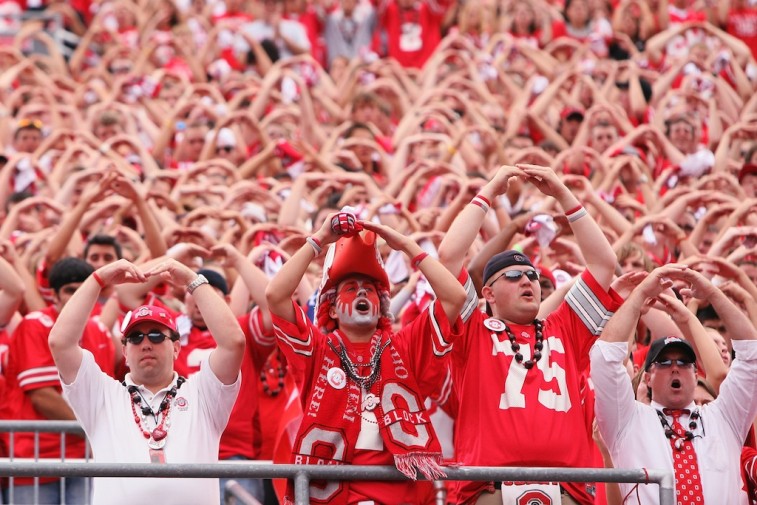 In the ferocious Big 10 landscape, Buckeyes fans are considered just as intense as the teams they are supporting. And Ohio State's student section, The Block O, isn't above getting the rest of Buckeyes fans in attendance in on the excitement. Like in 2017 when they staged a response to visiting Penn State's "white out" game. (More on that a little later.)
Next: Crimson and Cream …
Oklahoma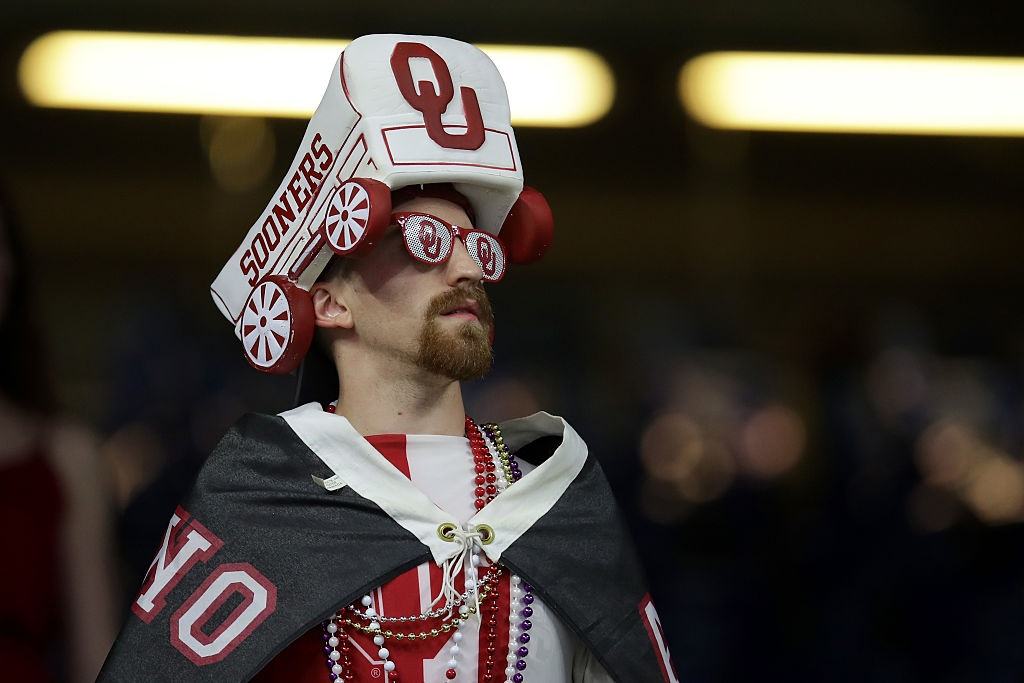 Sooners fans don't just make the list for wearing canvas-covered wagons on their heads. They also pack into Gaylord Family Oklahoma Memorial Stadium on Saturdays to the tune of about 86,000 people, ranking them at 12th for home attendance in 2017.
Next: Green and Yellow …
Oregon
Really, any team with a highlighter-colored jersey ensemble deserves a vibrant fan base. Although their home base at Autzen Stadium isn't the biggest in the country, loyal Oregon Ducks fans make up for its size with their vocal presence. In fact, the atmosphere created by Oregon fans has helped to make this Pacific Northwest play space one of the most intimidating road destinations in the entire country.
Next: Maroon and White …
Texas A&M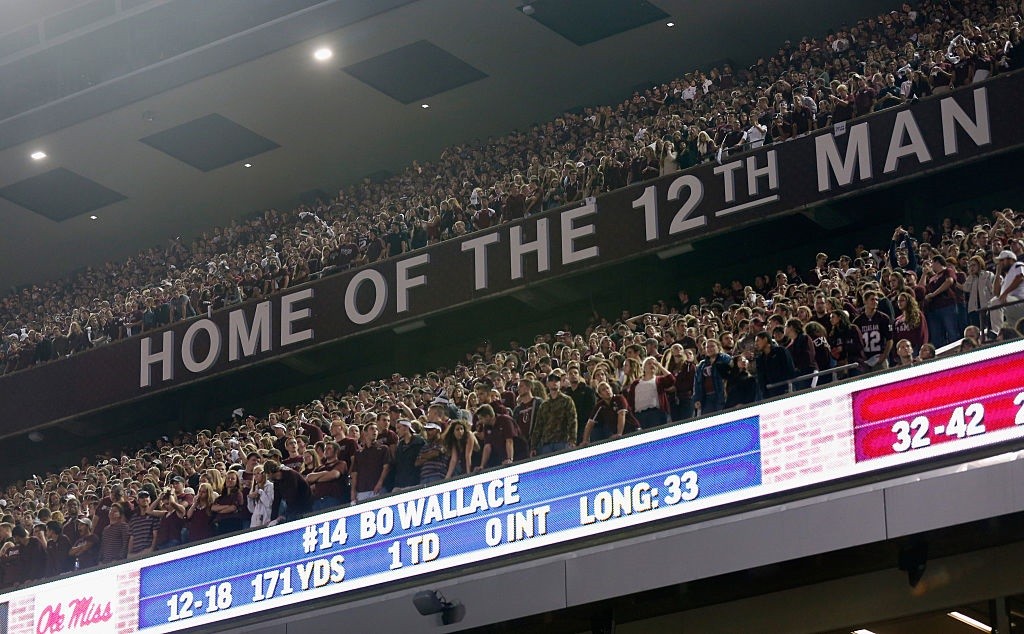 Attend a Texas A&M home football game, and you may think all of College Station is smashed into the Kyle Field seats. You can thank the "12th Man" — the name of the Aggies student fan base — for that vibe. The Aggies fan experience isn't just about the crowd size — it's also full of tradition.  Like when the student fan population standing during football and basketball games, which became commonplace in the 1920s.
Next: Gold and True Blue …
UCLA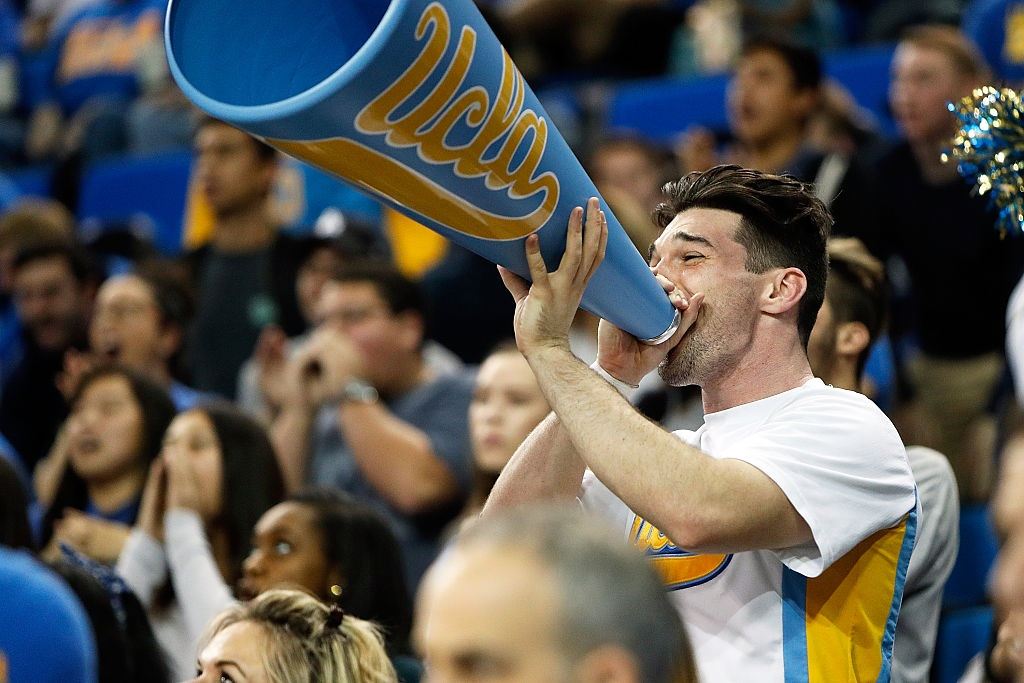 Whether they're at Pauley Pavilion or the Rose Bowl, UCLA fans are packing the seats. Their student section for football, known as The Den, isn't above showing the most school spirit — especially when it comes to going up against rival Southern California school USC. Like in 2016 when the student sections went toe-to-toe for Pac-12 Network's student section challenge.
Next: Blue and Orange …
University of Florida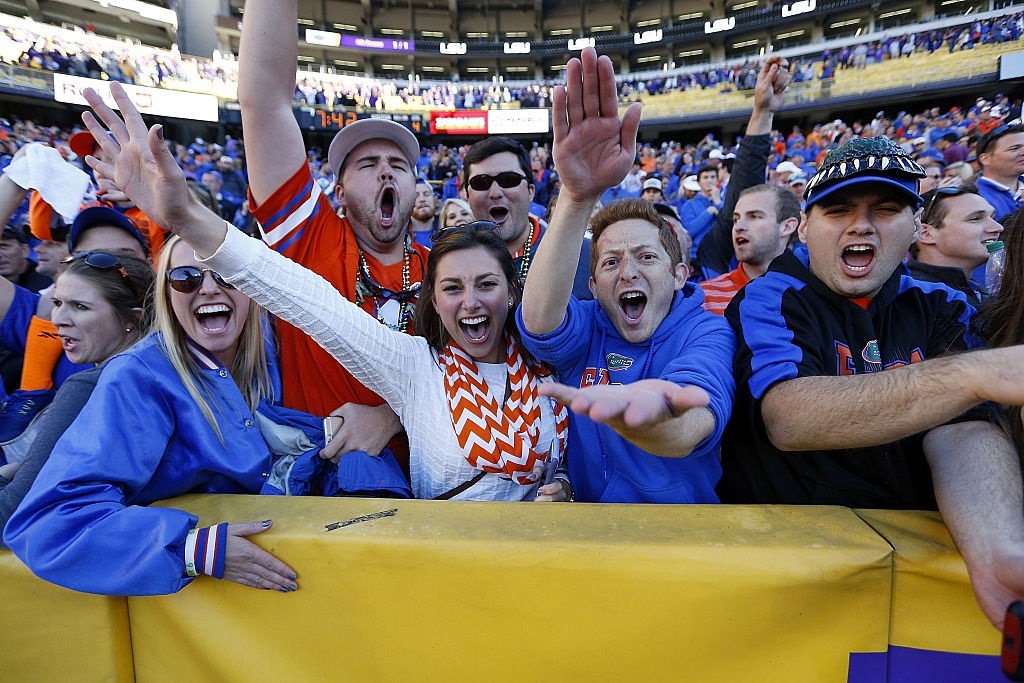 You don't have to know much about college football to know the Gators come with a devoted fan base. The student section gets packed with fans ready to do the two-arm "Gator Chomp" at just about every University of Florida game — especially if there's a widely disliked SEC rival in the house.
Next: White and Burnt Orange …
University of Texas, Austin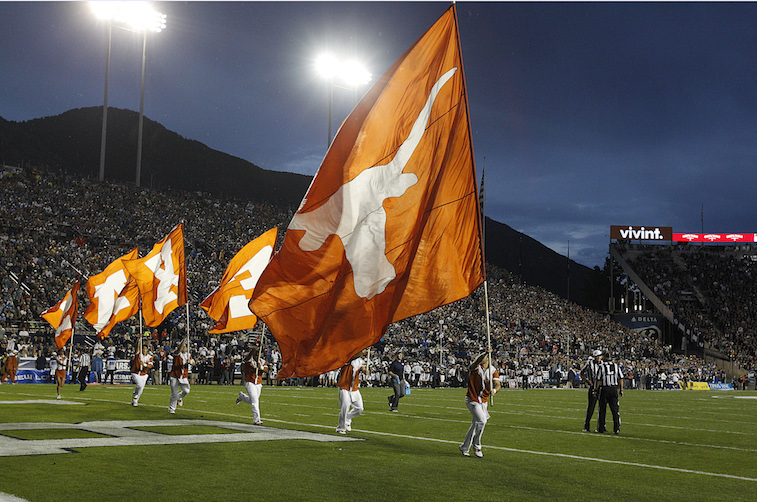 Watching college football is a grand pastime in Texas, and Longhorns fans know it. But this student fan base does more than just throw the "Hook'em Horns" in the air. The football team hasn't won 10-or-more games since 2009, and the fans still fill the seats on Saturdays to watch them play.
Next: White and Carolina Blue …
UNC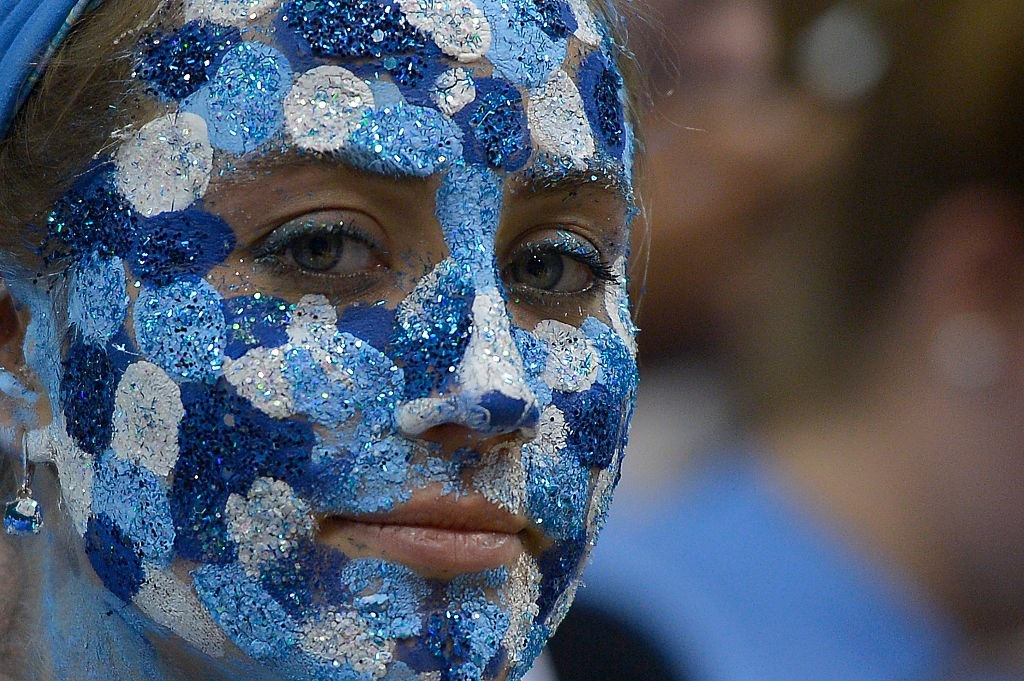 As one half of one of college sports' best rivalries, the Tar Heels are known for leaving blood out on the basketball court. So naturally, their fan base is equally as savage. And the UNC faithful have no problem carrying their celebrations beyond game time, like when they flooded Franklin Street after defeating — you guessed it — the Duke Blue Devils.
Next: Cardinal and Gold …
USC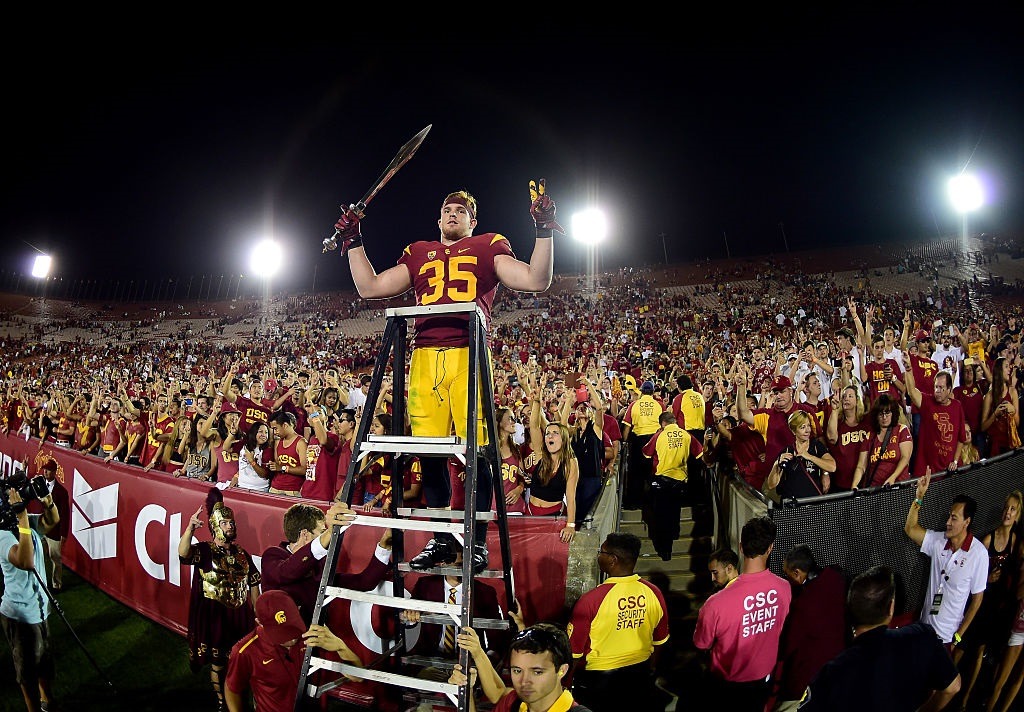 Years of scandal be damned — nothing seems to dampen the spirit of USC's student fan base. USC's game day experience is soaked in school tradition, from the Song Girls to the majestic mascot, Traveler. But perhaps the biggest part of the Trojans fan experience is the crowd singing along with the famous marching band, aptly named the Spirit of Troy.
Next: White and Blue …
Penn State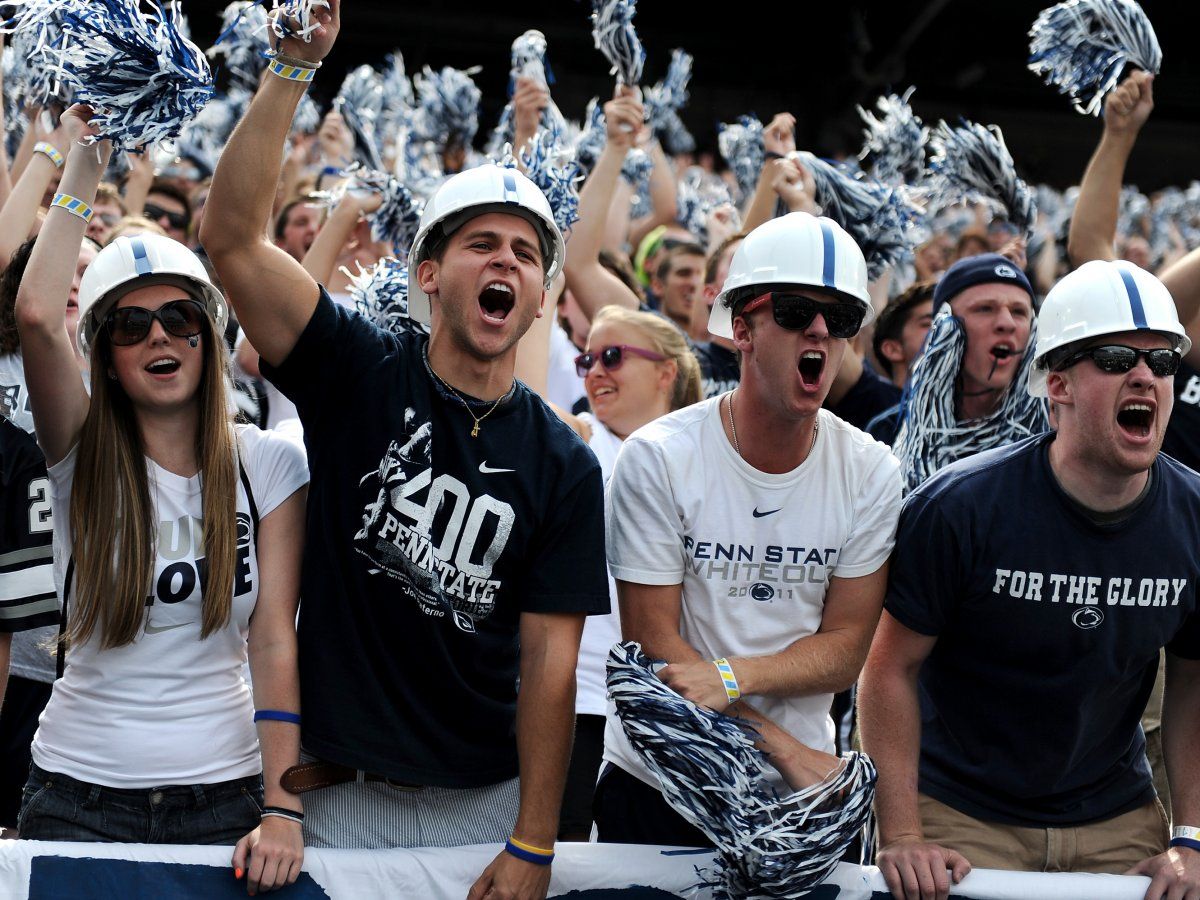 The infamous "white out" isn't the only thing that puts Penn State's fan base above so many others. Tickets to watch the Nittany Lions sell fast — a reported 21,000 student section tickets sold in 89 minutes! — and they bring a fire and fury season after season. No wonder ESPN Kirk Herbstreit dubbed it the No.1 student section in the nation.
Next: Cardinal and White …
Wisconsin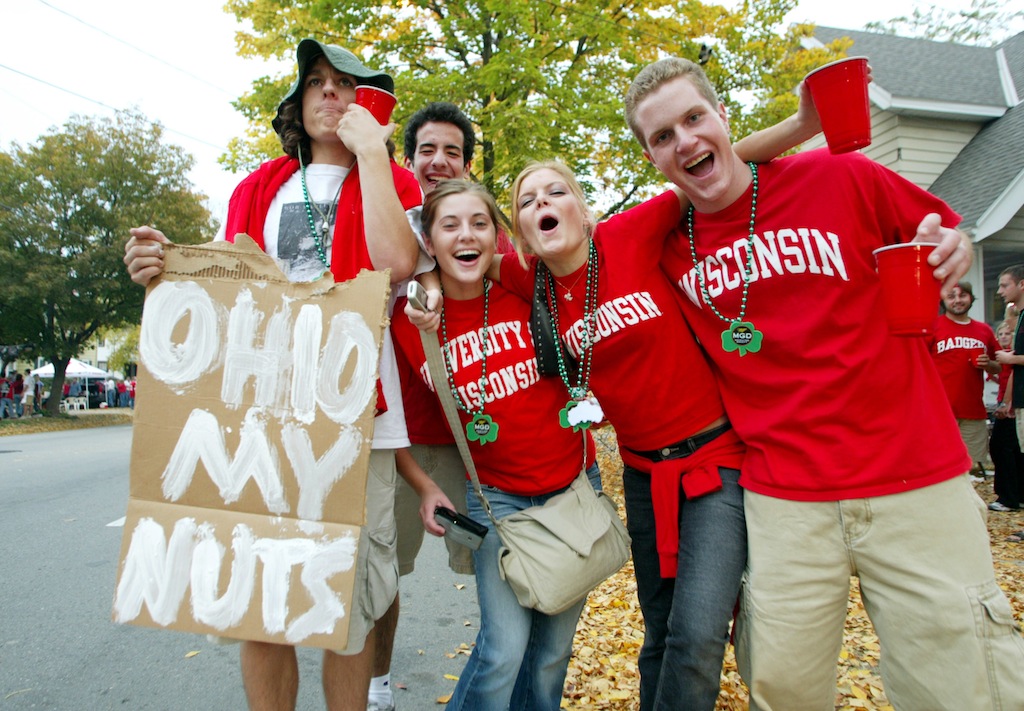 If you think a Saturday in Madison doesn't sound overwhelming, you clearly haven't hung out with a crowd of Wisconsin students on game day. This Big 10 fan base is an absolute tour de force, whether you're talking about the pregame rituals or the plethora of in-game chants. But perhaps the most amazing feat is when "Jump Around" plays between the third and fourth quarter, and the fans jump so hard that Camp Randall literally shakes down to its foundation.