These 3 NFL Quarterbacks are Having the Worst Seasons So Far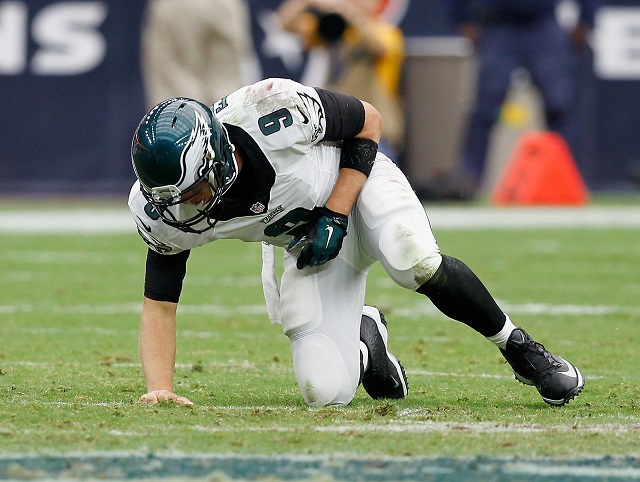 A bad game for a quarterback is a hard thing to watch. Even the best have off days, and there's nothing that quite captures the futility of failure quite like an unsuccessful signal caller. It can happen to anyone (ask Peyton Manning how the 2014 Super Bowl went), but it more consistently happens to the quarterbacks who aren't quite of that Manning caliber, to put it kindly. Quarterbacks can be bad in different ways, of course — there's the bad quarterback who's just competent enough to watch his team lose, there's the Eli Manning-style of signal caller who looks like he's forgotten how the game of football is played, and then there's the overly athletic quarterback who can't actually throw. Like Tebow, but typically faster.
And at the halfway point of the NFL season, we can start to get the noise out of the way, and examine which quarterbacks are playing the worst to this point — the guys who are generally not having a good time. Before we get there, though, we should explain some of the method to this madness. For passing, we compared both completion percentage, QB Rate, and ANY/A — or average net yard per attempt. This deserves special note because ANY/A is already a measure of a player's passing, factoring in touchdowns and interceptions, but we also used the raw scoring numbers (for TD's and interceptions) to further differentiate between QB's, particularly when taking into account playing time. We also examined the number of times each QB had been sacked, and their team's overall record with that player under center.
So, before we get to the three worst quarterbacks in the league, we're going to give some honorable mentions to players who haven't had a particularly great time in 2014: Nick Foles, who broke his collarbone after suffering a prolonged sophomore slump; Matt Schaub, who went from the starting quarterback for a playoff team to one who can't even see the field in Oakland; and Michael Vick, who was setting his sights low for a season as a backup but has been forced to play significant minutes, and has played badly.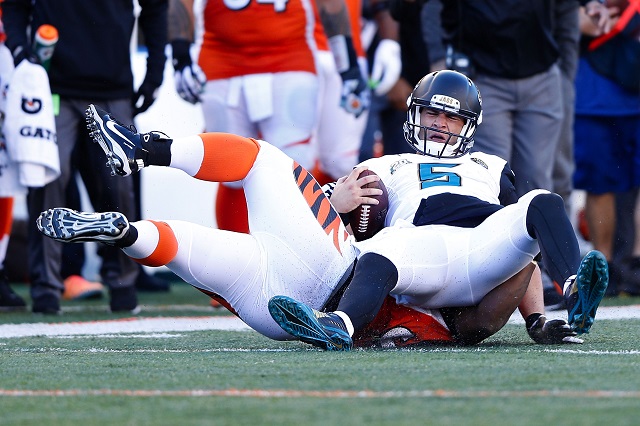 Blake Bortles
Blake Bortles, the first quarterback taken off the board in the 2014 NFL draft, has been pretty much nothing short of terrible this season. Some of that seems to be the inevitable nature of the Jaguars, but some of it has to do with the fact that, so far, he hasn't been very good. We've got to note, though, that Bortles is at least making the cut — some of his contemporaries have played worse, like a certain rookie signal caller in Ohio, but haven't actually had the reps to make a lasting impression (for the sake of this post, a player had to appear in at least five games and have attempted at least 50 passes so far this season to be considered, to avoid small sample sizes).
On the other hand, Bortles isn't doing himself any favors. He's got no one to throw to, of course, but he's still posted the most interceptions out of any player who qualified on this end of the spectrum, 13 — and while his completion rate is downright respectable, his QB rating is nearly the lowest out of all the bad quarterbacks in the league. And with an ANY/A of just 4.22, we've got to wonder if he's still the right guy for the Jaguars to have grabbed so early.
We will say this for Bortles: He's not under any expectation to be good. He does, however, barely edge out his immediate alphabetical competition.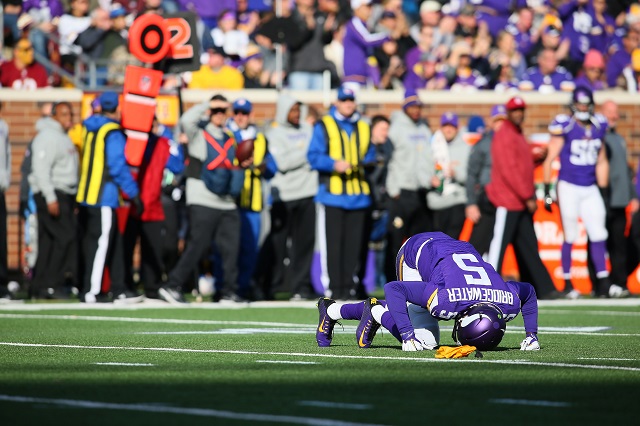 Teddy Bridgewater
Once in the conversation for the first overall pick, the pro life hasn't been too kind to Teddy Bridgewater, particularly after the child abuse allegations were brought against Adrian Peterson, which thrust the rookie into a position of actually having to do something in order to salvage the Vikings season. With his team sitting at just one game under .500, we're positive that Minnesota fans are eager for Bridgewater to get better, but in terms of his peers (to be clear, we're talking about the bad quarterbacks in the league here, not the Aaron Rodgers or Tom Brady types) Bridgewater actually comes out fairly well, with an awful passer rating (74.9) that's still top of his class, as it were, and a good completion percentage besides.
He's only found the red zone on a pass three times, which is concerning, but he's also only thrown five interceptions, and while his ANY/A is pretty atrocious (4.81), he's also the only one of this motley crew who's been a part of more wins than losses this year, as his personal record sits at 3-2. It's not Bridgewater's fault that the Vikings don't have very much talent, is it? He is getting sacked quite a bit though, which is concerning, as he's played in the fewest games of the bad QB's.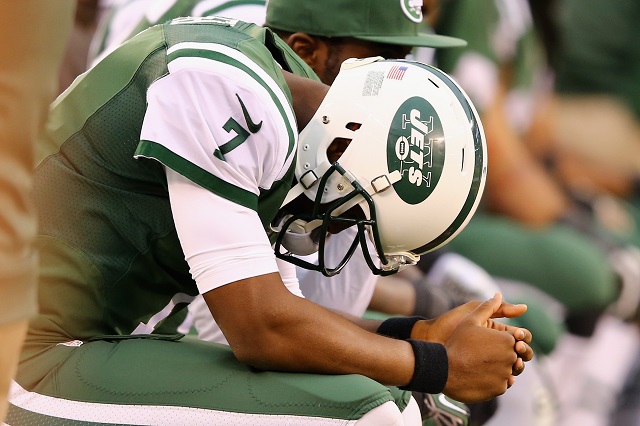 Geno Smith
It's difficult to feel too badly for a professional athlete, who is inevitably going to be well-compensated for his time, efforts, and energy, but Geno Smith isn't just any pro-athlete. He's the latest victim of all things Jetsy. Did you know that there are only two quarterbacks in the NFL so far who aren't averaging at least 200 yards gained per game? One of them is Geno Smith, and the other one is the Ghost of Michael Vick, who is their backup/semi-starter, because Smith has been awful. They're also the two players who hold the top two spots when it comes to "lowest ANY/A", and because they don't have anyone protecting them at all, they've been sacked a combined 25 times.
For the record, Smith also has the lowest passer rating out of eligible quarterbacks, and he's 1-7 with the team (who also lost one with Vick). In short, the Jets are bad, and Smith is raw, to be kind, and the combination is about as far from winning football as any right-thinking fan aught to be. If you're already a Jets fan, we understand, but if you're not, you have no reasonable excuse to watch or even think about this team unless your squad is playing them. You can click here for the Pro Football Reference data used in this article.