These Are the Best Games Lebron James Has Had With the Los Angeles Lakers
LeBron James has only been a Los Angeles Laker for less than two full seasons, but he is still the dominant man we have watched his entire career. After averaging 27.4 points per game last season to go with 8.3 assists and 8.5 rebounds in what was considered a down year, he is an MVP front-runner this season. As the Lakers have the No. 1 record in the Western Conference, James is scoring 25.7 points per game to go with 7.9 rebounds and a career-high 10.6 assists. Since James is just as dominant as ever for L.A., here are his best games as a Laker.
LeBron James drops 51 points against his former team
Last year was, in fact, a down year for James as he missed the playoffs for the first time since 2005. That also came after he went to the NBA Finals eight straight times. He still, however, dominated statistically.
Going against his former team against the Miami Heat on Nov. 18, 2018, James had an unreal game, scoring 51 points and leading the Lakers to a big 113-97 win. James went 19-of-31 from the field that night and 6-of-8 from 3-point range. He also pulled down eight rebounds.
This game was only 16 games into his Lakers career, but he clearly showed that he means business, even with everything he has already accomplished.
James puts on a show against young star Zion Williamson
NBA rookie Zion Williamson has taken the league by storm this season, but James made sure to let him know that he is still the king of the league. In a meeting between the Lakers and the New Orleans Pelicans on Feb. 25, Williamson had 29 points, but James had his highest scoring game of the 2019-20 season, dropping 40.
James ultimately went 17-of-27 from the field and 5-of-11 from 3-point range. He also had eight rebounds and six assists, while his teammate Anthony Davis had 21 points, and the Lakers won 118-109.
Williamson is certainly the future, but James is one of the two best players to ever play.
Filling up the stat sheet against the Mavericks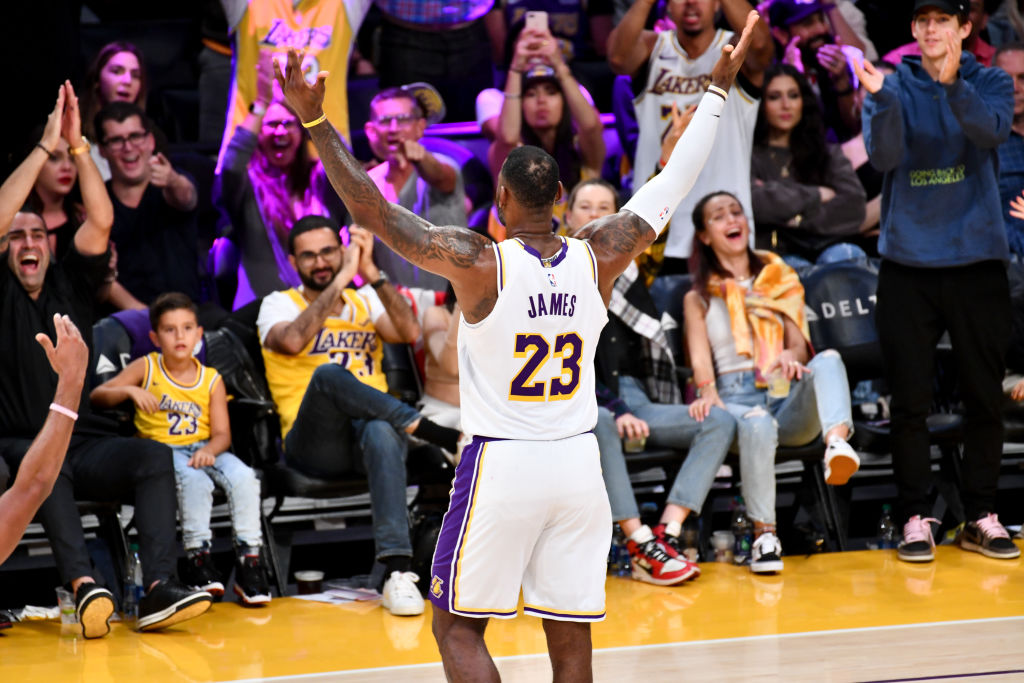 Williamson is not the only young star in the NBA as the Dallas Mavericks have a great one in Luka Doncic. In a game that went into overtime earlier this season, Doncic filled the stat sheet with 31 points, 15 assists, and 13 rebounds, but James also filled the stat sheet.
Leading the Lakers to a 119-110 win, James had 39 points, 16 assists, and 12 rebounds. He also went 13-of-23 from the field and 4-of-9 from 3-point range. This was all in addition to his running mate, Davis, having 31 points and eight rebounds. The two certainly gave Doncic and his running mate Kristaps Porzingis something to aim for.
James leads the Lakers to a win in a clash between the NBA's best
This game just happened on March 6 as the Lakers went against the Eastern Conference's best team, the Milwaukee Bucks. With these teams having the two best records in the entire league, James led the Lakers to a 113-103 win over the Bucks and reigning MVP Giannis Antetokounmpo.
While Antetokounmpo had a great game, scoring 32 points to go with 11 rebounds and six assists, James had one of his best games this season. Scoring 37 points, the third-most he has scored this year, James also had eight rebounds and eight assists. From the field, James went 10-of-24.
Yes, this was a great game for James. However, the reason it was one of his best as a Laker is because he and Antetokounmpo are battling for this year's MVP award, in addition to the fact that it was a game between the league's two best teams. James and Antetokounmpo are the two front-runners for this season's MVP, and, no matter what happens with this season, this game could be a big reason James possibly gets the nod.
LeBron James will always put on a show no matter who he plays for. He has been the best player in the league as a Cleveland Cavalier and as a Miami Heat. Now, he is proving that he is still certainly one of the best players in the league as a Los Angeles Laker.