These Are the Only States Where Sports Betting Is Actually Legal
A new NFL season has begun, but if you're a fan hoping to place a bet on your favorite team, you might be out of luck. Yes, the Supreme Court did legalize sports betting in a landmark 6-3 decision in May 2018. But ruling – which struck down a 1992 federal law that made sports betting illegal — didn't make wagering on football, basketball, and other sports legal across the board. Rather, it allows individual states the freedom to decide for themselves whether or not to allow the practice.
Here's the good news for would-be wagerers: A handful of states either already allowed sports betting (due to a quirk in the federal law that was struck down) or moved quickly to legalize it after the Supreme Court ruling.
Nevada
No surprise here. For years, Nevada was basically the only place in the U.S. where you could legally place a bet on a game. (Oregon had limited sports betting until 2007, while Delaware had legal parlay wagering on NFL games.)
Delaware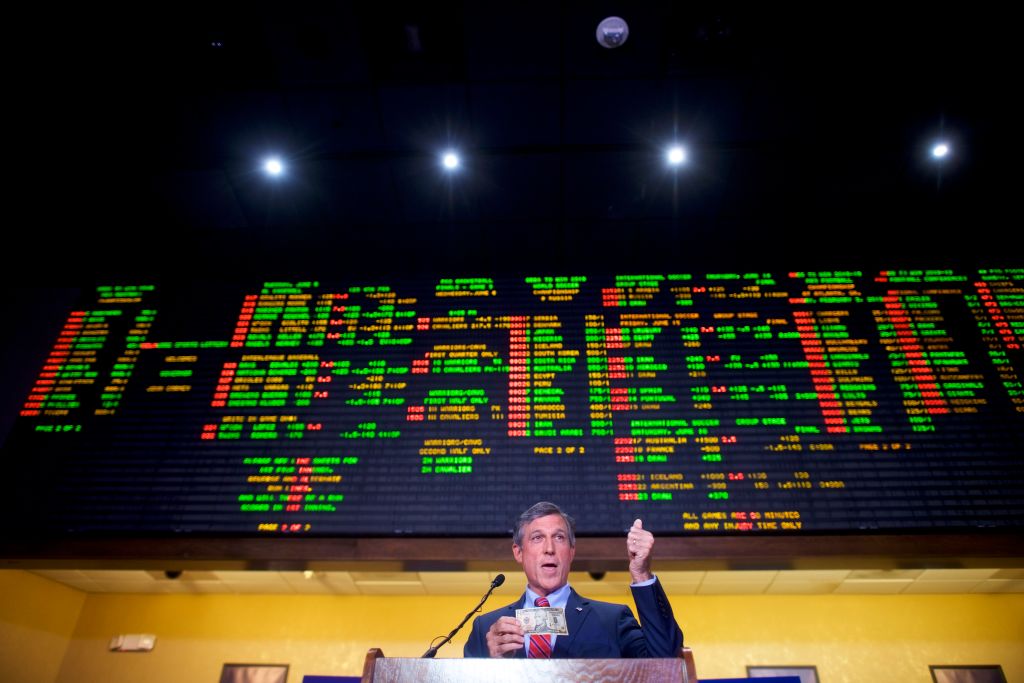 In June, Delaware became the first state after Nevada to legalize single-game wagering. You can now place your bets on games at three casinos: Delaware Park, Dover Downs, and Harrington Raceway and Casino. Since then, more than $15 million in wagers have been placed.
New Jersey
You have New Jersey to thank for moving sports betting out of the shadows. The state sued the federal government over the sports betting ban in 2011 after voters approved a measure to allow betting in the Garden State. After the Supreme Court ruling, the state moved quickly. By July, sports betting was legal in New Jersey, and the state took in $40.6 million in wagers. Experts predict that the state could pass Nevada in sports gambling revenues by 2021.
Unlike Delaware, New Jersey also permits mobile sports betting. FanDuel, DraftKings, and several other companies have developed apps that allow you to place bets on games. The catch? You must be in New Jersey to place a bet on your mobile device.
Mississippi
Mississippi kicked off its sports betting on August 1, and you can now wager on sports at a growing number of the state's casinos. While mobile betting isn't allowed, you will be able to do one thing in Mississippi that you can't in Delaware or New Jersey: bet on games involving in-state schools like Ole Miss.
West Virginia
West Virginia joined the ranks of states where sports betting is A-OK on August 30. On the first weekend of legal betting, the state brought in more than $320,000 in taxable revenue. Right now, sports wagering is only available at the Hollywood Casino at Charles Town Races but it's expected to expand to more casinos in the future. Mobile betting is legal as well.
Which states will be next?
While sports betting is still limited to just a few states, it will likely expand significantly in the coming months and years. Pennsylvania, Rhode Island, and New York have already passed laws that should allow sports wagering in the near future. Connecticut, Kentucky, Illinois, Michigan, Indiana, Massachusetts, and a dozen other states are all making moves toward legalization, according to ESPN.
With more states looking to legalize sports betting (and benefit from the additional tax revenue), some are saying the federal government needs to get involved. New York Senator Chuck Schumer has proposed rules that he says will keep consumers safe, prevent underage gambling, and help those with gambling addictions. Major sports leagues like the NFL and the MLB seem on board with additional regulations, but others say more federal rules will just create confusion and complication.