Things Could Get Much Worse for Carson Wentz the Next Few Weeks
The Philadelphia Eagles had one of their greatest seasons as a franchise back in 2017. Quarterback Carson Wentz led the team to an 11-2 record before missing the rest of the season with an ACL injury. The Eagles then went on to make their way through the playoffs and capture victory in Super Bowl LII.
Since then, however, the Eagles have struggled to recapture their former dominance. After two seasons in the middle of the pack, Philadelphia has gotten off to a particularly bad start this season — so bad that some pundits are even beginning to wonder whether Wentz will get benched.
The Philadelphia Eagles' poor start
The Philadelphia Eagles started the season by dropping their first two games to the Washington Football Team and the Los Angeles Rams. In Week 3, they managed to stave off another loss by playing the Cincinnati Bengals to an overtime tie. Not until Week 4 did Philadelphia finally get a win on the books, narrowly defeating the San Francisco 49ers.
A lot of the blame of Philadelphia's poor performances deserves to fall on general manager Howie Roseman. Roseman proved himself a shrewd GM back in 2017, buying low on a number of players who proved impactful in the Eagles' championship run.
Yet Roseman has struggled to duplicate that performance in the last two seasons, instead relying on injury-prone veterans and underwhelming draft picks.
The Eagles have a crippling lack of talent when it comes to wide receivers and the offensive line — two positions that are crucial for ensuring quarterback success. As a result, Wentz does not have players he can count on to help make winning plays.
Roseman and the front office staff deserve plenty of blame for not stocking the roster with players who can help Wentz achieve his ceiling.
Carson Wentz's role in the Eagles' struggles
RELATED: Is Carson Wentz Still a Top-10 Quarterback in the NFL?
Wentz isn't wholly without blame in the Eagles' struggles, however. Not all of his numbers reflect how poorly he has played so far. For instance, Wentz has thrown 117 complete passes for 1,188 total yards — numbers that won't be far off his usual production if he keeps up a similar pace the rest of the year. His 60.6% completion rate is even a shade higher than it was back in 2017.
Yet in other ways, Wentz has been a complete disaster. For one thing, he has thrown only six touchdown passes through five games. Meanwhile, he has thrown nine interceptions.
In general, Wentz has displayed highly erratic accuracy and poor decision-making, especially when his first option falls through. Even when you factor in the lack of support he has gotten from his teammates, Wentz's performance so far has been worrisome, to say the least.
And if the Eagles playoff prospects get any worse, he could very well find himself on the bench at some point this season.
The cases for benching Carson Wentz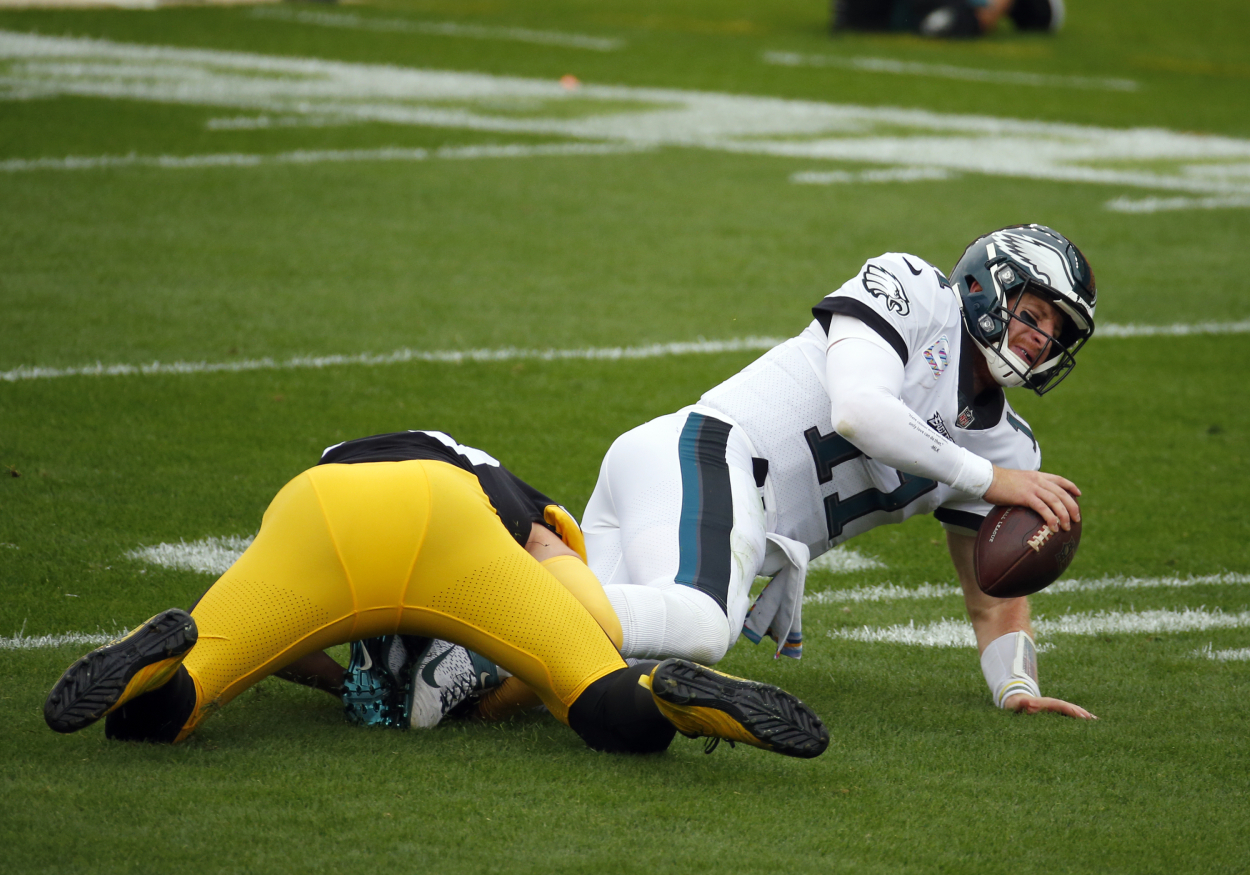 CBSsports.com recently laid out two different ways that a Wentz benching could go, depending on how the Eagles next few games play out. In the first scenario, the team could consider benching Wentz for a single game. That kind of benching might help to motivate the veteran QB to come back the following week with new vigor and competitive drive.
If it doesn't work, however, and the Eagles continue to lose, a more serious benching might be coming after the Week 9 bye. At that point, the best option might be pulling Wentz and giving some starts to second-round draft pick Jalen Hurts.
All stats courtesy of Pro Football Reference