This Boxing Record Confirms Manny Pacquiao's Versatility as an Octuple Champion
Manny Pacquiao may be one of the most versatile athletes in the world. Not only is he a pro Filipino basketball player and world boxing champion, but he's also a senator for the Philippines. On top of that, Pacquiao currently holds the world record for winning the belt in eight different weight classes.
A look at Manny Pacquiao's career
Like many great boxers, Pacquiao began boxing at a young age. At just 16 years old, he made his pro debut in the Filipino boxing scene. He suffered his first loss at just 17 years old, but he kept moving forward and winning. In 1997, at 18 years old, he won his first title. A little over a year later, he won his first world title. 
In 1999, the then-20-year-old suffered his second loss. Both of his losses so far were by knockout, but after this loss, Pacquiao moved up in weight. From then on, his story became a dominant pattern. He'd win the belt, defeat multiple opponents who tried to take it from him, and then he'd move up in weight again to find new challengers.
In 2005, Pacquiao lost once again, this time to Erik Morales. He avenged this loss by knocking out Morales twice. Then, he went on to beat great boxers like Oscar De La Hoya and Miguel Cotto before breaking a world record in 2010.
The eight boxing belts Pacquiao has held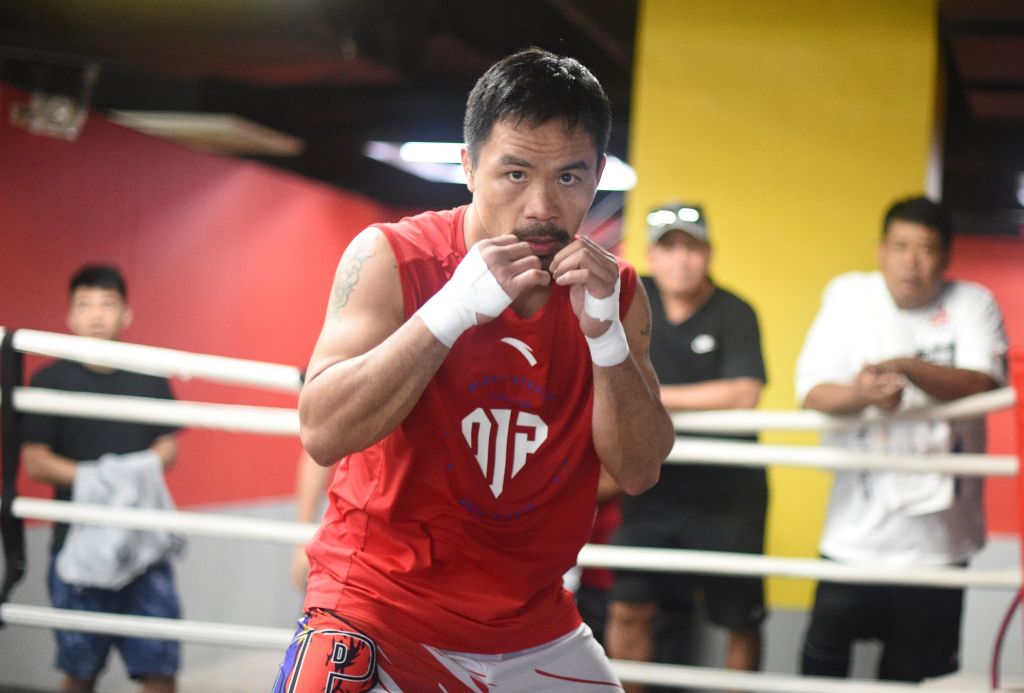 It's not uncommon for people to move up or down in weight to find new challenges. Conor McGregor is probably the most famous person to do this recently, as he moved up in weight twice to find different competitions. But boxing weight classes are different than the UFC's weight classes. In boxing, there are currently 17 different weight classes for men and 13 different weight classes for women. 
Most of those weight classes are a few pounds apart, and as such, smaller men, like Pacquiao, can put on weight and move up in weight class very easily. Pacquiao is only 5-foot-5, so many of his opponents, especially in the heavier weight classes, will have a size advantage over him. That said, he's almost always been able to use his superior boxing skills to defeat opponents.
As a result of this, Guinness World Records reports that Pacquiao currently holds the world record for the most boxing world titles won in different weight classes. These are boxing world titles too, which means they're the most competitive belts. Pacquiao has won eight of these belts, ranging from the 112-pound flyweight division all the way to the 154-pound super welterweight division.
Can Pacquiao win another one?
This is a rare feat as it's usually only physically possible for smaller boxers to make the journey from the lighter weight classes all the way up to the heavier ones. And it's even rarer for such a fighter to win world titles in the weight classes that they move to. 
For example, Floyd Mayweather, who is also not a large man, has only been the world champion in five weight classes. Other great fighters, like Canelo Alvarez, have only been the world champion in four weight classes.
That said, it's very unlikely for Pacquiao to get a ninth one. He's 41 now, and he's in the last years of his career. He's still a great boxer, but he's not invincible. If he moves up in weight again, he'll more than likely get dominated. Regardless, it's unlikely this record will be broken for a long time.