This College Told Aaron Rodgers 'Good Luck With Your Football Aspirations'
Now it seems ridiculous to think of a football team passing on the talents of Aaron Rodgers. But prior to his storied NFL career, a college did just that. Someone once told Rodgers, in a rather dismissive tone, "Good luck with your football aspirations." Who told him that and how did it affect his football career? 
Aaron Rodgers' NFL career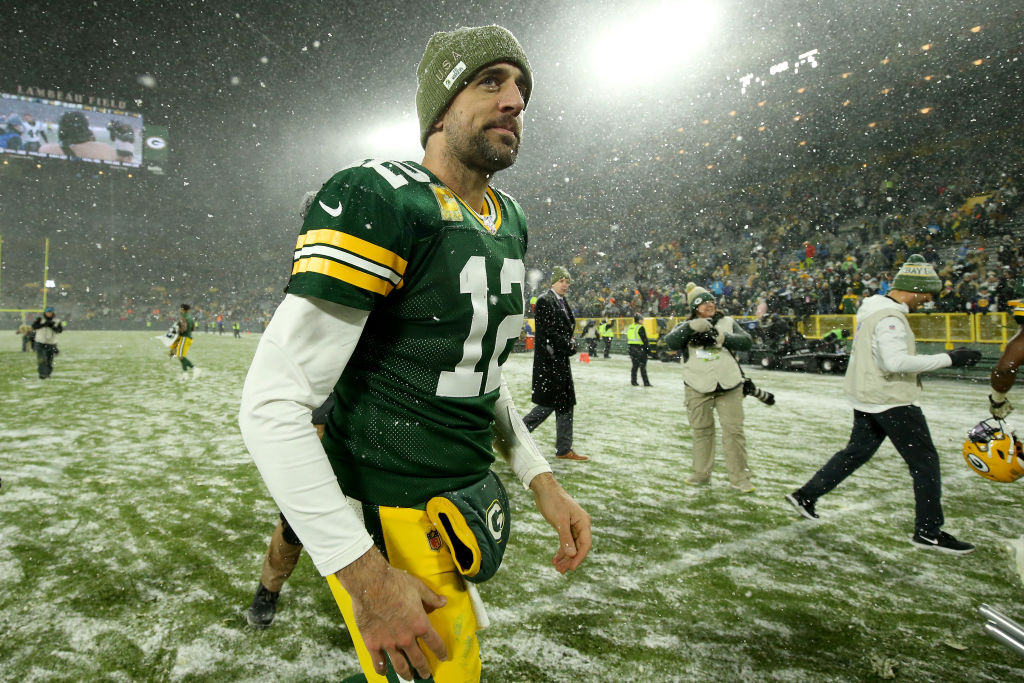 Rodgers' name is synonymous with great quarterback play. He's won a Super Bowl with the Green Bay Packers and has kept them near the top for more years than he hasn't. Here's what Rodgers has accomplished during his illustrious career: 
Win-loss record of 108-59-1
Completed 64.8% of passes
45,662 passing yards
7.8 yards per attempt
355 touchdowns
82 interceptions
Seven-time Pro Bowl selection
Two-time All-Pro selection
Two-time NFL MVP
Super Bowl MVP
2011 Bert Bell Award for best overall player 
Rodgers is clearly an elite performer not just of the current era, but of all time. His career began with some controversy, however, as he sat behind Brett Favre for three seasons. Favre retired in 2008, which led the Packers to name Rodgers the starter.
Then Favre attempted to un-retire, and the Packers said they'd let him return as the backup. The move led to some acrimony between Favre and the team, ending in a trade to the Jets. Meanwhile, Rodgers played extremely well almost immediately after taking the starting job.
Aaron Rodgers' college football career
Rodgers played his college football at the University of California under offensive guru Jeff Tedford. Here's a look at Rodgers' brief but impressive college football career:
424 completions on 665 pass attempts
8.2 yards per attempt
43 touchdowns
13 interceptions
150.3 Passer Efficiency Rating
Eight rushing touchdowns
Rodgers entered the 2005 NFL Draft the same year as Utah quarterback Alex Smith. Rodgers, a longtime 49ers fan who attended school in northern California, was certain he'd end up in San Francisco.
When the Niners took Smith, however, Rodgers fell all the way to the 24th pick. His story was set with the Green Bay Packers. 
This college told Rodgers, 'Good luck with your football aspirations'
Rodgers was not heavily recruited out of high school. The quarterback sent tapes but received little interest. One Big 10 school, Purdue, gave him a particularly biting response.
As Sports Illustrated explains, Rodgers mailed the Boilermakers his high school tape, and a Purdue assistant sent him a letter back saying, "Good luck with your attempt at a college football career." The Packers legend says he still has that letter.
Purdue's analysis of Rodgers' potential college football career is almost comical in hindsight. It shows how tenuous the nature of scouting can be. These days, even as Rodgers enters the back half of his career, he seems like he's always been a can't-miss prospect. He throws one of the best deep balls and has pinpoint accuracy.
But before he reached college, few scouts saw him that way. He wasn't a sure thing at all.