This Crazy UFC Fight Would Never Happen Today
The UFC's been around for a while, but the UFC of the past looks very different from the UFC of today. Before Dana White and his business partners bought the UFC in 2001, the UFC had a terrible reputation. One of the reasons for that reputation was because the UFC used to host some crazy fights that would never happen today.
Regular guys vs. sumo wrestlers
RELATED: Is Dana White Losing Fighters Because the UFC Is Cheap?
When the UFC was created, it had a simple idea. That idea was to test martial arts by pitting fighters from each martial art against one another to see which martial art was the best one.
Back then, the idea of MMA as we know it didn't really exist, and most people only trained in one particular martial art, such as boxing, Muay Thai, or wrestling. 
One of the martial arts that the UFC wanted to test out was sumo wrestling, and so it hired a few sumo wrestlers to fight for its first events. In fact, the very first fight ever was between Taylor Wily, a 400-pound sumo wrestler, and Gerard Gordeau, who's a kickboxer that weighed half of what Wiley weighed. 
Gordeau easily knocked Wily out in less than 30 seconds, but that wasn't the end of the UFC's experiment with sumo. At UFC 3, the UFC got another sumo wrestler, Emmanuel Yarborough, who weighed well over 600-pounds, to fight Keith Hackney, a karate specialist who weighed about 200-pounds.
Once again, the sumo wrestler lost. TheY hired another sumo wrestler, Koji Kitao, for UFC 9, and like the last two sumo wrestlers, Kitao also lost. 
Wild fights don't happen anymore in the UFC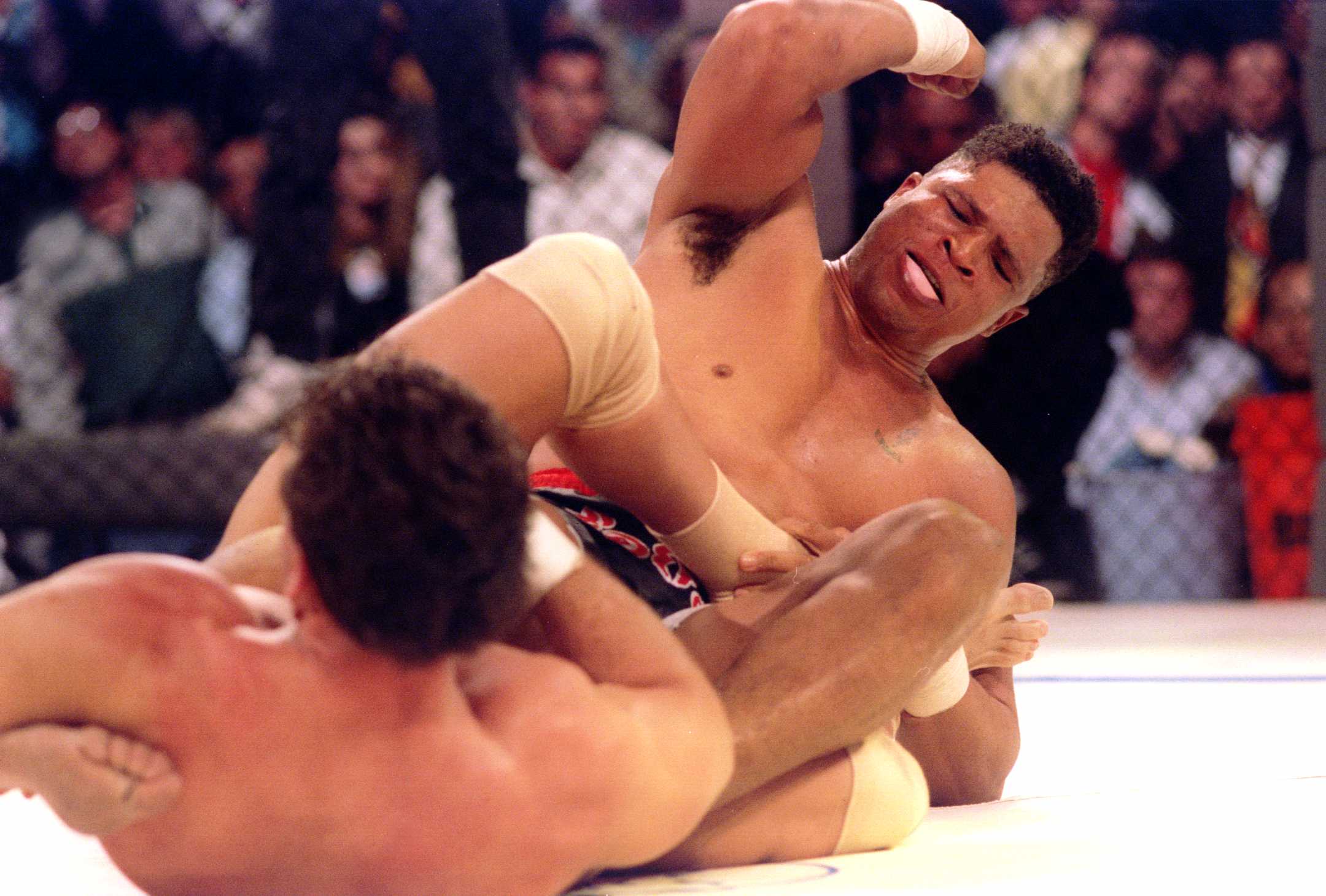 These mismatch fights between David and Goliath don't happen anymore in the UFC for many reasons. Obviously, nowadays weight classes exist and so there physically can't be massive weight differences between two fighters. On top of that though, these fights also showed how cheap and amateur the UFC was back in the day.
For example, in the Wiley vs. Gordeau fight, the UFC barely had any rules at the time, and it didn't even require fighters to wear a mouth guard. Due to this lack of a mouth guard, when Gordeau knocked Wiley out, Wiley's tooth fell out, too.
Then, in the very next UFC fight involving a sumo wrestler, the cage broke. Yarborough was so strong that he managed to push his opponent out of the cage door, which showed how cheap the cage was.
Kitao's fight, which was against Mark Hall, went more smoothly, but still, these David and Goliath fights don't happen anymore because they were more like curiosities than serious fights. However, this is the case for the UFC, but David and Goliath fights are still happening in other MMA organizations.
Mismatches from around the world
RELATED: 6 Things You Didn't Know About UFC's President, Dana White
The idea of having sumo wrestlers fight regular people wasn't a new concept, and other MMA organizations, namely ones in Japan, such as PRIDE and Rizin, have done similar fights.
For example, Yarborough fought two more times in MMA, and both of them were in Japan. He actually won his next fight after he got knocked out in the UFC. In 1998, Yarborough managed to defeat his opponent, Tatsuo Nakano, by "smothering" him. 
But in his third and last MMA fight, Yarborough faced Daiju Takase, and Takase managed to knock the sumo wrestler out. These fights were more popular in the past, but they still happen today, too.
In 2015, Baruto Kaito, a sumo wrestler, participated in the Rizin World Grand-Prix. Unlike his sumo peers, Kaito actually managed to win his first few fights. That said, Kaito got knocked out by Mirko 'Cro Cop' in the semifinals.