This Day in Baseball: Manny Ramirez Lifts Red Sox to Earliest Opening Day Win in History
Rather than open the 2008 season with a World Series celebration at Fenway Park, the Boston Red Sox truly turned their opening day into an international event. The defending World Series champions joined the Oakland Athletics in a trip to Japan that featured fan events, exhibitions with Japanese teams, and the earliest Opening Day in MLB history: March 25, 2008.
What was so memorable about Boston's historic Opening Day victory? What other notable baseball events happened on March 25? We have the answers.
Manny Ramirez, Red Sox enjoy a memorable opening day
It was only fitting that Manny Ramirez, the Red Sox's star left fielder and one of the game's most marketable stars, was the difference in Boston's victory. Ramirez had two doubles and four RBIs, including the game-winning hit, against the Athletics in a game that started at 6:10 a.m. in Boston.
Ramirez learned he couldn't use his normal, red-barreled bat when he arrived at the Toyko Dome. There were concerns the bat would distract pitchers, so Ramirez bought new batsbats in Toyko. The different bats helped Manny Ramirez to a four-RBI day, although he believed they turned what would have been a go-ahead homer into just a double.
"Maybe if I used my American bat that ball maybe would have gone. I thought I hit it good. I couldn't use my bat because it wasn't legal. Thank God I got some Japanese wood that I could use."
Boston's Japanese pitchers join Ramirez in Red Sox's successful Japan trip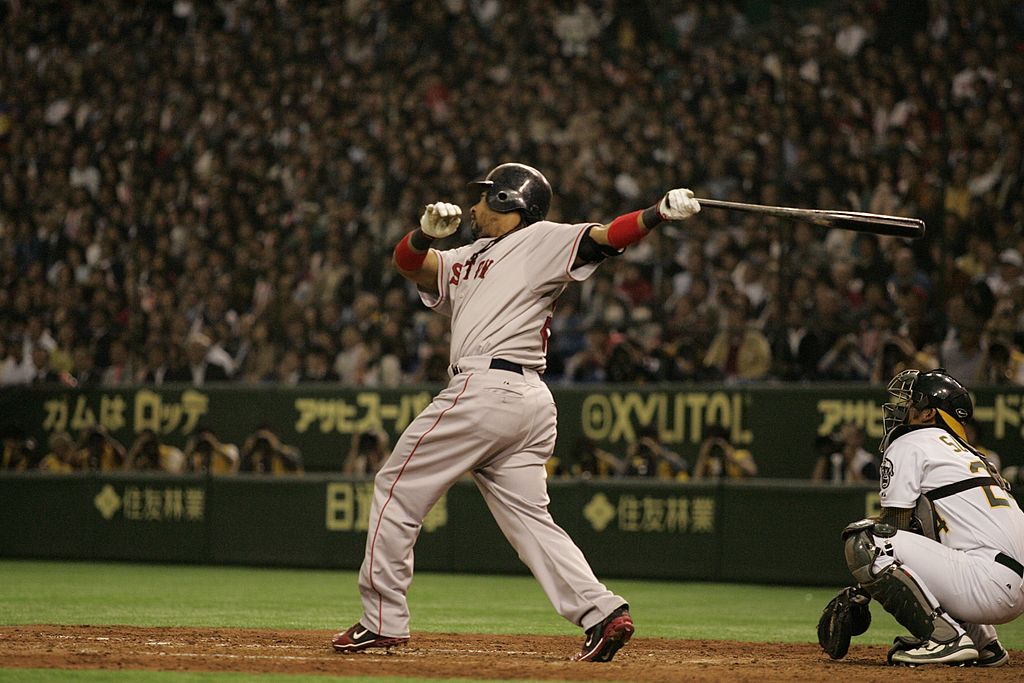 Although Josh Beckett was the Red Sox's undisputed ace after his stellar 2007 season, Boston appointed second-year pitcher Daisuke Matzuaka as the opening day pitcher. A Japan native who pitched in Nippon Professional Baseball from 1999-2006, Matzuaka struck out six and allowed two runs in five innings.
Matzuaka wasn't the only Japanese player who saw action for the Red Sox. Left-handed reliever Hideki Okajima pitched a scoreless ninth inning and earned the victory. Okajima previously pitched in Japan from 1994-2006.
The strong outings in Japan were a sign of things to come for Matsuzaka and Okajima. Matzuka went 18-3 with a 2.90 ERA in 29 starts for the Red Sox, who made it to the American League Championship Series. Okajima pitched to a 2.61 ERA in 64 games.
Babe Ruth's first professional start headlines other events on March 25
Long before he became one of the greatest home run hitters in baseball history, Babe Ruth impressed on the mound, too. Ruth allowed six hits in the first start of his professional career on March 25, 1914. Red Sox manager Jack Dunn appoints Ruth, 19, to the starting rotation.
In an attempt to save money, the Atlanta Braves trade outfielders Marquis Grissom and David Justice to the Cleveland Indians for All-Star outfielder Kenny Lofton and reliever Alan Embree. Lofton hits .333 with the Braves and re-signs with Cleveland that December as a free agent. Embree records a 2.54 ERA in 66 games. Although Grissom hits just .262 with 12 home runs, Justice enjoys a resurgent season and mashes 33 homers, his most since 1993. Atlanta uses the leftover money to ink star pitchers Greg Maddux and Tom Glavine to extensions.
While Manny Ramirez and the Red Sox are off to a roaring start in Japan, Miguel Cabrera is opening the 2008 season with a new contract. Cabrera agrees to an eight-year, $152.3 million deal with the Detroit Tigers, who acquired him in the offseason from the Florida Marlins. A two-time AL MVP winner, Cabrera has hit .315 with 339 home runs in 12 seasons with the Tigers.