This Day in Baseball: Mark McGwire Begins Record 70-Home Run Season With Grand Slam
The 1998 home run race between Chicago Cubs outfielder Sammy Sosa and St. Louis Cardinals first baseman Mark McGwire is largely credited for helping baseball's popularity after a 1994 labor strike. Like all records and historic season, things needed to start small and somewhere. The first of Mark McGwire's record 70 home runs that year occurred on March 31, 1998, in St. Louis.
How historic and important was Mark McGwire's involvement in the 1998 home run chase? Let's take a look back.
Mark McGwire's first home run of 1998 was a historic one
Before the 1998 opener, no St. Louis Cardinals player had ever hit a grand slam on Opening Day. Enter Mark McGwire, the 34-year-old first baseman acquired midway through the 1997 season. McGwire crushed a 1-0 pitch off the Dodgers' Ramon Martinez in the fifth inning of the Cardinals' 6-0 victory.
The grand slam was a sign of things to come for Mark McGwire. The 6-foot-5 slugger homered in four consecutive games to open the 1998 season and ended April with 11 home runs.
The 1998 home run chase didn't just include Mark McGwire and Sammy Sosa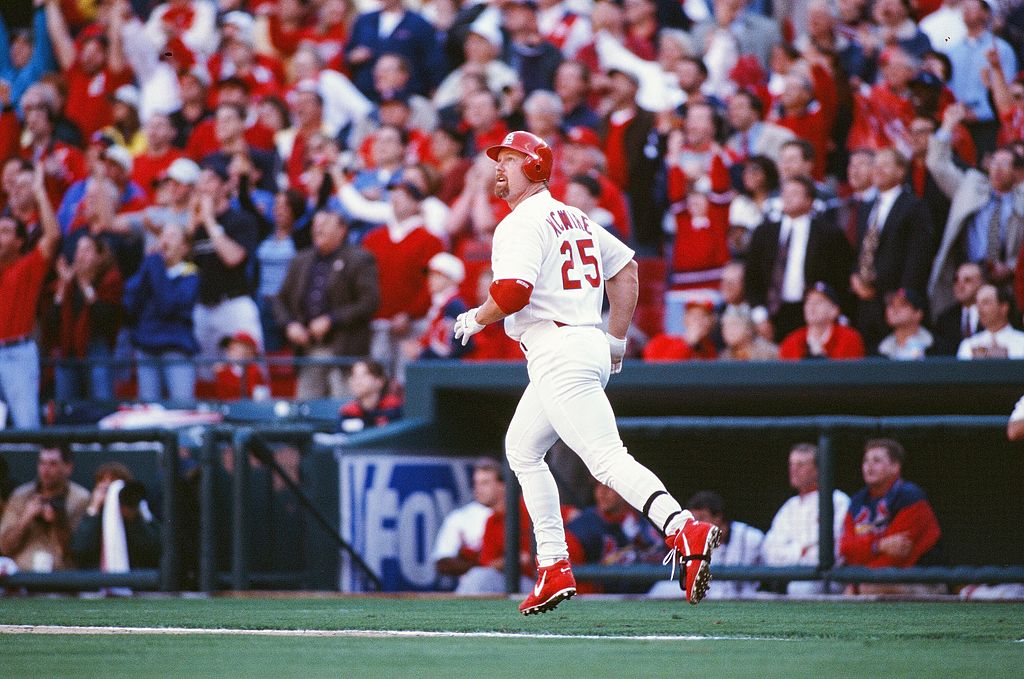 Mark McGwire was viewed as one of the two favorites to break Roger Maris' record of 61 home runs entering the 1998 season. The other player wasn't Chicago Cubs star outfielder Sammy Sosa, who ended the year with 66 and the NL MVP Award. Instead, Seattle Mariners outfielder Ken Griffey Jr. was the other likely favorite and ended May with 19 home runs, second to only McGwire's 27.
Sosa fully joined the race with 20 home runs in June; his 33 home runs tied him with Griffey for second place behind McGwire's 37. The trio kept going throughout the summer. Mark McGwire's 62nd home run, fittingly, came against Sosa's Cubs on Sept. 8, 1998. McGwire clinched the record with five home runs in the final series.
Griffey ended the season in third place with 56 home runs, which tied a career-high and marked the last time he'd cross the 50-homer plateau. San Francisco Giants outfielder Barry Bonds shattered McGwire's record with 73 home runs in 2001. McGwire admitted to steroid use in 2010, while Bonds and Sosa are each tied to performance-enhancing drugs as well. Neither has admitted to using steroids. Still, the 1998 home run race and Bonds' historic 2001 season are considered tainted by some fans.
What else happened in baseball on March 31?