This Day in Baseball: Mickey Mantle Hits Estimated 650-Foot Home Run
When Mickey Mantle debuted with the New York Yankees in 1951, he was assigned No. 6 for a reason. The Yankees believed Mantle was going to follow Babe Ruth, Lou Gehrig, and Joe DiMaggio — who wore No. 3, No. 4, and No. 5, respectively — as the next face of the franchise.
It didn't take long for Mantle to show there was a reason for those expectations. A potent switch-hitting power hitter, Mantle hit a monstrous home run in a road exhibition against the University of Southern California. That homer, part of a four-hit day, occurred on March 26, 1951.
Mickey Mantle quickly joined the ranks of great Yankees, although he did so wearing No. 7. Were the reports of Mantle's 650-foot home run accurate? What else happened in MLB history on March 26? It's time to travel back in time.
Mickey Mantle enjoyed a brilliant day against the USC Trojans
While there certainly was interest in Mickey Mantle's pursuit of making the big-league roster, the New York Yankees' late-March trip to California was in the news for other reasons. By 1951, the Yankees were far and away baseball's best franchise with 13 World Series victories. But because the Brooklyn Dodgers and New York Giants were still seven years away from moving to Los Angeles and San Francisco, the Yankees had never taken a trip to the West Coast before.
Enter the USC Trojans. The Los Angeles Times reported that a capacity crowd of 3,000 people watched the Yankees cruise in a 15-1 rout of the Trojans. The exhbition happened because Yankees manager Casey Stengel was a close friend of USC head coach Rod Dedeaux.
Still only 19, Mantle went 4-for-5 with two home runs and seven RBIs. His performance is best remembered for a deep home run to right-center field off Tom Lovrich, a future minor league pitcher.
How far did Mickey Mantle's home run actually go?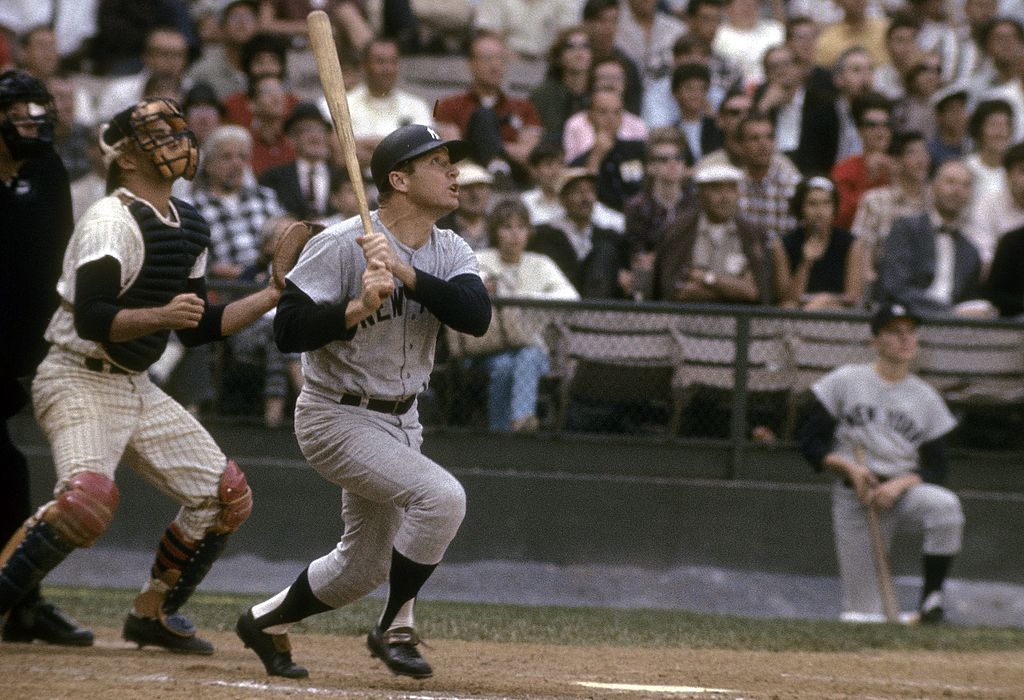 Immediately, it was clear that Mickey Mantle hit the ball out of the park. Diagrams had the ball traveling at least 550 feet — the right-center field wall was 344 feet — because the ball hit the middle of the football practice fields.
The official distance remains unknown, although a research group worked with a USC coach and Trojans outfielder Tom Riach to determine the homer traveled at least 650 feet, according to The New York Times.
That bomb against the Trojans wouldn't be the last time Mantle's name was attached to long home runs. Sixty-five years after pitching against Mickey Mantle, Lovrich joked about the home run's distance in a 2016 interview.
"Everytime that home run is mentioned, it gets further and further. Now it reached 650 [feet.]"
Jackie Robinson, Kingdome among other notable March 26 events:
Mickey Mantle's Yankees regularly faced Jackie Robinson's Brooklyn Dodgers in the World Series. Robinson, who broke baseball's color line in 1947, was awarded the Presidental Medal of Freedom on March 26, 1984. Robinson's wife, Rachel, accepted the award on behalf of her late husband.
Mickey Mantle passed away in 1995. Several months later, the Seattle Mariners defeated the Yankees in the inaugural American League Division Series. The final three games, all Mariners victories, took place in the Kingdome. That was the last great stretch of history for the Kingdome, which was demolished in less than 20 seconds on March 26, 2000. The Mariners moved into Safeco Field, now called T-Mobile Park, in July 1999.