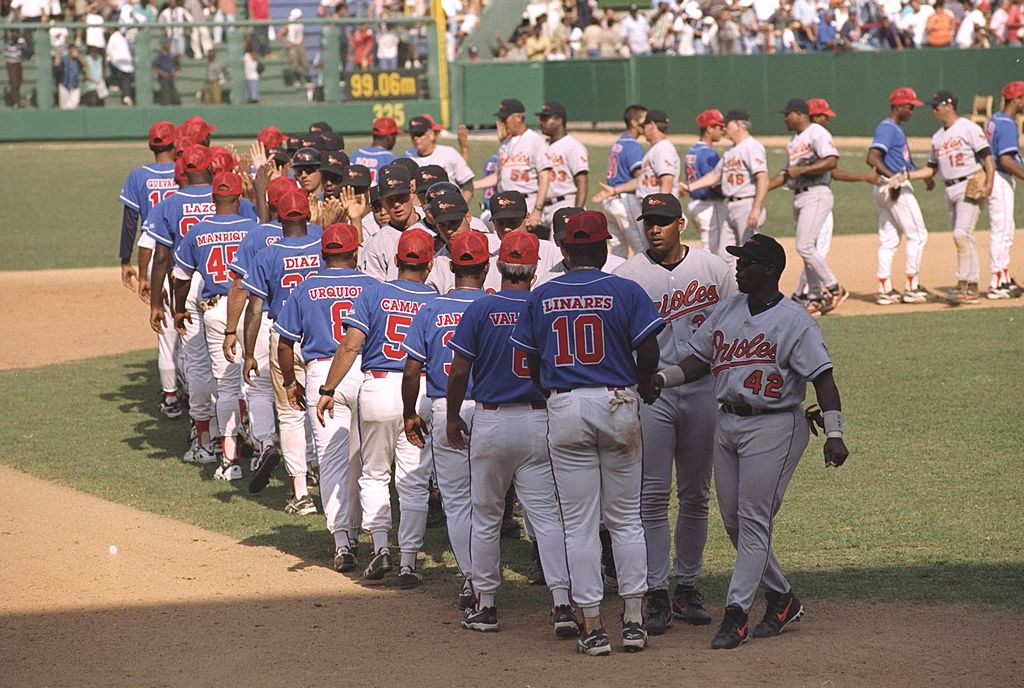 This Day in Baseball: Orioles Play Historic Game Against Cuban National Team
Although Cuba and the United States have a complicated history, both countries also carry a deep history with baseball. The Baltimore Orioles and Major League Baseball used that connection to their advantage and played a historic two-game series against the Cuban National Team after travel to Cuba became easier. The first game took place on …
Although Cuba and the United States have a complicated history, both countries also carry a deep history with baseball. The Baltimore Orioles and Major League Baseball used that connection to their advantage and played a historic two-game series against the Cuban National Team after travel to Cuba became easier. The first game took place on March 28, 1999.
What happened in that two-game set, and how did people react to the Orioles' trip to Cuba? Let's take a trip back in time.
The Baltimore Orioles wanted to play in Cuba
Baltimore Orioles owner Peter Angelos always had an interest in playing a game in Cuba. Angelos first tried in 1996 but the United States Department of the Treasury denied Angelos' request because of the Trading with the Enemy Act of 1917. When President Bill Clinton eased travel restrictions between the United States and Cuba three years later, Angelos asked again and received his wish on one condition: the Orioles had to host the Cuban National Team for a second game in Baltimore.
Baltimore left Cuba with a 3-2, 10-inning victory on future Hall of Famer Harold Baines' go-ahead single. José Contreras, the Cuban star who signed with the New York Yankees before the 2003 season, struck out 10 Orioles over eight scoreless innings in relief.
The two teams met again on May 3, 1999, on Baltimore's off day. The Orioles were 7-17 at the time and lost 12-6. Baltimore's starting pitcher, Scott Kamieniecki, drew the start despite him being on the disabled list. The Cuban National Team played another AL East team, the Tampa Bay Rays, in March 2016.
Baltimore's series with the Cuban National Team was controversial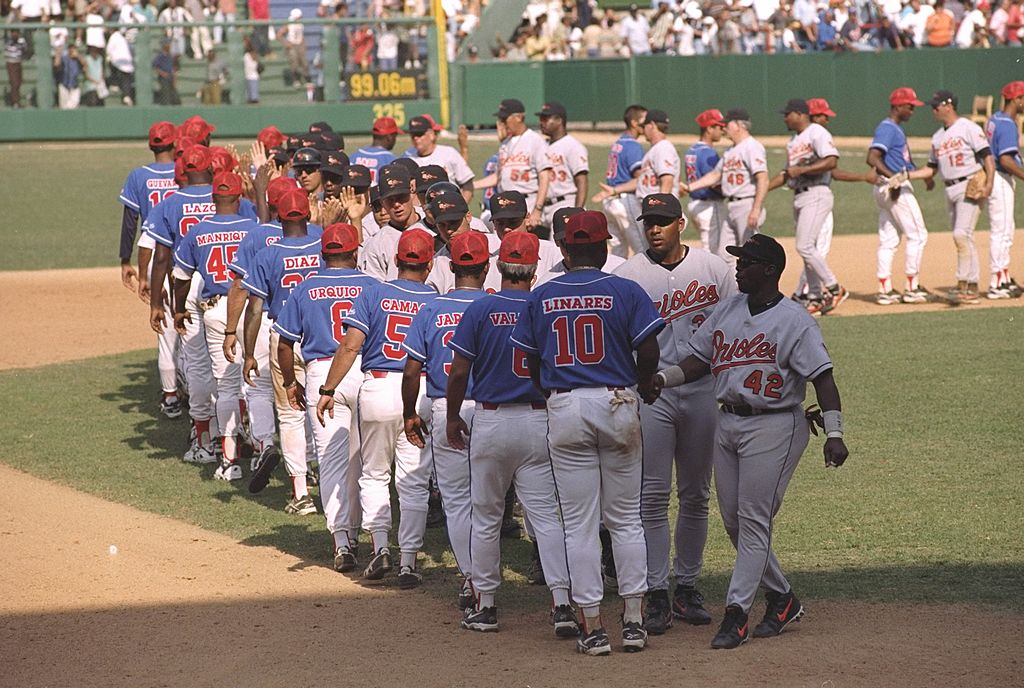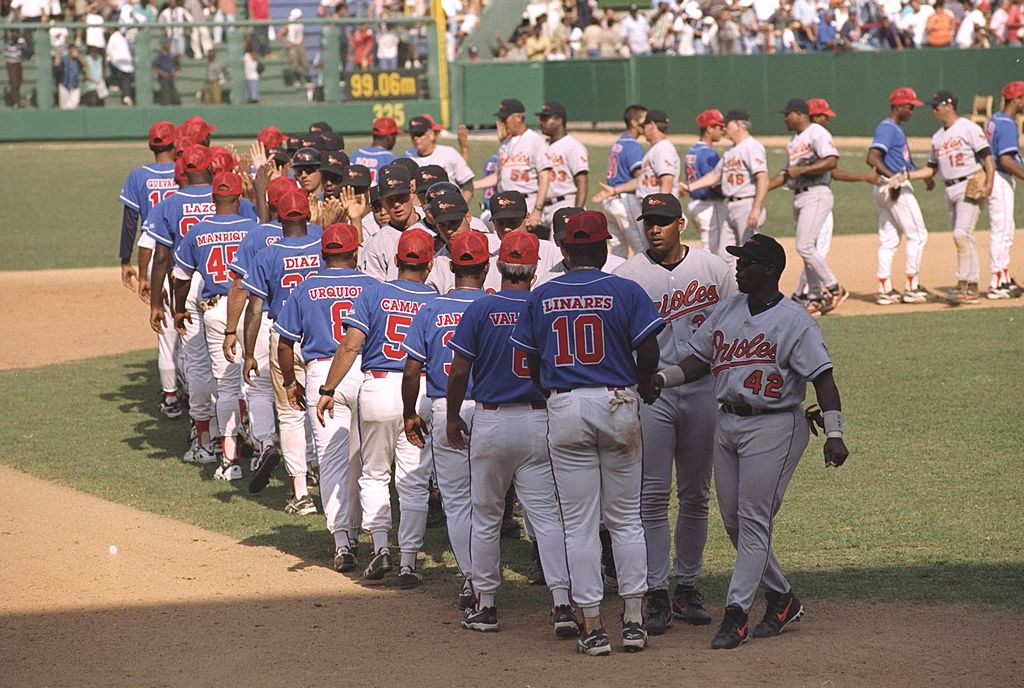 Although the series eventually proved to be a success, both Baltimore and Major League Baseball drew widespread criticism for playing the Cuban National Team. Veteran MLB umpire Rich Garcia, who is of Cuban descent, joined other umpires in filing a grievance against MLB to prevent them from being sent to Cuba. When protestors ran onto the field for the second game, Cuban umpire César Valdez threw one protestor to the ground.
The Rays' 2016 trip to Havana earned its own share of criticism. ESPN host Dan Le Batard, the son of Cuban immigrants, wrote an op-ed condemning Major League Baseball for working with Cuba's government.
"So much happy coverage on the television this week. Historic visit! America and baseball celebrating themselves. President Obama, Derek Jeter and ESPN head toward communism like it is another cruise port, so many symbols of Americana descending on a rotting island stuck in the 1950s, and it doesn't feel quite right back in Miami, like watching a funeral morph into a party. The history of my own people feels like it is being either ignored or trampled, and I'm not quite sure which of those feels worse."
What else happened on March 28 in baseball history?
An argument over playing time between Texas Rangers second baseman Lenny Randle and his manager, Frank Lucchesi, spirals into an all-out fight. Randle punches Lucchesi and fractures his cheekbone on March 28, 1977. The fight occurs because Lucches named Bump Willis, son of Dodgers great Maury Willis, the Rangers' starting second baseman. Texas trades Randle to the New York Mets a month later and Lucchesi is fired after a 31-31 start. Lucchesi's predecessor, Billy Martin, wins the World Series with the New York Yankees that fall.
The Red Sox and Yankees make a rare trade on March 28, 1986. New York trades slugger Don Baylor to their dreaded rivals for designated hitter Mike Easler. The 37-year-old Baylor hits .328 with 31 home runs and 94 RBIs for the AL champions. Easler records a .302 average in 146 games for the Yankees.
After two stellar seasons in the big leagues, Angels outfielder Mike Trout cashes in. Trout, the American League's MVP runner-up in 2012 and 2013, signs a six-year contract worth $144.5 million on March 28, 2014. Trout has been the game's best player since that contract and signed the biggest contract in baseball history last year.