This Former NBA Lottery Pick Bust Is Trying to Fight His Way Back Into the NBA
When a team has a high draft pick, the selected player can make or break a franchise. Make a good pick, and he can lead a team to playoff glory. But if the player doesn't live up to expectations, he may send the team in the opposite direction. Just ask the Chargers if they regret drafting Ryan Leaf No. 2 overall in 1998.
Getting draft picks right is especially important in the NBA, where teams have 12-team rosters with five players on the court at a time. Sometimes, though, a draft bust can get a second chance, as is the case with one former NBA lottery pick bust who is on the comeback trail.
Ben McLemore's short college basketball career
The NBA has a longstanding rule that a player has to be out of high school for at least one year before he can declare himself eligible for the NBA draft. So, many of the country's best young players become one-and-done stars in college.
One such player is Texas native Ben McLemore, who played the 2012-13 season for the Kentucky Wildcats. He appeared in 37 games that season, including 36 starts, averaging 15.9 points, 5.2 rebounds, and two assists per game. This was good enough to get him selected as a lottery pick in the 2013 NBA Draft, with the Kings taking him seventh overall.
McLemore becomes an NBA disappointment
McLemore started 55 games in his first NBA season in 2013-14, averaging just 8.8 points, 2.9 rebounds, and one assist per game for the Kings. The shooting guard started all 82 games the following season, and his scoring average went up to a career-high 12.1 points. But his rebounds remained at 2.9 and assists going up to 1.7 per game.
McLemore played two more seasons with the Kings; his scoring average hovering around eight points each of those campaigns, a rebound average around two, and his assists dropped to .8 per game in 2016-17.
McLemore signed a two-year contract with the Grizzlies in 2017. He played just 56 games for Memphis in 2017-18, averaging 7.5 points per game. The Grizzlies traded him to the Kings in July 2018, and McLemore made just 19 appearances for them last season. He averaged 3.9 points in 8.3 minutes per game — both career lows. The Kings waived him in February.
On the comeback trail with the Rockets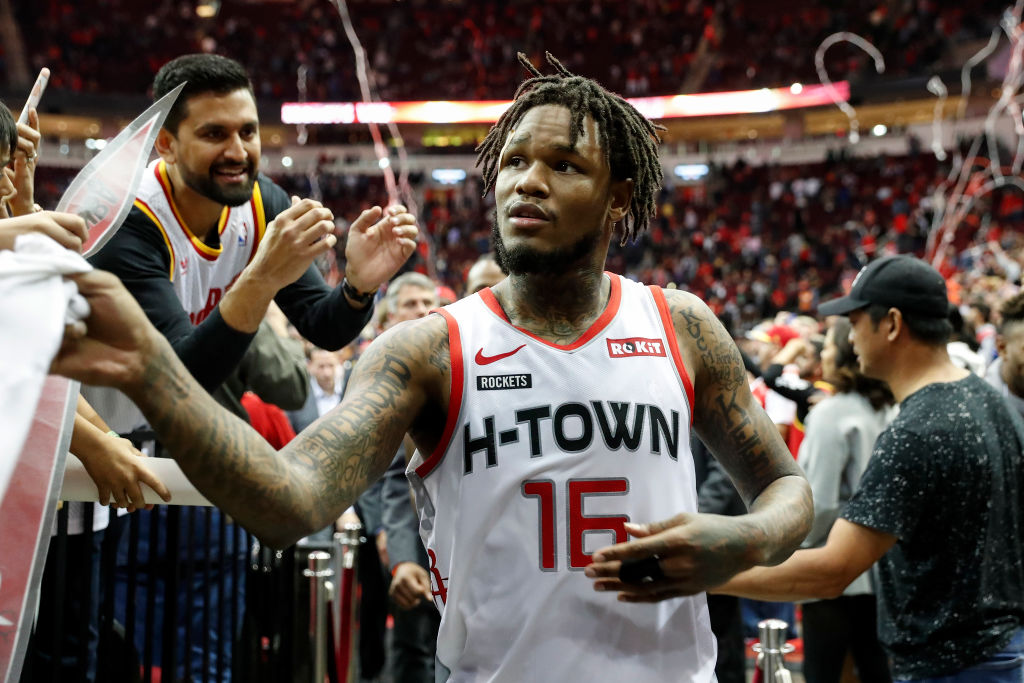 After Sacramento waived him, McLemore says he "locked [himself] in the gym" because he wanted to do everything he could to return to the game he loves. After being out of the NBA for the second half of last season, McLemore signed a two-year deal with the Rockets in July, hoping to return to the way he played in college.
The 26-year-old has gotten an opportunity at more playing time than in recent years due to injuries to teammates Gerald Green and Eric Gordon. McLemore has started nine of the first 38 games he's played this season.
He is averaging 23.8 minutes per game — the most since 2014-15, and his scoring average is up to 10.1 points per game, on pace to be the second-highest of his career. McLemore is averaging 2.5 rebounds per game — nearly triple last season's average — and one assist per game, up from .2 in 2018-19.
The hard work McLemore put in at the gym in the offseason has paid off and gotten him back on track toward having the career he was hoping for when he was taken No. 7 in the draft.
Follow more updates from Sportscasting on our Facebook page.