This Game Was the Beginning of Ezekiel Elliott's Stardom
Dallas Cowboys running back Ezekiel Elliott is one of the best running backs in the entire NFL. This has been the case ever since his rookie season with the Cowboys during 2016. While he has almost always been a star throughout his football career, one game, in particular, was the beginning of his stardom.
Ezekiel Elliott had a slow start at Ohio State
Ezekiel Elliott was a four-star recruit coming out of high school, according to 247Sports. However, Elliott did not play that much at Ohio State during his freshman season in 2013. Appearing in seven games total, Elliott had 30 attempts for 262 yards and two touchdowns. 
Then entering his sophomore season, many expected Elliott to get a lot more carries after former Buckeye Carlos Hyde went to the NFL. However, the Buckeyes struggled to find their identity offensively in their first three games in 2014. This was in large part because of quarterback Braxton Miller suffering an injury before the season.
In Ohio State's first game against Navy, Elliott had 12 attempts for 44 yards in a win. He then had eight attempts for 32 yards in a surprising loss to Virginia Tech, and then seven attempts for 65 yards in a win over Kent State.
Those numbers are okay, nothing great, though. However, in Ohio State's fourth game that season, Elliott became a star.
Elliott's breakout game against Cincinnati 
Ohio State played intrastate rival Cincinnati on Sept. 27, 2014. Cincinnati had a decent start to its season as the Bearcats were 2-0 heading into the game, while Ohio State needed a win to keep its College Football Playoff hopes alive.
It was a close first half but Ohio State ultimately pulled away, winning 50-28. Elliott had a huge game too. Running it 28 times, Elliott rushed for 182 yards and a touchdown. He also caught five passes for 51 yards.
The performance proved that Elliott deserved to be a focal point of the Buckeyes' offense.
"We have a lot of great backs in our room, but we love to get the ball and put the team on our back," Elliott said after the game, according to the Akron Beacon Journal. "I don't know how many carries I had tonight, but it felt good."

Ezekiel Elliott
After that game, Elliott became a workhorse for the Buckeyes that year. He only had one game with less than 10 carries the rest of the year. He ultimately ran for 1,878 yards and 18 touchdowns that season. Elliott even helped lead the Buckeyes to a national championship win that year. He ran for 230 yards and two touchdowns in a CFP Semifinal against Alabama. Then he ran for 246 yards and four touchdowns in the national championship against Oregon.
Elliott became a star during that 2014 season. His year started slow, but that game against Cincinnati was the start of something special.
Continuing to be a star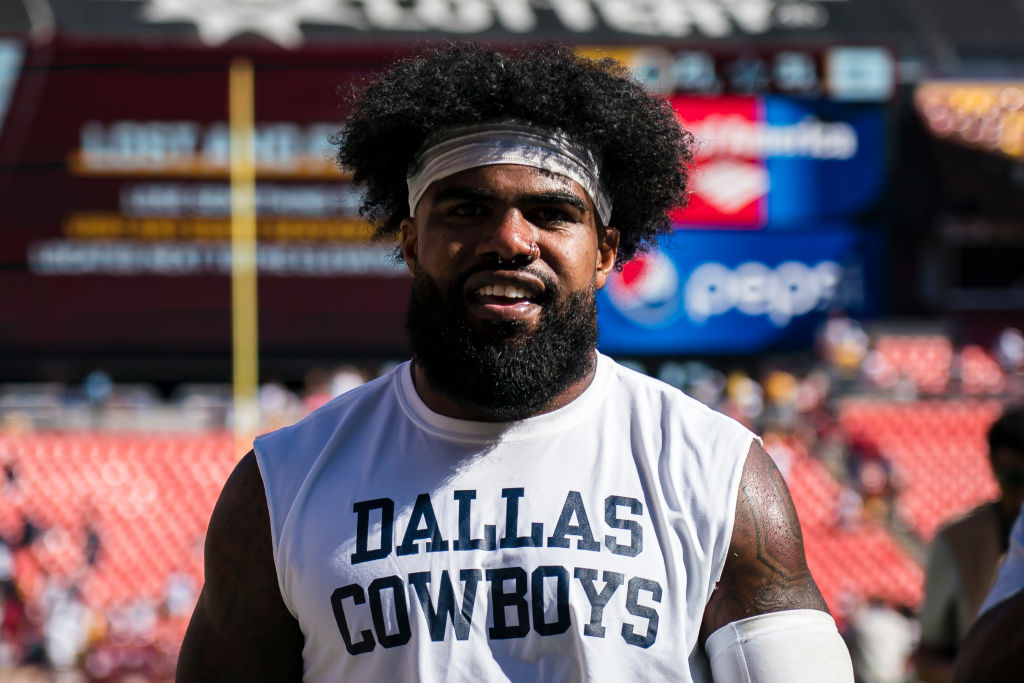 Elliott had another big year at Ohio State during his junior season in 2015. He played in two fewer games that year compared to 2014 but still ran for 1,821 yards and 23 touchdowns. Elliott concluded his Ohio State career as the second-leading rusher in Ohio State history with 3,961 career rushing yards. He is currently third, though, as J.K. Dobbins passed him for second in 2019. 
After deciding not to return to Ohio State for his senior season, the Dallas Cowboys selected Elliott with the fourth overall pick in the 2016 NFL draft. In his rookie season with the Cowboys in 2016, Elliott led the league with 1,631 rushing yards to go with 15 touchdowns. He earned Pro Bowl and first-team All-Pro honors that season.
In his four seasons in the NFL, Elliott has led the league in rushing yards twice. He has also earned Pro Bowl honors three times. Last season, Elliott ran for 1,357 yards and 12 touchdowns. Overall in four seasons, Elliott has run for 5,405 rushing yards and 40 touchdowns. He has also caught 189 passes for 1,619 yards and eight touchdowns.
Elliott is easily one of the best running backs in the NFL and one of the biggest stars in all of sports. That's especially the case with him playing for the Dallas Cowboys, one of the most popular teams in the world. However, Elliott's stardom all started in 2014 against the Cincinnati Bearcats.