This Michael Jordan Story Proves How Much He Loves Winning
While today's NBA players may have better athleticism and more resources than athletes of yesteryear, no player dominated like Michael Jordan. What made Jordan great was his will to win. One story about him, in particular, emphasizes just how competitive he really was.
Michael Jordan's legendary career
Every NBA fan knows Jordan's name and understands his impact on the game. It helps to look at his numbers and accomplishments, however, to put his greatness into context:
1,072 games
30.1 points per game
6.2 rebounds per game
5.3 assists per game
14-time All-Star
10-time scoring champion
Five-time NBA MVP
Six-time NBA Finals MVP
Jordan's credentials are without question. What helped him accomplish all these feats was his fiery and competitive spirit.
Michael Jordan's famous competitiveness
Jordan's drive to win extended far beyond the basketball court. Countless legends about Jordan exist. Business Insider compiled examples of Jordan's "insane" competitiveness. Here are a few of them:
During a scrimmage in practice, Jordan once punched then-teammate and future Warriors' head coach Steve Kerr.
While he was sick with the flu, Jordan scored 38 points against the Utah Jazz during an NBA Finals game.
After Jordan trash-talked Muggsy Bogues about his jump shot, Bogues said his shot never recovered.
During a friendly dinner, Jordan told Kobe Bryant that he would've beaten Bryant at his peak.
At a charity golf event, Jordan bet a fan $500 he could hit the green on one swing. He did, winning the bet.
According to Jordan's friend and sometimes gambling partner Charles Barkley, Jordan has bet "hundreds of thousands" of dollars on golf matches.
When "Dream Team" coach Chuck Daly was asleep in his hotel room during the 1992 Olympics, Jordan pounded on his door and woke him up in hopes of playing the coach in a round of golf.
When Jordan turned 50, he made it his goal to lose 45 pounds and return to his playing weight of 218 pounds.
The Bulls legend used to bet Scottie Pippen on pre-recorded horse races, knowing the outcome prior to placing the bet.
Jordan's competitiveness knew no bounds. He had an insatiable drive to win whether on the basketball court or in a casino. But the competition-junkie sometimes found odd places to satisfy his need to win.
This story proves how much Michael Jordan loves to win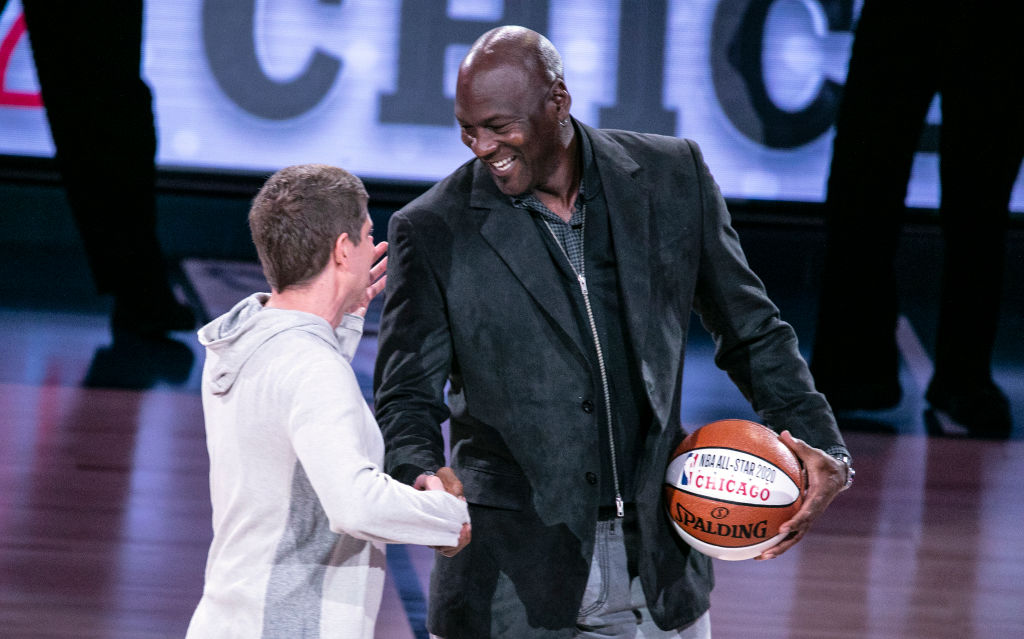 The Ringer founder Bill Simmons shared a story about Jordan's legendary competitiveness for ESPN the Magazine. It involves Jordan striving to win in an unlikely place: the airport baggage claim.
Simmons' story occurred before NBA teams traveled by charter planes. He explained that the Bulls had arrived in Portland, Oregon, and were watching the conveyor belt at baggage claim, waiting for their luggage. Jordan threw $100 on the belt and said to his teammates, "I bet you my bags come out first."
Nearly 10 of Jordans' Chicago teammates accepted the favorable odds, as Simmons told ESPN the magazine. "Sure enough, Jordan's bags led the rollout. He cackled with delight as he collected everyone's money." But Jordan had a secret: He'd bribed the baggage handlers beforehand.
That's the Bulls legend in a nutshell — driven to win beyond what most people would consider rational. While some may see his amplified desire to beat others as a negative trait, it's undeniable that the same instinct helped Jordan win six NBA championships.