This Story Proves How Tough Philip Rivers Truly Is
Los Angeles Chargers quarterback Philip Rivers is one of the toughest guys in a game full of nothing but tough guys. Even Tom Brady thinks so. At 37, Rivers is only in this current season showing signs of slowing down.
The current version of the NFL rulebook disproportionately protects quarterbacks. That doesn't mean they're safe from harm in a game that, in the end, encourages taking out the QB before the ball leaves his hands. QBs are not dainty.
Yet Rivers, in an unbelievable 2008 playoff game, pushed it past the level almost any football player would ever reasonably agree to. But first, let's take a look at the storied career on both sides of Rivers' infamously punishing AFC Championship Game experience.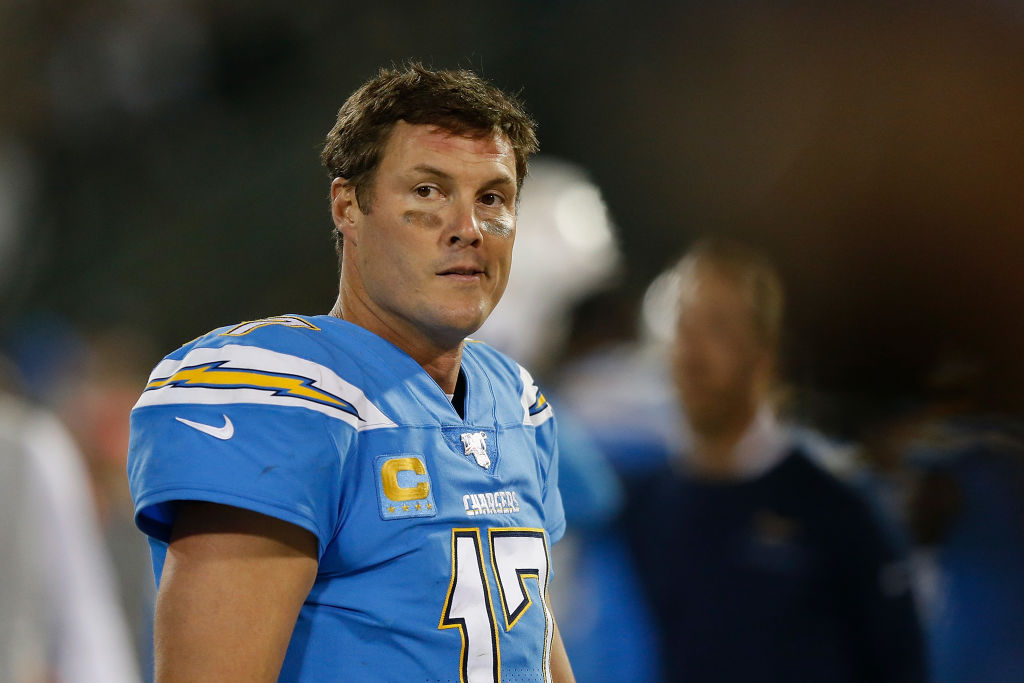 Philip Rivers: keeping hope alive for Chargers fans since 2004
Across 16 years, Philip Rivers is the most stable force inside the Chargers organization. A long-suffering fanbase finds their hope to keep watching in knowing that they have a resilient, elite QB holding down their franchise.
Before the move to Los Angeles, Rivers was the reason San Diego showed up for games. Philips mostly played second fiddle to Drew Brees until 2006, when an injury-plagued Brees did not receive an offer to stick with the Chargers. The second he had the opportunity, he took control long-term, refusing to miss a single regular season game since September 9th, 2006.
That's 223 games played, in which he racked up a 123-98 win/loss record. His completion percentage is 64.6%, with 58,404 yards passed. 394 touchdowns, far outpacing his 193 interceptions. Philip Rivers is the kind of guy you build a franchise around. But one game may be the moment where he took his dedication to his craft too far.
When Philip Rivers grit his teeth through a playoff game with a torn ACL
The Chargers were in terrible shape for their 2008 playoff run. Going into the AFC Championship Game against the New England Patriots, injuries were endemic in San Diego.
Running back LaDainian Tomlinson had a torn MCL. Tight end Antonio Gates crushed his big toe, to the point of needing reconstructive surgery. Fullback Lorenzo Neal was at the tail end of recovering from a fibula fracture. Displaced bones in center Nick Hardwick's foot were barely set well enough to play.
And the week before, Philip Rivers blew out his right knee. He had surgery soon after, confidently announcing to the press that he would play in next week's crucial game.
Play he did. A visibly hobbled Rivers pushed himself through the grueling game, turning in one of his worst performances to date in the process. No one could blame him. The Chargers had no better option to stand up to Tom Brady and the Patriots.
Tomlinson quickly landed on the bench, unable to will his body past the realities of his own torn MCL. Rivers tried to do what he so often does for the Chargers, hoisting the team up on his shoulders. It amounted to zero touchdown passes in a literally painful 21-12 loss to New England.
The loss was literally painful for much of the team. But, after media pressure on Tomlinson in particular to push through injuries and go for it, Rivers' historic attempt at playing on a torn ACL instantly changed the tone of the conversation. And it is forever part of the lore surrounding Rivers' overall career.
The ongoing suffering of Rivers and the Chargers franchise
Over 16 years, Philip Rivers always gave the Chargers his all. But he never managed to put them over for the big one. That isn't indicative of the Rivers era in particular. The franchise has zero Super Bowl wins to their name.
Rivers' winning overall record makes it impossible to put much blame on him personally. This year, he unfortunately has to bear more of the responsibility. His completion rate continues to look good at 64.7%, slightly higher than his career average.
But finally, his age is catching up to him in 2019. Recently, a strained effort against the Denver Broncos showed off a version of Philips unseen when he's healthy. He started that game with six ugly passes that gained 17 yards, only to lose seven more to a nasty sack.
Whatever happens next, Rivers goes out with his head up high. He turned in great performances over 16 years and counting. And even his losses include dramatic feats. Like facing down Tom Brady and the Patriots with a painful, debilitating injury.