This Texas A&M Player Guaranteed an Upset Win Over Clemson
The Clemson Tigers are a perfect 16-0 over their last 16 games. Since October of last season, the Tigers haven't won a single game by less than 20 points, crushing their opponents by an average margin of 36.3 points per game. That stretch includes a 44-16 win in last year's National Championship Game over the Alabama Crimson Tide.
With all of this in mind, the Texas A&M Aggies should have a pretty healthy amount of respect for their opponent heading into their road game against the Tigers this Saturday afternoon. But not everyone appears to be interested in taking the humble approach.
Jared Hocker made a bold prediction for Saturday's game
On Monday, a local reporter asked junior offensive lineman Jared Hocker if Clemson was ripe for an upset. He didn't hesitate at all in giving his answer.
"Yes, it does," Hocker answered matter-of-factly. "There will be an upset." Shortly after this statement, Hocker was asked if this meant he was guaranteeing victory. "I'm pretty confident in my ability and my team's ability, so," the lineman said before nodding yes.
Head Coach Jimbo Fisher didn't seem too thrilled to hear that one of his players had given the defending champions some bulletin board material this week. "That's great that they have confidence, but that doesn't need to be said," Fisher said about the comments. "There's nothing wrong with being [confident]. If you're not confident that you're going to be successful, yes. But we understand the opponent, and that comes from respect for them."
Texas A&M gave the Tigers one of their biggest scares last season
Last season in College Station, the Aggies played the Tigers extremely tough, losing that game 28-26 at home. Texas A&M scored a touchdown with 46 seconds left to cut Clemson's lead down to two; had they converted on the two-point conversion and sent the game to overtime, the entire 2019 season might have played out differently.
It's worth noting that this game took place before Trevor Lawrence had taken over for Kelly Bryant at starting quarterback. But this doesn't change the fact that Aggies quarterback Kellen Mond had his best game of the season against Clemson's vaunted defense passing for 430 yards and three touchdowns. Or that Texas A&M's defense held Heisman Trophy contender Travis Etienne to only 44 rushing yards.
On the other hand, that game was being played at home. Going into Clemson, where the Tigers have won 16 straight games, will be a very different atmosphere than the one the Aggies had those positive results in last year.
Sportsbooks aren't quite as confident in the Aggies as Hocker is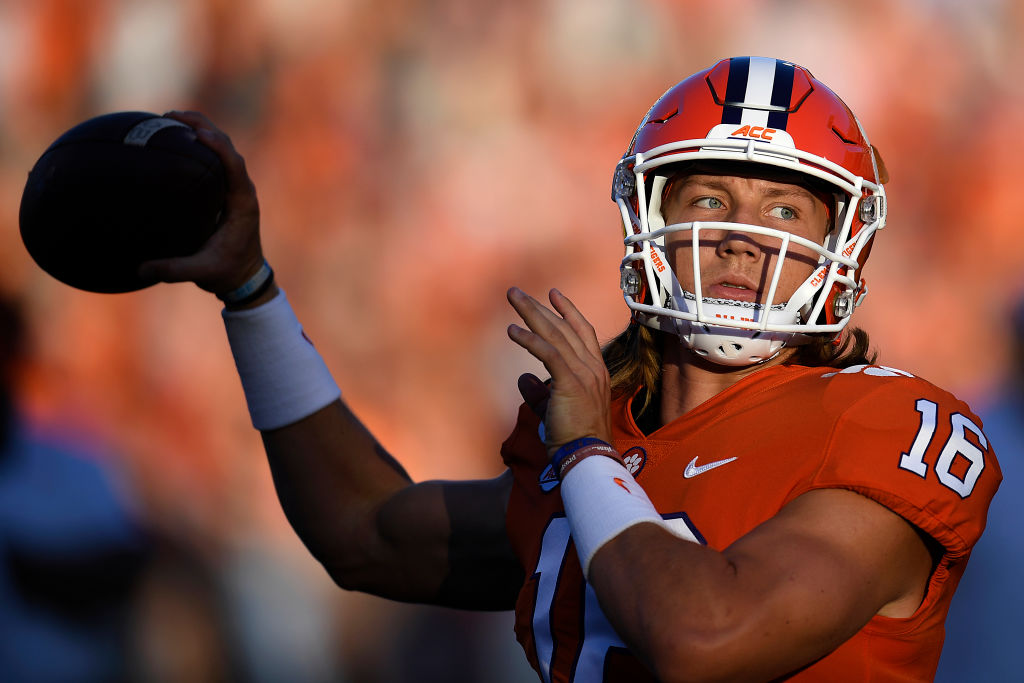 The Clemson Tigers are currently listed as 17.5-point favorite at OddsShark. To win the game outright, Clemson is a -1000 favorite, which translates to winning one dollar for every $10 that you wager. With these betting odds, the sportsbooks are giving Clemson a 90.9% chance of winning its game against the Texas A&M Aggies.
Guarantees like this one are more fun for the fans than anything else. A Jimbo Fisher said, "After the first two hits of the game, that stuff all goes away anyway." Both of these teams were already going to be fired up for this showdown after last year's close contest, so not much is going to change.
Well, besides the fact that Hocker is going to be getting a whole lot of extra attention from the tens of thousands of fans in attendance in Death Valley this Saturday.