MLB
This was the Most Shocking Move at the MLB Trade Deadline
After the explosive rearranging of the deck chairs in the NBA this summer. In contrast, the much quieter MLB trade deadline looked to stagger to an understated finish in the final minutes. Most trade wishlists were a who's who of players capable of flipping the proverbial postseason tea table. The results — up to the final hour — were decidedly out of line with those hopes.
Not every team in dire need of fresh blood made the moves fans hoped for.
That said, with the haze of high expectations now dissipated, there are several surprising deadline decisions that deserve a closer look — and a singularly shocking move that could be the dagger that seals the fate of the American League.

Nicholas Castellanos to the North Side
In the final minutes before the deadline, the Chicago Cubs announced that Detroit Tigers outfielder Nicholas Castellanos would join their club. It happened moments before Castellanos was scheduled to appear in Anaheim against the Angels, adding to the drama of deadline day.
He's currently hitting .274, a solid performer at a glance. His particular value for the Cubs is his magnificent eye for left-handed pitching. Check out his slash line when isolated just for LHP matchups: .347/.415/.611. The Northsiders' inconsistent offense could look very different with Castellanos' potent harassment of the exact type of pitchers the rest of his new club struggle against.

Yasiel Puig got one last brawl before heading to Cleveland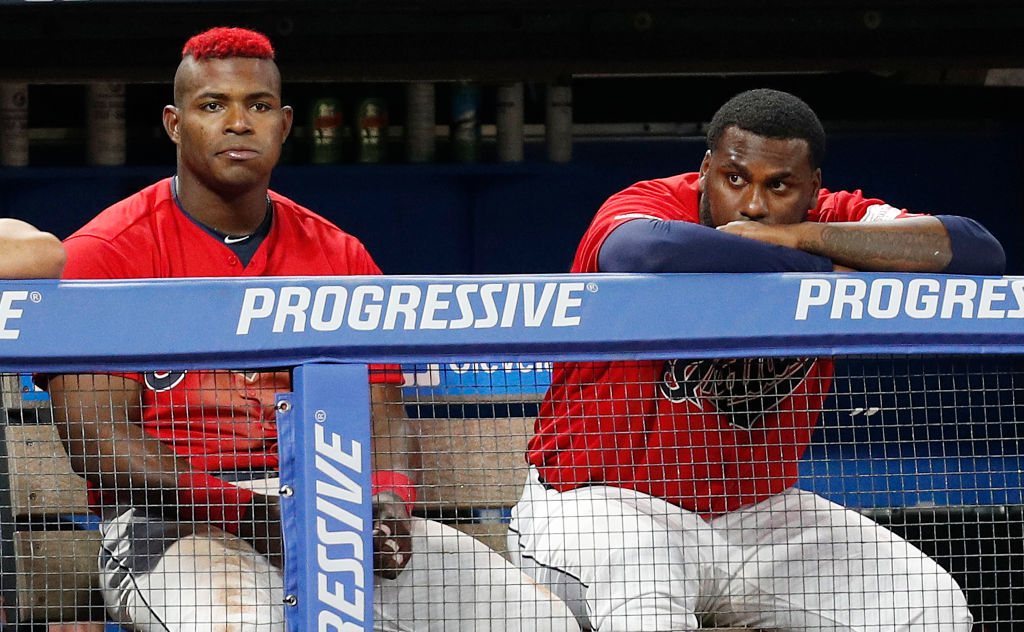 Ex-Dodger showboat Yasiel Puig's stint with the Cincinnati Reds is officially a footnote in his career. He went out with a bang, to say the least.

Controversial as Puig is, he's beloved by his teammates. His fiery display of solidarity with his ex-Reds pals went down about 25 minutes after he was sent packing to the Cleveland Indians.

The Indians gave up pitcher Trevor Bauer, opting to shore up their offense looking towards this fall and next season. It leaves them viable for the 2019 postseason, at a time when they could afford to give up the somewhat unstable Bauer.

The Mets held on to Noah Syndergaard, added Marcus Stroman
Thor's hammer remains in New York. The Mets put up big for Marcus Stroman and declined to cash in on the major trade value of Noah Syndergaard in one of the more baffling deadline outcomes.

The long-suffering Mets fanbase are stuck with a team constantly on the razor's edge of postseason contention. Some of that was simply bad luck, with key injuries holding back their true potential. But the front office simply doesn't make the moves necessary to put them over the edge when the opportunities arise.

The Mets aren't going to be playing much fall baseball. Keeping Syndergaard now is a decision that will reverberate over the next few years of Mets squads. Combine that with going after Stroman when the current version of the club doesn't have much to offer, and you have a strangely unbalanced team that doesn't appear to know what to do with itself.

The Padres traded big for question mark talent Taylor Trammell
Rising prospect Taylor Trammell could very well pay off and rise to his potential as a superstar. He's just as likely to be an average player. Or a bust. No one really knows, making this the exact sort of deal that looks silly in the present.

The San Diego Padres are absolutely right to put current assets on the line to obtain pieces meant to pay off in the future. The problem is, they likely could have cut a better deal for a similar player.
Maybe the Padres front office will look like geniuses in a few years. All we know right now is, they paid big for a .236 AA hitter in 2019.

MB trade deadline shocker: Astros add ace Zack Greinke
This trade deadline looked incredibly quiet until it exploded into a last-minute rush of activity. Even then, most of the moves were about teams shoring up minor rough spots in their lineups. Few huge free agent bats or elite closers, more talented hitters with specific quirks and middle relievers to bolster bullpens.

Then, 15 minutes after the festivities came to a close the real shocker hit: the Arizona Diamondbacks gave up Zack Greinke to the Houston Astros. The Astros were already major favorites for the World Series, making this splashy move that much more surprising. They made a similar decision when they acquired Justin Verlander to level up a strong starting rotation, and they may pull off a similar championship-winning move here.

This deal looks even better seen in relief: the Yankees, Twins, Red Sox and Dodgers avoided making moves anywhere close to this scale. The Astros are now poised to push the American League towards a level of competition many contending teams clearly weren't prepared for.