NFL 1 Throw Proves the Raiders Derek Carr is Back in Peak Form
Derek Carr of the Oakland Raiders has had an interesting career in the NFL so far. A few seasons ago, he looked as if he'd turned a corner and was set to lead the Raiders to an elite level. Then he experienced a 2018 season that represented a setback, to put it kindly. Now Carr is in his second year with coach Jon Gruden, and there may be evidence that after a rough patch, he's turned it around. He may have proved it with one throw.
(All statistics are valid as of games played before November 10, 2019).

Derek Carr's career overview
The Raiders selected Derek Carr with the 36th overall pick in the second round of the 2014 NFL Draft out of Fresno State. Carr's brother, David, had previously played quarterback in the NFL with the Houston Texans.

Take a look at some of Carr's achievements in the NFL thus far:
87 games played
Win-loss record of 37-50
20,941 passing yards
Completed 63.6% of his passes
6.8 yards per pass attempts
136 touchdowns
Three-time Pro Bowl selection
Pro Football Reference compiles "similarity scores" for players to give a good comparison of their career. Some quarterbacks Pro Football Reference compares Carr to include Jim Kelly, Bob Griese, Jay Cutler, Stan Humphries, and Kirk Cousins.

How Derek Carr has fared over the last few seasons
2016 was Carr's best year as a pro. He played in 15 games and led the Raiders to a 12-3 record with 28 touchdowns to only six interceptions. Carr was back in good form for the 2017 season, though the Raiders had less success on the field. In 15 starts, he led the team to a 6-9 record throwing for fewer touchdowns (22) and more interceptions (13) as the Raiders failed to qualify for the playoffs. It wasn't until the Raiders hired a new coach in 2018 that the wheels began to come off.

Carr's 2018 season was one he'd love to forget. He started all 16 games, which was the good news. The bad news was everything else — the Raiders went 4-12 under Gruden's watch. Carr threw for only 19 touchdowns with 10 interceptions. The relationship between quarterback and coach seemed to be significantly strained, with Gruden and Carr getting into a heated sideline exchange during a week 11 matchup against the Cardinals. While all parties downplayed the incident and were all smiles just a few minutes later, it served as a microcosm for Carr's 2018.

One throw that proves Derek Carr is back in peak form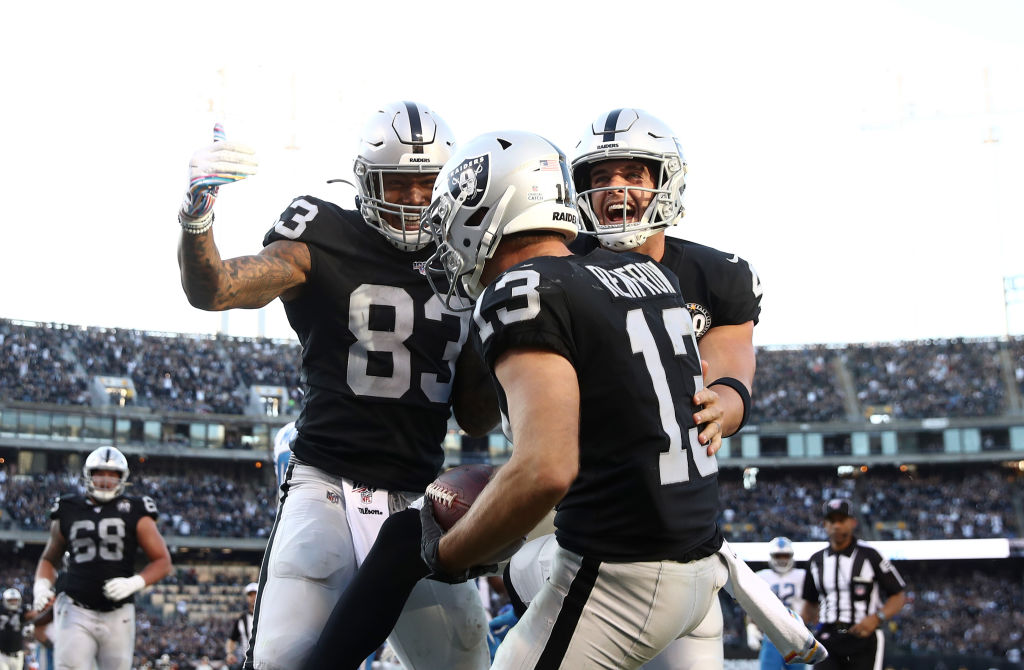 Carr is playing well this season for the Raiders, certainly much better than he did in 2018. Through nine games, he had 14 touchdowns to only four interceptions, leading the team to a respectable 5-4 record and a place in the AFC playoff discussion.

SB Nation detailed one throw in particular against the Detroit Lions that proved Derek Carr is back in peak form:

"The Lions ran a Cover 2 scheme, but the Raiders countered with three players running deep. Renfrow ran down the right sideline, Waller down the left, and Marcell Ateman went straight up the seam in the middle of the field. With the safeties spread just enough to make sure Renfrow and Waller were covered, Carr zipped a pass over the head of Lions linebacker Jarrad Davis, who was trying to run with Ateman.
The ball arrived just before the Detroit safeties had a chance to converge on Ateman…Carr immediately saw the opportunity and feathered in a beautiful pass before the pass rush ever had a chance."

There's a lot of season left, and Carr's play could take another turn if he doesn't keep this up. But it seems as though the maligned quarterback has gotten in sync with his coach and the offense. That bodes well for the rest of 2019 and beyond.