Throwback Throwdowns: Kobe Bryant's Behind the Back Reverse Jam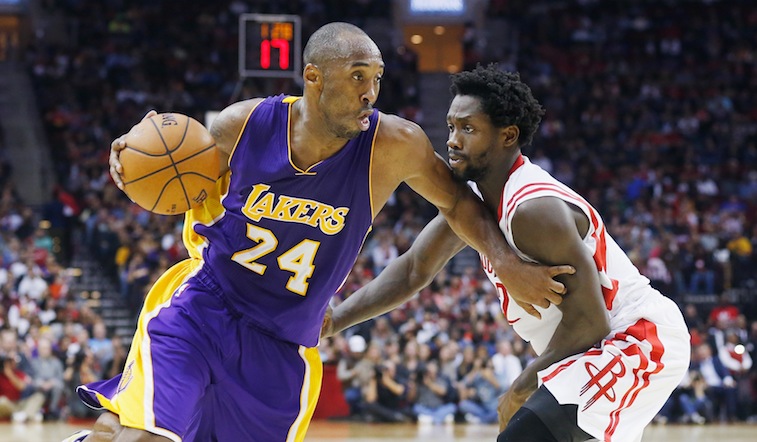 While plenty of people now find themselves with the ability to dunk a basketball, not everyone can do it in style. And if you ask us, there's a crucial distinction between the two.
To dunk a ball takes athleticism, height, and, on occasion, some series ups. But to unleash a jam with style, is to know that dunking isn't just a physical feat, it's an artwork. The individuals who understand this recognize that every time you go up to jam the rock, you're presented with an opportunity to make a lasting impression; to do something so special that people continue to talk about it years down the road. If you ask us, that's a pretty powerful thing.
Some people have it. Some people don't. And although his career is essentially on it's last leg, if there was ever an individual who knew the difference, it was the Black Mamba himself.
Since coming into the NBA in 1996, Kobe Bryant has had his fair share of memorable moments on the court. Often times, those instances involved a dunk. But when we think about one of the greatest players to ever play the game, one moment from the 2002-03 regular season seems to always stand out. And for former Denver Nuggets shooting guard Vincent Yarbrough, we're sure this particular play is one he'd love to erase.
So sit back, relax, and enjoy another edition of "Throwback Throwdowns."
On February 11, 2003, the Denver Nuggets traveled to Tinseltown for a regular-season clash with the Los Angeles Lakers. During a time — which now seems forever ago — when the Lakers were known more for their winning ways than their inability to attract top-level talent, the people in Los Angeles would flock to the Staples Center, expecting to see a good show. On this particular evening, the ticket was certainly worth the price of admission.
During the third quarter, after a Nuggets made free throw, Laker Robert Horry took the ball out of bounds and immediately launched a perfect one-handed outlet pass to a streaking Bryant. Upon catching the rock, the Black Mamba soon realized he was about to be cut off by Yarbrough. So he did what any other superstar would do: He improvised.
In a single fluid motion, Bryant took one dribble, put the ball behind his back, spun away from the unsuspecting Nuggets shooting guard, and flushed a dirty reverse in Yarbrough's face. The Staples Center erupted in euphoria. Bryant had sent a message that, to this day, continues to remain loud and clear: He would not be denied.
All statistics are courtesy of Basketball-Reference.com.