'Throwing in the Towel', Quite Literally, Helped Lead to the Shaquille O'Neal-Kobe Bryant Los Angeles Lakers Dynasty
The Los Angeles Lakers' three-peat was headlined by Hall of Famers Shaquille O'Neal and Kobe Bryant. But beyond the dynamic duo were a group of role players who helped LA win three straight titles from 2000 to 2002.
One of those players was Robert Horry.
Big Shot Bob hit a number of clutch baskets for the Lakers during their title quests. The 16-year vet also won an astonishing seven NBA championships across three organizations.
But Horry wouldn't have a Laker at all had it not been for one night in Boston, an argument, and a towel.
Robert Horry ended up with the Los Angeles Lakers after throwing a towel at a coach he despised
Horry began his NBA career in 1992. A first-round pick of the Houston Rockets, the 6-foot-10 forward from Alabama averaged 10.5 points over four seasons with the Rockets, playing a part in their back-to-back championships in 1994 and 1995. After averaging a career-best 12.0 points in the 1995-96 season, Horry was traded to the Phoenix Suns in the deal that sent Charles Barkley to Houston.
Horry was, in a word, miserable. Not only did he go from a championship team to one of the worst franchises in the league, but he was now coached by Danny Ainge.
"I hated Danny Ainge, I'm not even gonna lie. I hated him," Horry said on his Big Shot Bob Podcast. "Mario Elie is one of my good friends, and in one of the playoff games, he took the ball out — Danny Ainge was a pitcher — he hit Mario in the face with the ball on purpose."
Playing for a head coach he loathed, Horry and the 10-21 Suns traveled to Boston to play the Celtics. With 7:12 left in regulation and the Celtics up 89-84, Ainge pulled Horry after the fifth-year forward hoisted a wild three-point shot that was nowhere close to going in. Frustrated, Horry confronted his coach, hitting him with a face full of expletives, while a few teammates tried to pull him away.
After Ainge and Horry went back-and-forth for a bit, the angry Sun grabbed the towel around his neck and hurled it at his coach. He received a two-game suspension and apologized to his team afterward, but that was Horry's final game with the Suns.
The Lakers traded for Horry in part because of a problem player of their own
The 1996-97 season was O'Neal and Bryant's first in Los Angeles. They were surrounded by a supporting cast featuring guards Nick Van Exel and Eddie Jones, as well as head coach Del Harris.
So was Cedric Ceballos, a player LA could not wait to rid themselves of.
Ceballos was loathed by teammates almost immediately after coming over from Phoenix ahead of the 1994-95 season. He averaged just under 22 points per game in his first season in purple and gold, giving himself the nickname "Chise", short for "Franchise".
"He gave himself a nickname," said former teammate Corie Blount in the book Three Ring Circus: Kobe, Shaq, Phil, and the Crazy Years of the Lakers Dynasty. "Think about the arrogance of that. Franchise? Really? You're our franchise player? Okay, buddy. You ride that one out …"
Jeff Pearlman, the author of Three Ring Circus, described the type of player Ceballos was:
"He was your classic egomaniacal professional athlete, told far too many times how great, amazing, and awesome he was when, in fact, he was neither great nor amazing nor awesome. Ceballos' defensive intensity was nonexistent. He passed once or twice a month."

Jeff Pearlman
In 1995, Ceballos skipped a team flight and didn't show up for several games. He returned five days later, reportedly fresh off of a water skiing trip in Lake Havasu.
Two years after Chise pulled a disappearing act, the Lakers finally sent him away for good. Ceballos was swapped for Horry just three days after the infamous towel throw.
Horry immediately bought in and played a huge role for the Lakers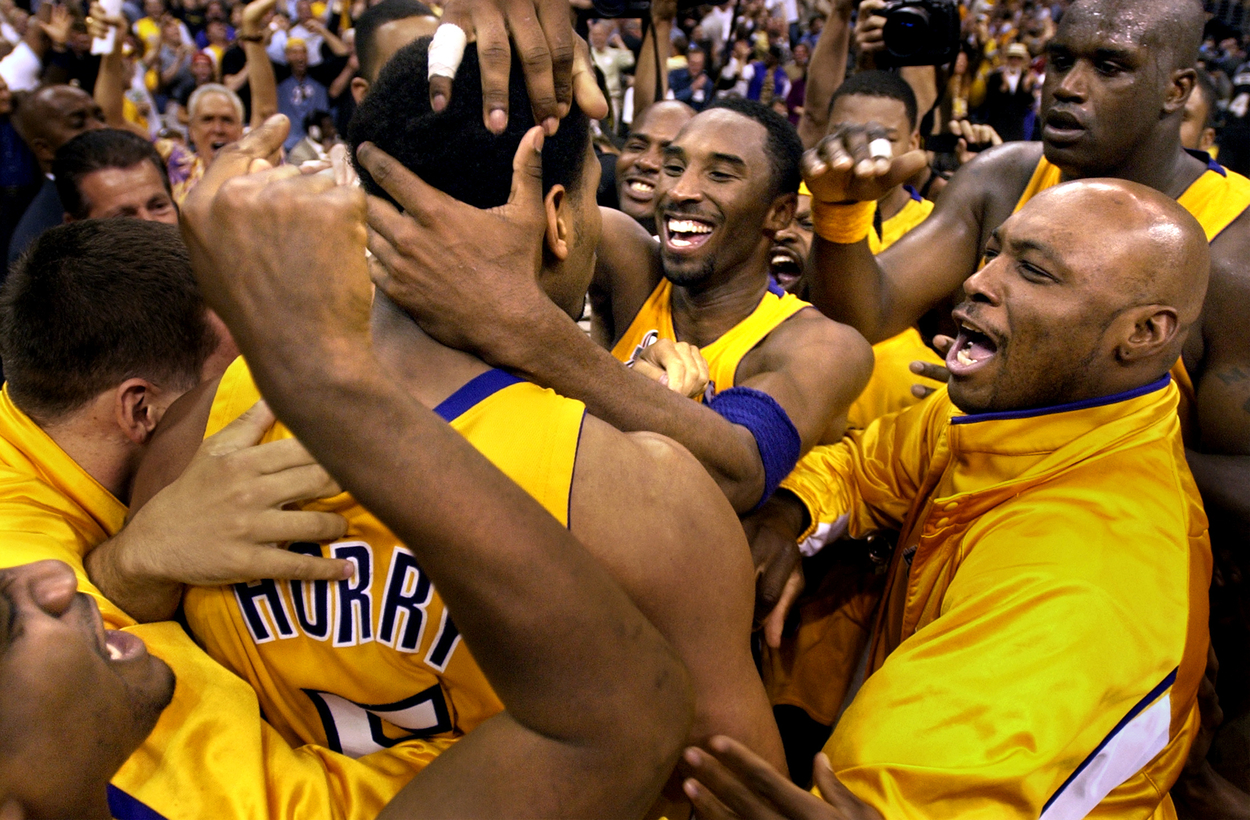 While Ceballos continued his selfish ways in Phoenix, Horry came to LA on a mission to fit in. He brought three-point shooting, defense, picture-perfect screens, and leadership, particularly for an 18-year-old Kobe Bryant.
Harris immediately saw the value of Horry.
"He was a really good person," Harris told Pearlman. "You never know what you're going to get when you add a person to the mix. But Robert was professional, caring … just the type of man every team wants."
"The day he [Horry] became a Laker, the franchise took a big step closer to a championship. He was that important."

Del Harris
Big Shot Bob would eventually hit his biggest shot in Game 4 of the 2002 Western Conference Finals. Down by two, Horry hit the game-winning three-pointer from the top of the key as time expired. The 100-99 win evened up the series for the Lakers before they eventually eliminated the Sacramento Kings.
No one will ever say Horry was the player most responsible for the Lakers' three-peat. After all, he averaged just 6.3 points across seven seasons in LA. But his big shots, as well as his leadership, helped another dynasty form in Tinseltown.
And to think, it was all because of a towel.
All statistics courtesy of Basketball Reference.
RELATED: Robert Horry Just Added a New Accomplishment to His Impeccable Resume Without Hitting the Hardwood