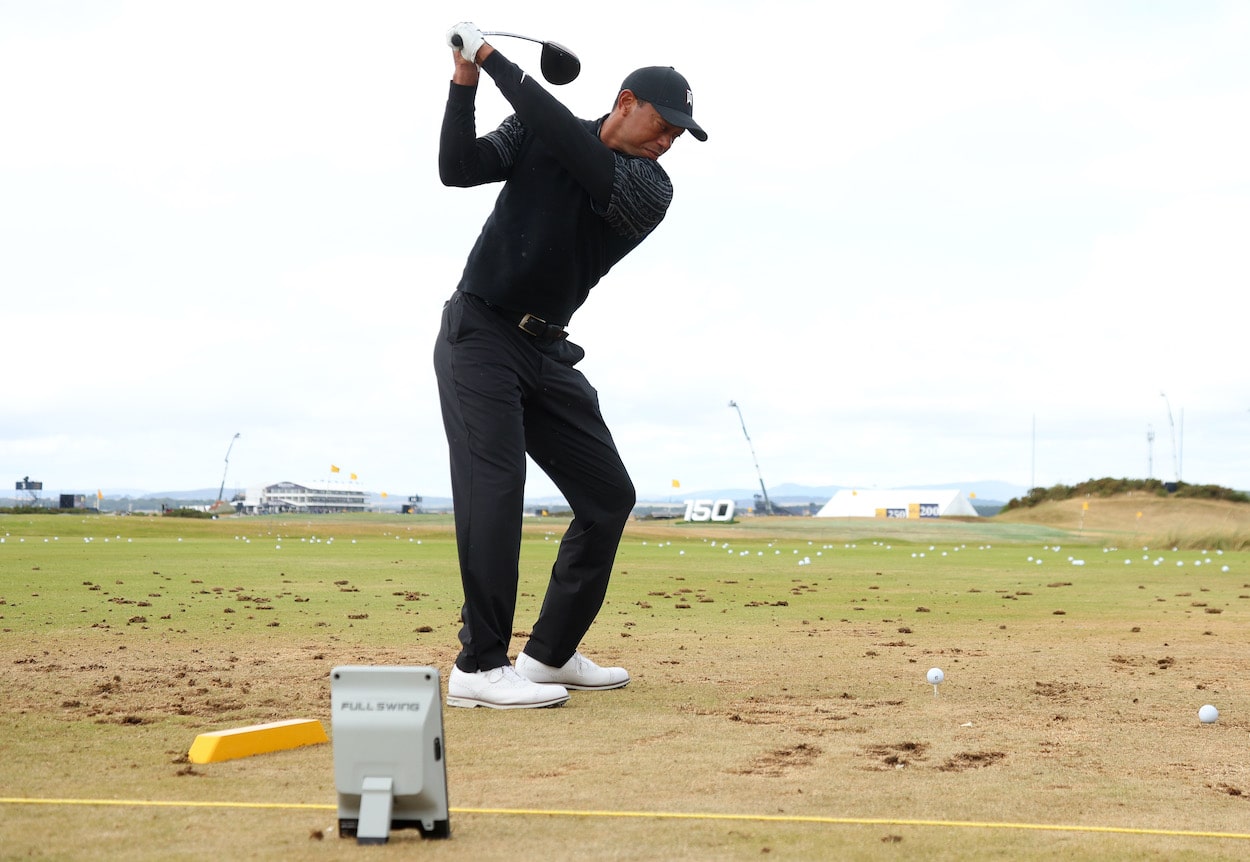 Tiger Tracker: Follow Every Shot of Tiger Woods' First Round at the British Open With Live Updates, Live Betting Odds, and Instant Analysis
Follow every shot of Tiger Woods' first round at the Open Championship.
Tiger Woods got his 2022 Open Championship underway at 9:59 a.m. ET from the Old Course at St. Andrews on Thursday. If you couldn't watch the living legend's first round, catch up right here with the shot-by-shot updates, live betting odds, and instant analysis we provided throughout Woods' Thursday outing.
Live updates for Tiger Woods' first round at the Open Championship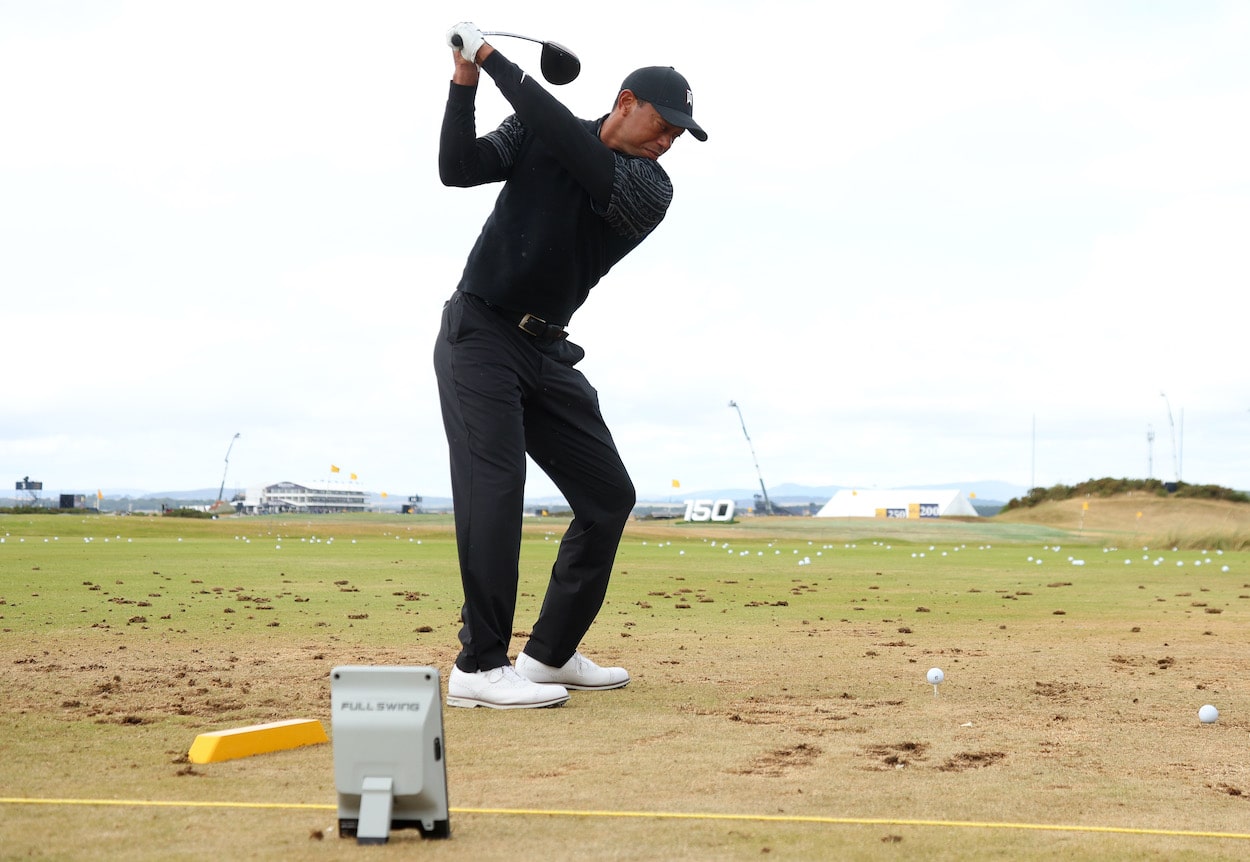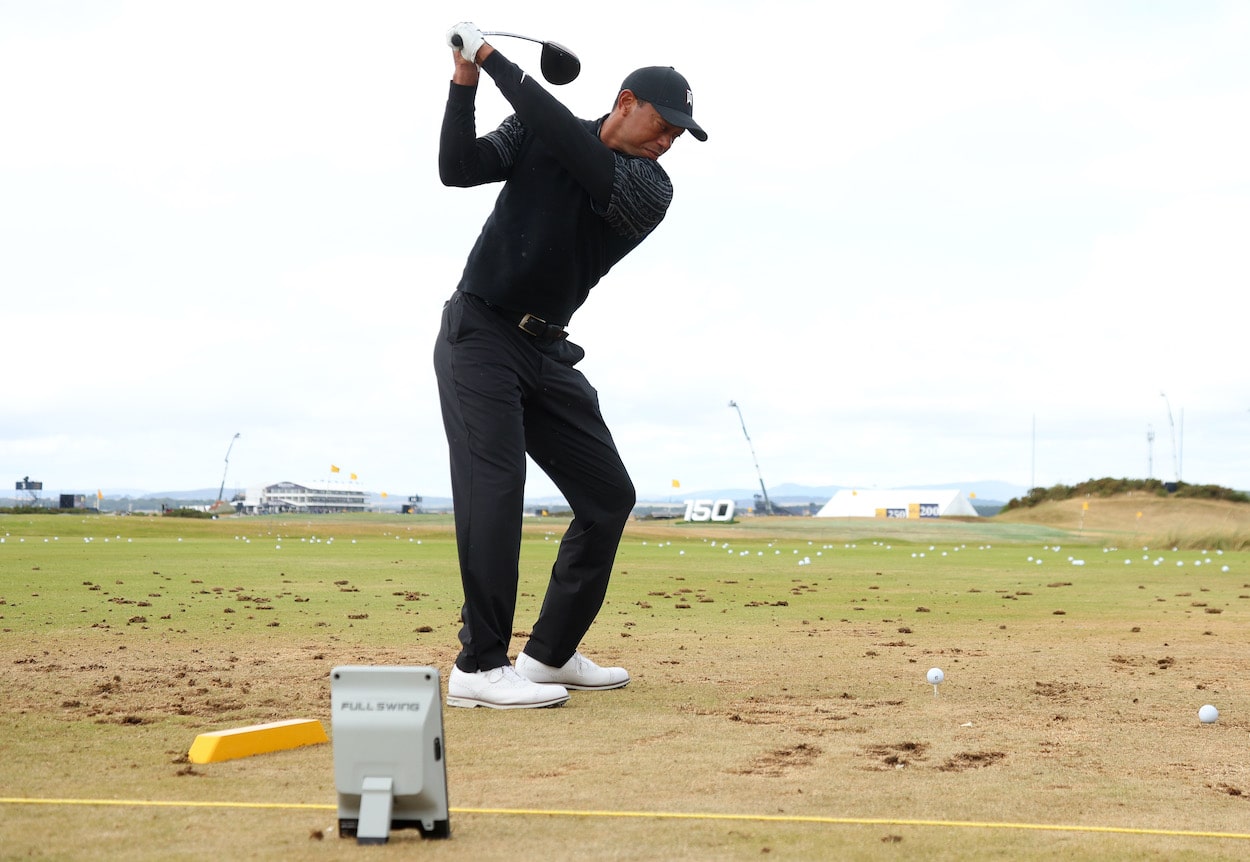 Hole No. 1
Par 4, 355 yards
-Tiger is officially on the prowl at St. Andrews. The Big Cat will get his Open Championship underway eight shots back of leader Cameron Young. His odds to win are currently 50/1 (FanDuel).
-And we're off. Bullet stinger with a long iron to find the fairway at 1. Gonna see a lot of those today.
-Wow. Tiger's tee shot ended up in a divot. His approach shot comes up well short and splashes in Swilcan Burn. Brutally unlucky start for our man.
-Almost drains his par chip for what would've been a ridiculous save. Safely in for bog…. oh my. He misses the shorty and taps in for double bogey. Not great!
Double Bogey, +2 thru 1
Hole No. 2
Par 4, 452 yards
-OK, shake it off. Plenty of golf to play. Driver on 2 finds the fairway. Bounceback birdie time?
-Short-ish approach shot goes long but trickles back onto the back edge of the green. Two putts would be just fine from there.
-BURNS THE EDGE ON THE 52-FOOTER! That would've sent the antsy St. Andrews crowd into a frenzy. +2 thru 2, but a sign of life.
Par, +2 thru 2
Hole No. 3
Par 4, 398 yards
-FORE LEFT! Just kidding, Tiger pulled that driver, but he's safely in the fairway on 16, because we're at St. Andrews, after all.
-Woods misses the third green short and to the right. Chips up to about 10 feet. We may already be in must-make territory.
-Oh boy. Crushes his par putt a few feet past the hole. Scary bogey putt coming back, but it drops. +3 thru 3. How we feelin'? Don't answer that.
Bogey, +3 thru 3
Hole No. 4
Par 4, 491 yards
-Another drive leaks left on 4, but a sideways kick out of the fescue puts Tiger on the edge of the fairway. Good omen for a turnaround??
-Safely aboard on what hasn't been a birdie hole all day for these guys. About 60 feet upcoming for his birdie putt. Hey, the good news is, if you haven't made a bet on Tiger to win The Open yet, now might be the time. He's already up to 150/1 on FanDuel. Any takers?
-Poor, poor lag putt from Woods. Left himself 11 feet short, and… another miss. +4 thru 4. I got nothin'.
Bogey, +4 thru 4
–BREAKING: I AM PERSONALLY GUARANTEEING A BIRDIE ON THE PAR-5 5TH. No chance this backfires.
Hole No. 5
Par 5, 531 yards
-Fairway, check. He'll have a go at the green in two.
-Boy, that one was scorched right at the flag, but it just comes up short and doesn't get a friendly roll to the front of the green. Up and down for his first birdie of the championship (and my first guarantee).
-That's… not an especially good bump-and-run, but it'll be Tiger's shortest birdie look of the day. Bright side?
-Not very close on the birdie attempt. Par. The guarantee has lost. There will be no questions at this time.
Par, +4 thru 5
Hole No. 6
Par 4, 400 yards
-Stripe show with the driver down the pipe at 6, but a little bit of a wince as he went to pick up his tee. Can't imagine the injured leg feels very healthy when you're in 139th place.
-Hated his approach almost immediately. Wind gobbled it up and pushed it short to the right, so we're scrambling… again.
-Tiger's chip comes up about 12 feet short. Should get two free reads from Max Homa and Matt Fitzpatrick, so this one has to go, right? Right?!
-Right! By far his best putt of the day to save the par. The next few holes are very gettable. It's now or never to salvage this thing.
Par, +4 thru 6
Hole No. 7
Par 4, 365 yards
-Tiger goes with less than driver on 6, and it's WAY left. Looks like it could be in a fairway bunker on the 12th hole. So much for that momentum.
-It's a splash-out back to the fairway. Tiger's Approach shot comes up well short and spins back even farther. It's getting harder and harder to believe in a comeback. Sigh.
-Woods actually hit a saucy, running chip up the hill to about 10 feet, but the putt slides by the left side. Second double in the first seven holes. We may be approaching WD territory.
Double bogey, +6 thru 7
Hole No. 8
Par 3, 203 yards
-Tee shot on the first par 3 of the day rolls through into the rough, but Tiger hits a beauty to set up what should be a tap-in par. Should be…
-It is. The ninth hole has been a birdie fest all day long. C'mon, Tiger…
Hole No. 9
Par 4, 342 yards
-Woods let out some frustration on that drive. Through the green she goes to set up a pretty standard up and down look. Could this be the one?
-Good touch on his long chip to set up about a seven-footer for birdie. Must-make is an understatement.
-Bang. Dead center. We're on the board! Still a long way to go to make this cut, but that's a start?
Birdie, +5 thru 9
Hole No. 10
Par 4, 407 yards
-Driver at 10 is nuked down the middle. Perfect. Anyone smell a 31 on the back to get back to even par??
-FWIW, Tiger is no longer listed as an outright bet on FanDuel. Considering he's 13 back of the lead through just nine holes, I get it.
-WE. HAVE. A. DART. Tiger sticks a wedge to about two feet to set up his second straight birdie. I'm starting to feel something.
-Cash. Two birdies in a row to get it back to +4. Momentum is a powerful thing.
Birdie, +4 thru 10
Hole No. 11
Par 3, 176 yards
-UPDATE: Woods is back on the FanDuel odds board at 500/1 odds.
-Comes up about 30 feet short of the pin on the last par 3 of the day, but it's a birdie putt nonetheless. Let's see if we have some real magic brewing here.
-No magic. In fact, what's the opposite of magic? Tragic? That was tragic. Tiger three-putts for bogey on the 11th to completely derail any momentum he was building up. Yikes.
Bogey, +5 thru 11
Hole No. 12
Par 4, 346 yards
-The 12th is playing as a driveable par 4 today with the wind, and Tiger did just that by poking one over the green. Up and down from the rough to get that ugly bogey back.
-Oh, that was pretty. Woods with a nice bump-and-run chip to about four feet, and he'll have that for his third birdie in four holes.
-Missed it. Dead pull from the start. Not what Tiger wanted before the tough 13th hole.
Par, +5 thru 12
Hole No. 13
Par 4, 458 yards
-For context, Woods is currently beating just seven players in the 156-man field right now.
-Iron stinger off the tee on 13 narrowly dodges the fairway bunkers on the left. OK, that was pretty.
-Tiger's approach from the rough sails over the flag and bounces all the way to the back of the green. He might have more than 100 feet left for his birdie. This should be fun.
-Yet another putt that comes up short. It's been a frustrating day on and around the greens for Woods. Still 10 feet left to save his par.
-Check that, it was more like 20 feet. Either way, he missed it. Is it over yet?
Bogey, +6 thru 13
Hole No. 14
Par 5, 616 yards
-Hello there. Tiger absolutely slaughters his drive down to the end of the fairway. 412 yards! Where has that been all day?
-After a ridiculously long wait, Woods hits an iron to the front of the green but doesn't get the release he was hoping for. Long eagle attempt coming up.
-Great speed up and over the ridge to nestle his eagle attempt to about a foot. Birdie gets him back to 5 over with still plenty of work to do.
Birdie, +5 thru 14
Hole No. 15
Par 4, 460 yards
-Another smoked drive down the left side of the 15th fairway. Driver swing is starting to loosen up a bit too late.
-Perfect distance on the approach shot, but just about 20 feet out to the left. Tiger hasn't made a putt all day, so some might say he's due.
-Wow. It tried to turn left, but the birdie putt just stays on the high side and grazes the edge of the hole. That would've been huge. Oh well.
Par, +5 thru 15
Hole No. 16
Par 4, 416 yards
-Tiger breaks out the iron for another stinger, and it's a beauty. Time for a tight approach shot.
-Woods' tee shot trickled into the long rough, and his approach flew right over the putting surface. Scramble mode once again.
-Tiger uses some sort of long iron to chip his third to about 10 feet. No dice. He hasn't gotten anything to fall all day. Let's see if he can at least end on a high note.
Bogey, +6 thru 16
Hole No. 17
Par 4, 501 yards
-Tiger's tee shot on the "Road Hole" 17th trickles into the left rough. It's going to be a challenge to make par from there.
-Clever little approach shot from Woods that lands short and sneaks up the ridge to the middle of the green. He'd take a 4 here and move on in a heartbeat.
-Just comes up short on the birdie attempt. That's still a good par on the hardest hole at St. Andrews seemingly every visit. Onto the driveable 18th to hopefully finish in style.
Par, +6 thru 17
Hole No. 18
Par 4, 341 yards
-Tiger hits a laser right at the flag, but the ball comes about a foot short of getting up the ridge and staying on the green. Down into the Valley of Sin, she goes. Still a good chance to make a birdie to close.
-Another long putt that comes up short. It sure has been a grind around the greens today. Just under 10 feet left to finish with a birdie.
-Nope. Par. That's an opening round 78 for Woods. 3 birdies, 5 bogeys. 2 doubles. Not very good at all. He probably needs a 66 or better tomorrow to have a chance of making the cut.
That obviously doesn't seem likely, but doubt Tiger Woods at your own risk.
How to get help: In the U.S., contact the National Council on Problem Gambling helpline at 1-800-522-4700.
Like Sportscasting on Facebook. Follow us on Twitter @sportscasting19.