Tiger Woods Fired Caddie Steve Williams Due to 1 Simple Misunderstanding
As Tiger Woods took the golf world by storm in the early 2000s, caddie Steve Williams served as his right-hand man. They worked together to dominate the competition for years. But they broke up after Woods' private life fell apart in public, and Williams "slept with the enemy." Given what Williams has said about his former partner, any reconciliation seems unlikely. 
Caddie Steve Williams helped Tiger Woods become the best golfer alive
It'd be silly to say Steve Williams is the reason Woods ascended to a level of greatness that golf hadn't seen in decades. But Tiger Woods' caddie certainly played an important supporting role as the pro golfer became unstoppable.
Steve Williams was his caddie for 13 of his first 14 majors wins. Although Woods didn't need much help to win championships, his victory in the 1999 PGA Championships was largely due to Williams' intervention on the 71st hole. Their partnership deepened as Woods made his competition irrelevant.
Williams went above and beyond the job of a caddie. He actively protected Woods from media and fans, most famously when he threw a spectator's camera into a pond for taking pictures during Woods' backswing. Woods even attended Williams' wedding. But as Williams explains in an interview with the PGA Tour, he nearly said no to the opportunity:
I was back in New Zealand and my first tournament that year was going to be at Doral with Raymond [Floyd]. I didn't even know that (Tiger's former caddie) Mike 'Fluff' Cowan had been let go.

I'd also decided that I'd had enough and 2000 was going to be my last year caddying, so when Tiger called me I wasn't 100% sure I was going to take the job. But I flew to Orlando and interviewed with him, and he hired me on the spot.
Working with a living legend is the dream for many caddies, and Williams himself admits he enjoyed the highs immensely. But like everyone else who knew Woods in 2009, things changed when he crashed his SUV on that fateful night in Florida.
The reasons for their split are unconfirmed, but the feelings are strong
The fallout from Woods' cheating scandal was so radioactive it poisoned his relationships on the golf course, too. Woods fired Williams in 2011, but the timing and reasoning behind the firing has been disputed. Neither party has revealed why exactly their relationship soured.
The prevailing thought from fans was that Steve Williams lost his caddie job after the 2011 AT&T National, as CBS Sports details. But the final straw appears to be when Williams agreed to caddie for Adam Scott in that year's U.S. Open. 
Adam heard Tiger pulled out and wondered where I was. I phoned Tiger about it, and he said, 'No problem.' After some thought, though, he didn't agree with it. Tiger changed his mind. Well, I'd already told Adam I would be there.

I wasn't prepared to ring Adam up and say I can't do it. I'm a man of my word. I had no idea I was going to get fired over it. I also hadn't worked a lot. Not that I needed the money, but I wanted to work. I was told (by Tiger) after U.S. Open that I no longer had a job and it's as simple as that.
In an official statement, reports Golf.com, Williams described being "shocked" by the decision. Those feelings became something more vindictive in the aftermath. He went on to describe Scott's U.S. Open win as the best of his career, reports The Telegraph.
Williams also tossed off a racist comment about Woods a few months later. He wrote a book, Out of the Rough, ostensibly about his career, his relationship with Woods, and what he knew about his cheating, which was apparently not a lot, reports Golf Digest.
What did Steve Williams do after parting ways with Tiger Woods?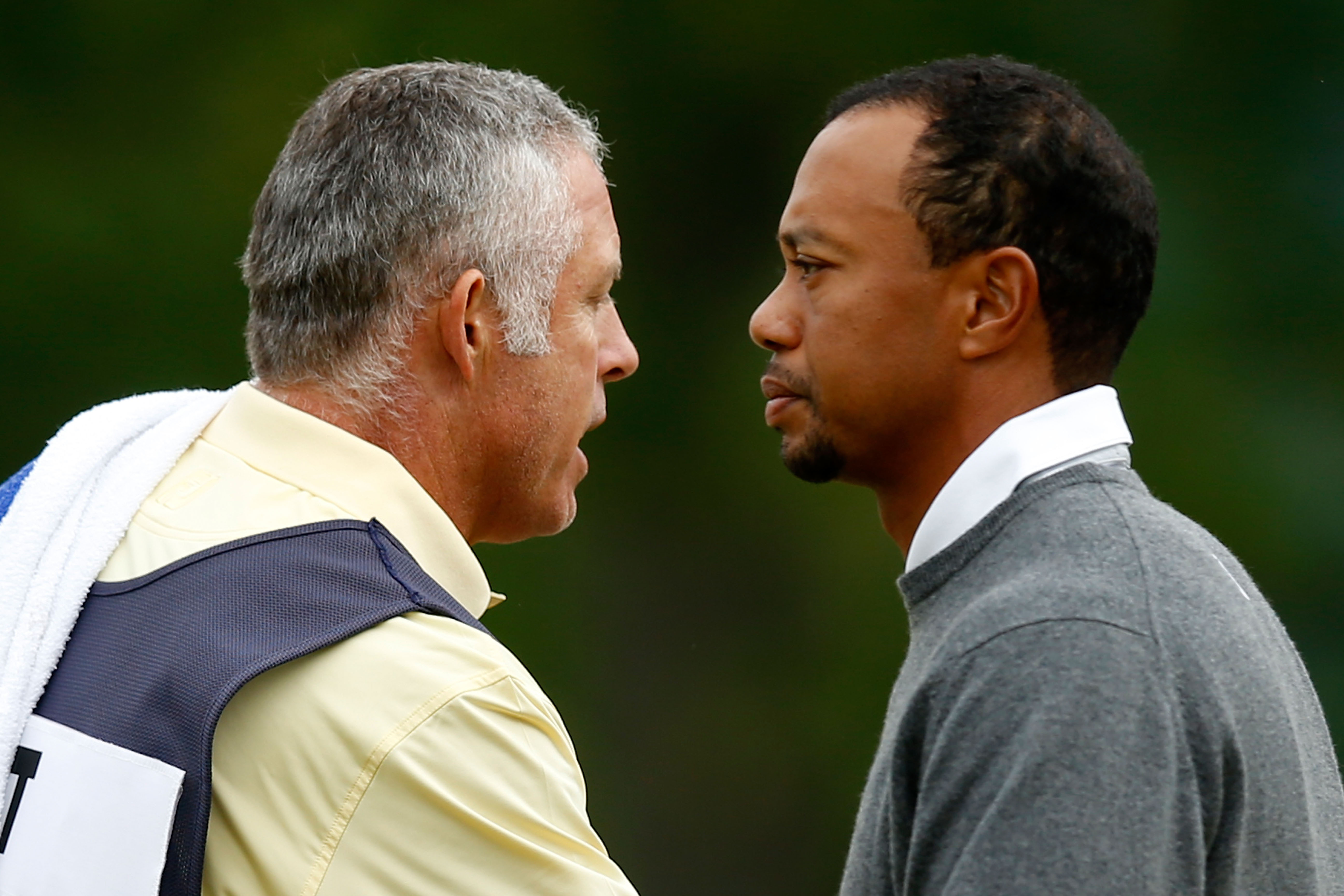 Williams was more successful immediately after he and Woods stopped working together. He worked with Scott until 2017, helping the golfer to a Masters win and second-place finish at the 2012 Open Championship. 
These days, Tiger Woods' former caddie has been lying low. He worked alongside Danielle King in 2017 and Jason Day in 2019, but isn't caddying on a full-time basis.
Meanwhile, Woods dealt with personal and physical problems that kept him from performing anywhere near his former level for years. The expectation that he'd break Jack Nicklaus' majors record became a dwindling hope that he'd just win one more. Woods did that by winning the 2019 Masters, his first major title in 11 years. He's also showed a slightly more playful side of himself through charity matches amid the COVID-19 pandemic. 
There's no evidence that Williams and Woods will ever get over their differences. But they've both moved on with their lives. (Much like the official Tiger Tracker Twitter account, much to the dismay of fans.)
RELATED: Tiger Woods Gives a Rare Glimpse of His Backyard Putting Green