Tiger Woods Has Joined Forces With Tom Brady to the Tune of 10,000 Digital Images
The future of sports collectibles has gone digital. Many of the most recognizable names in sports have dove into the nonfungible token (NFT) craze that has swept the sports community. Athletes from many sports have come together to build the NFT business. Big names include Simon Biles, Tony Hawk, Wayne Gretzky, and Tom Brady. Recently, Tiger Woods joined the ranks of athletes selling NFTs. in partnership with the NFL's GOAT himself.
Tom Brady co-founded Autograph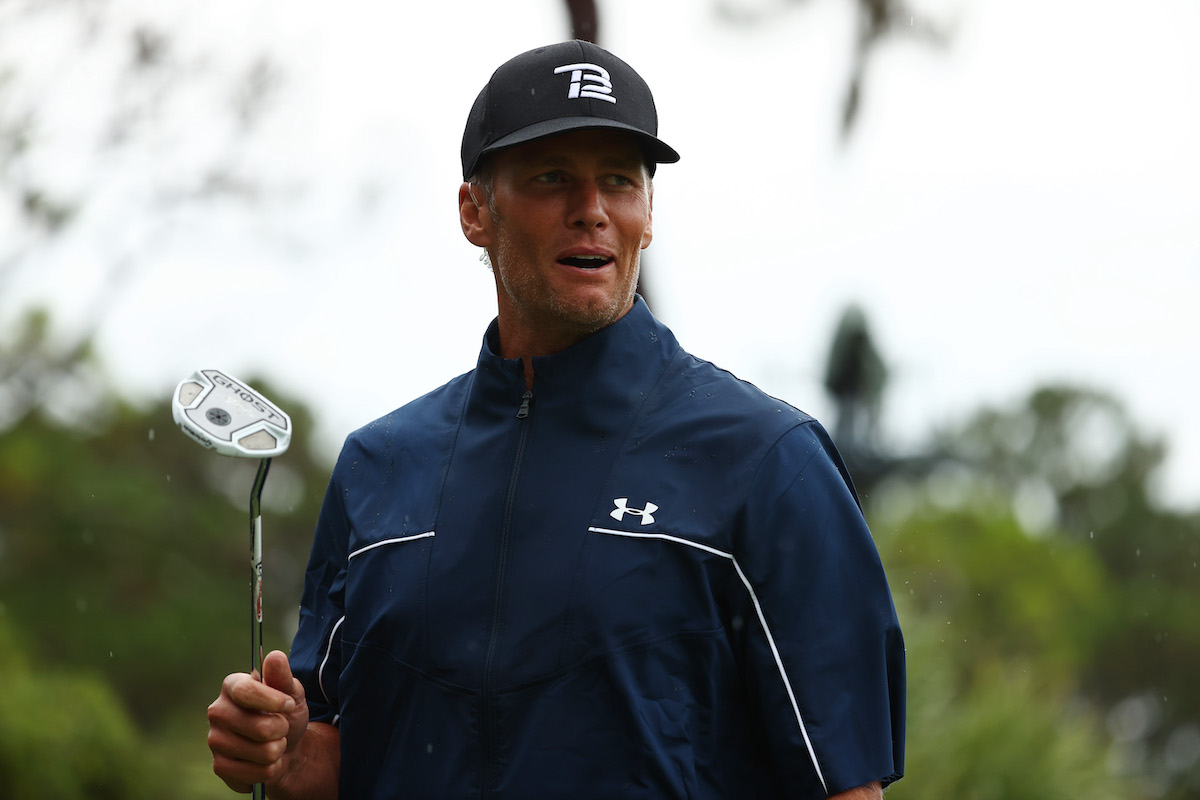 Autograph is a company that sells NFTs, and Brady sits on the board of directors, as do a number of other elite athletes. Most of the athletes on the board also sell NFTs on the site.
Brady founded Autograph with the CEO of DraftKings, Jason Robins. Star athletes like Tony Hawk, Simone Biles, and Naomi Osaka quickly followed the Buccaneers quarterback's lead.
NFTs are digital collectibles of sports moments and figures. These collections of digital pictures and signatures can range in price from $12 to thousands of dollars, but there are also bundles available which grant access to exclusive drops and give fans access to Discord communities. Access levels vary, as do prices.
Tiger Woods joined Autograph in 2021
Recently, Woods joined the NFT craze when he released 10,000 digital images to Brady's company, Autograph. Upon his contribution, Woods received a position on the Board of Advisors. Woods released a statement regarding his move to Autograph.
According to ESPN, the golf legend is excited to help usher in a "new era of digital collecting." Woods went on to say he is thrilled to partner with Autograph and that he looks "forward to bringing fans closer to my memorable sports moments at an accessible price."
Autograph released Woods' Premiere collection on September 21, 2021, through both Autograph and DraftKings. On September 28, a digitally autographed version of it premiered as well.
Woods' collection has 10,000 images features notable moments in his career. The digital images will range in price from $12 to $100, but only 375 are available at the $100 level. In addition, there will be 300 available with Woods' signature. Those NFTs, with the signature, will be anywhere between $250 and $1500.
Woods will likely release more collections in the future. However, if you're looking for an NFT, many experts recommend acting fast.
Other athletes involved with NFTs
Many other athletes have gotten involved with NFTs, too. Brady's company, Autograph, is the premier marketplace for NFTs, drawing some of the biggest names in all kinds of sports.
All-time hockey great Wayne Gretzky was one of the first to come on board. Gretzky is, according to Autograph, the all-time leader of points scored, goals, and assists in the NHL. Hall of Fame shortstop and co-owner of the Miami Marlins Derek Jeter has also come on board to Autograph.
Simone Biles has also released a collection of NFTs. Recently, the Olympic gymnast has become a household name not only for her talent but for her outspoken criticism of some practices in Olympic gymnastics. Olympic sprinter Usain Bolt, U.S. tennis star Naomi Osaka, and iconic skateboarder Tony Hawk have also come on board.
Questions remain about the NFT movement, but with so many sports greats behind the marketplace for them, the industry has a promising future. When speaking of sports greats, these are names people know. Even those who don't follow hockey, for example, know Gretzky is one of the greats. That sort of fame may help make NFTs successful.