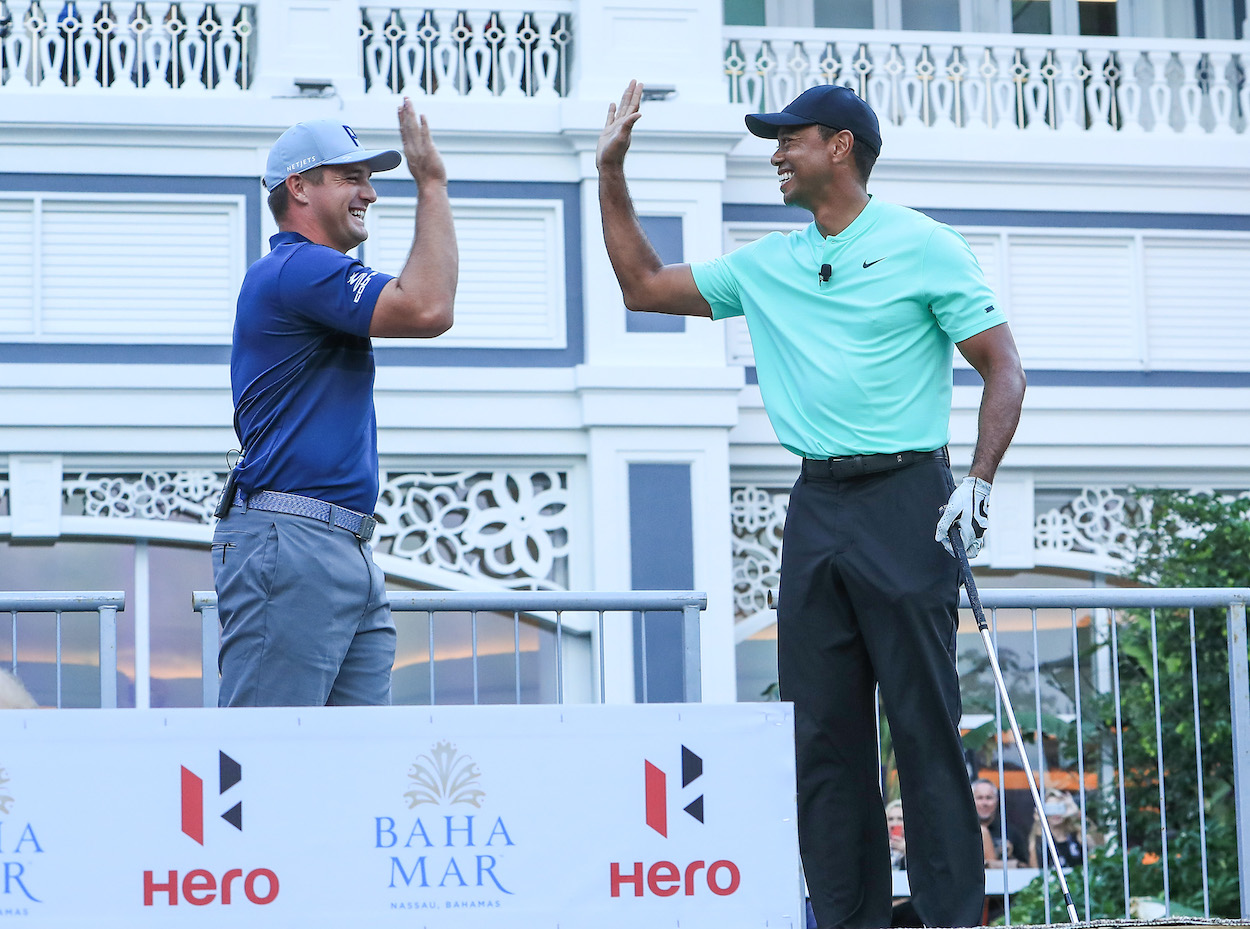 Tiger Woods Continues to Praise Bryson DeChambeau With Yet Another Sign of Support: 'What He's Doing Is Historic'
Not many players are in Bryson DeChambeau's corner nowadays, but Tiger Woods has been impressed with what he's been able to accomplish on the PGA Tour.
Not many PGA Tour players have outwardly stood up for Bryson DeChambeau over the past year. The bomber seems to have more enemies than friends at this point in his career, but he does have an all-important ally in his corner in Tiger Woods.
Woods has spoken out in support of DeChambeau in the past, and the golf legend just praised him yet again on a recent Golf Channel appearance.
Tiger Woods has always been a Bryson DeChambeau supporter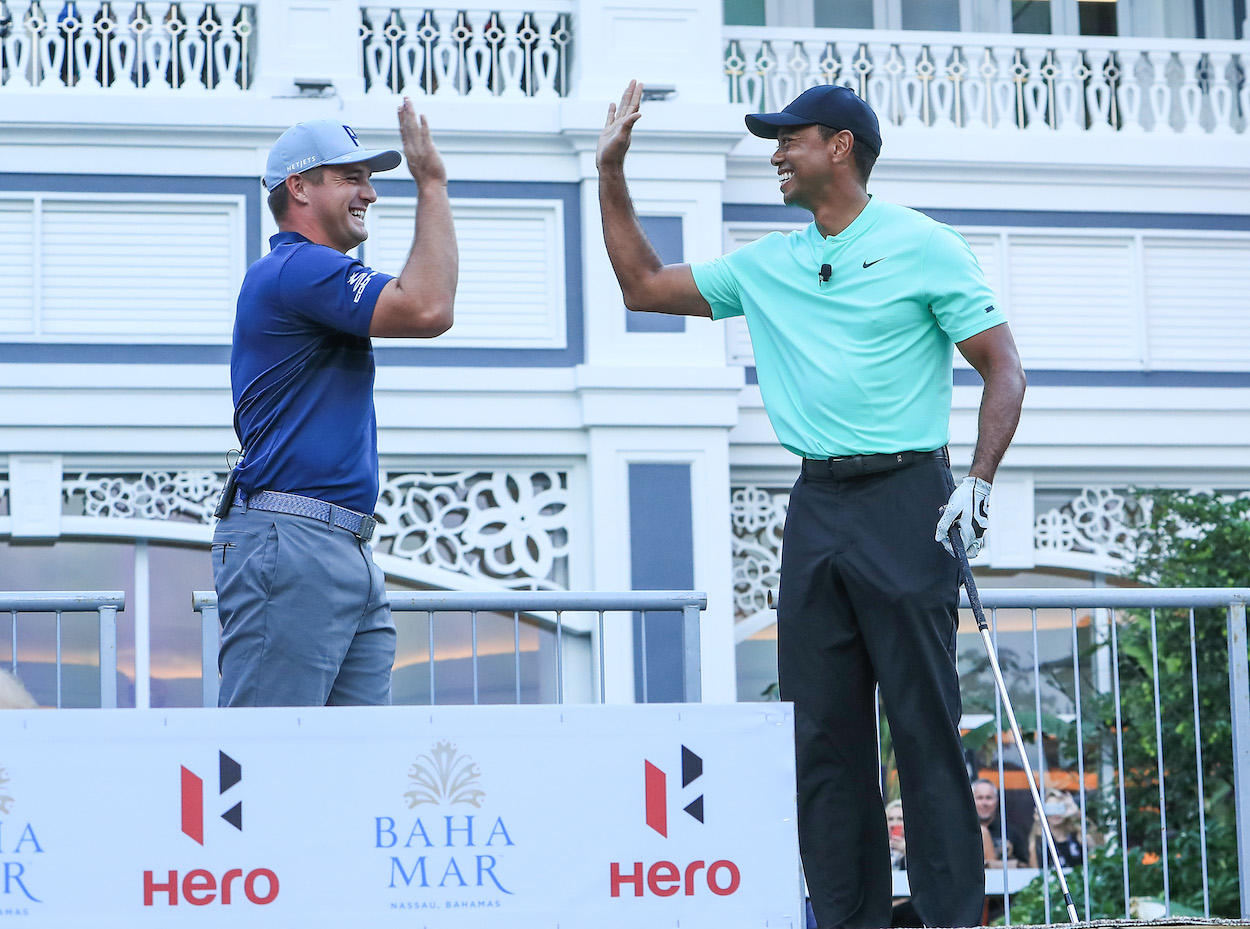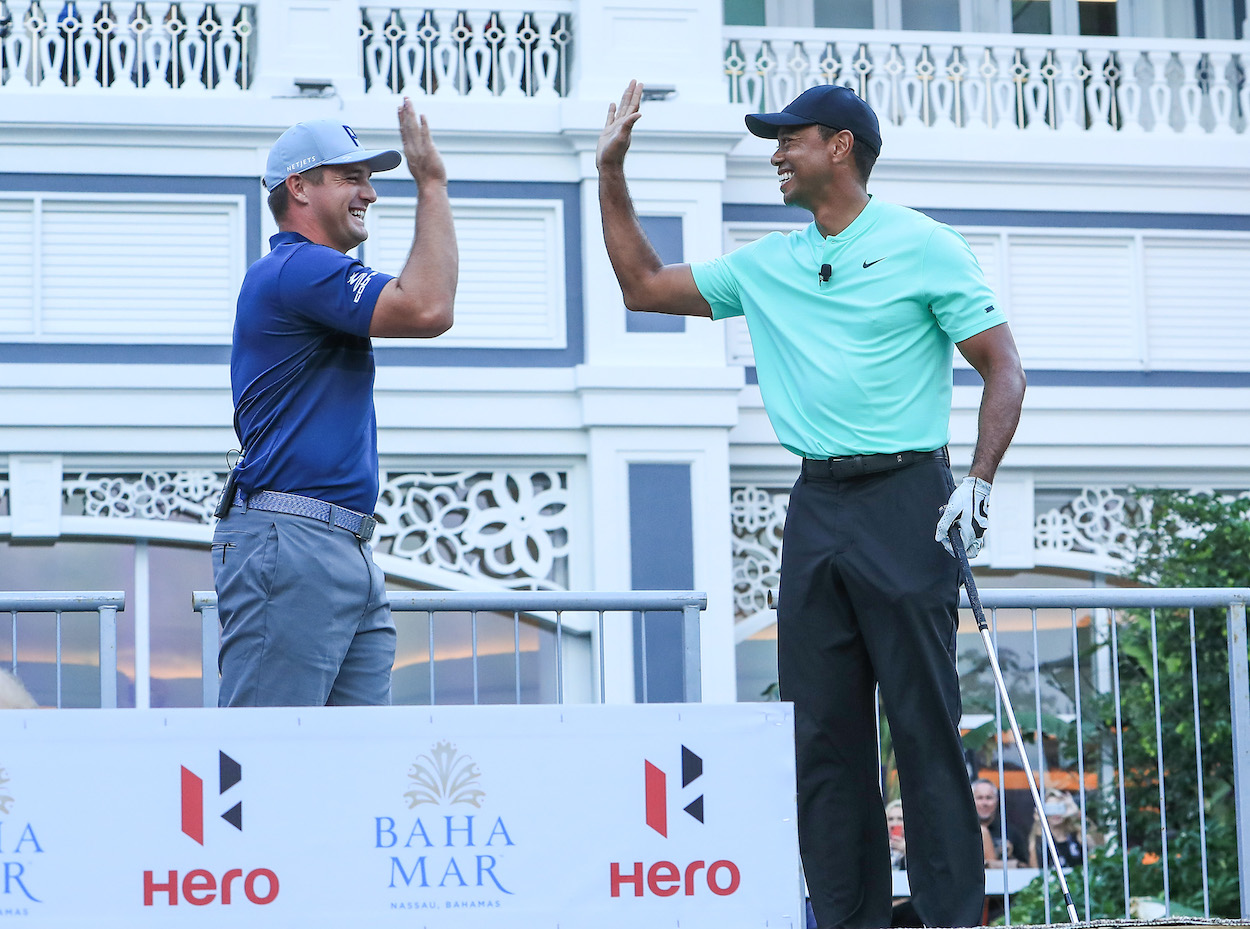 Life hasn't been easy for DeChambeau this year. Because of his never-ending feud with Brooks Koepka, PGA Tour players have been forced to choose a side in the beef, and most have gravitated toward Koepka.
DeChambeau has also lost plenty of fans over the last few months after he blamed his equipment for his poor play at the Open Championship, complained about spectators calling him the wrong name, and split with his longtime caddie, Tim Tucker.
But Tiger never left his side.
Earlier this year, Woods sat down for a Q&A with Bridgestone Golf and praised DeChambeau.
"I think what Bryson has done is unprecedented in the game," Woods said. "No one has changed their entire philosophy and how they've approached the game of golf. And he came into it with a different mindset to begin with. He came in with more of a technical science type of attitude, and he's now expounded on that and has been able to utilize all the different types of technology that's available to him.
"What he's done, he's proven that it works. And to go out on that limb is very courageous."
Woods praises DeChambeau yet again
Woods hasn't been shy to come to DeChambeau's defense in the past, and he just doubled down on his support for his good friend. In an appearance on Golf Channel during this weekend's Hero World Challenge, Woods said he admires how DeChambeau has gone about his career.
"Like I told [DeChambeau] personally, what he's doing is historic," Woods said, per Yahoo Sports. "Long-drive players aren't players on Tour. Back when I was younger, I was the second-longest driver to John Daly, but neither one of us could have competed against the long-drive guys. The disparity was just too great. But for him to take the leap to become a U.S. Open champion and a player on Tour and to do what he's done, the hard work that goes into it.
"People have no idea the lifting and the commitment it takes to transform his body and go down that rabbit hole like that. And to do what he's doing, it's truly remarkable."
Strong words from the best to ever do it.
A PGA Tour reunion soon?
Woods is finally back on his own feet after spending much of the year rehabbing his injured right leg. The all-time great said this week that he doesn't know when he'll be able to return to the PGA Tour, but that day might be coming sooner than later.
According to a recent report from Dylan Dethier of Golf.com, Woods could be eyeing a return to competition at the PNC Championship later this month. If he's healthy enough to play in a tournament that soon, a return to the PGA Tour could be on the horizon in the next few months.
Like Sportscasting on Facebook. Follow us on Twitter @sportscasting19.