Tiki Barber Fired Back at Stephen A. Smith Amid the New York Giants' Involvement in Brian Flores Allegations
Article Highlights:
Longtime New York Giants running back Tiki Barber fired back at Stephen A. Smith's commentary regarding his former team
Smith said he refuses to believe the Giants' claims amid the Brian Flores saga because the organization has never had a Black head coach
Barber, who is Black, called out the First Take host for those comments
ESPN's Stephen A. Smith had plenty to say about former Miami Dolphins head coach Brian Flores' class-action lawsuit, and former New York Giants running back Tiki Barber was far from pleased.
Hours after Smith discussed the Giants' alleged discriminatory hiring practices described in Flores' lawsuit, Barber — who played in blue and white from 1997-2006 — took to the airwaves and reprimanded the longtime First Take host.
Tiki Barber fired back at Stephen A. Smith's commentary regarding the New York Giants
On Tuesday, Feb. 1, Flores opened the new month by launching a lawsuit against the NFL and its teams this week, accusing them of "sham interviews" and discriminatory practices. The Giants, who interviewed Flores twice in January, issued a statement defending their decision to hire Buffalo Bills offensive coordinator Brian Daboll. The team also said Flores came down to the "eleventh hour" as a viable candidate.
One day later, Smith, a devout Giants and Pittsburgh Steelers fan, made it clear on First Take that he didn't believe a "damn word" the team said in its statement:
"There's no one more incriminating than the New York Giants when it comes to Black coaches. We are in the year 2022. All of these years, damn near a century for crying out loud, there is one single franchise that has not had a Black coach. That is the New York Giants."

Stephen A. Smith
Smith's claim is only partially correct.
As of February 2022, six NFL teams have never had a full-time Black general manager or head coach. The Giants are not among them because Jerry Reese, who is Black, served as their GM from 2007-17, though they have never employed a Black head coach.
Later that day, on WFAN's Tiki & Tierney, Barber fired back at Smith's commentary and the overall idea that the Giants have racist hiring practices.
"I can't sit here, with conviction, like Stephen A. — who doesn't know anybody in the Giants' organization — and claim that they're a racist organization," Barber said. "I would never do that. The only reason I would do that is because I'm trying to make a point, and my point is that Brian Flores is trying to make a point."
As of publication, Smith had not responded to Barber.
Barber also emotionally discussed his longtime relationship with former Giants owner Wellington Mara
Although Barber has had various issues with Giants management over the last 15 years, his problems aren't with ownership. He had a close relationship with longtime owner Wellington Mara until the latter's death in October 2005.
During Wednesday's show, a caller named Dwayne in Piscataway (New Jersey) accused Barber of minimizing the situation between Flores and the Giants. The three-time Pro Bowler replied that the caller didn't know "my truth and … my interactions with this Giants organization."
Barber emotionally recalled the Mara family inviting him to personally say goodbye to Wellington before his death.
"The fact that the Maras, and I always say this with the Tisches as well, they embraced me like I was family, you know what I mean?" Barber told co-host Brandon Tierney. "And so, I know them intimately, so when I say that I don't believe they're racist — I know they're not."
Barber joined Eli Manning in publicly defending the Giants organization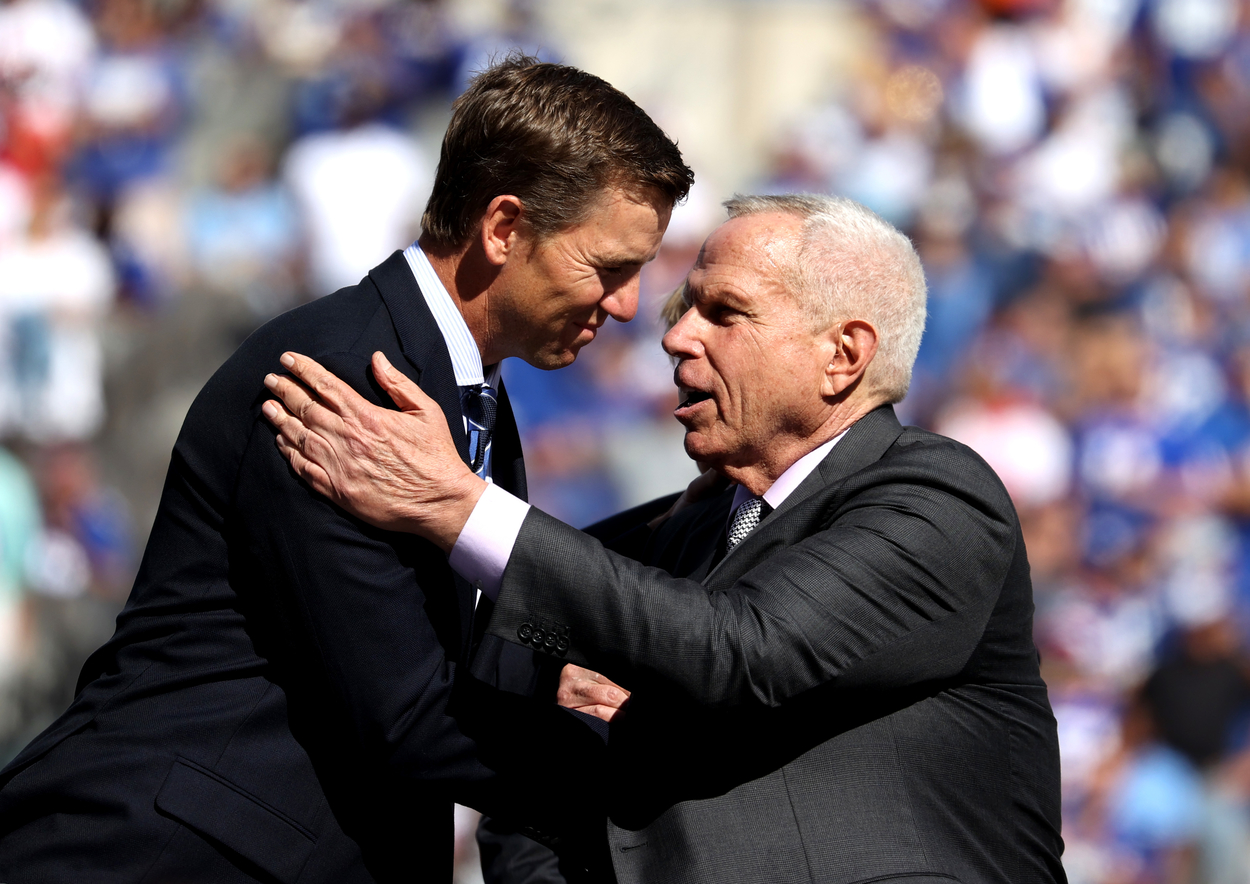 Barber isn't the only member of the mid-2000s Giants openly defending the franchise against Flores' accusations. Longtime Giants quarterback Eli Manning recently told the New York Post's Ryan Dunleavy he doesn't believe the franchise did anything wrong in hiring Daboll over Flores.
"I know the Giants organization. I know they do everything possible to give everybody a fair chance," Manning said. "They don't care, minority or not; they are looking for the best possible candidate. They are going to do everything properly to look for that perfect candidate."
Manning also admitted he wasn't involved in the hiring process and didn't know the details of why the team hired Flores.
In short, two prominent ex-Giants relied on their past experiences with the organization to suggest a more current accusation is false. We'll see what Smith has to say about that as the Flores saga progresses.
Like Sportscasting on Facebook. Follow us on Twitter @sportscasting19.
RELATED: Miami Dolphins Owner Stephen Ross Gives Strongly-Worded Response to Brian Flores Lawsuit: 'I Take Great Personal Exception to These Malicious Attacks'