Tim Duncan Made a Crazy Amount of Money During His Hall of Fame Career
The 2020 Naismith Memorial Basketball Hall of Fame class was released on Saturday and it is pretty stacked. Including the likes of Tim Duncan, Kevin Garnett, and Kobe Bryant, the 2020 class could be one of the greatest classes of all-time. While all three of those guys earned a lot of money to play basketball during their careers, Duncan definitely got paid a lot to help lead the San Antonio Spurs to five NBA championships.
Tim Duncan was one of the greatest of all-time for the San Antonio Spurs
When anyone discusses the best big men to ever play, Tim Duncan has to be in the discussion. Being selected with the No. 1 overall pick in the 1997 NBA draft, Duncan was a star for the San Antonio Spurs immediately. Duncan scored 21.1 points per game during his rookie season. He then helped lead the Spurs to an NBA championship during his second season in 1998-99. 
While Duncan was as consistent as they come during his entire career from 1997-98 through 2015-16, his best season statistically probably came in 2001-02. Duncan scored 25.5 points per game that season to go with 12.7 rebounds. This led to him winning the first of his back-to-back NBA MVP awards. 
Here is a look at all of his career accomplishments.
15-time NBA All-Star
Two-time NBA MVP
15-time All-NBA team honoree
Five-time NBA Finals champion
Three-time NBA Finals MVP
15-time All-Defensive team honoree 
26,496 career points (17th in NBA/ABA history)
15,091 career rebounds (seventh in NBA/ABA history)
All of the accomplishments Tim Duncan achieved in his career are why he was pretty much a shoo-in for the 2020 Hall of Fame Class. 
Being a part of a legendary Hall of Fame class 
This class will certainly go down as one of the greatest in history. In addition to Duncan's accomplishments, Kobe Bryant won five NBA championships, one league MVP, was an 18-time All-Star, and led the league in scoring twice. Additionally, Kevin Garnett was also one of the top big men to ever play. He was a 15-time All-Star, won one league MVP and one Defensive Player of the Year award, and he won one NBA championship.
Also being inducted into the hall of fame as part of its 2020 class are WNBA star Tamika Catchings, coaches Rudy Tomjanovich, Eddie Sutton, Kim Mulkey, and Barbara Stevens, and former FIBA and IOC executive Patrick Baumann. Catchings adds more accomplishments as a player to go along with Duncan, Bryant, and Garnett. She was a 10-time All-Star and won the league MVP once. She also won one WNBA championship. 
There might not ever be a class to have as much collective success again as this class did. 
Tim Duncan earned a ton of money in his career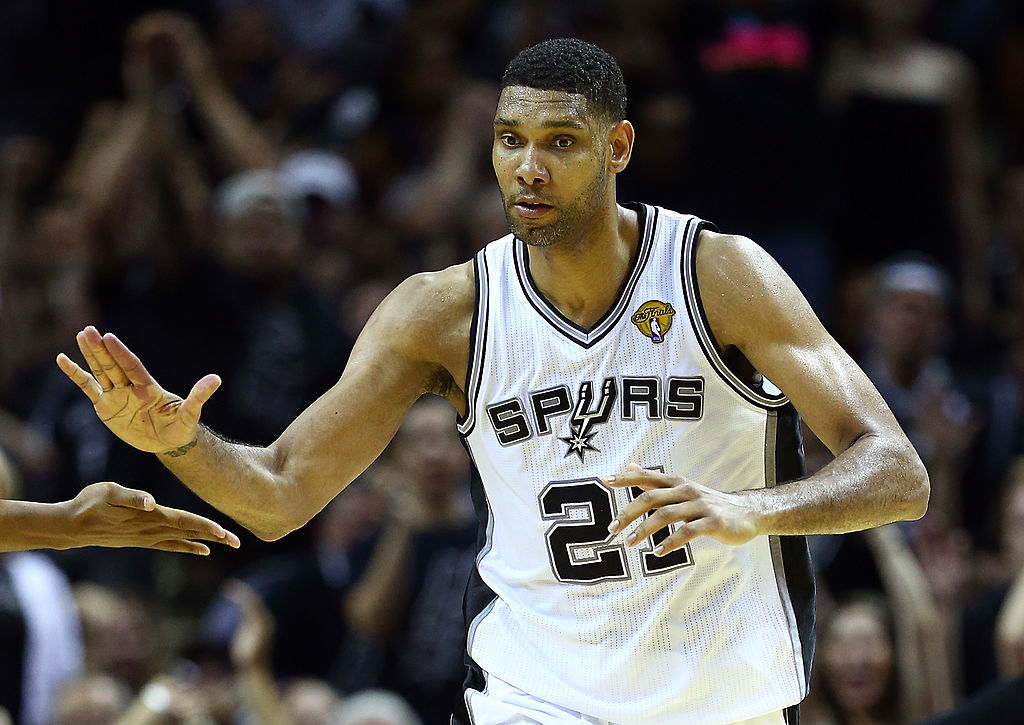 When Duncan retired after the 2015-16 season, he retired as the fourth-highest paid player in NBA history, according to FOX Business. Bryant, Garnett, and Shaquille O'Neal were the only players to be paid more.
According to Spotrac, Duncan earned over $242 million in his career. The season he earned the most came in 2009-10 when he made over $22 million. Also, even though he did not play after the 2015-16 season, the Spurs still paid Duncan over $1.5 million in each of the 2016-17, 2017-18, and 2018-19 seasons.
Because of all of the money Duncan made over the course of his career, his net worth is $130 million, according to Celebrity Net Worth. That will most likely only continue to grow too as he is currently an assistant coach for the Spurs.
Over the course of his NBA career, Tim Duncan was one of the best scorers and rebounders in the NBA. He also knew how to win. All of those things combined helped him become a Hall of Famer and one of the wealthiest players to ever play.