Tim Duncan Perfectly Handled Kevin Garnett's Legendary Trash Talk
Kevin Garnett has been known to trash talk a lot during his time in the league. But the "Big Fundamental," Tim Duncan knew just how to handle that.
Both players dominated the league since they started off on their respected teams. Arguably, two of the best big men to ever play the game and both had different personalities.
Kevin Garnett was the loud and energetic type, who would get in your face and then you had Tim Duncan who was the laid back and reserved type, but he still made sure to get the job done.
You will always hear their names talked about around the league for years to come when people mention the big men of the NBA.
Two Hall of Fame careers
Kevin Garnett and Tim Duncan are both eligible candidates for the 2020 Hall of Fame class. And it won't be a surprise to see both of them get in.
While one player played for multiple teams and the other sticking with the same team his entire career, they were well respected throughout the league.
Both players have won the MVP award during the regular season and they also have won NBA titles.
Kevin Garnett came straight out of high school and immediately made his presence known in the league. The 15-time all-star finished his career averaging 17.8 ppg and 10. rpg.
Every night Garnett brought that intensity and make sure you knew what he was all about. Getting in your face, trash talking, being physical, that was KG.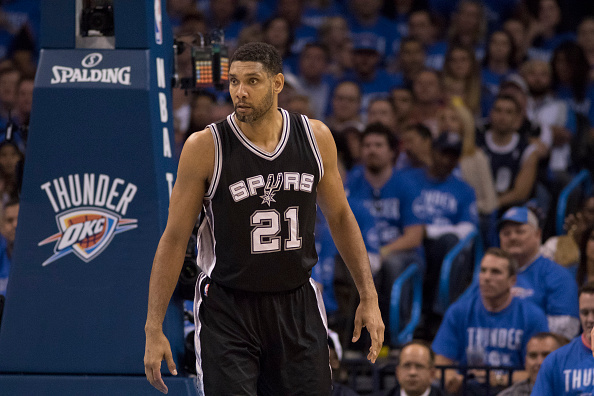 Tim Duncan, was the fundamentally sound big man, who opponents had trouble guarding. Duncan was the Rookie of the Year in 1998 and the next year he won his first title with the San Antonio Spurs.
You can not mention the Spurs and not say Tim Duncan when you talk about the greats. The way he impacted the game was a sight to see because he did everything fundamentally sound.
Duncan was the true definition of a power forward, playing inside the block and being able to shoot above average from mid-range. In his 19 years playing with the Spurs, he averaged 19.0 ppg and 10.8 rpg. He was a walking double-double.
Kevin Garnett's trash talk antics
Kevin Garnett wanted to get in your head and throw you off your game. There were many times where he was successful in that area.
His demeanor was like no other and when we went at you, there was no stopping him. But the thing with Garnett was that he was able to back his words up with his play.
He just didn't talk to talk, that was part of his game. He was the type to do homework on his opponent and try to expose you.
How Tim Duncan used his own trash talk on Kevin Garnett
These two battled it out every time they faced off against each other. The rivalry will never get old.
Rarely did you see Tim Duncan show emotion on the court and he did not let Kevin Garnett phase him one bit.
Garnett said in an interview that his trash talk did not effect Tim Duncan. And Garnett finally stopped with the trash talk towards Duncan.
So what was it that Duncan did? Garnett said that Duncan's version of trash talk was talking in phrases, like saying "Nice Try" or "Almost". These two will be in the Hall of Fame for sure, but Garnett's trash talk could never work on Duncan.